Today we'd like to introduce you to Chloe Wiecz.
Hi Chloe, so excited to have you on the platform. So before we get into questions about your work-life, maybe you can bring our readers up to speed on your story and how you got to where you are today?
For the first 20 years of my life, I lived in a small country town in Johnstown, Pennsylvania. Growing up, everyone knew who I was, not so much for any successes, but merely the fact that my great grandparents, grandparents, parents, and five siblings all went to the same grade school. Most people stay for their lifetime in Johnstown. I knew if I wanted to do anything creative, however, I needed to move to the "big city" aka Pittsburgh, PA. 😉 In fact, whenever I would visit there, I would think to myself, "Wow! They have sidewalks and lines on the road! I love the city!" and then I'd dream of making it as a musician there. I really was just a small-town girl living in a country-bumpkin world. hahaha
Music has always been a huge part of my life. As a kid, I would watch my mom sing and play guitar in church. Watching her perform and seeing how she moved people with her music inspired me to do the same. I began singing and studying piano in 1st grade and continued throughout high school, adding guitar and songwriting later on. Music was my passion and priority, but I never thought I could make it my profession.
It wasn't until a few years into college that I realized it was a passion I could no longer ignore.  I began singing a lot, arranging music for my a cappella group, dj-ing and running live shows for the student radio station. Slowly but surely, music became a priority again. I even added a Jazz Studies major, which led me to work with and be mentored by on of the greatest jazz artists of our time: Geri Allen
After college, I continued my connection with Geri. She guided my musicianship, but she also taught me about life as a musician and the importance of giving back and moving forward. Thanks to her, I found my love for educating young musicians. I realized that you can be a powerful force in music and a guiding source of inspiration for others. Both realms are equally important
Over the years in Pittsburgh, I became a well-known vocalist and keyboardist for Pittsburgh bands across genres ranging from Americana to Funk. I opened for national acts such as Jefferson Starship, Marcus King, Donna the Buffalo, and Rusted Root (Uprooted/Jim Donovan/Jenn Wertz). I was also one of the primary vocalists for Pittsburgh's Top Wedding Band. Even the youth bands that I music directed began performing at local festivals and events throughout the city. Beyond that, I also started my own Jazz-Pop group (hunnycomb) and began preparing for our "breakthrough year," kicking off with a single release party on March 13, 2020.
Then the world shutdown. I canceled the release. I was exhausted and defeated. Out of financial concern, I moved back to Johnstown with my parents. Then for 5 months, I lived in solitude and reconnected with my roots. I am so thankful for that time to myself because it gave me time to realize that I did not want to stay in my Pittsburgh musician bubble.
I temporarily moved back to Pittsburgh in Fall 2020 once events started coming back. This only solidified my need for change. I became just as busy as I was before but constantly asked myself what would be the point if I only stayed in my small city. I had friends in New York and LA. I loved New York but knew nothing of life in LA. So in March 2021, I decided to visit a close friend to make sure the West Coast was not the life for me.
From the moment I got off my Spirit flight at LAX, I was on an adventure. From hiking Josephine's Peak to surfing at Huntington Beach – artist collaborations to recording sessions – I was in awe with the life LA seemingly offered. I knew I had to give it a try. And as if my visit couldn't get any better, hours before my flight back home, I met a lovely KTLA news producer. She ended up changing my life in more ways than one…there's a bit more of a story there, but I'll save it for my memoir. Hahaha 😉
Six months later, Labor Day 2021, I hopped in my Subaru and voyaged across the country to my new home in Hollywood. Aside from getting a flat tire and falling on a cactus, my road trip was a dream. I highly recommend traveling across the country by yourself—-it's easily one of my top 10 favorite experiences (minus Nebraska).
Present-day, I'm still learning how to navigate it all, but this new life is nothing I take for granted. Since the New Year, I have been blessed with consistent work as a vocalist and keyboardist, doing session work and performing throughout LA. I even was hired as an actor for a children's educational video series…in LA, you can be a bit of everything, right? Aside from all that, I continue to teach private lessons to help fund my upcoming solo album set to release this Fall.
Alright, so let's dig a little deeper into the story – has it been an easy path overall and if not, what were the challenges you've had to overcome?
Transitioning from a student mindset in music to believing I was ready to be a "professional" was difficult at first. But after a while, I realized that everyone is just trying to figure things out—no one knows exactly what they are doing when it comes to being creative. Letting go of trying to be perfect and letting myself just "be" is still a struggle, but I'm working on it.
When I first moved here, I went from playing 3-4 gigs a week to playing nothing. That was super hard to not have any performances to look forward to and push along my artistic development. But with those trials came the great inspiration for my original music; so I definitely never take the hard times for granted because that's when I grow the most. Although I definitely struggled mentally and financially in the first few months, my friends from back home saw me as "living the LA dream." It's all about perspective, I guess. A peak is nothing more but a floor for another. Everything in life ebbs and flows.
When I'm in doubt, I always remember Geri Allen's words to me after failing an audition: "This music journey is long-range. Some downs but mostly ups. Longevity is the true measure of success. Never give up." My move to LA has only marked the beginning of my journey.
Alright, so let's switch gears a bit and talk business. What should we know about your work?
I am a singer-songwriter and a freelance musician. I also teach private voice and piano lessons at my home studio in Hollywood and at Musikbox in Culver City. Essentially, when I'm not writing and performing, I am teaching. It's a nice balance that allows me to feed my own music needs while also helping others in the process.
As a performer, I tend to stick to the Soul, Pop, and Jazz-influenced genres. I love singing high-energy songs that pump up my audience. And if I'm behind the keys while singing, you can bet that I'll be dancing just as hard. It's impossible for me not to move! The funny thing is, when I perform my original music, I usually write slower, melancholy songs that lures the audience in with my voice and lyrics rather than my stage antics. Gotta have balance!
Something that I love doing is creating arrangements of indie/rock/alternative songs. I grew up listening to Radiohead, Nirvana, Yeah Yeah Yeahs, Modest Mouse, etc. I love taking those styles of songs and creating my own versions, reharmonizing the chord changes and setting a different groove to their traditional melody. Probably my favorite cover I've arranged is my disco cover of "Dreams" by Fleetwood Mac or my r&b-style "Heart-Shaped Box" by Nirvana. In short, I love arranging covers and making them feel like my own.
What sets me apart from other stellar musicians? I have a very distinguished laugh. Hahaha Honestly, I don't know what sets me apart. Everyone here is amazing. I just try to be good at what I do and make sure everyone involved is having a good time. If we play together, we will more than likely be laughing and enjoying ourselves. I take my work seriously, but that doesn't mean you can't have fun in the process.
Do you have any advice for those looking to network or find a mentor?
Go to jam sessions! When I first moved here, I would attend 1-2 jam sessions every week until I met enough people to start performing. I still frequent a variety of sessions when I can. It's a great way to meet people and play with a variety of musicians. Don't be afraid to go alone either! More often than not, you're not the only person who is there alone. Step out of your comfort zone, strike up conversations, and remember this city is massive–if you don't meet your people right away, you will eventually! Aside from that, I would recommend saying "yes" more often than not. By saying "yes," I've been able to experience so much and met truly amazing people. Saying "yes" is what got me out here in the first place. Of course, you want to respect your boundaries, but if the only thing holding you back is yourself, start saying "yes."
Session Recommendations: For vocalists who are used to singing pop/soul/r&b covers, I would recommend checking out Jazz Eclectic on Monday nights at Sofitel in Beverly Hills and on Tuesday nights at Bar Lis in Hollywood. It's a great place to meet other vocalists. For instrumentalists or vocalists who like to improvise, I would recommend Idle Hour (North Hollywood) Thursday night jam with Crew 21. If you're looking to work on your jazz chops, The Falls' Monday night session in DTLA is a cool vibe. Above all, my favorite spot to share original music and meet other singer-songwriters would have to be Open Mic night at Universal Bar and Grill, hosted by Sharon Groom. The cool thing about this spot is if you do well, Sharon will book you as a featured artist at her weekly artist showcase, "Sunday Best," at North End in Hollywood. The environment Sharon creates at her events is so welcoming and inviting of all types of creatives—anyone feels at home with the events she sets up.
Contact Info: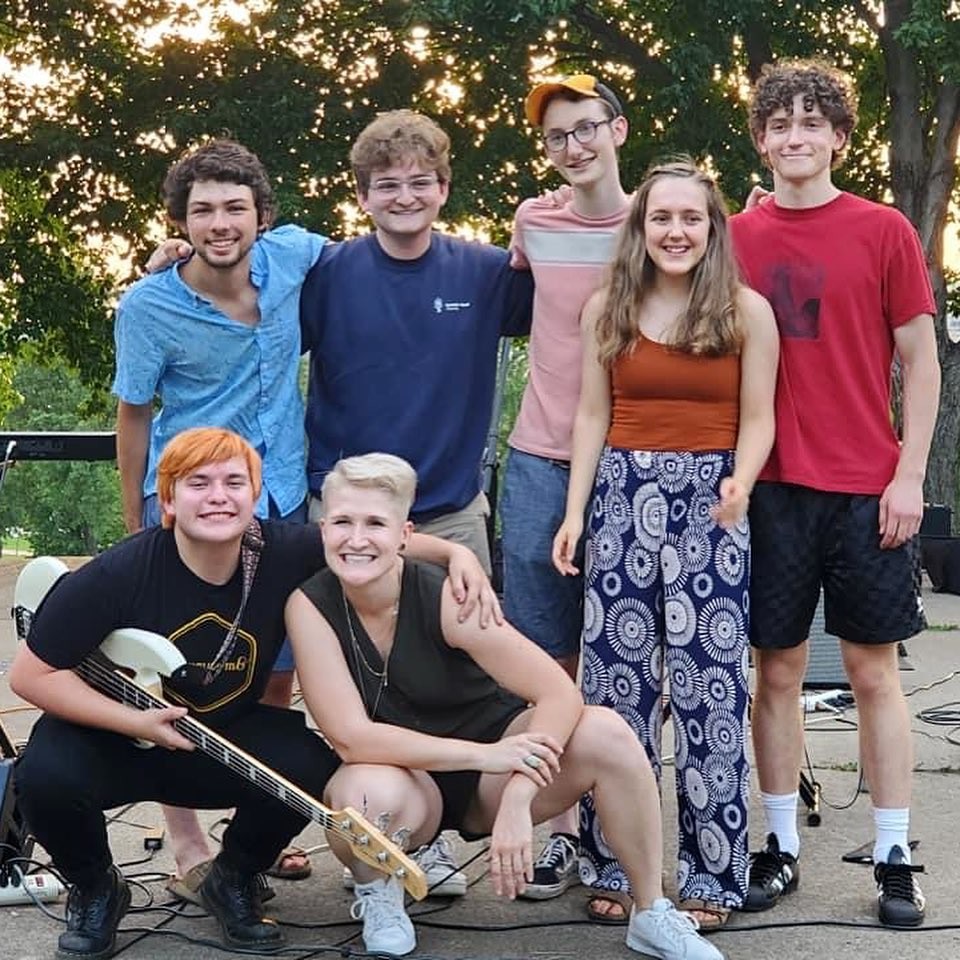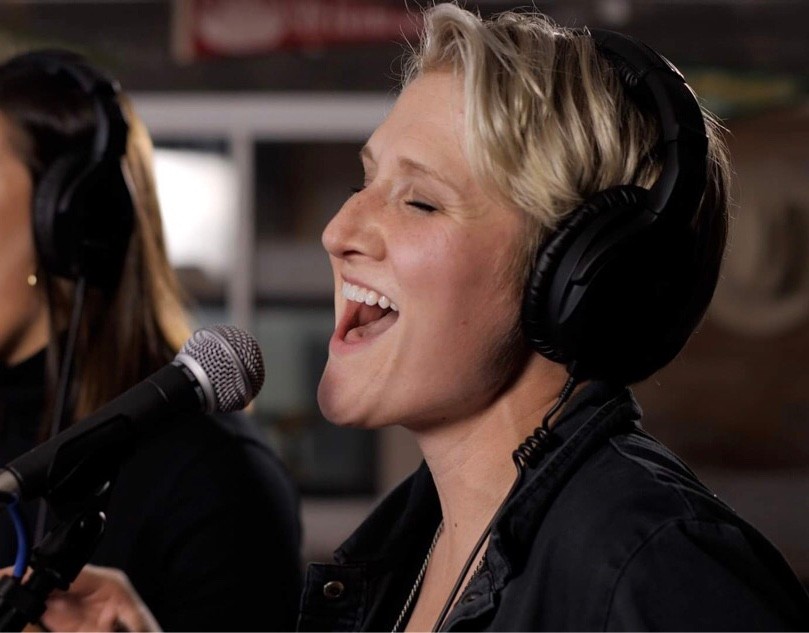 Image Credits
Singer-Songwriter Chloe = Kate Kot Photography POST Santa Monica Gig = Teddy Rycroft CHLOE COOL KEYS PLAYER = Fernando Cruz Main photo with the green background—-photographer: Asia Margo
Suggest a Story:
 VoyageLA is built on recommendations from the community; it's how we uncover hidden gems, so if you or someone you know deserves recognition please let us know 
here.