Today we'd like to introduce you to Anette & David Garcia.
Hi Anette & David, thanks for joining us today. We'd love for you to start by introducing yourself.
We met on the online dating app Hinge when David responded to Anettes prompt looking for an adventure buddy to travel and visit national parks. David enthusiastically responded he was ready and willing. Both deterred from online dating, David was feeling unmotivated while Anette decided to usurp the traditional "dating rules" by initiating early conversations and setting up the first date. Anette had just moved back home while David was in and out of jobs, moved back home with parents, and had sold his car to pay down a mountain of personal debt – quite the catch!
Anette saw past what most would see as huge red flags. They connected on their love of oldies, family values, and maybe most importantly, the desire to explore and experience the outdoors. They were both training for the LA marathon, struggled to date at the beginning of COVID, and eventually took their first road trip to Zion National Park. This trip essentially set the tone for their future.
One day Anette asked David if he would be open to the idea of building and living in a tiny house which they could travel the country. After some discussions, they eventually bought a truck a used travel trailer and set out to renovate it and travel the country. Neither of them had ever slept in a trailer let alone live in one or even knew the first thing about renovating one. Undeterred, their relationship flourished through figuring out how they would renovate, plan, and actually pull off living on the road full time.
Two years later, they've explored 27 states, 30+ state and national parks, grown an Instagram following to 4k+ followers, and have learned so much about themselves and the life they've started for themselves. Anette and David, or "Out Doing Stuff" as their social media name says, have stayed true to their first interaction on a dating app over two years ago. While trying to think of a clever name, they talked about what they most valued in life to which David brainstormed by saying "Let's see, we're always hiking, running, cycling, exploring…we're always out doing stuff…THAT'S IT! Out Doing Stuff!"
David and Anette got engaged February 2021. In August, they returned home initially to climb Mt. Whitney, at 14,505 feet the tallest mountain in the lower 48 states, but then decided it would also be a great time to get married while back in LA. They both successfully summitted Mt Whitney just ten days before walking down the aisle. Anette and David enlisted the help of their friends and family planned and paid for their wedding in full even earning thousands of credit card points in the process! Oh by the way, they are both fully debt-free.
Since the wedding they have enjoyed being married, something they both were looking forward to when they first messaged on Hinge. Months after setting out with no end location in mind, they finally made it to the East Coast. Between fall foliage in New Hampshire, exploring the easternmost states and national parks, and visiting the nation's capitol, Anette and David were high on the life they had made for themselves.
Needing to return home for the holidays and avoid the harsh cold New England winters, they strategically left their home in Connecticut where they would be able to pick up where they left off after the holidays and temperatures returned to more bearable levels. During this time of transition they asked themselves as they oftentimes have in the past if what they are living through is real as they love every bit of it and can't image it getting any better. That is until November 2021 when Anette surprised David with the amazing news – they're pregnant!
Elated about the thought that they'll be adding one more traveler to their adventures, they returned home for the holidays to share the great news with family, friends, and their thousands of followers who by now have become family and friends in their own right.
After reassessing their situation, an exercise they've learned the value of and need to do as they often don't plan anything past two weeks, Out Doing Stuff has decided to come back home for about the next year. In late February, they will fly back out to Connecticut and drive their home on wheels back west to their sticks and bricks home – their parent's homes in Southern California. This will allow them to get ready for their newest addition to their team while still taking their mobile home to local state and national parks in and around the southwest.
The plan is to stay close to SoCal friends and family at least until their new nomad is about a year old and able to explore with them. Will they realize it's too much to take on? Will they decide to transition to part-time nomads? Will they be able to explore as much as they did before? They hope so and we can't wait to follow along to see where their journey leads them to next!
We all face challenges, but looking back would you describe it as a relatively smooth road?
There are always challenges which we've had to learn to work together as a team to resolve. These challenges have helped us get closer as we've had to talk through them to divide and conquer based on what each one of us excels in.
1. Trip/Life planning
2. Working on the road (David is a digital marketing consultant)
3. Managing our growing brand (Anette curates content and manages our online presence)
4. Balancing work, life (everyday, "normal" living), and local excursions
As you know, we're big fans of you and your work. For our readers who might not be as familiar what can you tell them about what you do?
COVID has been a blessing and a curse in this area. It has allowed us to live this amazing life while David was growing his digital marketing agency and Anette managed our social media presence and consulted with a few clients of her own.
David has been in digital marketing for over ten years having worked with everything from small to medium and even national and international businesses. Before COVID, he worked at a number of marketing agencies primarily in Search Engine Optimization (SEO). Over the years, he has worked across many verticals and different areas of marketing. After getting laid off at the start of the pandemic David started his own marketing agency where he set out to help business owners who were good at what they did but needed a marketing consultant to help grow their business. David has learned so much about entrepreneurship, building an agency, working on all aspects of managing clients, and more. In January, he decided to take on a full-time role at Kaiser Permanente on their newly formed SEO team. He is eager to help the KP organization grow its rankings. While he still has the desire to help small to medium-sized businesses, he has pivoted his interest to more of an occasional consulting/advice capacity while he focuses on his full-time role.
Anette has been in the Diversity, Equity, & Inclusion (DEI), corporate grant giving, corporate social responsibility (CSR), and employee and community management space for over ten years. Before COVID, she worked at Los Angeles based sports and entertainment company AEG managing campaigns across the organization and working with government, community, and business organizations. She has a passion for finding mutually beneficial ways to meet business goals while at the same time being fair and equitable to all stakeholders. She is looking for either a full-time position or a consulting role where she can add value to existing programs or create new initiatives from the ground up.
As a fun pet project, David and Anette are looking to casually grow their Out Doing Stuff brand presence. They feel they have plenty of experience in the areas of: digital nomads, renovating a travel trailer, getting out into the outdoors, reaching your goals, and much more.
Any big plans?
While we plan to slow down the overall pace of travel and exploration as we welcome our firstborn, we still want to find a new equilibrium for this next chapter of our lives. We want to be able to balance what matters to us in no particular order: travel, the outdoors, family, friends, our careers, and continuing to build our future.
We will soon be launching a service which helps individuals navigate all the areas of our life we now know so well. From trip planning to nomad lifestyle questions and RV help to financial advice. We want to make it easier for anyone who is all about "Out Doing Stuff" to help them get outdoors faster and easier than we did.
The lifestyle we live affords us the opportunity to do more with less. We have lived quite comfortably on an average of $3,000/mo in total expenses for the both of us. This includes gas, "rent", food, restaurants, airfare and travel. We are currently in research and discovery mode to invest in our future by buying property across the US. We see a change in how the US workforce is shifting from the traditional 9-5 jobs in big cities to Americans enjoying the work/life balance COVID has allowed them to experience. We see a trend in many people wanting to do what we have been doing to some degree. This gives us the opportunity to buy land and property to one day build RV Parks, co-living and working spaces, and support a community of nomads who share the same lifestyle as us.
Pricing:
National Park Guide $149
Nomad Lifestyle Consulting $99
Trip Planning & Itinerary $249
RV Renovation & Maintenance Help $49/mo
Brand & Community Building Consulting $49/mo
Contact Info: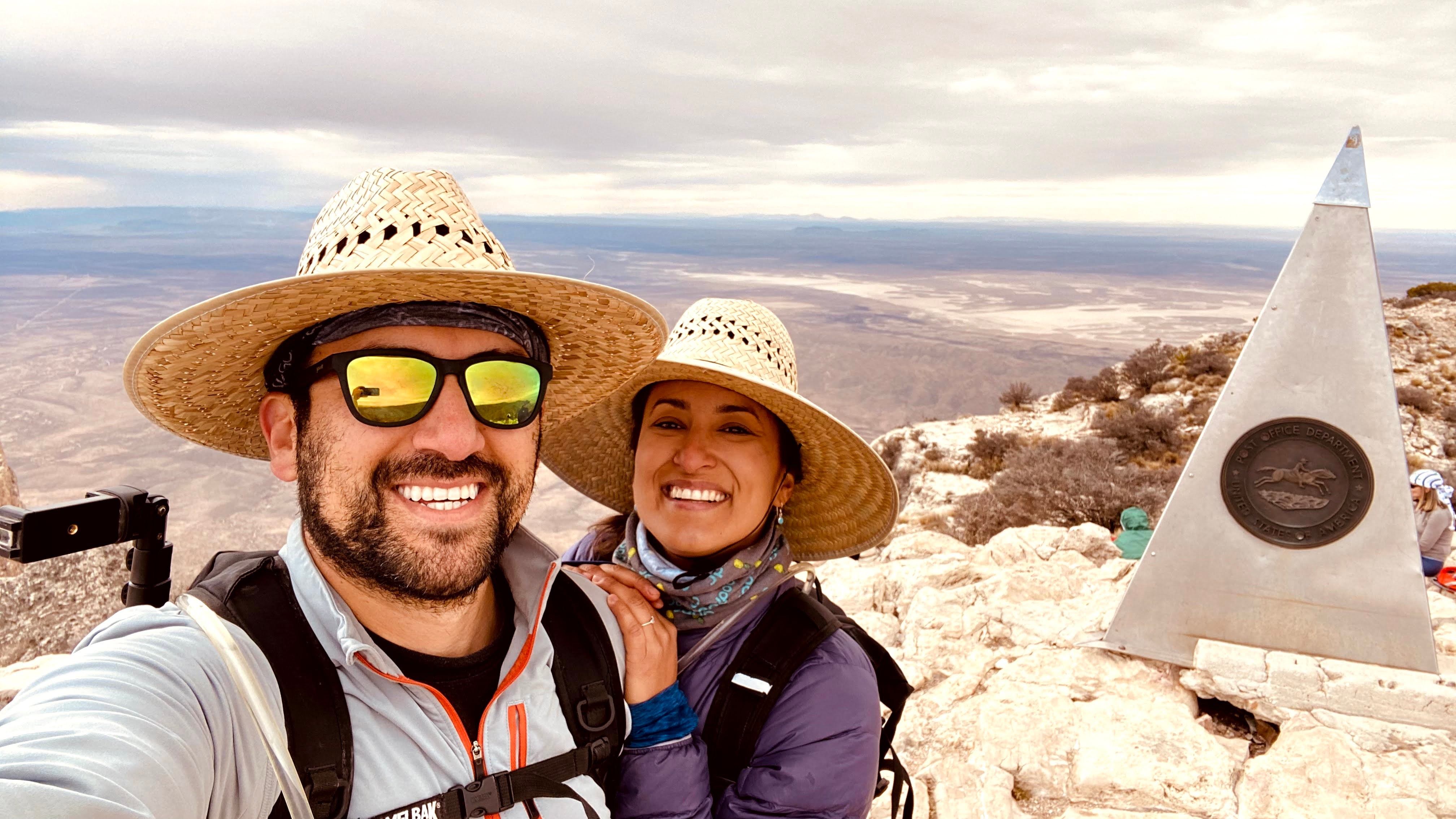 Suggest a Story:
 VoyageLA is built on recommendations from the community; it's how we uncover hidden gems, so if you or someone you know deserves recognition please let us know 
here.