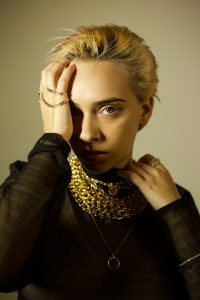 Today we'd like to introduce you to Andrea Cabrera.
Hi Andrea, so excited to have you on the platform. So before we get into questions about your work-life, maybe you can bring our readers up to speed on your story and how you got to where you are today?
I was born and raised in Carson, CA with a single mother and two older siblings. Well, I was actually born in Harbor City on the way to the hospital on October 18th, 2000- a month early. I just couldn't wait to live out my purpose. It's an almost stereotypical first-generation Mexican American story in the beginning- with my mother being a housekeeper and doing all she could to hold the household down. She did is so beautifully I never even knew she was struggling. Stick with me, for things change. I was in fifth grade when my sister took pictures of me for her photography class. I fell in love with modeling secretly. Eighth grade came and my brother introduced me to "The Secret," a documentary about the law of attraction. I did not question the teachings, it automatically made sense to me- it felt like a reminder. I put it into practice and started being intentional with my thoughts, did my affirmations, visualizations, started writing things down. Quickly, things started aligning. I was led to my friend's mom who taught me more about the laws of the universe and the power of my mind. I knew I wanted to model and I knew I wanted to be a message, not a sole image. I put this thought into the universe and let time take its course.
Through a friend of a friend, I started my first modeling job my freshman year of high school. They were social media-based so through them, I started growing my platform and other brands would contact me to model their things as well. I didn't allow myself to go full-fledged until college because my mom was always worrisome about the industry and the people in it. I trusted my instincts and vision and began aligning with people who were getting me booked for modeling jobs while I studied entertainment media management (currently in my 3rd year). My platform grew exponentially due to a YouTube relationship which was very much out of alignment. I learned so many lessons that are so important to where I'm at now so I have no regrets but I dimmed my own light being a part of someone else's world. When it ended, things got bad as my workspace (Instagram) was filled with his fans. Most people were not receptive to the message I was trying to spread. This message involves embracing your power, interconnectedness with one another and everything that's in existence, and your inner world creating your outer world. This is why my brand came into fruition.- Konexión Kósmica. It means cosmic connection / cosmically connected in Spanish. I created a physical manifestation of my message. Something someone could wear to show they're part of a movement and to remind themselves of their divinity and the fact that we are all one.
I'm sure you wouldn't say it's been obstacle free, but so far would you say the journey have been a fairly smooth road?
Absolutely not but I'm grateful for every bit of it because now I'm at a place where I don't see any turbulence as anything negative, just a learning lesson. I have the upmost gratitude for it all but as I take a walk through memory lane, I can remember the most difficult parts. One was knowing my mom did not like or understand what I did. She sacrificed so much for me so it weighed heavily on my spirit to go against her but at the same time, I knew I had to live MY life and not hers. I do not blame her at all and through plant medicine, I was able to free myself of this. I realized she wasn't even holding me back- I was choosing to hold on to her projections. After this, the next big thing I had to overcome was losing myself to the YouTube audience. I had to learn to go of all external validation and just believe in myself and trust that I knew myself no matter what projections everyone was trying to throw on me. I've balance full-time school, content creation on several platforms, running my brand, and my millions of ideas that come. I've been a one man army and it can be hard for me to accept help. I've gotten too caught up with over planning and not executing, on top of being over critical of myself in the past.
Can you tell our readers more about what you do and what you think sets you apart from others?
I'm simply a manifestation of the creator, creating in all ways possible. My bio says "anything and everything I want to be." I am aware that I am nothing but the stories I decide to tell myself. I am what I hold onto, but I do my best to simply ~be~ and fulfill this purpose I was sent here for. I'm here to wake people up. I'm here to help people realize these things. I'm here to show people they can manifest their absolute wildest dreams. I'm here to show people that where they come from does not have to dictate where they are going. I would say I'm most known for modeling, spreading positive and empowering messages, and now my brand. I know some people hold onto the YouTube character I played in the past but the version other people hold onto is not my business. At the core of everything I do as a creative, I would consider myself a spiritual advisor. I am working on (and am most proud of) bridging this gap between the media and spirituality. Showing people that they do not have to lose themselves to attain everything they want.
What sets me apart is that I don't want to be set apart. We are all already unique because there is no one like ourself. I want to build a creative community filled with helping each other realize our purpose and fulfilling it. Through my own testimony, I am helping others loosen to grip of their traumas so they can live their best life, just how I did. I do not focus on who's not with me, I just embrace the people who are ready to wake up and will keep my arms open for the ones that are resistant. I've gone through having thousands of comments and feeling empty. I've gone through my engagement dropping and feeling so full. I feel as if though I have already made it because I looked inward and saw I have everything I need. I want everyone to feel this fullness and beauty that comes when you release control and believe in yourself. I create to inspire those creatives who have lost their way back to creation.
We're always looking for the lessons that can be learned in any situation, including tragic ones like the Covid-19 crisis. Are there any lessons you've learned that you can share?
This year has definitely held my biggest awakening. I learned it's important to have alone time because this is where you learn the most about yourself. I learned that the whole time I was saying, "there's no one like me, people don't understand me" I was wrong. The moment I claimed to align with like-minded people- it happened. I learned we easily forget very simple important things, like being grateful for everything. I learned I have everything and don't need to be anywhere but present.
Contact Info:
Email: konexionkosmica@gmail.con
Website: konexionkosmica.com
Instagram: @dregoldi @konexionkosmica
Twitter: @dretheevenusian

Image Credits:
@tdotmills_ @antoniogavinci @junofiles @filmbyorion @zu.hura
Suggest a Story:
 VoyageLA is built on recommendations from the community; it's how we uncover hidden gems, so if you or someone you know deserves recognition please let us know 
here.