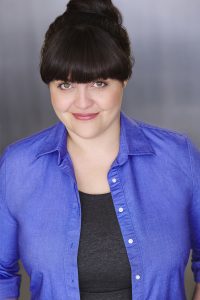 Today we'd like to introduce you to Xiomara Bernard.
Xiomara, please share your story with us. How did you get to where you are today?
I was born and raised in Philadelphia, PA, a Cuban-French, African-Native American and am no label. I'm the daughter of a former refugee and a former political prisoner. Both, along with my siblings, managed to escape a dangerous regime in Cuba. After arriving in a new country, they fought many battles, ranging from discrimination to being bullied, harassed, and marginalized.
They all fought hard to have the joyful lives they have today. They've educated me on how I should be as a person, how to go for what I want, and what I should and shouldn't allow into my life. Because of them, I learned to be a resilient, spiritual, grounded person.
Ever since I can remember, imagination has been my driving force. It wasn't until I was around eight-years-old that I discovered there was a career where I could use my imagination everyday. Many great artists inspired me. I was also obsessed with ghost stories, so I know the supernatural genre always called to me. My older sisters got me into reading classical literature at a young age — Shakespeare, Bronte, Austen. They made sure I watched great classic films as well. Outside of the house, I briefly trained in ballet, piano, and martial arts. Besides being involved in "The Nutcracker", I didn't get fully involved in plays and drama classes until I was in high school. That was when I became a thespian and never looked back.
Once in college, I started to book roles in local theatre and independent films. It was during my post-secondary education that I met the people I would collaborate with on a continuous basis and forever love. My work has continued to grow ever since. It hasn't been an easy road, but I've learned so much in my life, on each project I've booked, and because of that, I've learned to ask God and the Universe for what I want, and it manifests what I need within my heart's desires.
Overall, has it been relatively smooth? If not, what were some of the struggles along the way?
Always be prepared to be independent and protect yourself. Even if you partner with someone you feel you trust with your whole heart, whether it be personal or business relations, make independent preparations so that you are secured, not surprised, and so that you may focus on what you truly want and what is truly important, because things can happen at any given moment, and it may inconvenience you and affect your business as well as your personal life. If something doesn't feel right to you, trust yourself not to do it. If something feels true, take the leap.
There were two periods in my life where my foundation was rocked due to unexpected events. In 2004, the economy crashed, I was out of work for almost a year. I was judged for not having money, and on top of that, my health wavered. I almost died due to a low hemoglobin level that was caused by anemia (it was caused by non-stop, excessive menstruation) and had to be hospitalized. People cringe when I speak about that, but I need to be transparent in case others go through similar health issues, they need to know they are not alone and there is a way to heal from it. My mom, dad, and siblings stood by me every step of the way. Things moved up from that year, and I got healthier, started working again, and moved to California in October 2008. I booked a lot of roles in more films, plays, and I was happy. I made it.
Then, in 2011, the economy crashed again, my acting career slowed down, and despite having two side jobs, because they were low in hours, I took out loans to cover rent with a guy I was living with at the time and developed bad credit. That decision took me to ground zero. March 2011. I will never forget that month. I was on my own, working two jobs that were unstable, and had nowhere I could call home. I'm grateful I had a car to take me to both jobs. That entire month, I went to Marina Del Rey Beach on my lunch breaks and just stared out at the ocean. I had to pray, meditate, and evaluate where my mindset was to figure out what lessons I needed to learn to transform, and quick. Through a couple of pals, amazing owners of two amazing cats took me into sleep on their couch. Without going into religion (I love and respect all beliefs), meditating with Jesus, Mary, Guardian Angels, as well as connecting with my pals' cats when I was feeling low — beautiful creatures whom I consider my Earth Angels — is what kept my mindset to be clear and positive without fear or doubt. After six months of picking up whatever shifts I could, planning and saving, I eventually got on my feet and said goodbye to couch surfing forever.
Here is what I learned: Life is full of surprises. There are times when your mindset will go haywire when you worry instead of remaining calm in the face of fear, like forgetting your lines during a scene, (this happened to me in a workshop when I worried about lack of finances earlier that day). I swiftly learned my lesson to NEVER allow any worries take over me at all. You must remain cool as a bird in the face of fear and not let any worry distract you. There are times when people won't support you despite you supporting them. There are times where a mentor may disappoint you, because they are going through personal battles, and automatically give you the cold shoulder. There are times when you will run into insecure people that want you to do good enough to survive, as long as you don't do better than them, or randomly dump your friendship when you are focused on doing you. There are times when people will gossip about you and make false assumptions. There are also times where the equipment will fail the day before the shoot (recently happened to me). I'm not saying any of this to cry out, "it was unfair", "how could this happen?", etc. I want you to know that these things might happen on your journey, and to not marry into emotions when they do. It has nothing to do with you. Be prepared to immediately get back up when you are knocked down. If things feel like it's not moving fast enough or lacking in resources, just Breathe. Always Breathe. Train. Be disciplined while it happens. Save. Consistently work on your goals. Continue to focus on you. Trust your gut.
With persistence, I overcame my hardships. I married my intuition. My acting career picked up. I've booked more roles that I love, graduated college with two degrees, and became eligible for the union. Now everytime I follow my gut, which has become a habit, I feel relief, and it continuously shows in my results. The people and events that taught me lessons became memories, and those memories stay in the past. I healed, mentally thanked those lessons, and focused on ME and NOW. When I focused on me, I grew more into the person I wanted to be. I found my real tribe, my real friends, my real mentors, and my real supportive community. I eventually found real resources that worked for me. I found a way to overcome obstacles, and in case you have any challenges in life, no matter how dire it is, know you will find the strength within you to overcome it. Just find the right resources and the right people to educate you. Eventually, you will attract your heart's desires. Most of all, TRUST YOUR GUT.
I decided around the middle of my journey that I needed to be best friends with my intuition, no exceptions, prioritize my health, no exceptions, keep happiness in my life, no exceptions, create boundaries, no exceptions, doing what I love with my career and loving what I do, no exceptions, make sure I'm doing something every day and night to get towards those intentions, no exceptions, and to make sure I had a supportive circle around me, no exceptions. I make sure not to forget to enjoy the in-between moments in my journey, which is very important. So rather than asking myself "How is my future going to happen?", I simply ask my gut "What's my next right move?"
We'd love to hear more about your work and what you are currently focused on. What else should we know?
With film, I create magic with others, and they create magic with me. As an actor, I've been involved in a lot of plays, short films, music videos, voice overs, and independent features. I've worked with amazing filmmakers on a lot of wonderful projects, including films: "Out on Parole", "Cygnus X-1", "Rotting Beauty", "Company of Prophets", "The Sleepers", and recently, "Firstness". I'm really excited about that one!
As a filmmaker, I run Theophilus Films with my producing partners, Allison Chaney and Erin Okamoto. The concept of this film company (it was called Violet Fire Productions at the time), came to me when I was meditating on the beach in a vision, that month of March in 2011. Twelve completed short film scripts zoomed into my head. Upon meeting Chaney in the summer that same year, she wrote a book called "The Lost Heir" with co-author, Okamoto, whom I met a few months before. There was a cool character called "Theophilus". Chaney suggested that we should join forces as she also desired to go back into the film business along with Okamoto, who found a passion in screenwriting. I said yes. The three of us teamed up, and thus, Theophilus Films was born. We are a tripod who makes stories that shows self-empowerment, mostly genre style (supernatural, fantasy, romance, family, history, etc…), and getting ready to do our third short film: "Blackout". We have an amazing cast and crew on board, as well as amazing producers and sponsors, whom contributed to the film. Two of our first short films, "Night" (which filmed 2014 on the same beach that I meditated that March 2011) and "Poison" (which was also in my vision), have gone on to local and international festivals.
As a female-driven production company, we are warriors of light, and make sure there are continuous investments in making this a diverse, inclusive and productive environment, especially with our cast, crew, as well as within our stories. Our Theophilus family are from all walks of life. We take care of people as we like to be taken care of (even if we are low budget, we know people have to eat and make sure that they do, immediately). We thrive having leaders in every position. Like they root for us in our visions, we empower others to be lifted in their visions and their own companies.
If you had to go back in time and start over, would you have done anything differently?
In honesty, I might have put dating on hold until I had my ducks in a row. I was too young. Nothing against anyone that was involved in my life, but my focus and mindset might have been sharper, and I was still learning about myself. I didn't focus on fully preparing for life. I'm not beat about it. I learned the lessons I needed to learn. Right now, so far, I'm making decisions that are making me happy and it's working out for me. So I will keep going in that direction.
For now, I'm focused on directing my third short film, "Blackout", and will be currently training in classes to keep myself sharp. I did get offers to collaborate on more films, but until I'm allowed to reveal what they are, I have to keep it confidential. I intend to continuously do what I love in my career as an actor (that will be my main focus), and within Theophilus, my partners and I will eventually create features and series. Recently, one of our producers, Chaney, wrote and created a coming-of-age comic book called "Love University", which is available right now, and is currently shopping a new supernatural television series, "Poe". I highly recommend both! Okamoto is working on an exciting new romance feature, which I'm looking forward to reading soon! "Blackout" is our last short film upon completion as we will transition to the next level in our company. We intend to do big things and make sure we are constantly living out our affirmations. In the meantime, we will be producing vignettes and sharing them on our IGTV page for your enjoyment.
Thank you Christina Fuursted for my nomination.
Contact Info:
Image Credit:
Feature Picture: Headshot: Bellamy Saville (bellasavillephotography.com); Hair/Makeup Artist: Mary C. Rogers; Hair Colorist/Stylist: Lucy Walker; Stills Copyright; "Journal" Rotting Beauty (director: Nyri Yaghoobian); "Rachel Dawkins" Out on Parole (director: Derek Alan Rowe); "First Dance" Firstness (photo by Alexa Viscius, director: Brielle Brilliant); "Blackout" Poster (Director of Marketing Design: Angelica Perez, director: Xiomara Bernard)
Suggest a story: VoyageLA is built on recommendations from the community; it's how we uncover hidden gems, so if you or someone you know deserves recognition please let us know here.