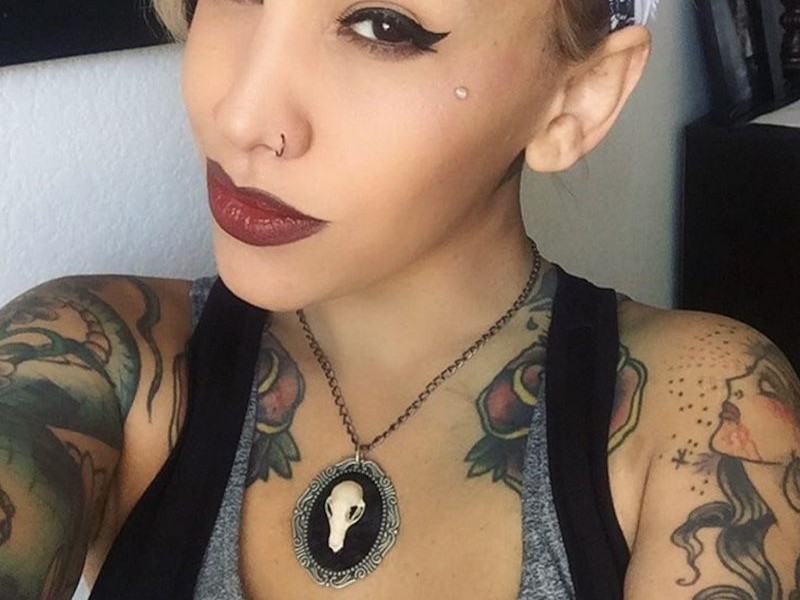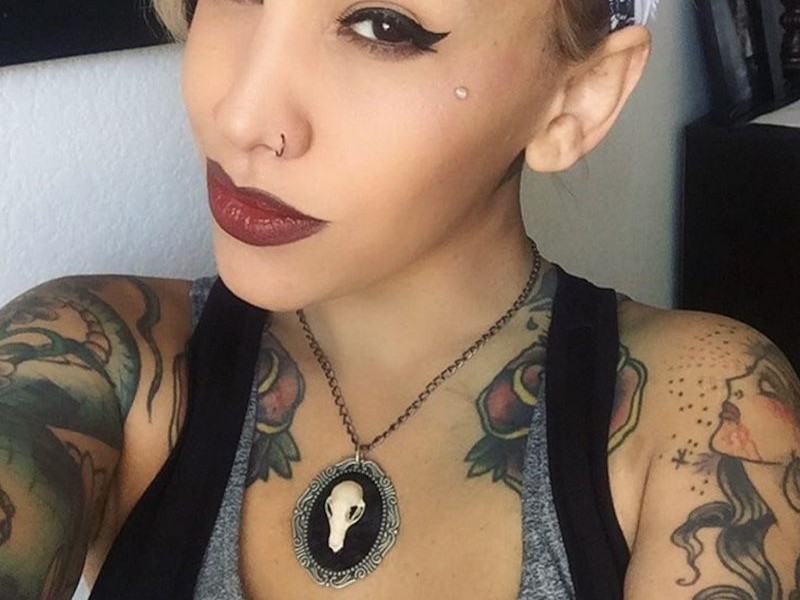 Today we'd like to introduce you to April Garcia.
April, please share your story with us. How did you get to where you are today?
Honestly, I didn't grow up always wanting to be a makeup artist. I wasn't a girlygirly. I never wore much more than some thick eyeliner and mascara. Originally, I wanted to be an actress. I was living in New Jersey and would occasionally go to New York for auditions. I took Drama Club and was in the school plays. So naturally when I started college, I decided to major in Theater. I wasn't more than a few semesters in when that all changed. I was always into rock and metal music…and I had met some awesome local bands while going to school in Phoenix, AZ. I was hanging out with some friends at a band's rehearsal spot, and they started recording some vocals and I for the first time saw a recording console and was blown away that this guy knew what every button and switch did, and with a turn of a knob, completely changed the sound of the singer's voice or the sound of the room size. My mind was blown. By next semester I had changed my major to Audio Engineering. I soon decided to go to the best of the best and made my way to LA to attend Musicians Institute in 2007. For the next two years or so after graduating, I worked on a number of projects and assisted some amazing engineers. When I got pregnant with my son, I decided to move back to Phoenix. Audio jobs were quite sparse, and I had to figure out what I was going to do as a single mom to take care of son. Naturally, I decided to go to cosmetology school, because honestly, it was the one profession I knew to be accepting of tattoos and my need for fun and colored hair. I worked in a few salons, but it wasn't until I started working for a bridal company that I really fell in love with makeup. I was on a work trip to IMATS 2013, and I was like…"I want to be a part of THIS world". Up until that point makeup was my side gig to hair. That was the day it changed! I stocked my kit with tons of goodies and sat in on some lectures and when I came home I had a new spark of creativity in me. I worked at Dolce Salon and Spa in Scottsdale for almost a year before I got a position at Glamour Shots. I went from makeup artist to manager and that got me in California again because I opened the San Diego location. My real dreams have always had a baking in entertainment… I loved acting, I loved being a part of the recording process in music… so I had to be in entertainment. I made to move to LA in December 2015.
Since then I have often worked with The Starving Artists Project, donating my time to apply makeup for celebrity and up and coming actor headshots. I have assisted head makeup artist Julie Marquez on a number of projects including feature film Storefront starring Jason London, Creator Interviews for the game Dark Souls 3 featuring Eli Roth, and a powerful short It Happened Again Last Night about domestic abuse starring Gabrielle Stone. My most recent work was on the music video for Disappear Here by Bad Suns directed by Kyle Cogan. Since film/tv (including sfx) is where I want to be in the industry, I decided to further my education and I am currently enrolled in Elegance International to learn everything beyond basic beauty makeup and I am having a blast. I only hope to continue to grow as an artist and keep doing what I love.
Has it been a smooth road?
My husband and my kids mean the world to me and it's never easy to focus on your dreams when you have a family. We make it work and I'm so lucky to have so much love and support.
So, what should we be on the lookout for, what's next in store for you?
I happened to recently fall in love with face and body painting. Within the next year, I will be teaming up with a few very skilled artists to start a business. It's all very much in the beginning stages, but it's something I am looking forward to!
Let's explore some of the challenges you've faced along the way. What was the most difficult part of your career so far?
I think the whole process of really figuring myself out took a long time. It's not until now, at almost 32, do I feel like I have found my niche. Some people know straight out of high school or even earlier, and have years upon years of practice on me. I tried a lot of other passions first, had a great time in my 20s and then settled down and had a family before I zeroed in on my career. There has been ups and downs and times I wanted to give up, but my passion and drive never let me.
What about "Wow-moments" – any moments that stick out? Any moments when you felt like you had made it?
Anytime I'm on a set, I'm like "Wow…this is where I want to be everyday". I feel at home when I'm part of a crew.
Contact Info: