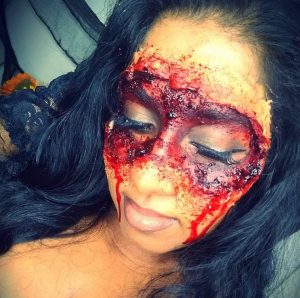 Today we'd like to introduce you to Winnie Hartman-Gross.
Thanks for sharing your story with us Winnie. So, let's start at the beginning and we can move on from there.
I've been drawing and painting since I was 2. Art has always been a major part of my life. I love creating and designing. Anything that has to do with art, I love. I view makeup as art and that's why I love it so much. Especially special fx makeup. You can make a zombie messy looking but it's still makeup. I grew up watching Johnny Depp. The first movie I watched of his was Edward scissor hands. I was 6 lol. I remember seeing his character makeup and immediately said "I want to do that"!! I was amazed by the costume and art of it and that's where it started. Johnny Depp's movies have played a major influence for my special fx makeup.
Overall, has it been relatively smooth? If not, what were some of the struggles along the way?
No it hasn't. The industry can be very back stabbing and it's a jungle. You either survive or don't. The industry isn't for everyone. It's very hard to find people who are willing to help you and support you. If you find someone or a small group tha do these things, hold on to them. I'm blessed to have a small group. If it wasn't for them pushing me and helping me, it would be way harder to stay in this industry. I push myself every day. People always praise how much talent I have but let's be real….talent doesn't mean anything nowadays. I blame social media. People focus so much on views and likes and only look at that. What sucks is people will get defeated if their picture or video doesn't reach a certain amount of likes or views. You go into this mental state of what you could have done better because you just saw someone else's post that is similar, and they have over 500 likes or 1000 views on their post. I definitely deal with that on a constant basis. It's actually getting to a point where I'll be asked how many followers do I have when I apply for a makeup position. And that's what I believe is one of the triggers for why people give up in the industry.There have been many times where I want to give up and it has definitely caused alot depressing stages in my life. I keep pushing because the more I succeed, the more I'm risking throwing everything away. I've been in the industry for almost 10 years. If I quit, I'm throwing all of that away. Another reason why I keep going is because I don't have anything else. Nails and makeup are pretty much the only things I know how to do. I saw a tweet that said "Keep posting and grinding, someone somewhere is watching and will notice". I keep that as a reminder to not give up.
Please tell us about A Winning Blush.
I'm originally from DC and moved to LA to further my career. I do makeup and special fx makeup. If I had to choose between the 2, I would definitely say special fx makeup. Zombies are my favorite to create and I guess you can say that's what I'm known for. I love to turn the prettiest characters into zombies lol. Last year for Halloween, I created a zombie Harley Quinn. People get scared and I love seeing their reactions! I love making my own prosthetics. I make them out of flour and liquid latex.
If you had to go back in time and start over, would you have done anything differently?
I would be more kinder to myself. We are our worst critic. In life we make mistakes. It's part of growing and learning. I grew up in a house where I wasn't allowed to make mistakes. That's why I'm such a perfectionist. If I didn't get something right on the first time, I would beat myself up to the core. I wouldn't have any faith or patience and would stress myself out. I felt like a failure if I didn't accomplish something and I had no confidence. As I get older, I've learned how to not react to things. Not everything needs a reaction. What's meant to be, will be and it's ok to not be ok and I'm teaching myself that.
Contact Info:
Address:
Instagram: A_Winning_Blush
Phone: 213-703-0164
Email: awinningblush@gmail.com
Image Credit:
Dior Davis
Stamp DMV