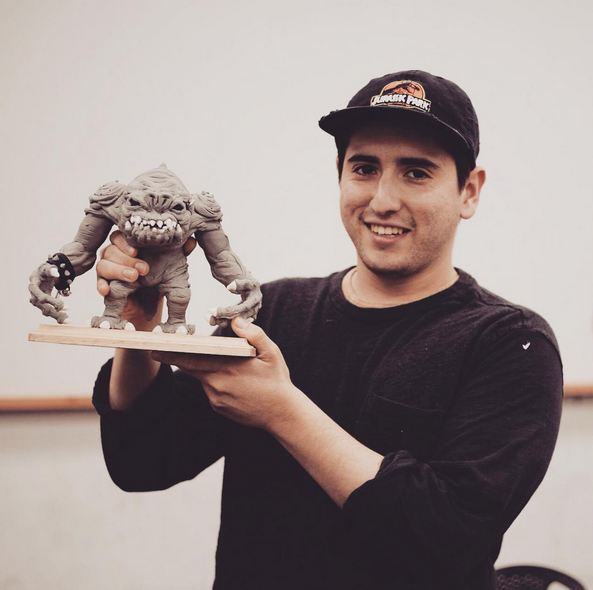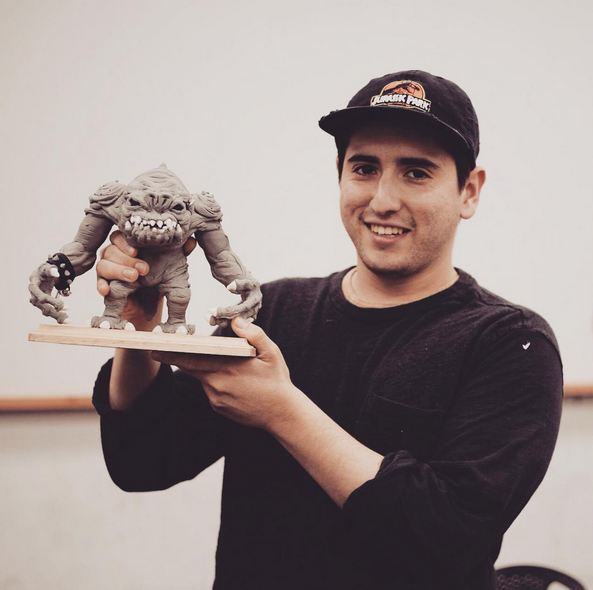 Today we'd like to introduce you to Christian Ibarra.
Christian, please share your story with us. How did you get to where you are today?
For the past few years, I never knew what I wanted to as a career or what interested me in art I was sort of confused. Instead of focusing on my career or adult life I just did what normal Southern California kids do which is skateboard all night, go to the beach, and go to shows/concerts in the city or suburban areas.
It wasn't until 2015 that my passion actually found me. I landed my first internship at a stop-motion animation production company that makes content for Cartoon Network, Disney, and Netflix. I was hooked and fell in love with this idea of making real sets, using real lighting, and moving inanimate objects bit by bit 24 times per second.
I was the production intern which meant that I was able to roam around the studio and see what I really wanted to specialize in the field. I eventually found that I was gravitating towards the Animation Department. I got my second internship at the studio the Animation Department learning character development and made great friendships being mentored by a lot of the animators who have worked on so many great shows that I grew up watching.
I realized that once you make the decision to commit to something, you start discovering the powerful you inside and your creative abilities expand. I started making clothing for my puppets, sculpting and even building my own equipment to create the animation. Growing up I was never creative or determined enough to do things like this.
Everything that I learned there I have been applying to my own personal work. Right now I am creating this concept of meshing together all that I have experienced in my life of skateboarding, pro wrestling, and concerts with my stop motion animation.
Has it been a smooth road?
It has been a bit of both struggle and victory.
I have been given a great work ethic from my parents and family who are immigrants from Jalisco, Mexico. They instill this spirit of never giving up and being the best at whatever vocation you choose.
Stop Motion is probably the hardest form of animation there is because you're dealing with real elements such as gravity and real lighting. When you move your puppet you have to make sure that it is well planned or you have to start the shot all over again.
Luckily, I have a lot of professional mentors who have been helping me nonstop and always give their time to make sure I am on the right path of progress. Whether it's costume, animation, set building or even production advice I have been very blessed to call these artists my friends. It's all about paying it forward and I will make sure that I will pay it forward to someone one day.
Thank you: Michael, Ethan, Whitney, Alex, Sean, Eric, Harry, Becky , Lauren H., Mario, Parker, Sara, Leigh, Emily, Logan, Huy, and Laura for everything you all have done to guide me on this path of creating!
What has been the proudest moment of your career so far?
Even though I am really new to the industry, I would say developing friendships with people that have worked on my most favorite movies. Them telling me that I am constantly getting better and inspiring my peers around me to go for it!
Were there moments when you had to struggle?
Absolutely.
When you are first starting out in the entertainment industry which I still am since I just graduated this past May, I have been balancing multiple jobs at once. I would work during graveyard shifts at Target so that if an opportunity in animation came available during the daytime it wouldn't conflict with my work schedule. So in total it would be a 15 hour work day. Work from 3 am – 8 am then go to the next job from 10 – 7 pm.
There was a time also where I got hit by a car by a drunk driver on the sidewalk, and I could not walk for days. Shortly after, in about a week I got called in for my first animation gig. Even though I was in serious pain with just moving around I knew that this was my opportunity to really show them what I have to offer with my passion & determination.
To me, that's part of the journey. Testing to see if you really want it, and what you are willing to do to succeed.
Is there something we can do as a city to improve the outlook for professionals like you?
Los Angeles is absolutely the best place to start out.
Looking back I grew up near Griffith Park and ironically I didn't know too much about the entertainment industry or never thought about it as a career. But as I reflect on my childhood in Los Angeles I am realizing that all this creative energy and passion for art has been building up inside me without me even knowing it.
This city is so diverse with culture, people, food, and nature. Just by taking a stroll around the communities of East Los Angeles, Santa Monica, Frogtown, Burbank, etc. there is so much creative energy that feeds into you by seeing murals, and movies being filmed.
I feel so lucky everyday by living here, there is so much to see and learn from within the surrounding communities in Los Angeles.
Contact Info:
Email: christianibarradesign@gmail.com
Instagram: @christian_ibarrrra