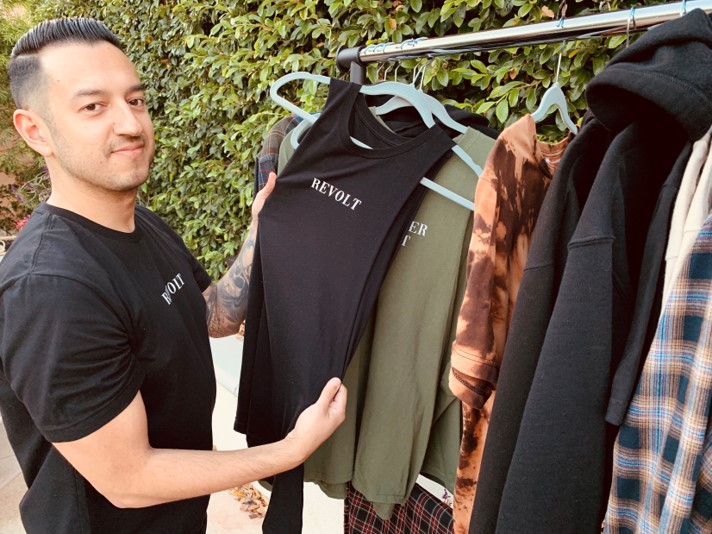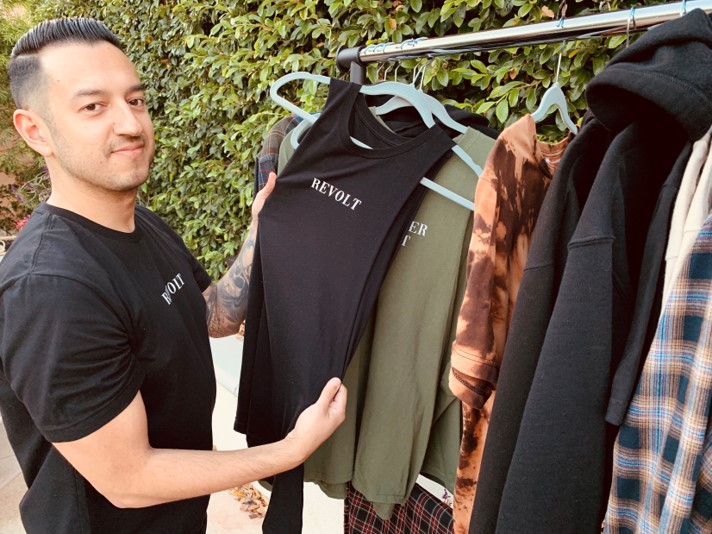 Today we'd like to introduce you to Vincent Rivera.
Vincent, can you briefly walk us through your story – how you started and how you got to where you are today.
Absolutely. I have always found myself being involved with clothing or starting a company throughout multiple stages of my life. I remember an old friend coming to me and asking him to be in his brand way back in the sixth grade. So it started young. From there, I was in two others, which did not amount to anything. Still, the reoccurrences stuck with me ever since. It wasn't until 2014 where I began to think seriously about starting my own. During that same year, I had made the decision to go back to school, which ultimately led me to the University of California, Santa Cruz. It was there where I came up with the name, Dissenter Revolt. In 2016, I was reading a piece by Northrop Frye, who is a literary critic of the poet William Blake, and in one of his exerts, he used the word Dissenter in referencing a rebel of the church. As soon as I read that word, revolt just rolled off my tongue. I knew right then and there that thats going to be the name of my company. Sometimes you just know.
After I graduated in 2017, I was dragging my feet into officially starting the company legitimately. It took an incredibly difficult situation in my personal life to reach the point of doing it. My nephew Preston passed away a week after his birth in December of 2017, at the Children's Hospital of Los Angeles. My references to Sunset Boulevard, and the City of Angels is an homage and metaphor to him. He has been the greatest inspiration of my life, and I dedicated Dissenter Revolt to him.
A month later, I accepted an internship with a streetwear brand called Korelimited, and it was there where I learned all the nuances of everyday operations. The owner Matt, and his manager Angela, taught me so much. I'm very grateful to have spent that time with them. In November of 2018, I officially launched Dissenter Revolt. It has been a whirlwind, but I am so happy of how it has turned out so far.
Overall, has it been relatively smooth? If not, what were some of the struggles along the way?
Absolutely not. I think being the kind of person I am, self-doubt becomes a real enemy of the conscious. There were times where I thought I wasn't capable of being an owner, or even managing all the tasks that come with it. I wear every hat of this company, and it can be very exhausting. I also had a full-time job when I launched it so balancing the two became very difficult. In addition, always having material, or content for the brand is exhausting at times. Lastly, from a financial standpoint, I didn't take out a loan or look elsewhere for investment. I used my own money, and that creates its own unique challenges.
Alright – so let's talk business. Tell us about Dissenter Revolt – what should we know?
I think most importantly, Dissenter Revolt is an inclusive experience. I am influenced by so many different styles and art; that anyone can feel comfortable wearing or finding a piece that best suits them. I would say so far the company is most known for the sketched roses, whether on the Sunset Rose Tee, or the Tartan Hooded Sweatshirt. I also think people associate the use of plaid with my brand. I specialize in making custom pieces. If you look throughout the Instagram page, you will see a ton of custom work. I am always being creative and trying to change things up on the fly.
I would say I am most proud of the literary work that I have composed within the framework of the brand. I don't know if I will ever be proud of my clothing to the point in which I am proud of my poems.
As far as what sets Dissenter Revolt apart from the others; the company is so much more than clothes and has no desire to be just that. I mentioned in one of my earlier Instagram posts, that Dissenter Revolt is an interpretation. Those two words are going to elicit a thought or feeling. The uniqueness of the name adds a dose of mystery that breeds curiosity. To me, Dissenter Revolt means to preserve the will to be creative, and use the gifts given to me at birth. I'm a firm believer in the notion that worst sin to self is the squandering of one's gift.
As far as creative presentation, I wanted something more than just product shots and trendy designs. All of my pieces have multiple meanings, and it's found in the details. In addition to that, I incorporate poetry and creative writing, and the reason I do it is to give people an experience that I feel is rich, and meaningful. I feel like it's a responsibility of mine, even if it doesn't always register. There's an art to being vulnerable, and I am willing to go there. Lastly, being from Los Angeles, I want to do my part in reversing the notion that everyone here is fake. Even if its an impossible feat, I still feel inclined to show that not everyone here is.
Any shoutouts? Who else deserves credit in this story – who has played a meaningful role?
I have so many people to thank for helping me get this far. I mentioned my nephew Preston, and he deserves all the credit for giving me the energy to do this.
My parents have been wonderful and encouraging throughout this process. It has been great to see them be so proud of something I am doing. My siblings are always quick to shed light on my brand and really help with some of the logistical aspects. I owe them a lot. My grandparents on both sides deserve a lot of credit. To see and hear them get excited about my brand has been amazing.
My girlfriend Ivy has been a tremendous support, not only in understanding that I have to do this, but she's provided me with great, honest advice. She worked in the industry and has a wealth of knowledge. She is always wearing my clothes and doing her part to get the brand out there.
My life long friend Taylor has been a huge support in promoting and wearing my clothes.
My friends from Santa Cruz deserve so much credit. So many of them have purchased something, and are always wearing it.
Ray Lebeau was the first to purchase my clothes. He has four pieces of mine and has modeled all of them. Thank you brother.
I have to thank Moises, Elena, Norma, Adam, Carmen, and Emilio. They have showed so much support, and are always wearing something that I produced.
I have to thank my mentor Dr. Andrew Sivak. It was through his lessons, that taught me the absolute importance of using the gifts I was given at birth. It was under his guidance where I really started to see my own transformation.
Mike, who was a barber of mine, has bought a single piece of everything I have produced so far. He is always repping it, and getting the word out. That means so much to me.
My good friend Marcia Lopez, who is the owner of Rebel Soul Collective, has been a tremendous help in this process. She has given me so many tips on how to go about the logistical processes of being an owner.
Once again, I want to thank Matt and Angela for showing me my abilities and teaching me what I needed to know about running a company. Also, I want to thank my fellow interns at Korelimited for their support and contributions to Dissenter Revolt.
Lastly, everyone back home who has reached out and supported, modeled, or become a client, thank you so much.
Contact Info:
Getting in touch: VoyageLA is built on recommendations from the community; it's how we uncover hidden gems, so if you know someone who deserves recognition please let us know here.