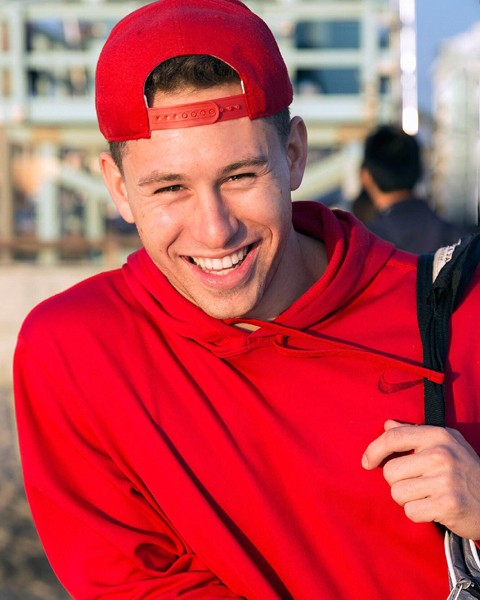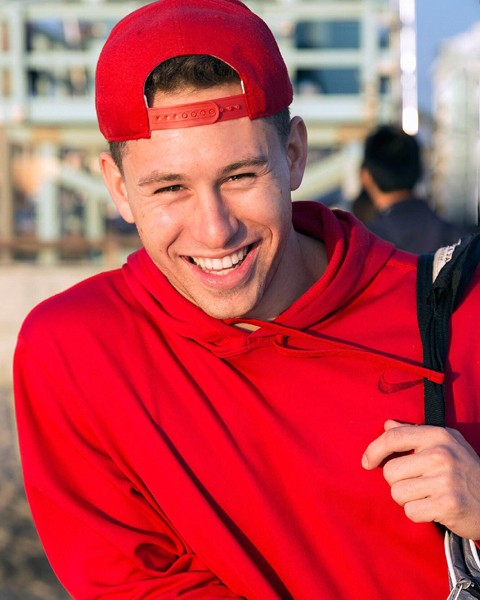 Today we'd like to introduce you to Nick.  He's one of the most relatable people we've covered so far – his story is one we can all understand and appreciate.  His passion for fitness, his work ethic and his ability to keep moving forward have allowed him to set the foundation for a great career in SoCal.  Below you'll find excerpts of our interview with Nick.
Nick, please share your story with us.  How did you get to where you are today?
Fitness has been a big part of my life for the last ten years. My fitness journey started all the way back in 8th grade. I had a crush on a girl from my school; she commented and said my head was too big for my body. Being a skinny kid growing up I was hurt by these words. I then seeked out my dad's help and he got me started lifting and using his old school weight bench downstairs. Since then I have not looked back. Last May I graduated from Penn State with a degree in Kinesiology Movement Science. My good friend Matt and I then went on a cross country road trip and moved to Southern California to pursue our dreams in fitness. I am training for a magnitude of reasons. One is to continue to pursue my dream to be a top fitness model. As well as becoming an IFBB Pro as an NPC Men's Physique competitor. I competed in two bodybuilding competitions this year. As an NPC Men's Physique competitor. I placed in both shows and qualified for nationals for the second time in my career.
My goal is to earn my Pro Card this year when I compete at the national level. I would also like to compete in my first powerlifting competition in 2016. As power bodybuilding is one of my favorite training styles I use. That being said, strength and aesthetics is very important to me. I will use all of these avenues to continue to tap into the fitness industry so I can use my name to reach out and motivate several generations. Most importantly to me is inspiring the youth of my generation as well teenagers and college aged kids. I am fortunate to be training in Venice, California at the Mecca of Bodybuilding, Gold's Gym. Here in Venice I train my clients privately at their homes and have been building an online training business. I have branched out and decided to make a difference in your life by providing as much value, motivation and inspiration as I can! Let me use my experience as an outlet to change your life just as fitness has changed mine, through your health, sport, overall well-being and success.
What are your plans for the future?
As I said before one of my biggest goals is to become an IFBB Pro, there are upcoming Pro qualifiers coming up. The North American Championships in September, and Nationals in November. I am planning to compete at both of these shows.
That being said my immediate plans are to land a few sponsorships, a supplement company would be awesome in which I am marketing their products. In exchange, I would be looking to receive supplements, travel expenses (I think it'd be awesome to have the ability to travel to different fitness expos around the world, I love traveling and seeing new places), and through this sponsorship, like other athletes have an income from them as well to help support my fitness journey and keep my own expenses down.
Let's dig a little deeper into your story.  What was the hardest time you've had?
I would say the hardest time in my career was last summer. I had just graduated from school in May and I was planning on moving to Miami. Long story short I was hurt really bad by my ex-girlfriend. There was an incident that happened when we were in Miami for my spring break that I did not find out about for a couple of months. I was never hurt like this before and it put me in a really bad place. It even left a really sour taste in my mouth about Miami. To the point where I did not want to move there. This left me in limbo, not sure what the future would hold and seeing a lot of my friends securing jobs was frightening. I did not want to work a typical 9-5, 40 hrs. work week. I've always had an entrepreneur's type mindset.
So I thought what would be better than Miami… than California! I had a close friend at Penn State who was from California and he told me I would love it. I spoke with one of my best friends from back home, Matt, about what I was going to do and if he wanted to join me. To my surprise he was in. I really did not want to do this trip alone. Over the course of the next two months, we started to save up all the money we could. I had a couple of setbacks with my car as he did with his certifications. So the trip was delayed a month, it was a very stressful time, there were times I wasn't sure the move was going to happen but it did and we went on an awesome cross country road trip to follow our dreams in the fitness industry. Making stops in Nashville, Kansas City, Denver and Las Vegas.
My dad is my best friend and I could tell he was sad to hear about my plans, but he really wanted me to pursue my dream and I respect him for all of his support. He has spoken of moving to the West Coast which makes me happy. He's retired now but with my mom still working I'm not sure when this will happen. I set a goal for myself to help retire my mom and get them both out here. This would make me happier than anything, to have them here along my side while I continue to pursue my dream.
I really never thought, with 6 months in the books I'd be pouring as much money into my student loans as I am and be as well off financially as I am. Meanwhile with the feeling that I'm only getting started. I know there are only bigger things to come and I am so excited.
Do you ever just stop and think WOW – I've made it?
There are times when I'm out on a beautiful hike, or spending the afternoon during a typical "work" week on the beach; that I'm like wow I made it…I am so thankful and grateful for this life I am living. I am very humble and I see these big name guys at Gold's Gym every single day and I know I am just getting started.
Pricing:
One on one in person training $100 per session. Availability: Monday through Saturday. Online training includes
Individual workouts every 4 week, a weekly Skype/phone call to keep you on track and answer any question you may have. $100 per month. 
Contact Info:
Check out his work below:
Photos by: Isabel Svensson