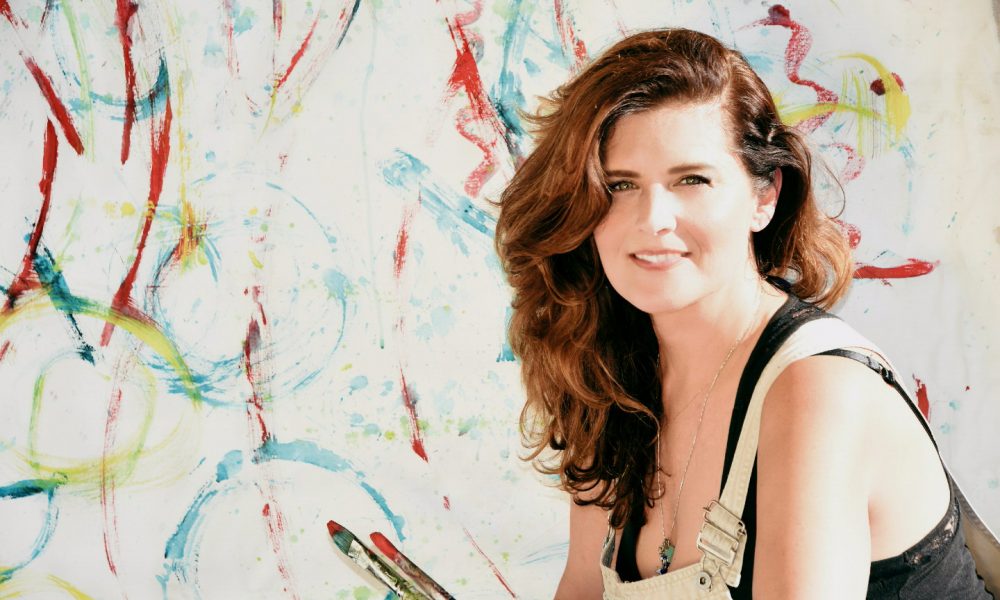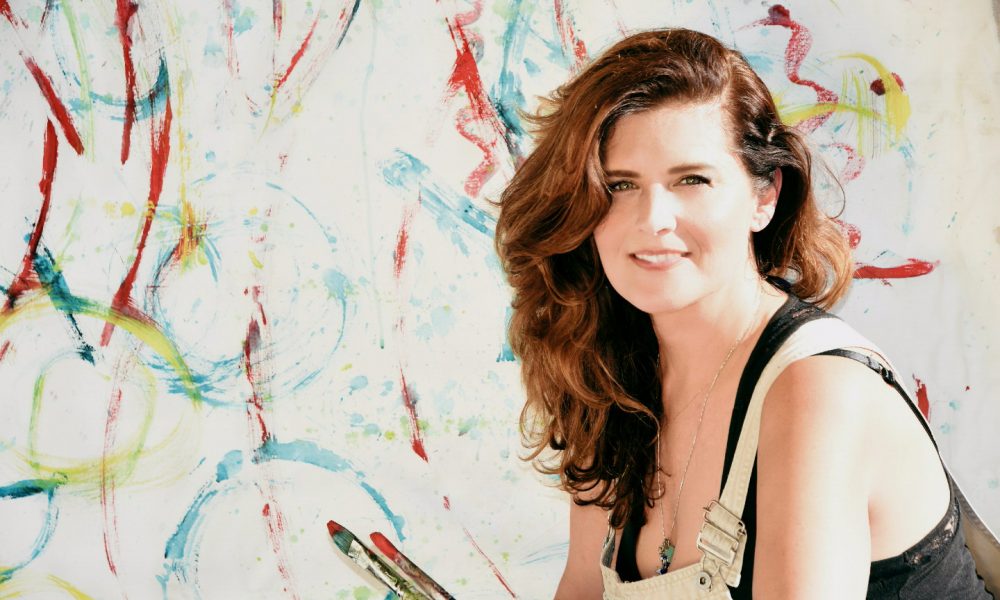 Today we'd like to introduce you to Velvet Marshall.
Thanks for sharing your story with us Velvet. So, let's start at the beginning and we can move on from there.
I grew up within a family of artists. My dad began teaching me color theory when I was three. He was at the time a leading Disney artist and used to work from home. My mom, who is also artist, taught me sketching techniques of the masters when I was about five. When other kids were having their lemonade stands, I had my art stand growing up. In our household art was everywhere, every day and in everything we did as a family. At dinner time, we didn't sit down properly at the table. Instead, each of us would sit, crossed legged, in a circle, at an easel and paint together.
Tragically, my father was murdered in an unsolved, home invasion when I was seven. My mother, never recovered from his death and has struggled with mental illness ever since. During this time my grandmother Rose, who was very artistic and creative, came to take care of my mom, my sister and I. She taught me how to sew, crochet and create beautiful ceramic vases that she would sell at local art fairs. Throughout my schooling I concentrated on studying art, music and literature. While still in elementary school I was introduced to the LA mural culture by working with artist Jane Golden on the Santa Monica "Muir Woods" murals in 1978. I also played violin and participated in local orchestral competitions, recording two albums with the Stairway to the Stars. Before graduating high school my mother's condition worsened so I dropped out to help take care of my family. Shortly after, I became pregnant with my daughter.
When I could, I started taking classes at Santa Monica College to complete my education and obtain a degree in art. I would also sit in on sketch classes and art workshops whenever I had the opportunity. Motherhood became my main focus and joy. When I was 23, I began modeling for a living after a photographer and his wife had submitted some pictures they took of me to a local modeling agency. I worked regularly modeling for catalogs and editorials to support my family until paid healthcare became a priority. So I retired from modeling at 30 and took an office job with paid benefits. As a single parent I worked a lot, and there was very little time for my art. My art had become limited to home décor projects, and refurbishing old furniture to decorate the house. Instead, I chose to center my attention on raising my daughter, who was already growing up and developing great talent and artistic skill of her own. It was only after my daughter graduated high school, left home and started struggling with drug addiction that I started painting again. For her, I created my painting "Bridge Over Troubled Water" a large 8'x 8′ abstract of oil and tar on canvas. To reach out to her, to heal, to reconnect with myself and to communicate beyond the words in our unspoken language of art. Art stimulates the imagination which is the catalyst of change.
Happily, since then my daughter, who is now in recovery, and I have collaborated on several art projects together. Last year she and I completed "The Good Neighbor's" 30' x 9′ foot mural for Ramona Park, in the city of Hawthorne. We also created a nonprofit called "Lirds for the Arts" with the intention of using this type of program where artist articulate their message and use it to build stronger communities. I have had the opportunity to exhibit widely in museums and public galleries in the United States and have been represented in a number of private collections. This past year I've found that I really enjoy teaching art and I started a series of my own instructed art classes at the Topanga Community Center. I also teach private art classes at my studio in Topanga. I started the classes because I wanted my students to be able to enjoy the full artist experience. My art classes provide personal instruction of "real" artist techniques and skill building secrets that allow attendees to develop their own individual artistic style. From learning the basic artistry required to create a beautiful work of art to the joy of exhibiting their art work at a public venue. The look on each student's face when they've completed a painting is sheer accomplishment. Later this year I'm looking forward to expanding my instructed art classes to the South Bay. I've also been working on developing a new product line of artistic textiles and home furnishings, "Topanga Treasures," that are currently available on my website and I'm putting together my first coffee table art book which will include photos of my artwork with a collection of poems I've been writing since I was nine.
As an artist, I am still traveling on a path of self-discovery along a journey where I hope I can create art that reflects life – My goal is to tell a story, create an emotional response and on a loftier level, stimulate the imagination in others. This I believe is something of value. Currently, I live and work as a full time artist in Topanga, California with my boyfriend and our two dogs. My daughter, continues to be my best friend and is a constant source of inspiration. She motivates me to blaze a trail and set an example to be the best me I can be.
Overall, has it been relatively smooth? If not, what were some of the struggles along the way?
No journey worth taking is ever a smooth one. Although I've been an artist all my life, I officially started my company, Velvet Marshall Fine Art, in 2012 in which I began successfully working with several designers and private collectors. That same year I got married, in what resulted in a short term marriage and ended in divorce. After a lengthy legal dispute with my ex-husband over the ownership of my artwork, I had to reestablish my company again in 2015. He had claimed that my artwork was community property and sued me for alimony. Finally, the judge ruled in my favor, releasing me to continue my work as an artist. I've struggled with loss, grief, anxiety and depression. My goal as an artist is not just to tell the story of my childhood, but to help people understand what it's like to lose a parent in death, to love someone with a mental illness, to be homeless and to be abused. These issues do not discriminate and our system for dealing with them is sadly broken. Hopefully, anyone currently experiencing any of these things will find some small comfort in knowing they are not alone. I want to cause conversations to happen.
Velvet Marshall Fine Art – what should we know? What do you guys do best? What sets you apart from the competition?
I specialize in large scale, abstract oil and roofing tar paintings. When I am creating a painting it is not the image that I think is of principal importance but I feel it is the paint itself that is my subject matter. My voice. It is important to me that my paintings are created with the integrity to last. My abstract paintings are usually created with a visual context involved and begun traditionally with an under painted image. I then slowly build up the painting utilizing classical Flemish and Old Master techniques until the original image underneath becomes almost completely obscure, employing recurring motion of biorhythms in the paint to predict various aspects of experiences in life. As a final glazing medium, I then apply roofing tar, mixed with linseed oil. The results are very textured and sensitive to luminosity, like people, the perspective of the painting changes in various degrees of lighting. I'm most proud of the moment my daughter and I stood together at one of my exhibits in front of the painting I made for her, "Bridge Over Troubled Water." Not only on a professional level but also on a personal one. I understood there was a way for me to be free. A place where I could go and allow the paint to speak for me- the things for which I had no words.
What is "success" or "successful" for you?
To live a life that is truly authentic. To have love in your life and people that you care about. To experience life and to be in the moment. I believe when a painting is successful it contains these elements.
Contact Info:

Image Credit:
Gloria Plascencia, Monique Ozimkowski, Kristabelle Marshall and Johnny Murphy
Getting in touch: VoyageLA is built on recommendations from the community; it's how we uncover hidden gems, so if you know someone who deserves recognition please let us know here.