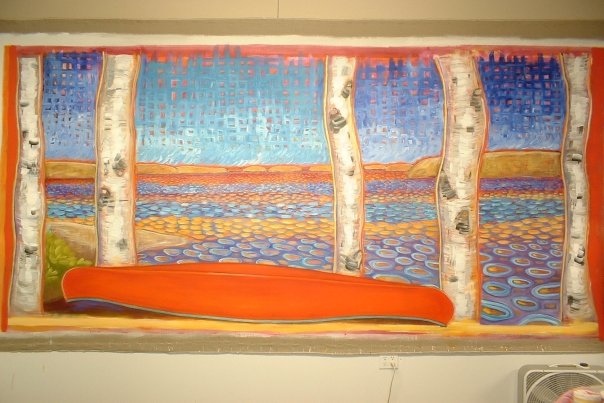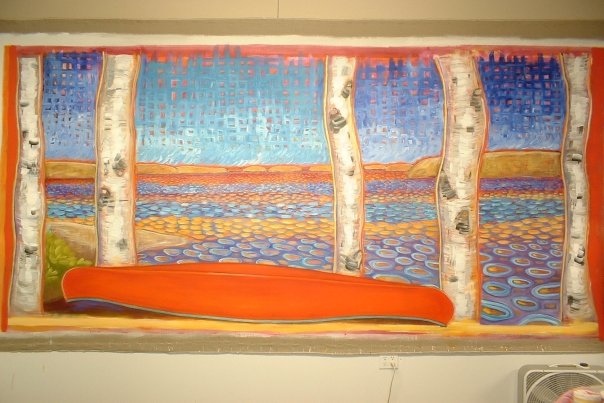 Today we'd like to introduce you to Vanessa R Vaughan.
Every artist has a unique story. Can you briefly walk us through yours?
Absolutely and I'd have to agree with you, every artist brings their own unique perspective to the canvas and that what makes the world a beautiful place!  Thank you for your interest in my artwork.
Please tell us about your art.
My art allows me to express my view of the world, embracing color and light in ways that attempt to capture the true essence of what I'm painting and more importantly, the way my subject makes me feel.  To me, people and the world we live in is a form of visual music to the eye and I try to capture that and express it in my work.  As a sixth generation cottager, I was fortunate to spend every summer on a small island in Ontario, Canada.  Everywhere I looked was a visual feast for the eye ~ watching the water, trees and the sky constantly in motion.  As someone who does not hear, I would spend hours just watching the effect of the changing position of the sun and how the changing reflection of light affected the color of the water from early to late summer. I am captivated by how light plays on the water and it's ever changing texture, how the sky, too, is always changing, always in motion.  I aim to create paintings with the illusion of light emanating through layers of pigment interlacing upon the canvas.  One vivid memory was as a young child when my father woke me up in the wee hours of the dark morning before dawn, just before sunrise, to go for a paddle through the serene misty air. The water was so still and glass-like. At the very moment when sun peeked over the horizon – the water suddenly burst into colorful rhythmic dance of rich hues of purple and gold.  It took my breathe away so much that this vivid image is forever etched in my mind. I felt as if I was actually canoeing through a painting.
What do you do/make/create?
I primarily use acrylic on canvas and also work with wooden surfaces and oils.  I am mainly known for landscapes (which I also refer to as my colorscapes) and portraits.  My landscapes vary greatly in size anything from small little postcard sized pieces to mural sized canvases that fill an entire wall.      I listen to my client's desires and stretch into new areas.  Recently, for example, a client asked for something more abstract while still remaining authentic to my usual signature style. I welcomed this challenge so I sort of imagined I was a cinematographer zooming in closely on the brushstrokes of a waterscape and then blowing up that portion onto a larger canvas. The effect worked out, the client was very happy and it still remained true to my artistic vision.  
How?
I go out into nature and create various plein air study sketches, often from different vantage points at different times of the day. Once I've determined which particular sketch to bring forth into a painting, I work in my studio, and start the painting by prepping the white canvas with a very light background warm color which becomes the way I set a foundation to allow the light to come into "play" by having the pigment radiate through the woven brush strokes all the way through the final layers of my creation. When doing portraits, ideally, I like to engage in a live sitting but that is not always possible as I have clients all over North America and will use photos as a reference. I like to meet the person at least once to get a feel for the essence of who they are which I then aim to capture with the energy of my brush and choice of color. I aim to create paintings with the illusion of light emanating through layers of pigment intertwining onto the canvas.
Why?
Have you ever sat for long periods of time and looked at water during different times of the day? Clear sunny, crisp days? Partly cloudy days? During sunrise and the golden magic hour before sunset? The sky is not simply "blue" ~ all the colors of the rainbow can be seen and the light reflects and sparkles like diamonds and the water is in constant, rhythmic motion. This is what I'm striving to capture, i.e., a painting that breathes and pulsates through the movement of my brush and choice of color.
What's the message or inspiration, what do you hope people take away from it?
I hope that in some way, no matter how small, my artwork takes the viewer's breath away because when I glance over a scene featuring water, sky, and land, I get inspired. What I see, the rhythmic patterns of nature takes my breath away. I wish that upon all those who see my art to get a fresh look at nature in a new way. I wish for the viewer to experience the melodic dance of nature through the "sounds of silence".
What should we know about your artwork?
My artwork strives not to physically capture a photo-accurate view of a scene but aim to capture the pulsation or dance of colors, motion and light emanating the feeling of the scene by building upon layers of paint onto the canvas, incorporating not just what it looks like in an instant of time but also that the scene is truly alive. The same is true of my portraits which use all the colors to capture the essence of the subject and their personality.
Given everything that is going on in the world today, do you think the role of artists has changed?
Not at all, the world has always had new technology, politics, war, and serenity. The artist's job is to use their creativity and intellect to create subject matter that inspires and portray life and the natural world we live, in fantastic and unique ways that also makes for either internalized or shared dialogue to follow after experiencing it. I don't think that will ever change.
How do local, national or international events and issues affect your art?
They really don't. My art is about nature which is still raw and ever present and constantly changing due to the human impact on the climate. Even though we are all busy and there are many events to think about in our man-made world, it helps us all to stay grounded in what's really important to us. The places that bring us peace and the family and friends we love.
As an artist, how do you define success and what quality or characteristic do you feel is essential to success as an artist?
Success is when you are able to do what you love. Art is more beautiful when it is shared or stirs dialogue. I feel I have created a successful painting when someone is able to resonate with its visual rhythm or connects with an image as I yearn to share the feeling of what I see – visual music and dance of nature – onto canvas.
How or where can people see your work? How can people support your work?
My work can be seen on INSTAGRAM under the tag: @vanessaRvaughan and can be reached there.
Contact Info:
Phone: 310-776-6928
Email: vanessaRvaughan@gmail.com
Instagram: @vanessaRvaughan
Facebook: vanessa R vaughan
Getting in touch: VoyageLA is built on recommendations from the community; it's how we uncover hidden gems, so if you know someone who deserves recognition please let us know here.