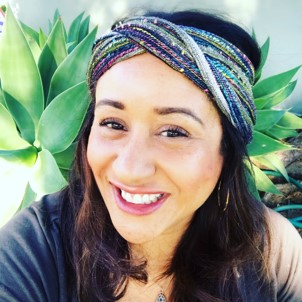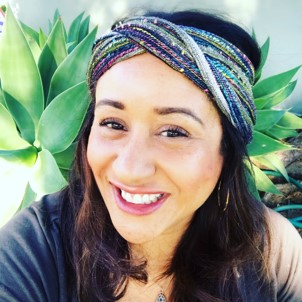 Today we'd like to introduce you to Vanessa Bastian.
So, before we jump into specific questions about the business, why don't you give us some details about you and your story.
If you told me years ago that an injury I had when I was a cocktail server would lead me to become an hairstylist who incorporates CBD oil with hair care, I would told you that you were crazy. I would have said, what kind of weed are you smoking? But my story — my crazy, wonderful journey to become the hairstylist I am today — is filled with great people who inspired and educated me along the way.
How did I become a hairstylist?
I was a Las Vegas cocktail server in my twenties. By the time I turned thirty, I had moved back to Los Angeles and I knew I did not want to work the late nights that are a part of being a cocktail server. I had loved working with hair and hair color growing up. I was the kid my friends went to for the "big chunky frosted highlights" that were popular when I was a teenager. I used the boxed kit from the drugstore (you know, the ones with a cap you punched holes into) to highlight hair and I was a pro at it.
I enrolled in cosmetology school, and when I finished school, I gave myself two years to work as a hairstylist. I figured if I didn't like it, I would try something else. It's been ten plus years now and I'm still a hair stylist. I had many, many days when I wanted to give up. My hands hurt and an old back injury I had when I was cocktail server was constantly flaring up. Standing all day was becoming painful and making me feel tired all of the time. All of this changed when I discovered CBD.
Four years ago, I aggravated my old back injury on a ride at an amusement park. It was so painful; I was not able to walk or work. I didn't want to take addictive pain killers and my mother suggest I try CBD oil. I thought Cannabis was only something you smoked to get high — I didn't realize that it is wonderful to manage pain. CBD oil gave me pain relief that was not addictive, had no side effects, and allowed me to work without making me sleepy. Game Changer! I was now able to work all day, my back flare-ups became manageable, and my hands did not hurt anymore. I'm currently in my forties and I feel like I'm in my early twenties. If CBD made me feel this great, I started to wonder what Hemp products would do for the hair and skin.
Has it been a smooth road?
Three years ago, I took a giant leap of faith and opened up my own studio salon in Pasadena. My "leap of faith" felt more like I was pushed off a rocky cliff, slamming into rocks on the way down.
"If you're scared to take chances, you'll never have the answers." – Nas
One of the biggest challenges to overcome was re-educating myself about hair color. I thought after years of using hair color, I knew everything. I was so wrong. When I ventured out on my own, I quickly realized that I needed a more advanced education. This led me to attend the American Board of Certified Hair Colorists Summit. A two-day summit on hair, scalp, and the chemistry of hair color. I have spent the past few years attending the summit yearly, and have taken several advanced classes each year to become a specialist in hair color. I'm now a part of an online education group where I take virtual class up to three times a week. Additionally, I take classes on small business ownership and color theory.
So let's switch gears a bit and go into the Indigo Salon story. Tell us more about the business.
Indigo Salon is nestled inside of Sola Salon, on South Lake Ave, in the business district of Pasadena. The vibe of the studio has a modern natural laid back easy feel. The walls of the studio are painted a midnight blue and I've painted IKEA bookshelves a gunmetal copper. Indigo has two luxury botanical hair care lines that are cruelty-free, vegan, and Leaping Bunny certified.
My Instagram:
whatever_vanessa_stylist & indigostudiosalon are an extension of my studio. I not only post photos of hair, but I also give advice on hair products, hold tutorials on how to wash hair, and give natural hair loss advice.
I call the hair color line I use "low chemical, less irritating hair color." What does this mean? I use hair color that is made in Spain — KIN hair color. The European Union has stricter standards for chemicals in hair color. The color I use has the lowest amount of chemical irritations (i.e., less than 2% ammonia and/or ammonia free) that I can find without sacrificing the performance of the color.
I also have a very sensitive scalp, so I'm very aware of what it's like to have hair color on your scalp and how uncomfortable it can be. The color I use is infused with argan oil, kukui oil, and macadamia oil. All three of these oils combined with low ammonia help with sensitivity, shine, and the well being of the hair and scalp. I'm happy to say I'm the only stylist in Pasadena with this color line! And what I'm most proud of is the addition of the CBD hair care line to the salon.
How do you think the industry will change over the next decade?
This year the 2018 Farm Bill went into effect. This means CBD (with no THC) from hemp is legal in every state. The benefits of CBD for skin and hair are now in the hands of beauty professionals — you don't have to go to a dispensary for CBD beauty products.
What is CBD?
Cannabidiol (CBD) is a naturally occurring compound found in the resinous flower of cannabis, a plant with a medicine history going back thousands of years. The therapeutic properties of CBD have been tested and confirmed by scientists. Extensive research has been conducted on CBD for years in Israel. CBD is rich in omega 3, 6 and 9. This helps prevent loss of moisture and keeps the hair hydrated. Healthy hair starts at the roots, and with improved scalp health and blood circulation, CBD can help to stimulate hair growth.
I searched high and low for a high-quality CBD hair care line. My search ended when I was introduced at a hair show to Emera CBD Haircare from Earthly Body, a family-owned business for 25 years located here in Southern California.
Emera is the first luxury CBD hair care line that is infused with high-grade CBD oil and is color safe. The company, Earthly Body, put their product through rigorous third party testing to ensure a pure THC-free line.
I have a client who was losing her hair rapidly; her doctor had dismissed her concerns. She had testing done for another health issue, and the test required several needles to be poked in her scalp. When she came to me several weeks later, her scalp was still in pain. Simple things like shampooing her hair hurt. I gave her a sample of the Emera I just bought. If CBD can help with pain, it can help with pain on your scalp. She called me after one shampoo and was delighted that the CBD shampoo had helped with the pain. She has also noticed that her rapid hair shedding has slowed down. She now comes in once a month for a CBD scalp treatment.
What is a CBD scalp treatment?
CBD scalp treatment is used to stimulate hair growth. Did you ever notice that hair loss on men is always on the top of their hair, not on the sides. This is because the sides of your head have a lot of blood vessels and the top of your head has less blood vessels. Where there are less blood vessels, you have the possibility to lose more hair. A scalp treatment is essentially a scalp massage but is concentrated on the areas of your head where hair loss is happening. A scalp detox is first, to get rid of all the pollutants that are trapped in oil and have collected on your scalp. Next, a scalp therapy cream from Emera is massaged in the scalp, paying close attention to hair loss areas. This helps to reduce inflammation and nourish the scalp.
In September, I am starting the process to become certified in Trichology. A Trichologist is a specialist for the hair and scalp. Trichologists take a more holistic approach to help people with hair loss and the emotional stress associated with their symptoms. I had a great compliment this week from a new client. She said it was the first time she had her hair dyed and she had zero sensitivity afterward. The products I use, from hair color and shampoo to CBD scalp therapy, are all designed to work together to make sure all my clients have a pleasurable experience when they are at my studio salon.
Contact Info:
Getting in touch: VoyageLA is built on recommendations from the community; it's how we uncover hidden gems, so if you know someone who deserves recognition please let us know here.