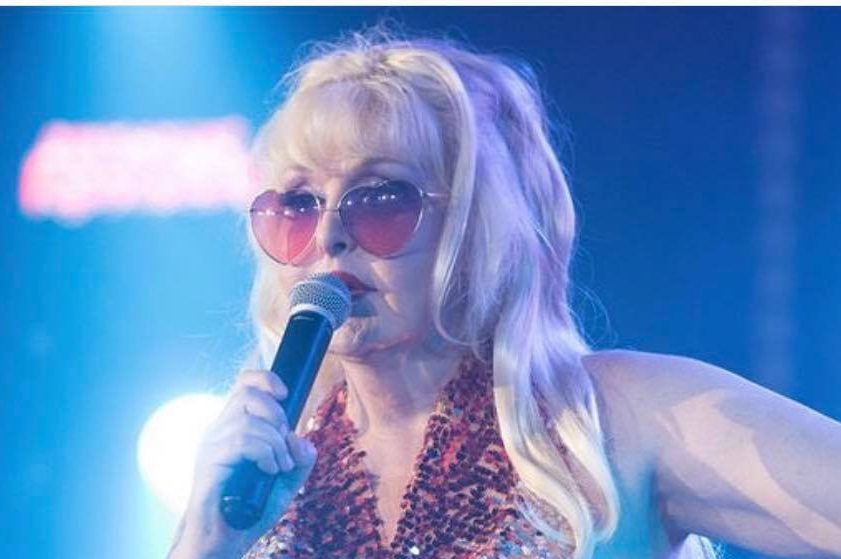 Today we'd like to introduce you to Tuesday Thomas.
Known as 'The Punk Rock Cher,' Tuesday spent her young adult life as a gypsy, living and traveling throughout the United States. Her travels and deep experiences allowed her keen insight into the human condition, and enabled her to mimic and create characters based on the eclectic people she met. Suffering from severe anxiety and PTSD, humor has saved Tuesday from many of the perils that affect the majority of people in her condition. As a proud lifelong outsider, Tuesday found her calling and home in knowing that her issues, dating life, two marriages and divorces, and general weirdness brought others laughter and enabled them to bring out their inner freakiness.
Tuesday is a talented writer of sketch and screenplays. She's been featured on VH1, MTV, E! and BBC's World of Weird. When not talking to pigeons at random public fountains, Tuesday can be found performing stand-up at venues across the country, including The Comedy Store, Laugh Factory, The Punchline, The Globe ( Home Base to Freak Show) and many other venues.
Starting as an odd child of divorce in NY, her heritage being Sicilian and American Indian, she found herself surrounded with the outcasts. Punk rockers, Drag queens, artists were her chosen family at the time of her youth NY was "the most dangerous city in the world" Bankrupt and a war zone, this prepared her for anything in life… Sneaking into clubs underage, running away from home, dealing with sexual abuse and drug addiction, her dark humor is what made her survive and got her out of a lot of situations. Making people laugh and happy was all she ever wanted, and through all her darkness she always saw light with funny.
The world can be a cruel rough place, we all have issues, rough patches, and so much more. Escape from that is always necessary and Tuesday wants to make the world a better place through making everyone of all walks of life see they are not alone and if she can make it through, share her stories and make you laugh, then you will be able to go on with yours and spread brightness.
Freak Show is a one of a kind Dark Comedy Variety show she has developed with her BFF Cyrus Naderpour. Starting with an idea Tuesday had , and in a tiny space in DTLA, Tuesday and Cyrus have grown this unique hilarious weirdness to not only be a regular state and the top independent comedy show in la, but traveling to cities all over. Las Vegas, SF, LA, all have welcomed freak show with sold out crowds. Part of the Improv Comedy Club family, now Freak show is in Oxnard, Irvine, Ontario and San Jose as well as smaller cities like Fresno, Santa Cruz, Monterey and more!
Freak Show features the top in Side Show acts, Character driven comedy, Musical Comedy, Stand up, Performance art, Drag, Burlesque and more, all on the dark, twisted, odd, yet hilarious side.
Freak Show has been scouted by AGT, The Voice, The Ring Show and more which many of its acts have gone on to perform in!
Over 4 years running to huge crowds with Tuesday as the host, People cannot seem to get enough! Crowds linger after for pictures, autographs, accolades and Tuesday and Cyrus are so down to earth and welcoming they don't mind spending all the time needed to talk to everyone after the show, no matter how exhausted they are! A rarity with entertainers.
"I would be nothing without my fans, if they want to stay and talk, get a pic, a hug, it's the very least I can do!"
We're always bombarded by how great it is to pursue your passion, etc – but we've spoken with enough people to know that it's not always easy. Overall, would you say things have been easy for you?
Finding the rhythm of my career hasn't been all roses. Lol. Many fellow performers said what I wanted to do couldn't be done and I was nuts. I knew who I was and what I wanted. I could never fit into a mold. I overheard one club booker after a show say "Tuesday is funny but I just don't know where to put her" I laughed and said" ON STAGE YOU IDIOT" and left. I knew what he meant. He wanted cookie cutter comics. I'm not that. I'm me and I know if I keep being the best me I will get to where I am supposed to be. Funny thing is that person lost their job and has asked for spots. The worm turns I guess.
We have dealt with people trying to steal our show, do a bad copy of it. I don't worry too much as the show has our heart and soul, so it can't be copied. They never last anyway.
Unscrupulous venue owners, people trying to bring you down, you know, normal Hollywood bs. That's the issue though, not a me issue, so I just move along.
We'd love to hear more about your business.
We specialize in showing people that everyone has a bit of freak in them and its okay to show that proudly. Male, female, lbtqqia, non-binary, black, white, Asian, brown, we love you all and we will show you you're not alone, that it's okay to laugh with us, at us, or just near us, but laughter at the darkness is a great thing.
We just want you leaving our show not only happy and laughing, but unable to think about whatever you were troubled by before you walked in. It's a WTF is this, I don't know why I am laughing, but I am, type thing.
What were you like growing up?
I was always the one cracking wise. If there was a silent, tough moment, I was the one who made the one liner that pissed off my monad dad, but made them laugh hysterically while they were sending me to my room in punishment. I am a pleaser. A HSP, empath, if you will. Very sensitive to energies and not comfortable with the uncomfortable, thus always turning things into laughter. It is the best medicine after all.
I've made bad choices, 2 horrible abusive marriages, Depression, severe anxiety, ptsd, sexual assault, drug addiction, but made it through the looking glass to the other side and want to show others they can do it to. Dream big, don't let anyone tell you, you can't. There is always a way.
Rock and roll and punk was my life for years. Drag queens taught me how to be a larger than life lady. Gay boys taught me fashion and that I am worthwhile. They lifted me when straight men just wanted to use and throw me away. Street people respected me because I gave them acknowledgement of existence, of treating them as humans, so despite me not being one of them, they looked out for me.
I knew at an early age that when the buildings fall and the dust settles. All we will have is each other so we better learn how to get along or there is no hope for humanity.
Pricing:
Depending on the venue/city , pricing varies. 20$ on up
Contact Info:

Image Credit:
Photos by meka tome
Getting in touch: VoyageLA is built on recommendations from the community; it's how we uncover hidden gems, so if you know someone who deserves recognition please let us know here.