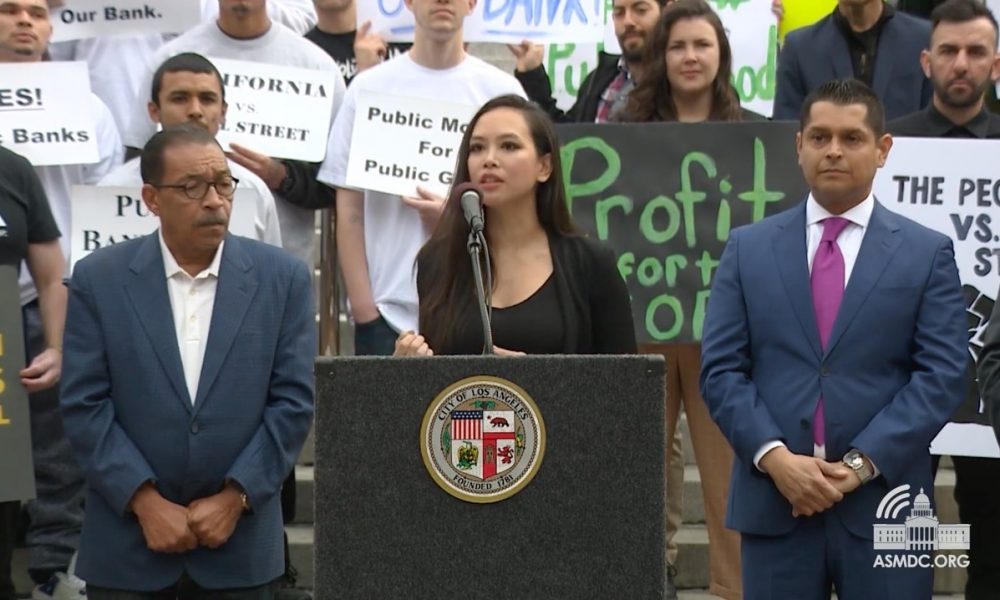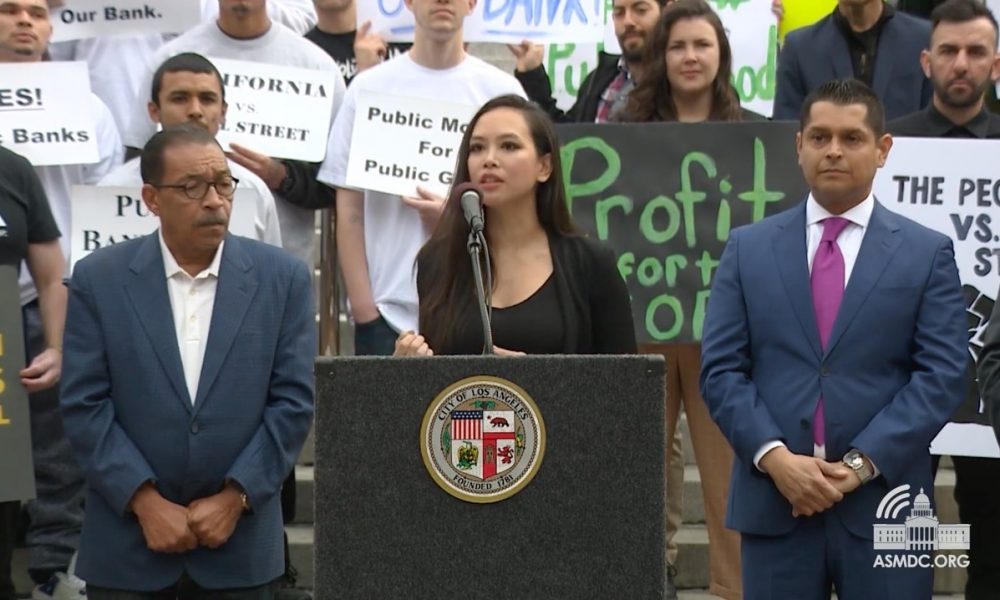 Today we'd like to introduce you to Trinity Tran.
Trinity, can you briefly walk us through your story – how you started and how you got to where you are today.
Five years ago, I went through a reawakening and became fully conscious of the urgency for change. I didn't know how the revolution would unfold, I didn't have a strategy going in, but I knew I needed to trust the process and find the courage to begin. There's an old adage that goes "Why see if you cannot do"— it's not enough just to be outraged about injustice, beyond talk is meaningful action; change doesn't happen without implementing real solutions.
In the summer of 2014, I founded Revolution LA to provide space for justice-minded millennials to create, provoke, and inspire. Within a few months, we outgrew the Koreatown coffee shops we met in. Without funding or resources, we built incrementally through monthly community meetings in the basement of the historic First Unitarian Church. With each meeting, our focus sharpened—to revolutionize systemic problems through local action, we needed to define our targets.
Our early work as a developmental grassroots think tank became the catalyst of three movements to fundamentally transform one of the most powerful and destructive industries on the planet: Wall Street.
The first, Divest LA, succeeded in taking on Wells Fargo in the City of Los Angeles in 2017. Through our second initiative, Public Bank LA, we led a city-wide ballot measure campaign gaining the support of over 430,000 Angelenos and propelled public banking on the national political radar in 2018. With our third movement, the California Public Banking Alliance, we formed a coalition spanning ten cities across the state and mobilized thousands of supporters to pass State Assembly Bill 857, the Public Banking Act, in the fifth largest global economy.
The focus of our fight is creating a real alternative to Wall Street. Big banks hold hundreds of billions of our public funds which they use to finance harmful industries. We built a coalition around taking back the incredible power of planning (i.e., setting the priorities of finance) that gives money its power to instead reinvest in low-income housing, in renewable energy infrastructure—sectors that actually create positive, lasting changes. We're transforming the narrative of finance based on one very important principle: money should be used to heal and rebuild, not harm our communities.
AB 857, the Public Banking Act was signed into California law by Governor Gavin Newsom on October 2, 2019. Our team made history as the first state in the nation to enable cities and counties to create public banks, accountable to the people, not private shareholders.
We're always bombarded by how great it is to pursue your passion, etc – but we've spoken with enough people to know that it's not always easy. Overall, would you say things have been easy for you?
Revolution is an evolutionary process and every struggle refines your form—we were committed to action, which is not about a one-time overthrow of a destructive system, but a long, concerted effort to organize and build a new system and foundation, bringing more and more people into our expanding orbit. Through all three campaigns, we faced heavy opposition from banking lobbyists—to win, we needed to out-organize Wall Street. From Divest LA to Public Bank LA's Measure B campaign to the California Public Banking Alliance's Assembly Bill 857, all three initiatives were accomplished without any funding—and for many of us, without a financial or legal background, but we actively sought sound advice and guidance from people with experience from all backgrounds to ensure that our demands were rooted in reality.
A group of volunteer activists challenged Wells Fargo lobbyists and severed the bank's lucrative contract with the City of Los Angeles; we then catapulted our win into a face-off with Wall Street through Measure B. Although we lost the ballot measure, we outperformed for a grassroots campaign, considering we had less than 1/10 of the typical ballot measure budget and just four months to organize. A new idea was introduced into the political discourse and started gaining traction across the country. Undeterred, we persisted, immediately pivoting to the state-level fight. Within just four months of Measure B's defeat, in March 2019, we introduced Assembly Bill 857 with legislative co-authors Assemblymembers Miguel Santiago and David Chiu.
The Public Banking Act was a high-profile and controversial bill. To succeed, we needed to move the bill through nine legislative hurdles, convincing legislators, gaining endorsements from organizations and supporters to back an idea, proven in other parts of the world but largely untested here in the U.S., in order to pass six committees and three floor votes and then onto Governor Newsom's desk for his signature. AB 857 was an uphill battle in the state legislature which we executed in seven months. Despite the seemingly improbable chance of passing all legislative hurdles—we won. It showed that the time for public banks, a centuries-old idea worldwide had come to California.
Trail blazing becomes a necessity. All three campaigns were firsts—the first divestment campaign targeting banks in the second-largest city in the nation, the first voter referendum in the country asking for approval of a public bank, the first public banking bill of its kind in American history—all of which meant we had to problem-solve daily to navigate through new terrain without a political playbook.
We'd love to hear more about your work and what you are currently focused on. What else should we know?
Our battle-tested campaigns are a testament to our work. Part public policy think tank, part political strategists, part community organizers—we problem-solve to deliver maximum impact with minimal resources.
Within just two years: we've passed a resolution severing Wells Fargo's banking contract from the City of Los Angeles, we ignited the public banking revolution through a ballot measure in the nation's second-largest city, and we passed a state bill legalizing public banking in California. We're rewriting the rules to create an economy that works for the many, not the few—all of which we accomplished as a team of volunteers. Each campaign, an evolutionary step building on its predecessor.
As the lead organizer of all three campaigns, I was responsible for building a citizens' lobbying team to challenge Wall Street lobbyists, securing votes, coordinating strategy among the coalition, planning calls, actions and assignments, mobilizing constituents in target districts to pressure legislators, assisting negotiations to ensure the strongest version of the legislation passed through each committee, gathering legislative endorsements, and building political alliances both within and outside of the legislature.
What sets us apart from others is strategy and execution. To change and create laws, it takes a great deal of organizing and innovation to move through the hard-wired obstacles—supported by vested private interests—in local and state governments. Although "organizing" as a word doesn't quite capture the labyrinth of a process you have to maneuver through to manifest ideas into movements into political wins.
Organizing has been a full-time volunteer job (external to my actual job) for nearly every day for five years. Long nights and laser-focused years are necessary for radical change. As I look back at the evolution of Revolution LA into Divest LA, from Divest into Public Bank LA and into the Alliance, I couldn't imagine it any other way… mostly because I don't see this work as sacrifice, moreso a sacred mission to transform power structures, steered by a deep sense of duty to justice and humanity.
What has been the proudest moment of your career so far?
Leading three back-to-back political movements resulting in two victories paving the way for a truly democratic financial economy. Within just two years, our incredible high-caliber team of volunteers initiated some of the most important community-led initiatives in the country. We're a testament to the power of the grassroots.
A word of advice for anyone looking to slay your Goliath—and it really isn't just ageless rhetoric: stay positive, focused, and fearless… impossible is never an option.
Contact Info:
Image Credit:
Public Bank Los Angeles
Suggest a story: VoyageLA is built on recommendations from the community; it's how we uncover hidden gems, so if you or someone you know deserves recognition please let us know here.