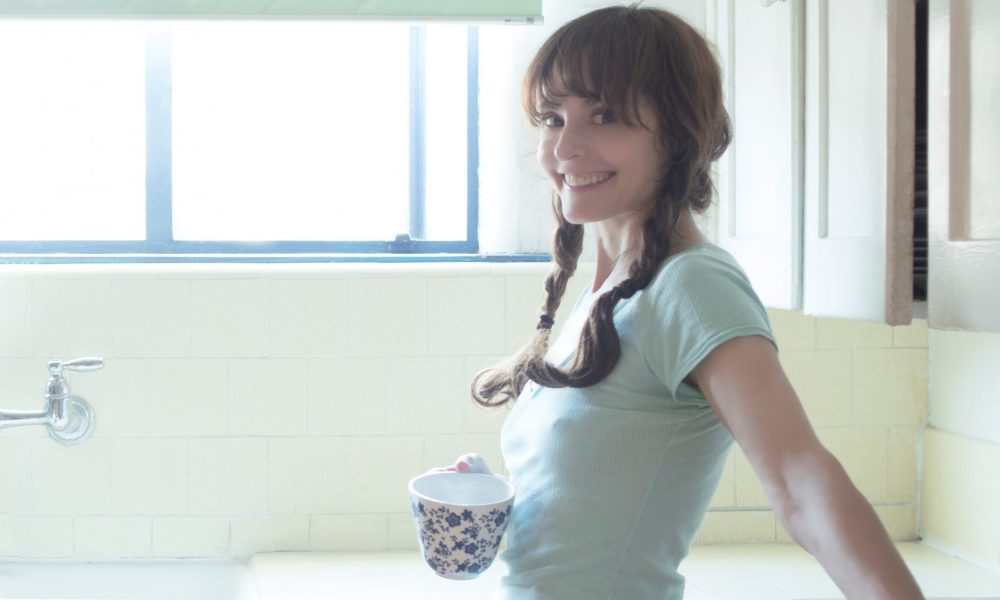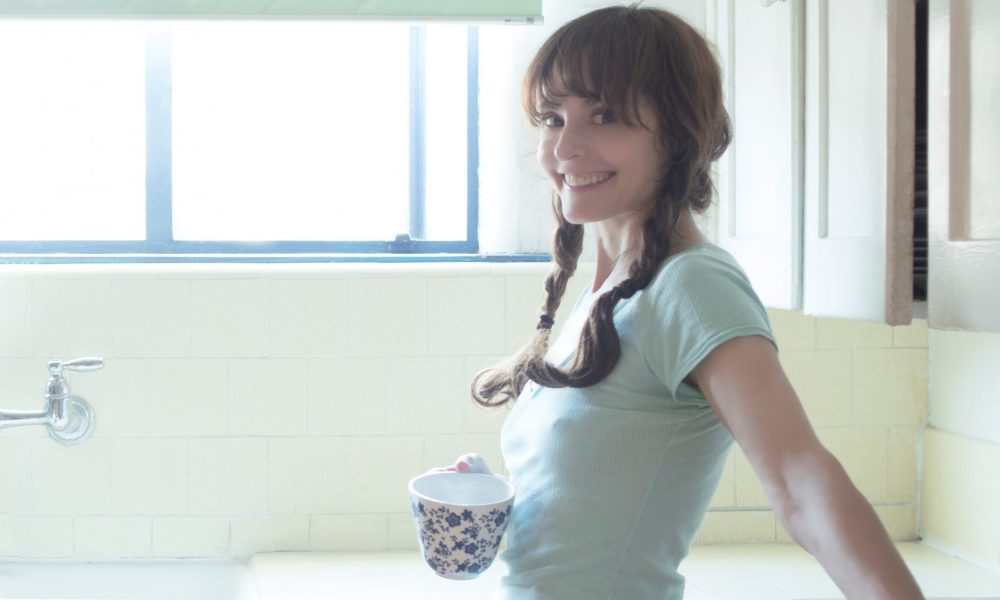 Today we'd like to introduce you to Sara Melson.
Sara, let's start with your story. We'd love to hear how you got started and how the journey has been so far.
It feels like I'm forging a new path, as a new hyphenate: Yogi-Musician. Both yoga and music have been life-saving for me. I tend toward anxiety and depression and sometimes feel overwhelmed by the state of the world and powerless to change it. Through self-expression via songwriting, playing, and singing, and through breathing and movement via yoga, I'm continuing to evolve, to conquer fears, and to move forward with a new sense of peace and fulfillment. It's so meaningful to me when people are moved by my songs, or when I can introduce someone to the magic of yoga. I struggle with the self-promotion aspect of the entertainment industry, but I'm also realizing that artists have a real role to play in healing this world.
On a personal level, I seek a state of ease in the present, more awareness of my breath, more empathy and forgiveness for myself and others, more gratitude and appreciation, more humor, more mindfulness, and — my biggest challenge — more patience. I can't save the planet single-handedly, but maybe if I clean up my side of the street first, then perhaps there will be a ripple effect.
Music and Yoga will always be my go-to tools of self-healing and self-care. They are a safe haven into which I can retreat to refuel, recharge, reawaken, and rejuvenate. They are also what I have to offer to the world. I teach kids piano and guitar, and I've just started volunteering with a really wonderful organization called The Art of Elysium. Their mission is to send artists to help heal, inspire, and bring light and joy to those who are suffering. This includes kids with terminal illnesses, seniors, the homeless population, and teens who are struggling with self-esteem issues.
I feel a strong calling to help others discover the divine connection between mind, body, and spirit, and to transform from within. This intention drives both my music and my yoga.
Great, so let's dig a little deeper into the story – has it been an easy path overall and if not, what were the challenges you've had to overcome?
It's been a long, winding, and pot-holed, bumpy road! I came to LA as an actress when I was very young. I worked a lot in film and TV but had several traumatizing #metoo encounters, which ultimately demoralized me enough to quit. I was driven out of a flourishing career by the exhaustion and humiliation of having to navigate the landmines. It was a bummer, to say the least, because I had a pretty good thing going, guest-starring on some major network shows, things like that. I'm so glad that the climate now has changed, but unfortunately at that time, it compelled a lot of people like me to face a hard choice. In my case, I had to let it go. I do miss it; especially comedy, which is so much fun and just comes really easily to me.
While this existential crisis brought with it the loss of my acting career, it also pointed me in a different direction of artistic self-expression — songwriting. It was then that I really started focusing on music and writing songs, put my first band together, and recorded my first album, which came out on Nettwerk Records. I also threw myself deeply into a daily yoga practice. I so needed the healing breath and time-out from the noise of the outside world, and of my own spinning thoughts. Ultimately, I believe that things really do happen in the way they are supposed to, even if at the time it doesn't seem that way.
As I live longer, I've gained some wisdom and perspective. I've grappled with depression for most of my life. It's weird, because I have a fun-loving, outgoing, extroverted personality, but I also have another side that's extremely introverted, melancholy, and a total loner. I feel things — like the fleeting nature of life — very deeply; sometimes almost to the point of paralysis. I have to combat the urge to isolate, because it doesn't do me any good. That's why playing with a band has been such a tremendous joy. It lifts my spirits so much to make music with other people, and not just by myself.
The other thing I have to watch is my tendency to self-criticize and self-sabotage. Part of it is buying into societal messaging that tells us constantly that a woman's value is in her sex appeal, youth, fertility, and specifically, her role as a mother and wife. Since I'm neither of those two things, it's a huge relief to start letting go of self-judgment and of caring what other people think. I had to consciously learn not to let some sort of expectation of what a woman is supposed to do, have, act like, look like, and provide, dictate my choices, self-worth, and self-esteem.
I would also say that one of the biggest obstacles out there, sadly, is age-ism. It's deeply entrenched in American culture, and more than anywhere else, in the entertainment industry. Based on a number, it negates and erases a whole swath of artists who probably have a lot to say, share, give, and contribute in a myriad of valuable ways. It puts this horrible pressure on people to "make it" before it's "too late", creating an anxiety-producing feeling of constantly racing to beat time, lest you be discarded by society. I think that if we can tackle ageism in the way we have been outing racism and sexism lately, we would be doing a great service to ourselves and to upcoming generations.
What do you do, what do you specialize in, what are you known for, etc. What are you most proud of as a company? What sets you apart from others?
Playing with my new band is a huge high for me. I am extraordinarily blessed to collaborate with absolutely amazing musicians. We've made a bunch of new recordings and videos that will be coming out this fall and winter. Two of the people I've been playing with, Danny Hechter and Nick Diiorio,  are now opening for the Jonas Brothers, playing huge arenas all over the world, and another, Sean Sobash, is on the road with Dominic Fike. 
On October 10th, I'll be doing a very special show in a 100 year-old church in the Hollywood Hills, accompanied by the marvelously talented Koi Anunta and Jake Faun. Ryan Dilmore, who is a superb singer-songwriter, is opening the night. (Tickets are available on my website and on Eventbrite!).
My music is an outgrowth of my yoga practice and spiritual life, which directly informs the writing and singing — really the entire vibe. I make music for the same reasons I teach yoga: to heal, soothe, uplift, transform, and inspire.
I was an early adopter of yoga, before it was a global fad. I have a devoted daily practice that goes back over 20 years, and it's way more than just physical. It's a deep spiritual awareness that I am constantly checking in with, both on and off the mat. Along with singing and playing music, it's the thing that brings me the most serenity, peace, and joy. I take a lot of pride in my teaching as well, because I see direct results in my students and can help them transform on so many levels.
Marty Ezraty at Yogaworks was my first teacher, and I studied Ashtanga for many years with Noah Williams. My entire childhood until age 18, I spent as a ballet dancer, so I come from a background of traditional training and rigorous discipline. The two are complementary in many ways, but a major part of my yoga practice is letting go of the intensely goal-oriented mindset of ballet. As my body changes, so does my practice. Currently, I incorporate my own intuitive flow into my personal home practice, which is a moving meditation, guided by breath. I always tell my students: it's not so much what you're doing, as how you're doing it.
I use Ashtanga, Iyengar, Restorative/Yin, and Feldenkrais to open up and heal blocked areas. Pain is not just physical; it has an emotional component. I've also been doing more Acro Yoga (partner yoga – so much fun) and acrobatics, to develop strength and stability, and to conquer fear. 
The lessons I've learned through spiritual practice have become a central part of my songwriting. The new songs that will be coming out soon reflect that. "State of Ease" is about the quest for that blissful, effortless flow state; "Coming Out" is about letting go of caring what other people think and of ancestral baggage and embracing my own authentic self; and "Same River" is inspired by the quote from Heraclitus, a Greek philosopher from the 6th century BCE: "No man ever steps into the same river twice, for it's not the same river, and he's not the same man." 
What's the most important piece of advice you could give to a young woman just starting her career?My best advice is to always be yourself. Never try to conform to an idea of what anyone else might dictate. There is only one you. Focus on the unique gifts and perspective that you have to offer the world, then work diligently to hone your craft, whatever it may be. Wait until you're ready to present it. 
Be polite. Thank you and please go a long way. Be confident, but not arrogant. Be considerate of others' space, feelings, and time. Be punctual and dependable. Be direct and brave, but also gentle and compassionate. Get very good at listening and remembering people's names and hearing their stories. 
Do what you love, and make sure you don't lose sight of the joy in it. Measure your success by how much satisfaction you feel, not by what others have achieved. (Compare and despair!). There's room for everyone. 
Above all, trust. Let things come to you. Be in the flow of your life. Remember that rejection is God's Protection. Things ebb and they flow, they are up and they are down, happy and sad. All of it is part of the plan.
Say yes to things — and you might find that you are in the exact right place at the exact right time.
Which women have inspired you in your life?
There are so many inspirational women who have modeled examples of strength and badassery. An abbreviated list:
My Mom: She swims every day in the ocean (with my dad), is a tenured professor of psychology and published author, an incredible cook and party hostess, and amazing Mom!
My Grandma Eva: She could have been a rabbi, if rabbis had been allowed to be female back in those days. She also kept herself in fantastic shape into her 80s, walked everywhere, and stood on her head every morning (up until the very end of her life). She used to break into spontaneous dance moves in the middle of the street. She had an incredible joie de vivre and zest for life. She also had a pretty bold fashion sense and loved brightly-colored, flashy, matching outfits.
My Grandma Nina: She survived the Holocaust by her own ingenuity, bravery, and charm. It's a crazy story that should be made into a movie. She also played the piano beautifully. As a child, I would sit next to her on the piano bench, while she played Chopin, Gershwin, and Cole Porter, and sang.
My Godmother: Kathy is a professional poet who showed me that it is possible to choose the path of being an artist.
My aunts, both strong independent women and single moms (one to a horse).
And I am so lucky to have amazing friends who show me what can happen when hard work and perseverance meet opportunity! This is a short and incomplete list of some of the incredible women I have been fortunate enough to be inspired by over the years:
Danielle Parsons, founder of WonderScience.com; Lila Marie Balamane, my amazing circus teacher; Jodi Blumstein and Maia Heiss, who are wonderful Ashtanga teachers; Ondi Timoner, documentary filmmaker extraordinaire of Interloper films; Angela Parrish, singer, songwriter, musician, producer; Anne Preven, songwriter and founder of Pulse Music Publishing; Julia Plevin, founder of Forest Bathing Club, Kiki Falconer, founder of Conscious City Guide; Lili Haydn, Angela McCluskey, Miranda Lee Richards, Inara George, Alex Lilly, Wendy Wang, Koi Anunta — all incredibly accomplished, talented musicians and artists whom I love; photographer (and wise woman) Piper Ferguson, meditation teacher and community leader Maria Egan, glam-rock queen Savannah Pope, music journalist Lyndsey Parker, Zero-Waste activists Caroline O'Meara and Li Fan Gad, director Ami Mann, and environmental and political activist superhero Julia Jay Posin. Naomi Depres, Sharon Oreck, Julie Hermelin, and Nicole Boxer, who are all not only kicking ass in their fields but are also political activists working to effect change on a grassroots level. All my friends inspire me in their own unique ways. 
On the national and international stage, AOC and Greta Thunberg both give me hope for the future. Chelsea Handler and Sarah Silverman are two of my all-time favorite comedians and have both evolved and come into their own as forces of social change. I also appreciate that Chelsea is a voice for the healing powers of psychedelics and cannabis. It's a brave stance to start a conversation that needs to be had despite deeply ingrained stigma.
The list goes on and on, constantly being amended to include new role models who inspire me along the way…
And I will never forget the blind woman who could barely walk, who came to take my yoga class at the Braille Center some years ago. When I asked her how she was doing, she shook her head from side to side in wonder, a huge smile beaming across her un-seeing face. "Blessed as always," she said. "Blessed as always." Whenever I get mired in first-world problems, spiral into self-pity, or lose my motivation to move forward, I think of her shining example of gratitude and faith, and remember what's important, and what is not.
I'm very grateful!
Contact Info:
Image Credit:
Bryony Shearmur, Lenny Lesser, Linda Wang
Suggest a story: VoyageLA is built on recommendations from the community; it's how we uncover hidden gems, so if you or someone you know deserves recognition please let us know here.