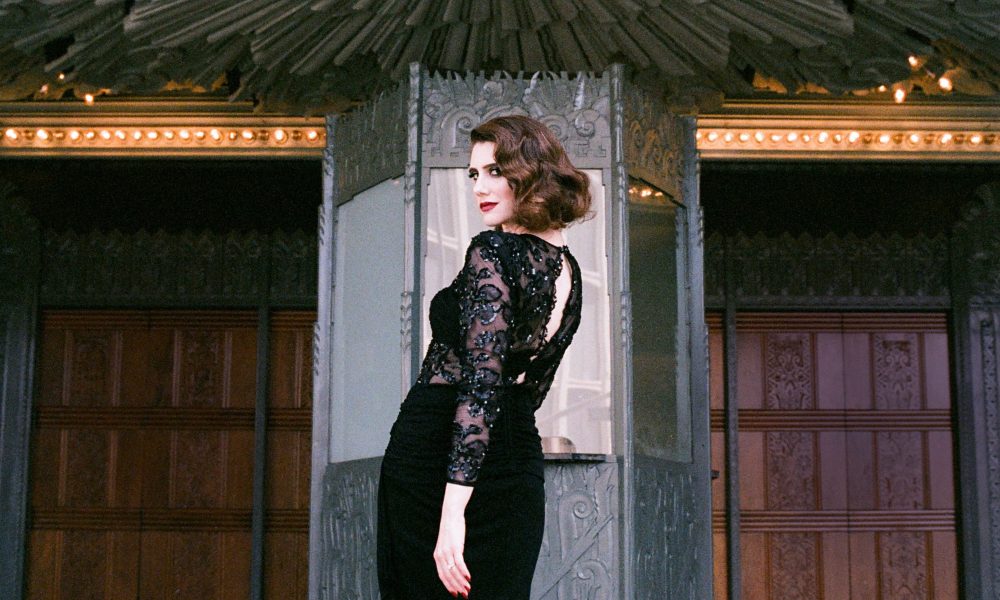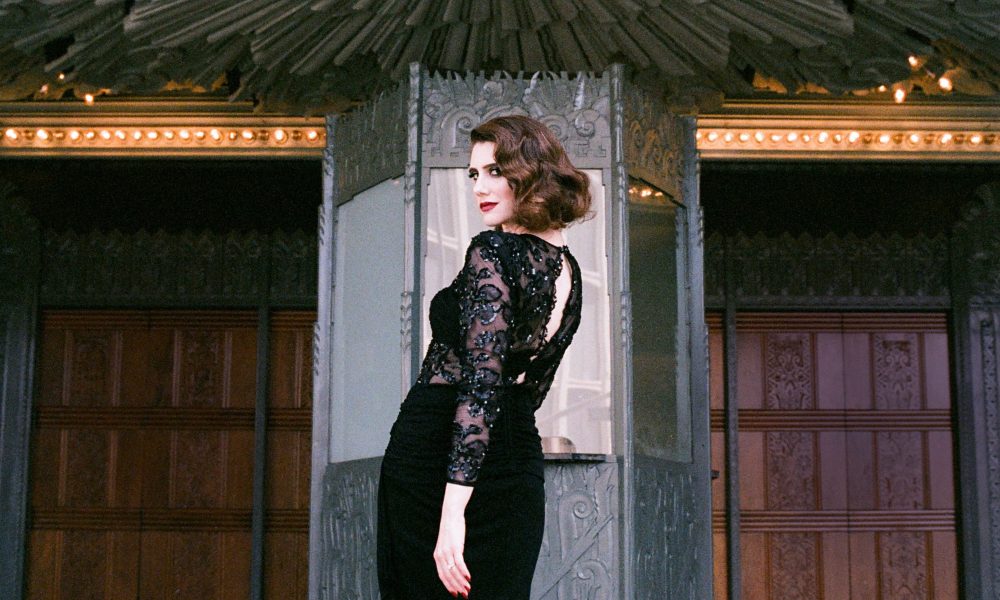 Today we'd like to introduce you to Lizzy Shapiro.
Thanks for sharing your story with us Lizzy. So, let's start at the beginning and we can move on from there.
If you've ever been to one of our Lizzy & the Triggermen shows, it will come as no surprise that I've always been a bit….dramatic. For my very first audition (when I was four) I decided to sing "Shine on Harvest Moon"…standing on one-foot. It was for the musical Annie. The whole "one-foot" thing was a spur-of-the-moment adjustment I made to the audition to really "wow" them even though Annie at no point requires any kind of extraordinary balance. What can I say? I've always been a bit extra.
I fell in love with jazz early in life – particularly torch singers. While my friends were obsessing over boy bands, I was fangirling over Sarah, Judy, Billie, Ella.  Their voices teemed with feeling, sophistication, nuance, glamour – and I was completely mesmerized. I remember as a kid dreaming of the day I'd finally be old enough to pull off singing these songs – like a ride I knew I was just too short to ride.
In high school, I took a detour into studying opera. Over the next stretch of years, I was fortunate enough to sing opera in Italy and at Tanglewood, and study with some of the most wonderful teachers. Also opera let me indulge in one of the great loves of my life: wearing gowns!
However, eventually, I realized that being a professional opera singer wasn't for me – which left me a bit adrift musically. (I mean, there's not exactly a ton of demand for ex-coloratura sopranos in the music industry. Although, fun fact: I did sing the opera opening to the movie, Jackass 3D). So I stopped singing. For years.
Instead, I decided to go in a completely different direction: comedy. I fell in love with comedy hard. Whereas opera was filled with rules, comedy was all about rule-breaking. It was exactly the antidote I needed. During my time in Hollywood, I have been fortunate enough to work with some incredible people like Ben Stiller, Jill Soloway – and even got some Emmy nominations for a TV show I created and starred in (The Crossroads of History, 2016). But a nagging part of me still really missed music.
Then in a moment of extraordinary boldness (errrr financial insanity?), I decided to start a 10-piece jazz band. "Why don't you start smaller – like a trio?" my friends cautioned. But I believe in going big or going home. And so I set out putting together the band.
This is where fate stepped in and gave me one of the most wonderful gifts of my life: the phone number of a man named Dan Barrett. I'm grateful I didn't truly understand who Dan was when I reached out to him or else I probably would have gotten cold feet. I now know that Dan is a jazz legend who played with and arranged for Benny Goodman amongst many others. It's kind of like someone handing you Michael Jordan's number when you say you want to put together a pick-up game. But at the time I just knew him as "a jazz guy who can help you put together a band." Man, did he ever. Dan helped me put together what I can only describe as the dream team of swing bands, a lethal line-up of musical assassins. And so was born – Lizzy & the Triggermen.
As soon as we started playing together, I could feel this band was special. But even still, our journey thus far has exceeded my dreams. In less than two years we have gone from playing secret shows at No Name to packing the Troubadour and headlining the Wiltern. The crazy thing is that this has all been through word-of-mouth about our live shows because we haven't put out any music yet. But we are finally releasing our debut EP later this year (which we have been recording at East West Studios).
Overall, has it been relatively smooth? If not, what were some of the struggles along the way?
Being a 10-piece band definitely has its challenges. The economics of making it in today's music industry are daunting enough for a singer-songwriter let alone a big band. But at the same time, our size is also what has helped propel us. There is something viscerally thrilling about feeling the energy of a big band when it is really swinging. It's like a high that once you've experienced you want to keep chasing. We live in an age where so much of modern music incorporates electronic elements (which I also love) – but I think we offer a fun alternative to what is dominant in pop music right now.
Of course, it's always a challenge to go in a direction that is against the current of what's popular. But that is also what gets me most excited as an artist. At the end of the day, I've had the best luck when I trust my own instincts and taste as opposed to try to worry about trends. I'm a firm believer that people respond most powerfully to authenticity. If you are doing something you love, your passion will excite people. I recently got sucked down a rabbit hole of watching mudlarking videos on YouTube (mudlarking is a hobby where people dig for archeological finds in mud that is often filled with raw sewage to find old coins and pottery shards from hundreds of years ago.) That sounds pretty gross, right? But guess what? I spent hours watching these videos because the mudlarkers were so passionate about it. Soon I was actually giddy when they'd find some 17th century clay pipe that still had its stem in tact like I was watching my team score in the Super Bowl. People love watching people's passion – it's infectious. So the biggest lesson I've learned as an artist is to just do what you love. It's going to be just as much work either way.
Please tell us more about your work, what you are currently focused on and most proud of?
I'm the lead singer of the 10-piece jazz band, Lizzy & the Triggermen. I also write a bunch of our songs (which the brilliant Dan Barrett then arranges). The best way to describe our sound is we are to music of 1930s/40s what bands like the Dap-Kings are to the 60s. We aren't a nostalgia band – but rather one that is all about taking elements of early swing and creating something modern and new.
What am I most proud of? Without a doubt it's the collection of insanely talented badasses I have the honor of playing with: Dan Barrett (trombone), Nate Ketner (alto sax/clarinet), Corey Gemme (trumpet), Jim Jedeikin (tenor/bari sax/clarinet), Gareth Price (drums), Chris Dawson (piano), Luca Pino (guitar), Sam Rocha (upright bass), and Benny Brydern (violin).
The comment I get the most after our performances is that people feel like they were "transported." My friend recently described it to me by saying, "what's so cool about your shows is that they exist outside of time." He explained that what he meant is that our shows are kind of like mini-vacations – where you get to escape from your life for a few hours. You leave the shows feeling happy, energized, recharged, and like you "have been away somewhere."
Our shows are about creating immersive experiences. We love getting to collaborate with other great artists, too. In addition to the band we often have amazing guest performers like tap dancer, Kenji Igus, and dance team, The Atomic Cherry Bombs, join us.
Another really fun part of our shows…is the fashion. As a longtime gown-addict who has spent my life being the most awkwardly over-dressed person at any event – seeing how glam folks get to come out to our concerts warms my rhinestone-encrusted heart. I love that people come to our shows wearing outfits that make them feel fabulous. That's what our shows are all about: giving people a space to flaunt their amazingness regardless of if they are on the stage or off. I'm honored that people take the time to really think about what they want to wear (some have even hand-made their own gowns just for our shows!). It turns the show into an event and helps create the magical alternate reality people step into. In many ways, since our culture has gotten so casual, fancy has become the new punk.
And lastly, but certainly not least, there is the dancing. One of my favorite parts of the show is the synergy that exists between the band and the incredible community of swing dancers we are lucky to call fans and friends. And, damn, can they dance. Often times, the show that is happening on the dance floor is just as exciting as the one happening on the stage. They help make the music kinetic which just multiplies the experience. But don't feel scared off if you aren't a swing dancer. We have plenty of non-dancers at our shows, too (myself included ;).
All of this is a long-winded way of saying, our shows are fun – so please come to one if you are free! We would love to have you.
Do you feel like there was something about the experiences you had growing up that played an outsized role in setting you up for success later in life?
Without a doubt, my parents are the most responsible for setting me up for success. They have always had an unwavering belief in me. Being an artist is a wonderful but tough road – and I'm incredibly lucky to have a family that is so supportive. It probably helps that both of my parents are artists, themselves: my mom, a brilliant novelist, and my dad, a wonderful poet – so they understand the creative spirit.
I also give a lot of credit to the voice lessons I spent years taking. Having a foundation of vocal technique has given me so many more tools and colors to play with in my voice, not to mention stamina. Singing for hours on end over a full band is vocally taxing – there's no way I could personally do that without blowing out my voice without training. We actually do a couple of tunes that incorporate some of my opera background – including this amazing Duke Ellington song (Transblucency) which he wrote for a soprano.
But I don't think it's just the good experiences that have helped me. Sometimes it's the awful experiences that actually are the most beneficial. I think fear is the biggest hindrance to artists. So sometimes when your worst nightmare happens – that can actually be freeing. I'll give you an example. When I was a teenager I was singing a song in this cabaret in the Catskills. I'm pretty sure it was "Autumn Leaves" in French. I'm only telling you that because I think it makes what happens next even more hilariously horrible. So imagine teenage me, who took myself VERY seriously, singing "Autumn Leaves" in French like I'm the next Edith freaking Piaf – when suddenly my skirt fell off. Like to the ground fell off. And all I had on was pretty skimpy underwear. In the realm of horrible things that can happen while you are performing – this is pretty high up on the list. And then it happened. And guess what? I survived. Now I'm pretty fearless when it comes to performing because I learned that if I can survive singing "Autumn Leaves" in French in a thong in some d-list theater in the Catskills for a bunch of retirees who barely even applauded after, I can survive anything!
I'll leave you all with one thought. "Success" is a tricky word. I think it's important for people to define that word for themselves rather than follow what others look at as "being successful." I know plenty of "successful" people who are miserable. My dad just reminded me of a story that I think pretty much sums up my personal definition of "success" which I defined back when I was a young kid. Remember that musical Annie I auditioned for back when I was four? Well, I got cast. Unfortunately, my whole "balancing flamingo" schtick didn't land me Annie (what can I say, I was too avant-garde for my local community theater) – but I was cast as Orphan #27 and I fell in love with performing during that show. After the cast party, my dad tucked me in. I was so wired from the adrenaline rush of performing that I couldn't go to sleep. I looked at my dad trying to put into words the feeling coursing through my body – the high that I have since spent my life chasing. Finally I said to him, "I feel so….alive."
Contact Info:
Address: c/o David Strunk
United Talent Agency
9336 Civic Center Dr,
Beverly Hills, CA 90210
Website: https://lizzyandthetriggermen.com
Email: lizzyandthetriggermen@gmail.com
Image Credit:
MAIN IMAGE: Fabian Fioto
Then in order: Josh Kaplan, Josh Kaplan, Rich Rosen, Jennifer Stockert, Fabian Fioto, Christopher Erk, Zach Sinick, Tim Hunter
Getting in touch: VoyageLA is built on recommendations from the community; it's how we uncover hidden gems, so if you know someone who deserves recognition please let us know here.