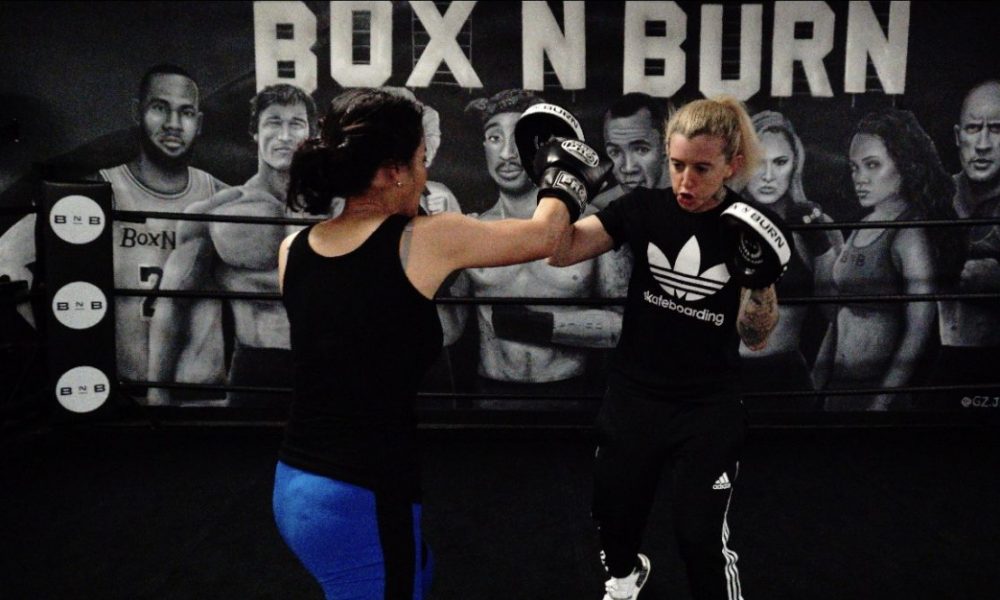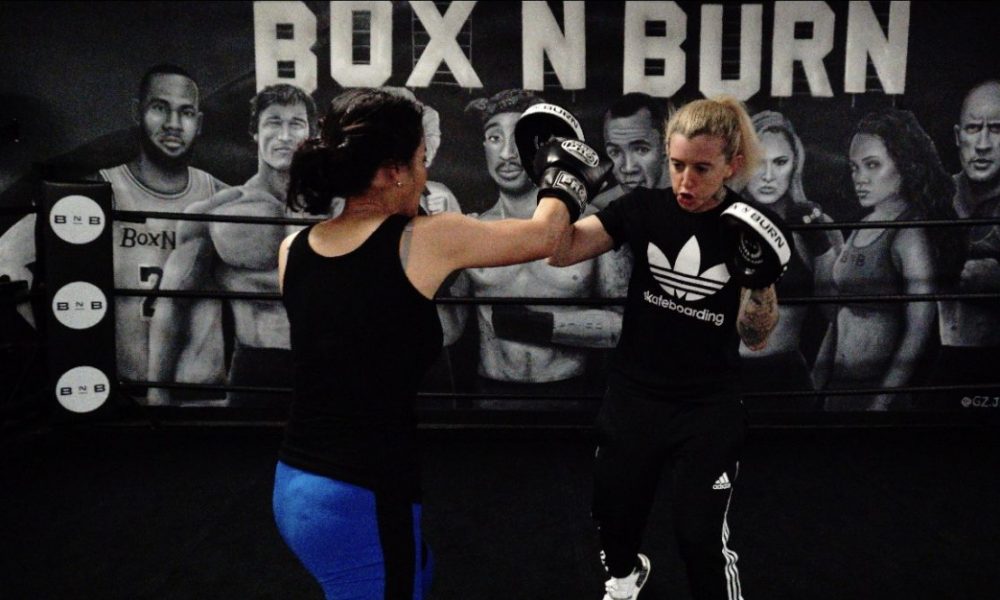 Today we'd like to introduce you to Kerrie (Kez) Christie.
So, before we jump into specific questions, why don't you give us some details about you and your story.
I started Boxing when I was 20 years old, I had been a soccer player all my life, never had time for Boxing but it always caught my eye as a sport I wanted to try! I settled for a high paying retail management job at a young at that slowly sucked my soul away. At 25, I decided to quit and find something I was passionate about, can't really explain it, but things just lined up perfectly right about then, I got offered a spot on a full-time course where a spot just opened up, for Personal Training and Group Instruction. From there, things made sense! I loved to box and had amateur fights under my belt, and I loved fitness, and I loved training people 1-1 and in groups. I had my full-time course teaching me all sorts about the body and exercise, and I had also got taken under the wing of my Boxing coach who would bring me along to every fight and do the corners with him, I found I was better at coaching fighters, than actually being in the fight haha. I learnt everything about Boxing and Training fighters from him.
I was in Dublin, Ireland, learning about Training Fighters, and learning about general fitness training for the general population…….. those worlds collided when I went to LA for a holiday and stumbled upon BOX N BURN, a boxing fitness brand that had everyday people gettin in the best shape of their lives through Boxing. I literally stalked Tony Jeffries & Kevan Watson, begging for a job (the gyms owners and founders). I would love to say that my amazing skill-set made me impossible to turn down and that I was head-hunted haha, I wasn't. But I was persistent, consistent, and real. They offered me a job and sponsored my VISA, (which took two years to get, I had to stay in Ireland the whole time) two years later from meeting Tony & Kevan, I got to start my dream job, in a dream location! This May, five years later, I'm still here and life is better than ever. The gym is booming, the brand is booming, and I teach group classes and have a long list of clients I consider friends. I oversee all hiring and development of our trainers and I help run the gyms by being involved in the backend operations. Life gets better and better every year! I get to share my passion with everyone who comes in to train with me, with a team that are as close to family as it gets!
Has it been a smooth road?
Hell no. My struggles were for the most part, were moving across the world. Obtaining a visa is the hardest thing I've ever done. Wanting something so bad, and having to wait two years, and the whole time, not knowing if it would ever come. After a year and a half, I got rejected. I had THE BEST immigration lawyer ever, who appealed my case which got approved after we provided some more information. The main thing is, there was a challenge, and I had a choice, let my circumstances define me (say "I got rejected, ill never get there", or do something about it,) say "ok that didn't work, let's try this again from another angle".
Give up, or try a different road. Feck quitting, I tried another road. Honestly, wanting this dream job and dream life so bad, and having to fight so hard for it, really made me realize that we have the power to do anything we want. There will be challenges, 100%. Up to u if u want to overcome them or run. A lot of people run and settle for a safe 9-5 in a safe place. Each to their own. That drove me nuts back in the retail days. Starting life over in a new country was exciting as hell, but then came a bunch of mini-challenges, understanding American systems haha. Having to re-do banking, credit history, driver's license, car insurance, figuring out all that fun stuff haha. How to find an apartment, Craiglist didn't exist in Ireland haha.
Thankfully, I never had to face any challenges relating to gender. I know women have to fight a lot harder to climb up high in some careers. I never received any of that. I was given opportunities each time I had worked my ass off. I'm very thankful for that. I've faced that sort of thing in Ireland before, been overlooked in male-dominated places.
We'd love to hear more about your work and what you are currently focused on. What else should we know?
I get beaten up by people, and also get to beat them up, haha. No, not really. During the day, I am a head trainer at BOX N BURN boxing fitness gym. I teach group boxing inspired fitness classes. I also train 1-1 private training sessions, which is a mix of people looking to get in shape through Boxing, hitting the mitts. Doing weight training/Strength & Conditioning Training for people looking to get in shape and learn to use the weights room. Very rarely, I'll have clients that are looking to compete in a fight, but now and again they pop up. By night, I am working on backend stuff to help grow the business.
I am very proud that I came into this team, not known by anyone, not handed anything by anyone. I worked my ass off and the harder I worked the luckier I got, my bosses are extremely encouraging and supportive guys. I'm proud to say five years later, they consider me a big part of the team and a big part of the futures plans for BNB. I'm honored to be respected by them, as I have always have huge respect and admiration for them and how they started. I'd like to think, on a training level, I show other females out there, that ya don't have to be a big tough guy, to train big tough guys. I have a couple of clients who are big strong, fit guys, who respect me and they are proud to tell the world a little Irish girl beats them up every week haha.
BOX N BURN
Box 'N' Burn aims to deliver a world-class boxing fitness experience, no matter your level of boxing ability. Whether you're an absolute beginner who's never worn a pair of boxing gloves, or an ex-professional who wants to continue training and staying sharp, you'll be welcomed with open arms to take part in the world's #1 boxing fitness class. Unlike traditional boxing fitness classes, Box 'N' Burn teaches its members proper boxing technique and puts them through workouts used by boxers at the highest level in the sport, so they can take their fitness levels to brand new heights.
Which women have inspired you in your life?
A massive one has to be Katie Taylor, Boxing World Champion and Irish too. I knew Katie on a personal level back home, she played for the same soccer team as me for a short time. I knew her close friends better, and the stories they would tell me about what she's up to on a Boxing level were insane. She really paved a way for Irish women in the Boxing scene. Deffo put us on the map too haha. She had to fight so hard over the years, for the right for female Boxers to compete in the Olympics, mad to think London 2012 was the first time women could fight in the Olympics. I've heard the stories about how she would attend Olympic Committee meetings to talk about why women should be included and her amateur record is INSANE!!! When she was a kid, boxing, she would have to pretend to be a boy to get matched for a fight in amateur clubs.
These days I draw a lot of Inspiration from female entrepreneurs……. LA is a mad town. Everything is possible. I decided to start an apparel brand last year called CHOICES BRAND as a way to inspire people to keep pushing forward toward their dreams, no matter what obstacles came in the way. That has been a whole other challenge haha, but a fun one. It's more of a passion project coz I'm so busy in the gyms. A lot of my clients are female business entrepreneurs, and I hear their stories, and I see how competitive things are in this town. Being around them and their drive really makes me elevate my game and more importantly, my mindset.
I think watching my mam always work hard at her job and always looking to step up in levels no matter what job she was doing, stuck in my head.
She still inspires me right now, every week, if I'm coming up against a challenge she would always say "where there's a will there's a way" haha. 2 big things that really stuck with me, take pride in your work, and never quitting.
Contact Info:
Image Credit:
Milo Tan at Box N Burn
Suggest a story: VoyageLA is built on recommendations from the community; it's how we uncover hidden gems, so if you or someone you know deserves recognition please let us know here.