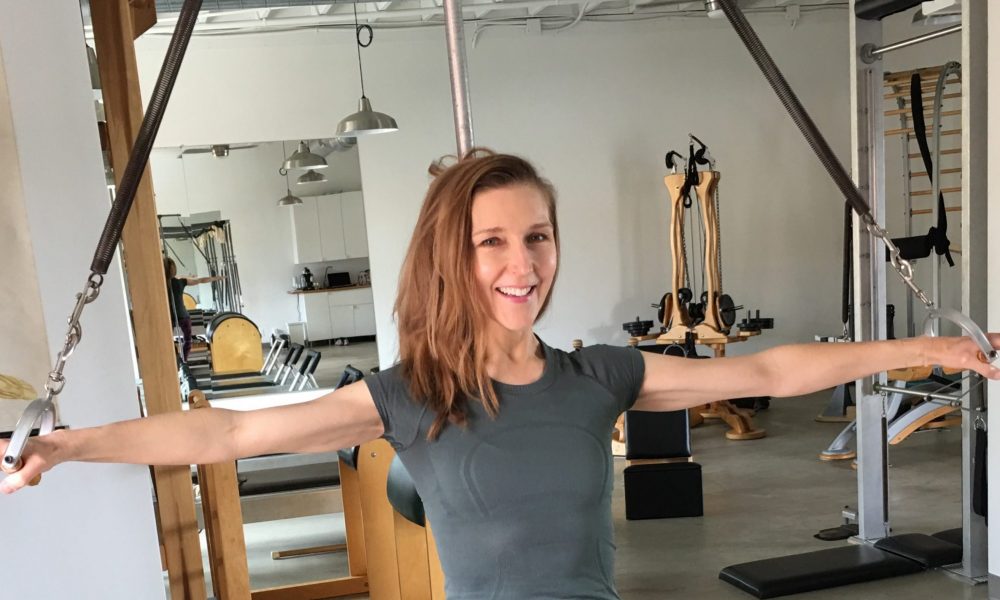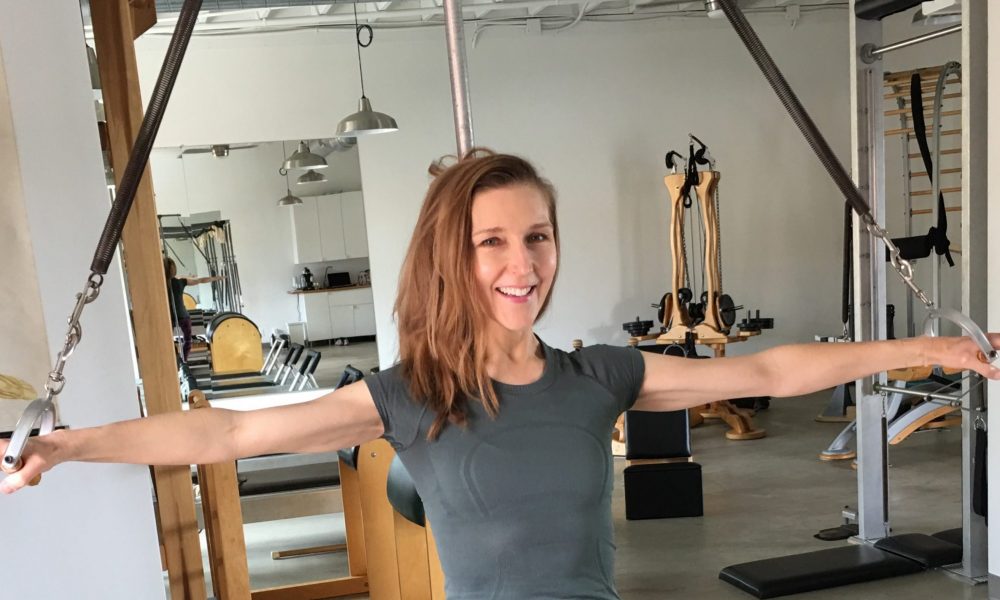 Today we'd like to introduce you to Karen Washburn.
Karen, can you briefly walk us through your story – how you started and how you got to where you are today.
I come from a family of medical professionals, entrepreneurs, and artists. I was influenced by and interested in all three paths as a child. In my teens, I struggled with depression, and dance was what saved me. I danced in my younger years (at first against my parents' wishes), and then I stopped during some difficult times. It was coming back to movement in my later teens, falling back in love with dance again that had this powerful effect on me. The process of diving deeply into my body was what gave me strength and helped me to heal. I knew early on that there was a profound relationship between our overall well being and meaningful movement practice. I knew at a visceral level that what I had experienced was the kernel of something extremely important. It became clear to me that the key to mental and physical well being was integrating the mind and body through a sophisticated movement practice that puts people in touch with their minds and bodies on a regular basis. I knew it because it saved my life.
In my twenties, while pursuing my career in dance, I was working, teaching, and traveling internationally. I lived in Latin America, and taught and studied at Universidad de Los Andes in Venezuela and Universidade da Bahia in Brazil where I learned Afro-Caribbean and Afro-Brazilian dance. I was the recipient of a Fulbright Fellowship to study dance in Java, Indonesia. During my time there, I had the rare opportunity to learn from some amazing master dancers. In Java, dance is a meditative and spiritual practice, and this had a profound effect on me. All of these experiences of living, dancing, and working in other countries and cultures helped me to deepen my understanding of the universal connection between movement, health, and well being.
I was determined to find a way to bring my joy of movement and a deep interest in the body-mind connection to others. I pursued the path of becoming a dance teacher. During my Master's program in dance at UCLA's Department of World Arts and Cultures, I discovered Pilates and GYROTONIC ®. I was exploring these methods through my own research to heal injuries and strengthen my body, initially not knowing that I would make this my life path. Throughout the process of practicing the methods, I realized that I could have a greater impact if I could use these methods, these "languages of the body," to help people from all walks of life get in touch with themselves at a deeper level. This was how I came to find my professional path of teaching Pilates and Gyrotonic.
Overall, has it been relatively smooth? If not, what were some of the struggles along the way?
It has been a very challenging, yet very gratifying road. The greatest challenge is balancing all of my different roles in work, family, and motherhood.
Recently, I lost my younger sister to cervical cancer at 37. She battled it for four years, and it is still hard to believe that she is gone. She always motivates me to find strength and carry on when the going is tough. I was also involved in a very contentious divorce and custody battle which lasted several years. The safety and well being of my children was at stake, and it was incredibly tumultuous and draining, both emotionally and financially. At the same time that the divorce was happening, I discovered that I needed heart surgery to repair a congenital defect in my heart. I know that my work saved me in many ways, the physical practice kept me strong throughout the storm. When I walk into our studio, I feel a calm and satisfied feeling. It is truly my sanctuary and I am incredibly grateful to be teaching the work that has helped me survive so many difficult times. Doing something positive in the world and helping people to live their best lives gives me hope and strength to withstand challenges and be strong for my team at the studio and my family.
Being a single mother and sole provider for my two kids is a challenge. My children have grown up knowing that this business is a "family affair." It is a life practice of movement, and a distinct way of life owning a movement studio. My children and I have pulled together, and we are all committed to this vision, together. In the morning before I get up, I recite my gratitude list. I am extremely grateful to God, the Universe, my family, and friends to be lucky enough to live a life where I follow a path that I believe in. This vision becomes more clear every day. My "to-do list" for my family and business grows out of this.
One of my dance teachers at UCLA used to say that the road of life is not smooth. Accept that it has plenty of bumps, and sometimes huge potholes. Once you realize this, you can handle the bumpy road much better. The process of growth in overcoming these challenges has made me stronger and is helping me to refine my approach. In my teaching, I offer something truly special, a movement experience that is totally unique, and it grows out of my experience.
Any advice for other women, particularly young women, who are just starting their journey?
As time goes on, I realize the value of and appreciate so much having an amazing team surrounding me. If you have an exceptional support system of family and strong people, people who love you and believe in you, you will be able to move forward with your dreams and do what you love. I am so grateful to my community for supporting me, my family, and my business.
The other most important thing is to be true to yourself, always. Find your passion, and commit yourself totally to it. Don't hold back. Don't be afraid to fight for it, because you will have to fight hard, but it is worth it. I know that if I had not found my passion and purpose, and totally committed, I would not be where I am today. Grit, perseverance, and a commitment to your vision is absolutely key.
Please tell us more about what you do, what you are currently focused on and most proud of.
When I visited Long Beach after graduating from UCLA, I fell in love with the small town feel of this big city. I was working at several studios in the West LA area and was very committed to Classical Pilates—-the original teachings of Joseph Pilates. There were no Classical Pilates studios in Long Beach, and I decided that this was something valuable that I could bring to this community. I have been running my own studio for 16 years, and I am continuing to learn and grow every day. Being an entrepreneur has been a process of trial and error, and I continue to learn a great deal on this journey. This is one of the things I love about being a Pilates and Gyrotonic teacher and small business owner.
I have been fortunate to have many great mentors, some of the best teachers in the world, in Classical Pilates and Gyrotonic who have passed down their incredible knowledge to me. Recently, I had the privilege of working with one of the last people alive who worked with Joseph Pilates directly. I was also fortunate to be certified in both GYROTONIC ® and GYROKINESIS ® by its founder, Juliu Horvath. My amazing mentors have guided me to a deep understanding of the work. I feel a strong obligation to share what I have learned with others. I am committed to honoring the integrity of the work as I pass on these physical traditions to my clients and other teachers.
The world-class team of teachers at Axis is committed to helping people develop a strong, independent Pilates and Gyrotonic practice. We work with all people, from high-level dancers and athletes to people recovering from injuries and surgeries. Our goal is that people move and feel their absolute best in their movement and lives.
Axis is the only fully equipped Classical Pilates Studio to Long Beach. This means that we have every apparatus that Pilates designed to practice his method, and this allows a practitioner to experience the method completely. We also differ from other studios in our teaching philosophy. We teach the exercises, orders, and intentions of Joseph Pilates on equipment that is built to the original specifications. We believe that by teaching this way, true to the source of the method, we get the greatest results from the method. We are fortunate to also have Gyrotonic specialized equipment to facilitate exploring the method to its fullest potential.
The philosophy and mission of teaching at Axis is unique. We teach people to be independent, and we help people empower themselves with the work we teach. Our goal is to prepare our clients to truly learn by helping them to eventually direct their own workouts. We are their guides in this process. Unlike other studios, where students are following an instructor's directions only, and are potentially held back by or pushed inappropriately in big classes, at Axis we prepare and encourage our clients to graduate to a guided self-directed workout with our Axis Ultimate Class. This allows the clients to master their unique workouts, and they can also practice at home or on the road with this ability and knowledge that they cultivate. I really want to give my clients the best value for their time and money. When we work with this approach, true and lasting change happens at a deeper level.
What's the most important piece of advice you could give to a young woman just starting her career?
First and foremost, women need to find a mind-body practice that keeps them strong. For me, my daily commitment to my own personal movement practice truly is the cornerstone of what I do. I cannot give to others if I am not "walking the walk."
One of the greatest lessons I have learned over the years of running my business is to identify my needs and then ask for help to fulfill these needs. I know so many amazing, strong women, and I know that we women often think that we can do it all. Relinquishing some control is hard, but necessary, to move forward in business.
Contact Info:
Address: 5520 E. Second St. #C
Long Beach, CA 90803
Website: http://www.axislbc.com/
Phone: 310-863-0296
Email: karen@axislbc.com
Instagram: @axislbc
Facebook: https//www.facebook.com/karen.washburnness
Image Credit:
Stacey Adams, James Hogan
Getting in touch: VoyageLA is built on recommendations from the community; it's how we uncover hidden gems, so if you know someone who deserves recognition please let us know here.