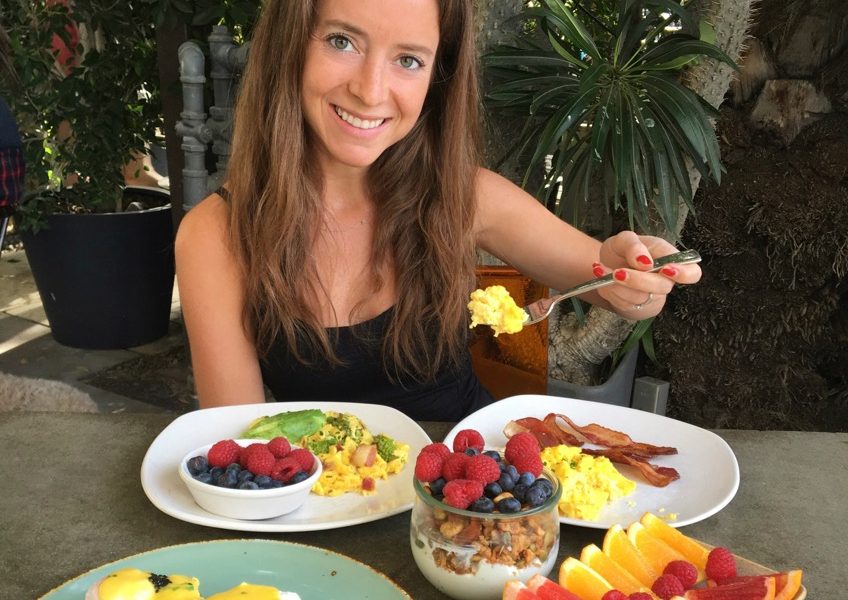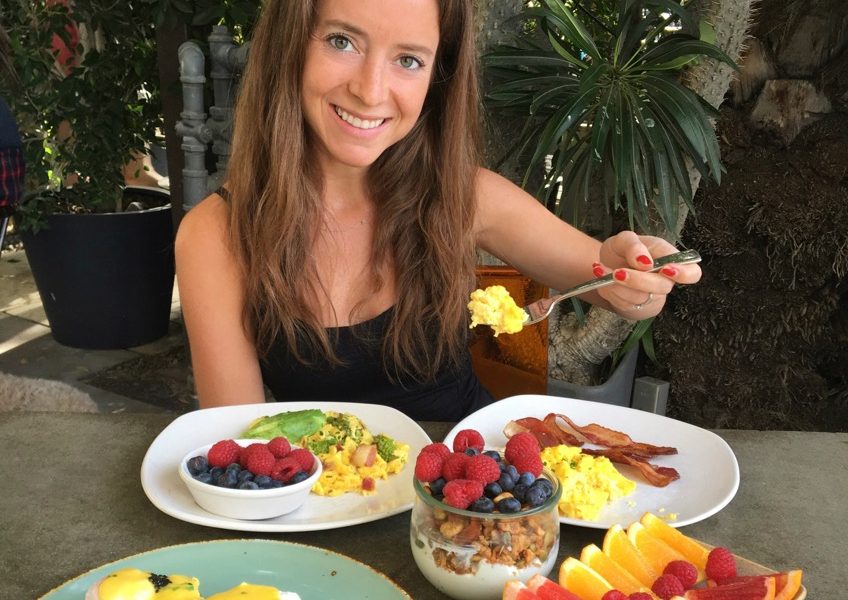 Today we'd like to introduce you to Jackie McEwan.
Jackie, let's start with your story. We'd love to hear how you got started and how the journey has been so far.
I'm Jackie Aanonsen McEwan, and I'm the founder of Gluten Free Follow Me, the Guide to Living Gluten-Free. Seven years ago, I learned I had celiac disease. I had just graduated from Georgetown University and moved to New York City for my finance job. I had to figure out what gluten was, what foods I could eat, what foods I had to avoid, and the nuances in between. It was incredibly overwhelming, and I wished I had a go-to guide to tell me all I needed to know about following a gluten-free diet. This manual did not yet exist so I did a ton of research and learned how to maneuver being gluten-free at restaurants and in my own kitchen.

I'm so happy that I can share what I've learned and have others benefit from my experiences and research. I want everyone to feel comfortable when eating. Whether you have to be gluten-free, choose to be gluten-free, or have a family member or friend that follows a gluten-free diet, we all deserve to eat well! Gluten Free Follow Me allows users to do their own customized searches with 2,000+ gluten-free friendly eateries, products, and recipes so there is an overwhelming amount of options. I live in Marina del Rey with my husband and golden retriever rescue Odie. I enjoy uncovering gluten-free options locally and in my travels, finding the best products, and developing my own gluten-free creations.
We're always bombarded by how great it is to pursue your passion, etc. – but we've spoken with enough people to know that it's not always easy. Overall, would you say things have been easy for you?
Seven years ago, my sports doctor had all of his patients take a food intolerance test, and gluten came up in my test results. I was like, "what's gluten?!" Looking back, my diagnosis made a lot of sense because I would get sick at least once a week in college. In college, I would eat stir fry on Sundays (using gluten-filled soy sauce) and always felt nauseous. I would get sick after eating my favorite sandwich at Cosi and thought it was food poisoning. I went to the Emergency Room at a nearby hospital a few times because I couldn't keep any food or water down.
I had these reactions throughout college but no one ever brought up gluten as a reason for my sickness. I normalized these reactions because they had unfortunately become commonplace for me. Gluten sensitivity/intolerance and celiac disease were not as wide-spread as they are now. Looking back, it seems silly that I never pressed doctors on what was making me sick, but gluten wasn't in the forefront of my mind or their minds. I was incredibly overwhelmed when I finally found out that gluten was making me sick. I didn't even realize I was sick! I went to a few gastroenterologists and found out I didn't just have a gluten intolerance – I also had celiac disease. I was incredibly overwhelmed when I found out that gluten was making me sick. My diagnosis forced me to rethink what I was eating because I had to immediately cut gluten out of my diet.
I did a ton of research on what foods had gluten in them, what foods were gluten-free, and all the grey areas in between. The gluten-free diet has become much more popular in the past couple of years, but it wasn't as prevalent six years ago so it was challenging. I wished there was ONE guide that had everything I needed to know about following a gluten-free diet.
In March 2014, I started to post about some of the gluten-free foods I was eating on Instagram. Surprisingly to me, my posts were met with great reception. People I had never met were asking me for more tips on gluten-free friendly eateries, products, and recipes, and I was more than happy to continue to make these discoveries. I was getting so many questions that I knew I needed to put all this information in one place rather than just Instagram. In September 2014, I taught myself how to make a website, and I launched glutenfreefollowme.com! I wish I had something like Gluten Free Follow Me to guide me through my new gluten-free diet seven years ago, but I'm glad I can be a guide for others now!
Looking back, I would tell myself that being gluten-free is not as hard as you think! When you first find out that you can't have gluten, it's incredibly overwhelming. But when you realize how many amazing options there are (especially nowadays), you really don't have to worry. You WILL be able to eat delicious AND safe food. At the time, my celiac diagnosis seemed like the worst thing ever. However, I'm grateful for it now. Knowledge is power, and I'm healthier because of it. Going gluten-free lead me to start Gluten Free Follow Me. If I hadn't become gluten-free, I would probably still be working in finance in New York City. My quest to find gluten-free foods developed into a full-time passion, and I couldn't be happier with how it all turned out!
I don't recommend for everyone to turn their passion or hobby into a career, but if it works out financially then it may be worth it to take the plunge! Another thing to note – I get asked a lot how to get more followers, and that shouldn't be your main goal. If you're in the social media space, then yes, having a lot of good followers can be part of it but that shouldn't be why you're doing it. Your passion will shine through your work and can then translate into success. Don't start a blog or an Instagram account with the sole purpose of making money. It's obvious, and you won't come across as authentic. It's also incredibly unlikely that you will make any money at first. That comes later, if at all.
We'd love to hear more about Gluten Free Follow Me.
I'm a blogger, recipe developer, food stylist, and social media manager for brands. My website glutenfreefollowme.com details and rates 2,000+ gluten-free friendly eateries, products, and recipes with customizable searches and filters. My Instagram @glutenfree.followme shares my recipes, travels, my day-to-day, and more. I'm a one-woman show, and I'm proud of that! As my own boss, I definitely feel more productive than working for someone else in the corporate world. I love how I can work from anywhere. Every day is different but I typically start my day with a workout. Then when I'm done with my workout, I move onto recipe creation, photo shoots, business calls/meetings, events, or whatever else is happening that day. I never get bored and truly enjoy what I do. I get to use my creative and business sides, and I'm grateful for my current lifestyle. I'm incredibly passionate about Gluten Free Follow Me, and it's heart-warming when others are as well. It makes me so happy when people tell me that they planned a trip based on glutenfreefollowme.com/restaurants and were able to enjoy eating at safe & delicious restaurants. Or that they wowed their family & friends after baking one of my recipes on glutenfreefollowme.com/recipes. I'm in awe of this community and thrilled to be a part of it!
Do you feel like there was something about the experiences you had growing up that played an outsized role in setting you up for success later in life?
I graduated from Georgetown University in May 2011, majoring in Finance and International Business with a minor in Sociology. After graduation, I worked at a corporate bank in New York City for six years. I started off in a three-year analyst program, and then became an Assistant Vice President.
While working at my corporate job, I almost always took a lunch break, even if it meant that I just walked outside for 30 minutes. Without realizing it at the time, Gluten Free Follow Me subconsciously started during these lunch breaks! During lunch, I would walk around the city and try to find gluten-free friendly places for lunch or snacks. That was my "me-time" where I could do something unrelated to my job. I kept adding to my long list of restaurants I wanted to eat at. I would check them out either during lunch if it was close to my downtown office or on the weekends if it wasn't.
I never meant for GFFM to become anything, and definitely not my career. It happened so organically since I was just trying to find safe and delicious food to eat! It stemmed from my passion, but it also took hard work and dedication for it to become what it is today. When I started posting on social media and launched glutenfreefollowme.com a few years ago, my family and friends never really understood what I was doing or why I was spending all this time focused on GFFM. They laughed when I took photos of my food. I did it as discreetly and quickly as possible in an effort to try to avoid the weird looks.
Now, no one says anything about me taking pictures of my food! It may be easy to see how the journey happened, but it wasn't in the moment, so I'm glad I believed in myself and kept at it! Don't let anyone sway you from your passion or hobby. Only you know what you're passionate about, and the reason you're good at it is because you're so passionate about it.
On December 15, 2016, I officially left my corporate job and did Gluten Free Follow Me full-time! If you had told me when I was in college that I would be working as a blogger at age 28, I would have laughed in your face! That wasn't even a consideration. I always wanted to work in finance. Many people from my hometown Greenwich worked in finance, along with my peers at Georgetown University. I don't even know why I wanted to do it, but I knew it was what I wanted to do.
Even though, I don't work in finance anymore, I will say that I learned so much from that job. It was great for me to have that office experience. I learned how to work with different people and how to take on a leader role and follower role on a team. I realized what I liked and didn't like about my job. Microsoft Excel and PowerPoint became second nature to me. If I didn't know something, I googled it and taught myself. I quickly learned how to figure things out on my own. Personally, I'm glad I had this work experience and didn't go straight from college to being a blogger. It made me even more self-sufficient and good at problem-solving.
Contact Info:
Image Credit:
I have the rights and permissions to use all pictures.
Getting in touch: VoyageLA is built on recommendations from the community; it's how we uncover hidden gems, so if you know someone who deserves recognition please let us know here.