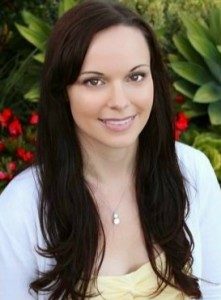 Today we'd like to introduce you to Helena Hart.
Helena, can you briefly walk us through your story – how you started and how you got to where you are today.
My background is in psychology so I've always been passionate about helping people learn to love themselves and live the life of their dreams. I went to graduate school for psychology and I had a job in that field up until 2013. I liked what I was doing, but deep down I knew I wanted to be doing more – I wasn't truly fulfilled because felt like I wasn't reaching my full potential.
I always knew that I wanted to help women attract the love and abundance they desired. I also knew that I wanted to have my own business where I could make my own hours and do things on my own terms, but I didn't know how to get started.
So when I heard that Rori Raye, an amazing relationship coach whose work I greatly admired, was starting a certification program to train new coaches, I jumped at the opportunity. I started working with clients before the training was even over and I was hooked – I LOVED helping women create the love life they've always wanted. Eventually I quit my day job and started coaching full time. I also created several online books and programs so I could help even more women (the ones who didn't have the time or resources to invest in one-on-one coaching).
After working with hundreds of women around the world, I realized that the tools I was teaching them to attract the right man were the same concepts that helped them attract what they wanted in ALL areas of their life. This is when I expanded my business and started working with female entrepreneurs and women who wanted to grow their business, increase their income and attract their ideal clients.
Has it been a smooth road?
The hardest part for me was putting myself out there, and I see this same resistance in most of the women I've worked with who want to start an online business. I was worried I wasn't enough, that people weren't going "get" me or what I was teaching, and that I was going to be judged. I was also concerned about what the people in my "real life" would think if they saw what I was doing!
I was especially resistant to the idea of being on video, which is ironic because most people find me through my YouTube videos now. It's so hard to see yourself on a video not to be self-critical, but it definitely gets easier the more you do it!
My advice to women who are experiencing this is to start with baby steps so you don't overwhelm your system and activate your own defenses. I've found that the thing that separates the female entrepreneurs and coaches I've trained who become successful versus the ones who don't is they move past this resistance continually.
Every time you reach a new level in your business, you're likely going to run up against your own fear and resistance (I know I certainly do!), so it's important to get the tools and support you need to move through it.
We'd love to hear more about your business.
As a Certified Life and Relationship Coach with a master's degree in Psychology, author and Master Coach Teacher, I help women all over the world tap into their empowered feminine energy (and their empowered masculine energy!) so they can attract the love and abundance they desire.
When it comes to love, I help women attract the right kind of man and recognize love when it shows up – whether it's with the man they're already with or someone they're about to meet – and then help them allow it to become everything they've ever dreamed of!
The empowered energies I help women step into are also the same energies that help them attract what they want in ALL areas of their life, such as money, career, lifestyle, partnership opportunities, family and friendships.
When women start working with my concepts and tools, they're amazed at how fast, easy and FUN it can be to attract the love and abundance they've always wanted, without having to work so hard!
What's the most important piece of advice you could give to a young woman just starting her career?
I've found that speed of implementation is probably the habit that's most closely tied to the success of the female entrepreneurs and coaches I've trained over the years. In other words, your ability to quickly implement an idea that occurs to you when you're feeling inspired and excited about it is what makes all the difference in the world.
I've had SO many ideas that I've put on the backburner and nothing ever came of them. On the other hand, when I feel inspired and I can leverage that energy and put that idea into action quickly, that's when I can create a lot in a short period of time (it's also when things tend to "fall into place" much more effortlessly!). So you really want to listen to your body and intuition, and get in the habit of following your impulses from there.
In other words, if you have an idea and you feel inspired, go for it! Don't sit on it, make excuses or procrastinate out of fear. If you're not feeling inspired, don't try to "force" it in that moment – take a break and come back to it when you feel excited about it again. This is how you can start leveraging your energy (and actually get a lot done!).
Contact Info:
Getting in touch: VoyageLA is built on recommendations from the community; it's how we uncover hidden gems, so if you know someone who deserves recognition please let us know here.