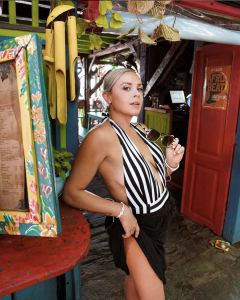 Today we'd like to introduce you to Alli Forsythe.
Alli, let's start with your story. We'd love to hear how you got started and how the journey has been so far.
Looking back at my story, I can't help but smile, because the moments that made me want to scream "WTF?!?!?!" were the moments that have helped pave the way to where I am today. I have stumbled my way through the past decade trying to figure it out, and if I would have never listened to my gut or followed my heart, I wouldn't be where I am at.
I graduated from university with a BFA in Musical Theater. I had big dreams of having a thriving career on Broadway and touring the world dancing, singing, telling stories and entertaining people. I dreamed of living in New York City since I was five years old. The summer before my last year of college, I remember being so sick of school and ready to leave that when I saw an audition for a dancing role in the tour of Sesame Street Live! in Austin, TX, I thought why the hell not. At the time, I was willing to do anything that put me on a stage and paid me and it was a fun road trip from where I went to school in Huntsville, TX at a small university with great connections and a solid performing arts program. It wasn't until six months later when I was planning to sign a lease for an apartment in New York later that day that I heard from them. I'd overloaded myself with course work to be able to finish college in 3.5 years so I could move to New York that fall. They offered me the puppeteer role of Oscar the Grouch in the North American tour. I took it.
To me, this is just one funny story that I look back at now and realize foreshadowed what would be the next decade of my life. I moved to New York City from the last day of my one year tour with just one suitcase (cliché I know). I was confident that this tour would open doors for the next tour and things would just go up from there. But I was wrong. I pounded the pavement auditioning for 6 months. Callback after callback, but no offer. For musical production open calls, you can typically go to a dance audition or a singers audition. Whatever your strong suit, that's where you go. I was a much stronger dancer than a singer so I naturally went to the dance auditions. If you get called back though, then you have to sing. I would always get cut. I began to doubt myself so much that I decided to start going to singers calls thinking "maybe I'm just a horrific singer." But no, I made it through and got called back to the dance audition and I'd still get cut. In six months, I depleted my entire savings account and lost all self-confidence. I took a job passing out fliers for Broadway shows in Times Square to pay the bills followed by a bartending job and babysitting. I continued auditioning on top of my three jobs but my lack of self-confidence, energy, and ambition turned into constant negative self-talk, frustrations… the list goes on. We think we can show up and fake it through internal struggles like that, but we can't, everyone sees it. My audition track record just got worse. I started getting cut right off the bat. I knew someone who had gone to the same University that I did who lived down the street from where I did in a less-than-desirable neighborhood who had previously appeared in a couple of Broadway shows. She was in her 30's, still living with roommates and babysitting between gigs. She never seemed that pleasant or happy to be around. All along I had thought once I make it on Broadway, I will be the happiest person ever – I was very much living in that place of "happiness is just around the corner" but in my current state, I was f*ing miserable. So was she, and she had been in multiple Broadway shows. I remember hanging out with her one day and thinking to myself, I don't ever want to be like her. I felt like somewhat of failure but slowly started fading out of the audition scene with zero self-confidence and no idea what to do but try and keep my head up.
I grew up playing seven musical instruments and often times used the neighborhood kids to play the character roles in "movies" I had written. I was using my family's VHS video camera to "vlog" before "vlogging" was even a thing. I was a wildly creative and adventurous child. To fill a void that existed after I stopped going to dancing and singing auditions, I signed up for on-camera acting classes in the city. I bought an $80 bike from Target to commute around the city on so I could save money and not have to buy a metro card and I hated running but started running because it was a cool way to see the city plus a free way to stay in shape. I began to realize that all of this exercise was beginning to build my self-confidence back up. I later joined a running group in the city that was associated with the Alzheimer's Association. My grandmother who was a huge part of my life and always a supporter of all of my creative endeavors had passed two weeks after moving to New York because of the Alzheimers disease. It gave me a great sense of pride to run in her honor. In 2013, I completed the New York City Marathon. I started crying when I crossed the finish line because it was the first time since I had moved to the city that I felt like my hard work had earned me something.
In the two years that led to the NYC Marathon, I had explored what felt like every corner of the fitness industry. I got hired seasonally at Lululemon and that led to a full-time job with health insurance. Goodbye Times Square nonsense, bartending and odd job hustling as I like to call it. Lululemon has this amazing perk for their employees that allows them to take any fitness class that they want and be reimbursed for it. I was taking classes at all of the high-end studios for free and had made friends at Barry's Bootcamp, Flywheel, SoulCycle, Body by Simone… the list goes on. It only made sense to get indoor cycling and personal trainer certification at that time. It also made me feel like I was going somewhere instead of lost in my own misery. I didn't want a career in the fitness industry but the people were awesome and I felt like I was actually working towards something that I had control over. I had started getting the urge to move to Los Angeles for the nicer weather, job opportunities in the fitness industry and because I was loving the on-camera class I was doing more than I have ever enjoyed a dance class, being in LA would have more opportunities to learn more about film and create in a way that I couldn't in New York.
Fall of 2013 was the year everything changed. A co-worker at Lululemon had taken me to a SoulCycle class by an instructor I had never taken before. We talked briefly after class and immediately clicked. In 15 minutes, we figured out each other love for adventure and the outdoors and she asked me to go on a spontaneous road trip with her to Bear Mountain (a beautiful place to hike and camp about 90mins outside of NYC) two days later. Over an 8 hour hike and getting lost in the woods, Kym Perfetto and I got to know each other pretty well. I had told her my story of living in NYC and that I was hoping to move to Los Angeles as soon as I could afford the move. I will never forget what she said to me. "If there is something you want to do, you just need to do it. You can't wait for the right time, the right place and you especially can't let money hold you back. If it's something you really want, you'll find a way." She then asked me, "If money wasn't an issue, how soon would you move?" I told her tomorrow. She said "Well, I am moving to Los Angeles to teach SoulCycle in two months and they're paying for the move. I also need a roommate. So, if it's money holding you back, now you have a free move. You can just throw your sh*t on my truck." We became close friends over the next month. She raced bikes competitively and I was still commuting all over. She introduced me to the bike community and my network of friends in fitness and sports just continued to grow. It was about six weeks after knowing her that I received a text that said: "wanna do Amazing Race?" I literally responded "…?"
Kym's brother had been applying to be on Survivor for 10 years. It was the same casting team that cast Amazing Race. They reached out to her brother to get in touch with her because they wanted two female cyclists from NYC on the show. They asked her to submit a list of people that could potentially be her teammate on the show. She sent in a list of women that ranged from professional cyclist to bike messenger to someone who just rides a bike – like me. It was a list of around 20 females. Of all of those women, the casting team wanted me. Given my history of auditioning it felt too good to be true. But here I was, on a plane to Los Angeles for finals casting with a girl I met 6 weeks ago and barely knew. If you know me, you know that I was cast and we went on to be one of the top 3 teams of Season 25 and were the last team eliminated before the final episode.
Kym and I moved to Los Angeles in January of 2014 and turned the move into a 10-day adventure driving across the country that we filmed for YouTube. We went on to film Season 25 of The Amazing Race in June of that year. I realized over that 6 month period that nothing in this life really happens the way we expect and sometimes at the moment, it makes no sense but it feels right. In my case, I shouldn't have moved to LA… I was $50,000 in debt with a decent job in NYC. I also didn't have the money to leave my life for a month and shoot a reality show. I had bills to pay and $200 in my bank account when I left to shoot, but I knew it was an opportunity I couldn't pass up. Just like moving to LA, I knew in my gut the opportunity would be greater than the risks.
Filming the show opened my eyes up to a world of opportunity that I had never even imagined and literally the world. I had never left North America before I filmed the show. I had my fingertips at the beginning of a career in the fitness industry. An industry that had to help me rebuild my self-confidence and now this put me in a place that opened doors. I was hired by SoulCycle after my appearance on The Amazing Race. They really wanted me to teach for them after I was on the show. I've since left the company, am beyond grateful for the relationships, collaborations and mentors I received from my time there. For the past three years, I was an emcee and run leader for Wanderlust Festival and traveled all over the country hosting these festivals and meeting some amazing people. I have worked with some amazing brands as well including Adidas, CLIF Bar, and NUUN. I really believe in their mission and product. I've met some amazing people throughout all of these opportunities that I have both collaborated with and learned from. Over the past five years have built a personal training clientele and an adventure and active lifestyle brand online.
Today, I travel all over the world and create video content on social media that tells stories of adventure, fitness, and wellness. I train clientele both online and in-person to help them develop the strength and fitness they need for their own adventures and goals and I work with quite a few fitness and wellness brands creating content that tells their story and features their products for social. For my own fitness endeavors, I have moved on from just riding the streets and running and now race triathlons. I raced for Team USA at the age-group world championships last year in Australia. Still to this day, I gain confidence from training and putting myself out there.
Over the next five years, I plan to transition out of working hands-on in the gym with clients and creating social content to developing a production company that creates inspiring and motivating content for different platforms and networks. I think this world needs more stories that are real and inspiring. Whether those are short films, reality shows, docuseries or whatever, I want to create media that didn't exist when I needed it the most. Media that says, it's okay to fail, it's okay to be human, it's okay to take risks, it's okay to be adventurous, it's okay to live a story like no one else, it's okay to try new things and most importantly it's okay to follow your heart.
Has it been a smooth road? If not, what were some of the struggles along the way? Any advice for other women, particularly young women who are just starting their journey?
Advice for young women:
1) If an opportunity seems insane but you think it's right, go for it and figure it out.
2) find the people who have your best interest at heart and will help you along the way. Disclaimer: you'll get burned a few times in the process, but it's worth it when you find those people who see your potential and help you pave the way.
3) THERE IS NO RIGHT OR WRONG WAY TO DO THINGS. Everyone in this world has an opinion. People love to give their opinions because it makes them feel validated in someone, but if it doesn't work for you, move right along. The only right way is the way that works for you.
4) Never give up. Some people may say I gave up on trying to make it on Broadway but if you look at my story, the truth is I never gave up on finding what my purpose and passion was. Somethings will find you and you will try them and other things will find you and try you. Whatever you do, never give up on the things that make you happy and move you forward.
Please tell us more about your work, what you are currently focused on and most proud of.
As a fitness trainer, I try not to focus on the little things. People just want to feel good. My expertise is in functional training which is the kind of training that allows you to feel strong and balanced, stay injury free, flexible and agile. With my clients, I don't talk about any of this during our sessions, I just put them through the workouts and tell them how it will make them feel and motivate them to keep it up. Functional training paired with proper cardio and a healthy diet makes for a balanced lifestyle. I do, of course, work with people who have more specialized goals but overall I want to see people feel good and confident. Most trainers will focus on all the scientific everything which is awesome, but in my opinion, if someone doesn't leave feeling in a better mood and more confident, I am not doing my job. It's as simple as that.
The content that I create embodies this same attitude as well. I want viewers to be inspired to go and do things that push them out of their comfort zone and gives them that need to go on an adventure when they're done watching it. I also hope that it will inspire someone to live a more active and healthy lifestyle.
Do you recommend any apps, books or podcasts that have been helpful to you?
I've read and listened to a lot of books and bits and pieces of them have helped frame my thinking, but the most valuable resource, as cliche and ridiculous as it sounds, is me. No one book, podcast, blog, etc. has helped me. I'm not a narcissist I promise. Hear me out on this. I have horrific time management skills and it gives me the worst anxiety. There has only ever been one thing that helps with this and that is writing. Often times I will get frustrated because I feel like I have so much to get done but don't know where to begin, or things aren't moving along the way I want them to be or worst of all, I feel like I am doing everything but what I want to be doing or need to be doing so I sit down and write. I write out how I'm feeling. I write why I'm frustrated, what I'm spending my time doing, why things aren't getting done or whatever it may be. By writing or journaling, whatever you want to call it, how you're living and what your immediate priorities have become very clear. The answers to what we need to do are there if we're willing, to be honest with ourselves. It's only then that we can find books, podcasts, blogs, etc. that might give us tips or inspiration, but the real answers are encrypted in us.
Pricing:
Personal Training Sessions: $115
Contact Info:
Website: www.alliforsythe.com
Email: letstalk@alliforsythe.com
Instagram: @alliforsythe
Facebook: @officialalliforsythe
Image Credit:
Portrait photos: Lauren Diaz-Yi (Instagram @lauren_diazyi)
Getting in touch: VoyageLA is built on recommendations from the community; it's how we uncover hidden gems, so if you know someone who deserves recognition please let us know here.