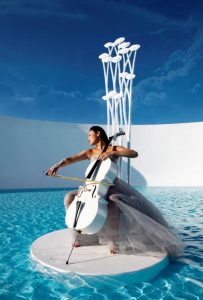 Today we'd like to introduce you to Tina Guo.
Tina, can you briefly walk us through your story – how you started and how you got to where you are today.
I moved to Los Angeles in 2004 to attend USC as a Classical Cello Performance Major and started experimenting with the Electric Cello then. I used to find gigs on Craigslist as a session musician and playing with various bands and artists on the Sunset Strip and played weekly at all the clubs as a backing cellist.
A couple years after living in Los Angeles, I began recording for soundtracks and after some composers including Hans Zimmer saw my self-funded and self-released music video, "Queen Bee," on YouTube, I started working as a soloist on film scores. Sherlock Holmes, Iron Man 2, and Inception were the first major film scores that I recorded for as a soloist, and over the years I continued recording for TV/Movies and Video Games. I used the money that I earned as a session musician to fund my own musical projects- including albums and videos, and currently, have over 200 videos up on my YouTube channel.
Another job opportunity that came from my YouTube videos led me to leave LA for 2 years when I ran away with the Circus! I was in the "Michael Jackson THE IMMORTAL World Tour by Cirque du Soleil" and the arena tour traveled around the world from 2011-2013. During my time on tour, I researched a lot online and took courses on investing and have continued to grow my portfolio.
After I came back to Los Angeles in 2013, I continued self-releasing my own albums, 9 in total and toured with Hans Zimmer Live in 2016 (including Coachella!) and 2017. In 2016, I signed a 4 album record deal with Sony Masterworks and released my first major-label album last year called "Game On" which features my renditions of my favorite Video Game music, reimagined for a Metal Band and Full Symphony and Choir.
Right now, I'm working on my second solo album, continuing my "day job" as a soundtrack/studio musician, traveling worldwide to perform shows, and also composing music for soundtracks. Earlier this year, I signed a brand partnership with Bentley Motors and composed and recorded the music for the 2018 Bentayga Hybrid which will be released this Fall. I've also been traveling around the world performing and speaking at events for Bentley.
A few months ago, I was invited to be a keynote speaker and performer at FEECon (Foundation for Economic Education) where I spoke about my journey as a self-managed creative and how I've navigated a career in the entertainment industry in today's climate. I currently live in Studio City with my fiancé, who I met in downtown LA, and love all the great food and hiking in the area!
Has it been a smooth road?
I sometimes can't believe all the random things that have happened over the years! I always say that people only see the results of experiments or projects that have "worked" but for every idea, song, album, video, etc. that have worked, there were 99 failed attempts.
I had multiple bands that fell apart over the first 8 years that I lived here in LA. After the 4th dramatic band breakup, I realized that running my "business" as a solo artist and hiring musicians for my projects led to a less dramatic and argument-filled creative and business process.
When I first moved to Los Angeles 14 years ago, I had no money, no car, no instrument, and despite a nearly-full tuition scholarship to USC for music- it didn't cover living costs or other basic things like books required for school. I lived on as little as possible for the first 8 years in many questionable places- the most memorable being half of a garage in Sun Valley (the other half was used by the owner of the home to park their car in) that had no air conditioning or heat and a bug infestation.
However, there was free cable TV and a working toilet and shower so I couldn't complain! The entire "studio"/garage was furnished via Craigslist- I slept on a futon with a large lump in the middle, and the only other furniture I owned was an old dresser that I still remember buying from a guy nice enough to deliver it to me since it wouldn't fit in my car for $20, a black IKEA Malm Desk for $35, and a plastic table with 4 plastic wobbly chairs (Craigslist, of course- $15 for the set.).
In the "Kitchen" area, I usually would eat sandwiches which didn't require cooking but on the occasional special pasta meal, I'd use a hot plate that I got at Target and stored groceries in another Craigslist acquisition- a mini-fridge! Later, I splurged on a small used Microwave for $30. I did my laundry once a month at the local laundromat and would dream about the day I would have a washer/dryer at home.
I have always had the habit of writing down every cent I earned and spent, and have continued that tradition to this day although it's now organized in spreadsheets using Google Sheets. I taught cello and piano classes played backup for bands and singers who answered my Craigslist Cellist Ads, had a short stint attempting to sell Avon products which I was very inept at, and played an endless number of weddings, bar/bah-mitzvahs, and funerals.
When I did make any money, I made sure to save as much of it as I could and lived on the bare minimum. Over the years, I invested what I could into buying my classical cello, bows, recording equipment, and computer so I could self-record and release music. I produced, directed, and edited almost all of my music videos, learning to do whatever I couldn't afford hiring others to do.
While on tour with the Cirque du Soleil from 2011-2013, I sold everything I owned except for my car at the time, a Chrysler 300 that I purchased pre-owned at a tiny dealership in Canoga Park, and my Classical Cello and Bow. I kept my recording equipment (microphone, laptop, interface) and took it on the road with me so that I could still work as a session musician, remotely, from anywhere I was in the world. We played 360 shows those first 2 years, and I also kept my side hustle of recording either in the hotel room or I'd go to the arena early in the morning and set up a makeshift cello recording area in an empty bathroom or dressing room.
Every 4-5 months, we had a week off and I'd try to schedule other bookings/concerts/sessions on that week so I could continue working and keep as many of the relationships in the soundtrack world as I could in Los Angeles.
During those 2 years, I first paid off $100,000 of debt from school loans, credit cards, and instrument loans- then began saving and investing almost all of my income. I used a budgeting app to spend only $20 a week, eating only in catering or buying food in bulk at local markets while on the road. Yes, I lived mostly on energy bars but I survived and achieved my savings goals! After 2 years of this extreme frugality, I was able to come back to LA with a good amount of savings and money allocated in various investments.
I'm 32 now and although it has taken me longer than I had planned, if things continue growing at the current rate, by the end of 2018 I will be a self-made millionaire.
So let's switch gears a bit and go into the Tina Guo (Guo Industries) story. Tell us more about the business.
My company is Guo Industries, which was inspired of course by Tony Stark and Stark Industries! Before I signed to Sony in 2016, Guo Industries was also my record label. I compose, produce, record, but am mainly known as a performing cellist and session musician.
Recently, I recorded the new Wonder Woman Main Theme (it sounds like Electric Guitar but it's actually Electric Cello!) with Hans Zimmer, and also recorded on the soundtrack for Dunkirk, and League of Legends. On my YouTube channel, in addition to Music Videos, there are music and business tutorials as well as gear demos.
Last year, I also started TinaGuoStrings.com with my partners in the business, Kolstein & Sons in New York- with a line of acoustic cellos, carbon fiber cello cases, custom colored bows for Violin, Viola, Cello, and Bass in various materials, and the latest addition, an acoustic cello pickup!
How do you think the industry will change over the next decade?
The soundtrack industry has already shifted heavily into remote work, and nowadays 95% of my work as a recording cellist is done from my home studio. On rare occasion, I will work at a composer's private studio, and it's maybe a couple times a year that I will actually be asked to go to a stand-alone recording studio for a project.
I feel that having the ability to self-engineer will greatly increase the future viability of recording musicians, and expand their clientele to not just local composers and producers, but to musicians worldwide.
Contact Info:
Getting in touch: VoyageLA is built on recommendations from the community; it's how we uncover hidden gems, so if you know someone who deserves recognition please let us know here.