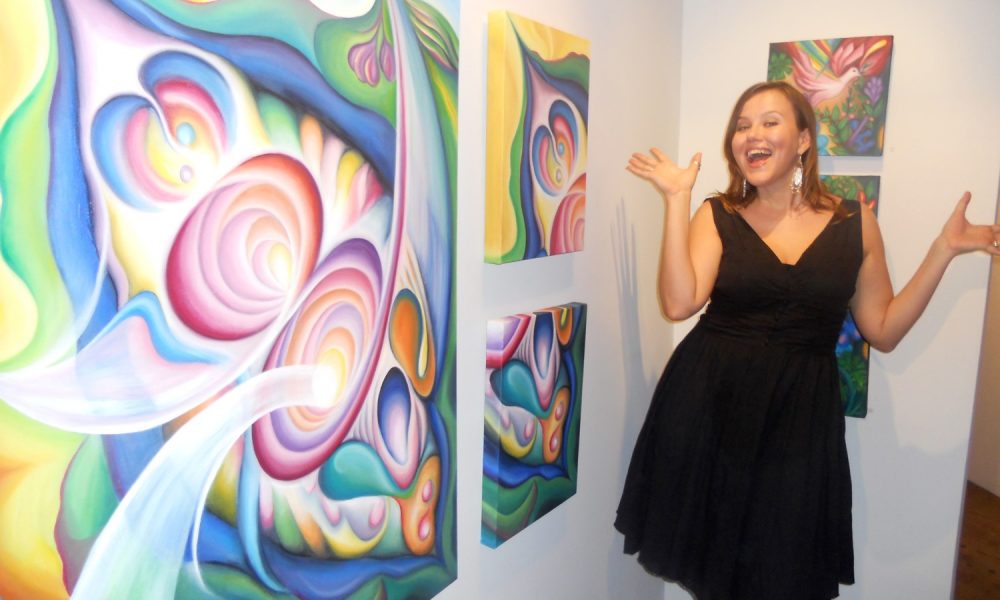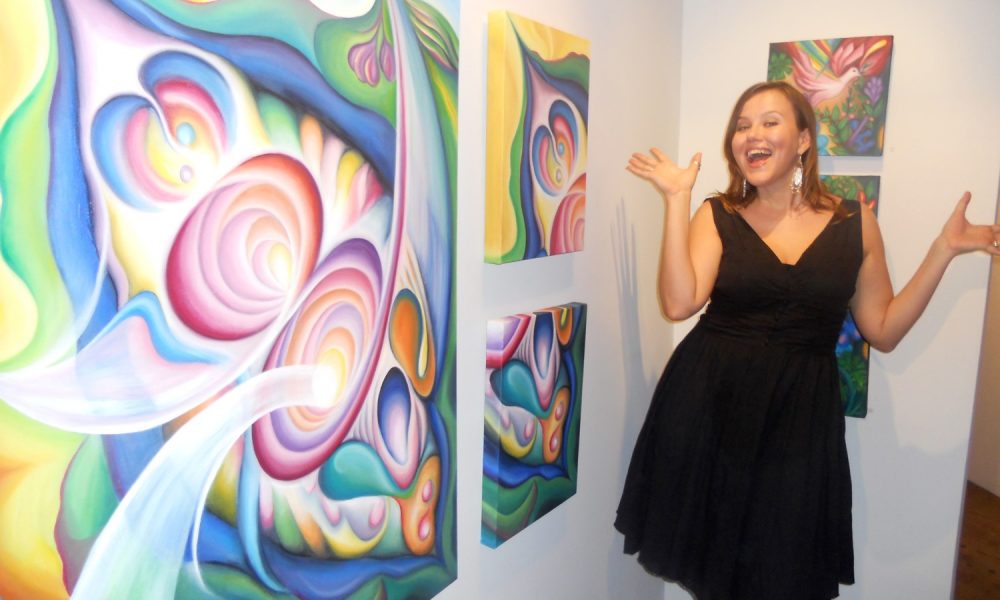 Today we'd like to introduce you to Tiffany Davis-Rustam.
Thanks for sharing your story with us Tiffany. So, let's start at the beginning and we can move on from there.
I've lived in many places and had so many rich experiences that I have grown the desire within me to share my inner life with others. It's taken me a while to develop my skills and fully believe in myself as an artist, but I feel I'm finally stepping into the full swing of my expression now.
I was born in Florida, but my parents moved me to Minnesota at age nine. I graduated from The University of Minnesota, Twin Cities, majoring in Design Communication, with a minor in Cultural Studies and Comparative Literature. So in college, I learned a range of artistic skills and through studying philosophy I began to question everything around me, everything I thought I believed and began to redefine who I was in my own terms.
Yet I didn't quite believe I could support myself as a fine artist, so the combination of art tying into graphic business-minded applications gave me more confidence to pursue a more 'standardly-recognized' career. I was drawn to move to New York City to realize my dream of designing glamorous fashion magazines, which seemed like the highest of visual art I knew much about at that time. I rose in the ranks of the magazine business quite quickly, landing positions as Art Directors and even Creative Directors for several prominent magazines within the space of five years.
After a while, I became disenchanted by the big egos and over-materialistic bent of the magazines' agendas and the people who ran them. At the same time, I was discovering the transformative power of Yoga and even started to teach it, which became one of the more fulfilling roles I'd ever done. Together with my husband, who I'd met early on in New York — we felt this new path changed our lives and heightened our awareness in so many ways.
Combining these revelations of our expanded spirituality with the heightened atmosphere of September 11, 2001, we catapulted ourselves out of New York and into a year-long trip around the world in 2004. These exotic travels to 15 different countries were essentially a vision quest for me and inspired a mind-opening explosion in my personal creativity—channeling my inspiration as we traveled, through colored pencils, photography and poetry.
Subsequently, we moved to Hawaii to live the dream of paradise, where I was focusing on teaching yoga more full-time and also developing my photography and turning my colored pencil travel sketches into paintings. But the yoga career didn't flourish ultimately, and I ended up doing more graphic design and art direction again, this time for a nicer, more grounded Honolulu-based company.
Soon island life became too isolated and expensive for us. I and my husband wanted to affect more positive change through our artistic careers but realized the Hawaiian Islands were too small a place to do that. So we moved back to mainland USA, starting with a quick six months in San Diego before realizing we were ready for the more major energy of Los Angeles. I continued to design publications for the same Hawaiian company for years and expanded my operations to run my own small but award-winning graphic design agency.
In the following years, my going out and exploring Los Angeles' burgeoning gallery art scene had a huge effect on reconnecting me strongly to my artistic passion for painting and inspiring me to follow that bliss. I'd had some cursory art training through my college design program, but after taking an Introduction to Oil Painting class at Barnsdall Art Park, it hooked me! I began painting zealously and decided it was my new life's dream to become a full-time painting artist.
I started out being the most heavily inspired by the first abstract artist ever, Wassily Kandinsky, and the Blue Rider Movement of Abstract Expressionists he spearheaded, including and spreading to my other classic favorite painters, Franz Marc, Lyonel Feininger and Robert Delauney. I felt deeply connected to Kandinsky's ideas of conveying spiritual ideas through the more left-brained approach of abstract painting, and so abstract expressionism became my initial style.
I showed my paintings at several galleries in Los Angeles, and also put together a booth to show my art at several local art fairs. Perhaps I hadn't reached out to as many galleries as I could have, but the commercial arena of the art fairs had me realizing my abstractions weren't connecting with people the way I'd wished for, so I started exploring with abstractions of figures, especially dancing figures, so I could tell more pointed and spiritually-minded stories of joy and self-realization. Indeed, that did have an effect of connecting more with everyday people, who said they could see themselves in my paintings.
Eventually, the stress of running a business and painting every spare moment until the wee hours of the morning caused me to get quite ill, among other reasons. In 2013, I quit graphic design to focus on my artistry, and soon took my easel on the road to tour with my musician-husband, Darius Lux, even accompanying his gigs on flute occasionally, as is also an old talent of mine. We aimed to spread his music, but also to take this time to focus on healing myself, and also look for a new place to live, and Los Angeles seemed to overwhelm us, especially as my health had my withdrawal from social engagements more.
During our two years on the road in an RV, and after dealing with three depressing years of illness, I miraculously healed myself within a few days! To this day it remains the single greatest miracle I've ever witnessed and proved to me that we really can make anything happen with a positive mindset of belief in the power of our minds.
All that time on the road gave me a lot of time to make new paintings, which I also felt gave me the hope and courage to healing and transform my life. I intend to help share this kind of inspiration with others, so I continued with my semi-abstract but increasingly Visionary Art style.
After the tour, we moved to Sedona, Arizona in 2015, where I continued to paint and show my art, and also write poetry about my paintings as well. Also, the natural wonders of Sedona inspired me to create magic wands, using the fallen branches I found on my nature hikes. The wood there was often twisted by the vortex energy that was so strongly running throughout all of Sedona. After I had the idea to finely handcraft the wood and top them with long crystal shards, it took off and I created and sold over 50 wands in less than two years. In this way the wood, instead of just decaying, could last forever and be used as a spiritual tool to help people with energy healing, praying, meditating, manifesting their heart's desires. They've evolved into quite special, premium 'Vortex Wands', worthy not just crystal shops but art galleries.
In 2018, the amazing energy and intention we'd felt in Sedona fell flat for both my husband and me, and we began to yearn again for all the fascinating people, places and cultures that a big city has to offer. We missed Los Angeles and our friends so much that we just moved back in February 2019, and now we are here again, to stay this time. Our far-reaching travels are now slowing down and we are excited to re-grow our roots here and continue connections to last a lifetime.
Since I've moved back I've brought my wands with me to sell, but with no wood workspace here yet, I'm refocused mostly on painting again, with renewed vigor. I sell my artworks, including prints and printed silk scarves with my artwork on them, on my website and I'm beginning to approach local galleries and spiritual shops too.
As well, I've swung back into my poetry in a big way too. I've been writing it for much longer than I've been creating visual art, but infrequently and silently here and there. This year I've finished the manuscript of what will be my first book and have been approaching publishers and poetry contests, in aims to finally share this form of my expressions with the public. I've realized I can't just be content expressing in one way, but perhaps several forms of art could reach different audiences and affect them in different ways. To me, my paintings are like a visual poem, and my poems are like painting essays!
Has it been a smooth road?
It's not been a smooth road, and I feel I elaborated greatly on that in my story. But basically, I was daunted to become a fine artist in the first place, not because anyone told me I wasn't good enough, but because society has a general opinion that most artists will be starving artists. It took me decades to get past that belief and a lot of inner work. And still, there's some truth to that statement, and you have to create prolifically and push yourself to create your style to stick around.
Often you have to believe in yourself when seemingly almost nobody does, and it involves a lot of brave time alone to create your art as well. It's so easy to turn on the TV and 'relax', but ultimately you can't achieve anything unique that way, so you must rise above the inertia of your disbelief to even dare to try to accomplish your dreams. It's seemingly so difficult to rise above the masses of people struggling to be seen, and I'm still trying to figure that out myself, but I do believe in myself more now, and I have seen the power of belief accomplish miracles in my life.
We'd love to hear more about your art.
I'm a multi-faceted artist and poet, going by the art name of Tiffinity. I feel that name reflects what's more unique about my work, hinting at the infinite nature of spiritual themes and sacred artistic approaches to several platforms of expression. Most overtly I specialize in creating Visionary Art paintings, done in my own form of Abstract Surrealist style. Also, I combine artistic woodworking and crystals to create magic wands with I call "Vortex Wands", made out of wood branches twisted by the energetic vortexes of Sedona.
Additionally, I write poetry that artistically intelligently observes the idiosyncrasies of society, while offering a soft lens of spiritual and ethical awareness to address solutions of the heart.
Is our city a good place to do what you do?
Wow, do I appreciate LA for all of the cultural opportunities that you could ever want to find! I just moved here after being gone for a few years, and absence made the heart grow fonder. The traffic sucks sometimes, so you'll have to be patient with that to live and explore culture here, but it's worth it because no other city has the kind of opportunities that Los Angeles has — and with such proximity to the ocean, mountains and warm weather. For artists, there's just SO many galleries and other places to show your work, whatever your style is, there's a place for you somewhere, even in the city outskirts.
That being said, perhaps not every artist should start out here because it's becoming an increasingly expensive place to live and grow as a young artist. (Still less crowded and more affordable than the other CA mecca city of San Fran though!) I don't even believe the city needs to offer more affordable artist housing, because for every truly great artist 100 mediocre ones aren't ready and are just making it harder for the rest of us who are, and I believe time and diligent hard work will separate the cream to the top.
For us creative gypsy types, I'd recommend traveling and seeing more of the US and the world first, and once you'd honed your skills for at least five to ten years, then it's beneficial to move here after you've got a body of work to show professionally.
Still, After many travels, I can easily say California is my favorite state, and LA is my favorite city to live in.
Contact Info:
Suggest a story:VoyageLA is built on recommendations from the community; it's how we uncover hidden gems, so if you or someone you know deserves recognition please let us know here.