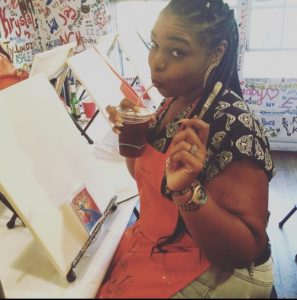 Today we'd like to introduce you to Tiara Clark.
Hi Tiara, thanks for sharing your story with us. To start, maybe you can tell our readers some of your backstory.

Where to begin!! That's always a tricky question! I was born in Sylmar, raised in Pacoima and San Fernando. I was also a street-smart nerd, so naturally, I always loved school. I always involved myself in extracurricular activities. However, art became my favorite. As a kid, I was the only child until I was six. I would draw what I saw to pass the time, but it was simple stuff.
How I fully divulged into art was by getting in trouble at school. I will never forget this, I had a teacher named Ms. Arnold, and she was a tough-love kind of teacher. In lack of a better word, but, honey, I couldn't stand her as a kid. So one day, she had made me mad. I felt like she kept picking on me. I started drawing her face, but I pulled her with lion features because she had a lot of hair. She was a pacific islander and black, and she had beautiful long thick black hair. In my head, she was like a lion. It was her way or no way and fiercely meant to the kids. Yeah, I did it. I was in the back of the classroom drawing with my colored pencils. I guess she saw me, and she did not bother me while I was doing it. After about an hour, I just sat looking at my picture of her laughing, then balled it up and threw it in the trash. I asked to go to the bathroom, by the time I came back, the principal called up to go downstairs. I thought nothing of it. I got there, it was her and the principal saying, well, it does look like you.
My punishment was to be in the art class, and of course, Ms. Arnold was the teacher. I still got in trouble, but she was the first person who started teaching me the fundamentals of drawing. After this incident, my mom and dad made sure I had art throughout high school and continued to take them through college. Even though I never received a degree in art, I received a BA in English Lit., a Masters in Public Administration, and now working on my dissertation for a PhD. in Public Administration and Public Policy.
During my academic years, I worked in the non-profit sector. I have always worked in at-risk youth rehabilitation facilities. It's hard to work in because of the marginalized community suffering from substance abuse, mental health issues, and behavioral issues. Though doing that for years and realizing it, it is not something I wanted to do for group homes. I wouldn't say I like some of the things I have seen and endured; those memories do not leave you. After leaving there, I now work for Los Angeles Homeless Services Authority as a Grievance Specialist. I still work with the style of the population, just adults.
I also own a successful painting business on the side. I host paint and sips for children and adults. I am mobile currently, as the plan is to open a location soon. Owning this business has been a pleasure. My mom is the one who got me in the industry, she saw a celebrity do it on a show, and I asked her what she wanted for mother's day. She replied, I want you to do a paint and sip, and since then, the business has been successful. I even teach classes via zoom, and I now have clients in Louisiana, Mississippi, Missouri, Maryland, Texas, and Arizona. I have been very grateful to teach art, play r&b, gospel, even kids music to my classes. My client's age range is from 3-70. I love what I do and how it is therapeutic for others.
I started my social media presence between owning the business and working. Youtube became my favorite, doing comedy skits, having a talk show, and most recently, a podcast. My youtube channel is called Foolin with Fluffy, on there you will find the talk show called Worries and Wine. Worries and Wine is where I interview friends about different topics such as the adversities that Black women face, or one of the most popular episodes, and I interviewed a murderer who was set free because he was a minor at the time of the crime. He explained in detail how it happened, but little did I know some of those interviews helped many of the people who watch m show. I had no idea of the impact it would make. But rest assured, I love my talk show. It has become no longer a hobby, but I look forward to doing it. The podcast is called Whatchu Heard, which is me and my close friend Kristin, just two opinionated girls talking about trending topics.
I believe in having positive coping skills because of all of this. I have endured high and low credit scores, money problems, relationship problems, mental health issues, loss, and grief, just like everyone else. But I've kept afloat in all of this because I could cope.
And to top it all off, I was able to garner this success, and I just turned 33 in September. I am grateful to have had all the experience to get to where I am.
We all face challenges, but looking back, would you describe it as a relatively smooth road?
It was never a smooth road, and I had a kid in the group home tell an egregious lie. As a result, everything I had worked for was on the line. All my education, my degrees, my life was shaken up. At one point, I had never dealt with depression of this caliber. Life at this time was not worth living for.
I had to enroll in an intensive therapy program to help get life back on track. I was going through a tough time, not showering, not eating, overeating, not coming out of the house for weeks at a time, just wallowing in my sorrow. Therapy became my coping space, and I am thankful I chose that route instead of ceasing to exist.
Through the Grace of God, the egregious lie was proven that it was not valid. Though I had maintained m innocence, I learned that no matter how well you do, how well you perform, how great of a person you are, some people are not happy with you being happy and prosperous. Jealousy is natural. I always used to think people I am cool with are not like that, and not to say they feel about your friends ill, but know to be open-minded and understand some people have a lot to fix on their own accord. People are battling their demons day in and day out, and sometimes we become casualties of their internal war. Through this, I learned a lot about me, who I am, who I intend to be, my triggers, my mental capacity. I even learned to be a better person.
I have always suffered from obesity. I went from 408lbs to 220lbs to 250lbs and now trying to get back. So my weight has also played a role in my life, being a significant factor. People do not believe me when I say or show how big I used to be, but now I am just me—currently working on getting back to a healthier me.
Thanks for sharing that. So, maybe next you can tell us a bit more about your work?
My creative side comes to play in a lot of aspects.
On my youtube and TikTok, I often dress up as an older lady named Ms. Georgia Mae Robinson, she's an extraordinary old lady who says whatever. In the last episode, she was discovered in jail because she did the PPP Loan. She somehow has a cellphone in prison. She's wild, let's say that. On youtube, I am known as Fluffy, so many of those who have met me call me that. I meet people now and tell them to call me that as it is my preference.
Tiktok, I accidentally had a video go viral because I like to mix drinks at the house. Boom, thousands of people added me, so since then, I've been pretending to be a bartender. I had to google the differences between margaritas, cocktails, etc. So I should probably go to school because I have a ninja blender, the mixers, the shot measurements. I mean, if you came to my house, you'd think I was a real bartender because I need content.
Art – I love painting and drawing. I cannot say which one I love the most because they stimulate my mind in a way nothing else can. But owning the art business, I am most proud of this because it's not just therapy for me, but therapy for those who become my students. Most of my clients have called me back, called me family, fed me, and even invited me to their other events because of their connection with me. That, there is nothing else like it, making lasting connections.
For starters, what sets me apart from everyone else, I am me. I am crazy and funny, and I always look to laugh. One thing about me is that if we are in a dull room, we will laugh. Laughter is vital, and I believe in having a good time. But this laughter, good music, and artwork set me apart from others in the same business, and I do not overcharge to have a good time!
We'd love to hear about any fond memories you have from when you were growing up?
Being able to have all my cousins over at my house on the weekends. Now that we don't do that, I miss it so much. My cousins and I went out to the skating rink or the movies, then came home, snacks, ate pizza, and just laughed and hung out. I miss those days, and everyone is all grown up with families, lives to live, so it's not the same. But I miss those, so I would say hanging with my cousins is my favorite memory.
Contact Info:
Image Credits
Tiara Clark
Suggest a Story:
 VoyageLA is built on recommendations from the community; it's how we uncover hidden gems, so if you or someone you know deserves recognition please let us know 
here.