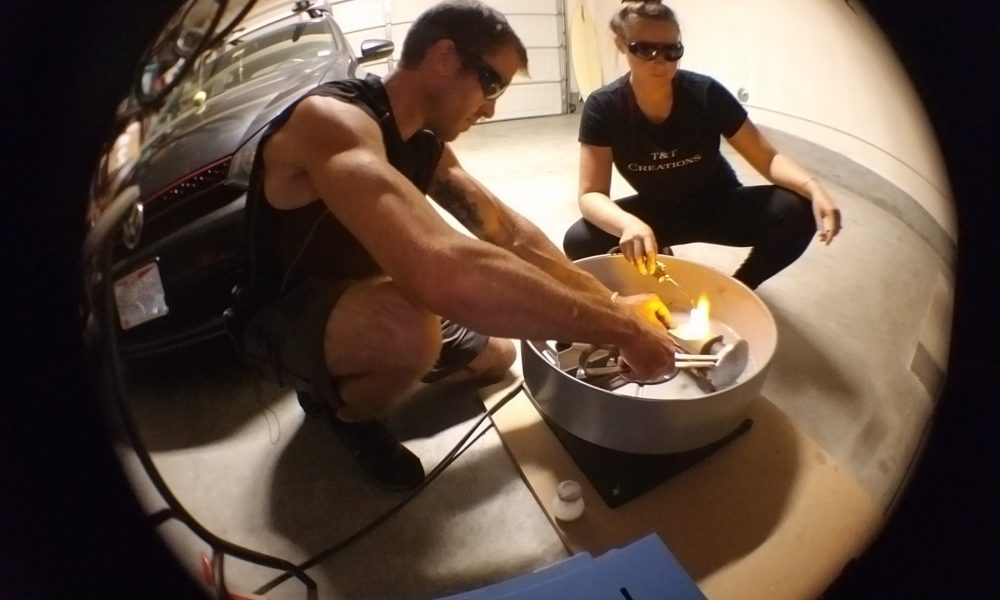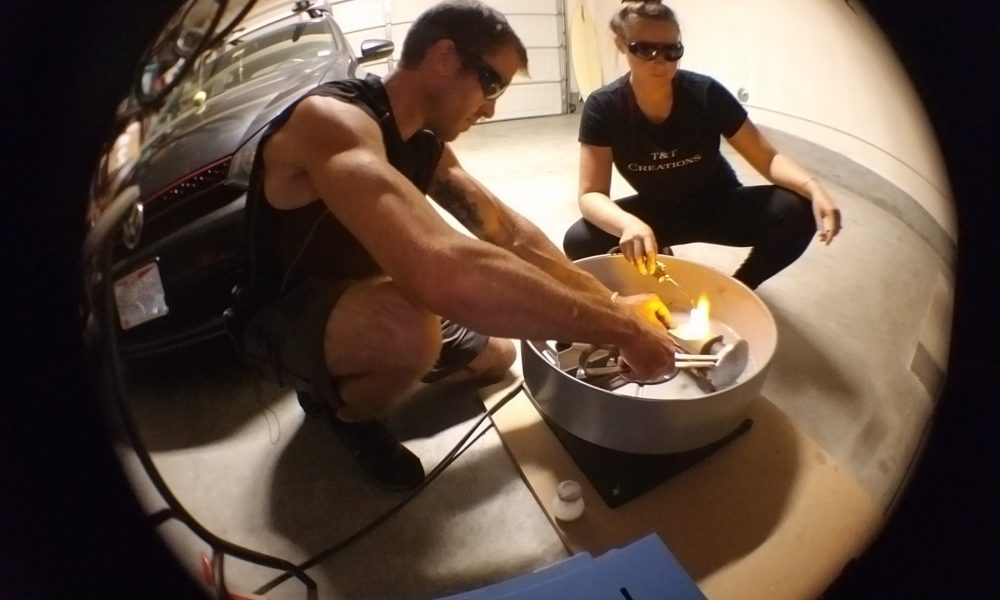 Today we'd like to introduce you to Taylor and Tomy Jenkins.
Taylor and Tomy, let's start with your story. We'd love to hear how you got started and how the journey has been so far.
My husband, Tomy, and I first met in Maine, where he was stationed at the Portsmouth Naval Station and I was going to school in Southern Maine. We instantly connected and I took him to my favorite shop in Farmington, Maine called Liquid Sunshine. We shared the love of minerals and gem stones and spent a lot of time at the store looking through all of their stones and started out, now large, stone collection. Tomy got orders to Florida, so we moved there for two years. Here, we bought strands of beads and started to play around with macramé to accommodate the metaphysical concept and be able to take stones around with us. We found a local Art Walk down by the beach where we could sell our hemp and stone jewelry and keychains. We found another shop that was full of beautiful crystals and minerals, named Midnight Sun, and soon became regulars. One day after working on the military base, Tomy went to the stone shop on his motorcycle and had bought some beautiful crystals that he packed safely in his backpack for the ride home. Sadly, on his way home, a car turned in front of him resulting in a motorcycle accident. He flew over the car and landed in the road on his back. The motorcycle followed, and hit him after landing. Thankfully, the crystals we feel, protected him from the worst of the impact and somehow not one of the crystals broke. He was laid up for 3 long months to recover from his injuries. In that time he figured out he wanted a career involving his passion, gem stones, and found GIA on line as a school that would be covered by the GI Bill from his military service. When Tomy got out of the Military in 2015, we moved back to Ohio and he pursued signing up for class at The Gemological Institute of America. I remember when he was talking to me about it for the first time, the excitement and passion radiated out of him and I knew we were headed to California where we started our new chapter. We arrived in February of 2016 and Tomy started the Jewelry Design and Technology course (JDT). At the time, I didn't think I could have a career in the jewelry industry. Not long after Tomy started school, we purchased a casting machine, and a former instructor, Mo Gambill, taught us how to cast on our own. We met so many wonderful people willing to help us and teach us what we needed to know. While learning in school we were also learning a lot outside of school. Within the same year we bought a 3D printer so we could start printing our own designs. Before we knew it we were starting our business! Tomy helped me see I could have a career in my passion too. He completed and graduated from the following; Jewelry Design and Technology, Graduate Gemology, Graduate Jeweler, and Jewelry Design. While he was in the Gemology course, I fell in love with the idea of being a jeweler, and having the ability to make someone's special piece of jewelry sparkle and come to life. So I dove in and took the Graduate Jeweler course at GIA. Now we enjoy branching out and working with other artists and stores, including Liquid Sunshine, our most beloved store that helped kindle our relationship, sending them stones and minerals they can sell in their store. What we primarily do is create custom jewelry from start to finish. Tomy will do the computer designing and 3D printing, we will cast together, and I finish the jewelry at the bench. Within the past couple of years of being in California, we learned how to facet and cab stones as well, and purchased the equipment to do so for clients or for our own creations. We have learned so much so fast and it's amazing to look back at the progress. The most exciting part is, however, there is still so much to learn and experience! Our house has become our workshop, really our "passion shop". It's not really work when you love what you do. In the near future we will be building a tiny home on wheels, half work shop half home. We want to travel and see as much as possible, and still be able to do our passion on the road.
Has it been a smooth road?
Like with anything you do in life, there are always some bumps in the road. We have had some strange living experiences that really prevented us from progressing in our business. We didn't let that stop us, we moved to a safer environment with roommates that had the same passion involving gemstones and entrepreneurship. As we all know, California is not the most affordable place to live. So, financially, some struggles along the way but that only makes us work harder, and having the support of our families has truly empowered us as well. When one is learning so much so fast it can become over whelming and like it is consuming your life, but you find that balance of learning, doing, and living. Already having that love and excitement for what you are doing over comes any negativity and turns into drive and motivation. When we first started to cast jewelry, it was challenging! Sometimes the cast was perfect and other times not so much. Failing over and over helped us figure out what would not work, and with our open minds we would continue to try improvements, now our cast come out great.
So let's switch gears a bit and go into the T&T Creations story. Tell us more about the business.
We do almost everything in house! Hand renders, CAD designs, 3D prints, casting, stone setting, and stone cutting. We are mostly known for custom jewelry designs and casting. We are just two average people making our passion a service to help others. We are most proud being able to do everything from start to finish, that's a really special experience we can give to our clients. For example, when someone gives you their loved ones piece of jewelry whom may have passed away, you can take pictures or videos at every step of the transformation into a new piece of jewelry. It builds a strong connection with that person you are working with and gives them peace at mind knowing something so special is in good care and they get to be part of the experience.
How do you think the industry will change over the next decade?
We want to have our tiny home on wheels completed within 2 years, and within 5 to 10 years build the clientele around the states and the world to provide custom work for as well as develop our own lines of jewelry that will be charitable to the causes that we are also passionate about. Creating lines in which each piece sold will donate a certain amount towards ocean or wildlife preservation, and shoes or education for children in need to which we will be able to show the progress is a huge goal for us. We also want to spread up to date information about health, fitness, spirituality, and free or more sustainable energy, so coming up with a unique way to do so through our creations is something we hope to attain in the near future. Anyone reading this is welcome to contact us with ideas or ways we can achieve this. We like to think of our success in our future as revolving around one continuous and dedicated concept, to progressively realize our worthy ideals, as Earl Nightingale has said. These are our ideals, and continually progressing in them and with our community is our thought of success.
Contact Info:
Website: ttcreations14.com
Email: t_tcreations14@yahoo.com
Instagram: t_tcreations14
Other: Snapchat: t_tcreations14
Getting in touch: VoyageLA is built on recommendations from the community; it's how we uncover hidden gems, so if you know someone who deserves recognition please let us know here.