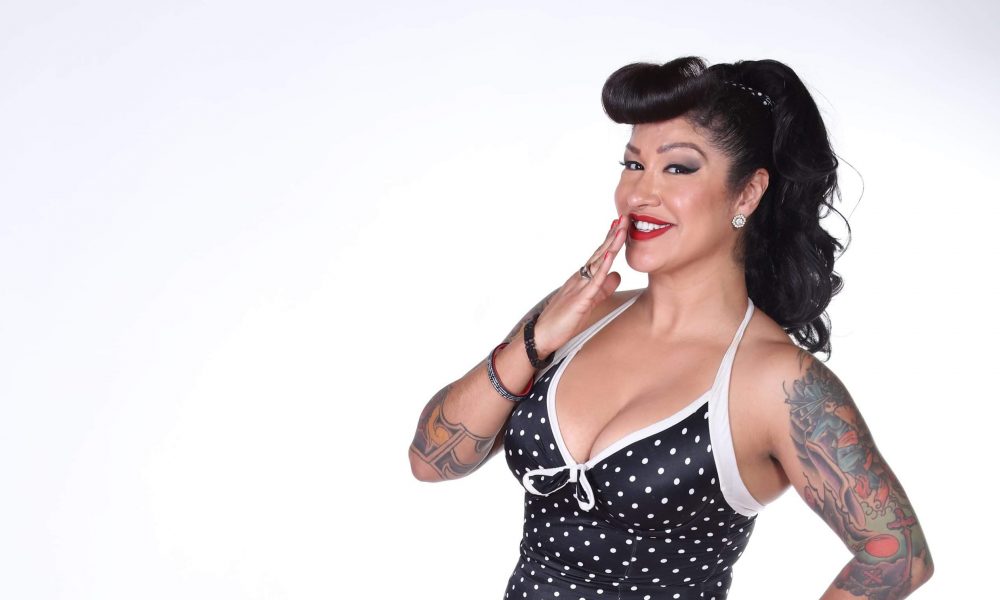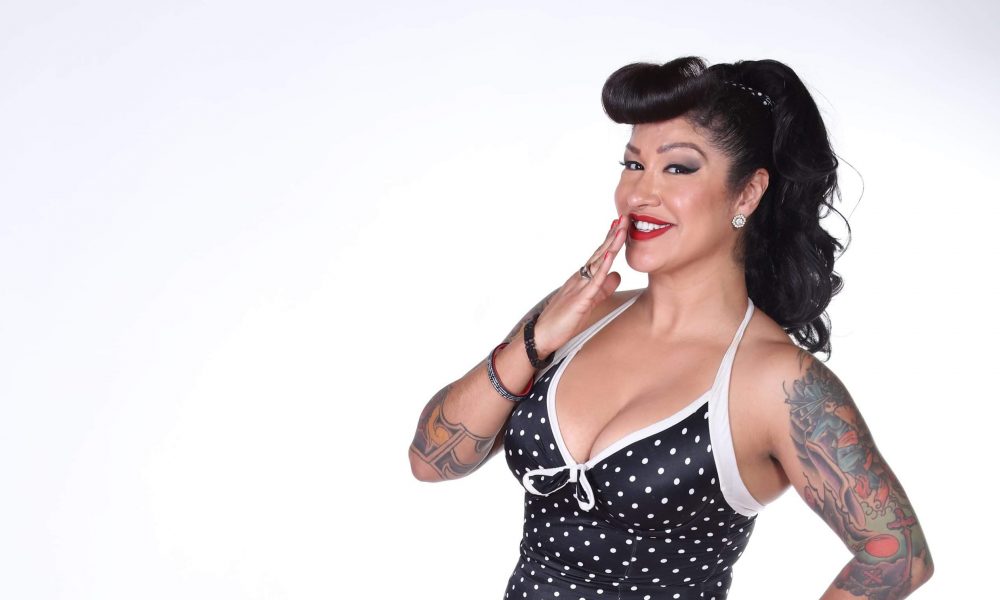 Today we'd like to introduce you to Tania Estrada.
Tania, can you briefly walk us through your story – how you started and how you got to where you are today.
I was born in Los Angeles to Colombian parents and grew up behind the Wiltern Theatre. My love of food was very early on as was my love of growing up in Hollywood. It was where my dad would take us every Halloween and on weekends. I knew where we were and that the limelights was bustling all around me. But as the 80's rolled around, so did the gangs coming from El Salvador during the civil war. Our new house we had moved to that use to be so quiet…I woke up one Saturday morning and there were over 30 Salvadoreans in my house. They were up early, showering, having coffee out of a silver and black percolating coffee maker & making pupusas and curtido to go out and sell. My mother and father turned our huge house on Harvard Blvd and Pico into a Salvadorean Salvation Army. My house was filled with immigrants coming over for a better life and it's like I had instant Aunts and Uncles. The cool thing about it all is that no matter what was going on in their lives – their was so much laughter in that house. Someone was always cracking a joke.
Usually – the mood was uplifted by my mother and father and it was a domino effect. That went on for about nine years and one day I came home from school and my parents had packed up the house and we were moving to La Puente California. That was August of 1989. I was so sad. The sun did not rise the same the way it did in Los Angeles. I did my Jr High and High School in La Puente with one goal in mind – get back to Los Angeles. At 12 years old, I picked up my first instrument- Accordion. My Parents wanted me to join Los Bukis or Los Tigres Del Norte. They would tell me all the time. But I wanted to play Rock. Glam Metal to be specific. So I picked up my first guitar at 12. When I got into High School, I joined a Broadcast Journalism Magnet School that had me as the camerawoman for local community news and a few years later, I went to the Teleprompter Technician and by my Junior Year, I was lead anchor for the community news broadcast. I joined Theatre class, cheerleading, ASB, Key Club – everything that interested me I took it. And I was fortunate, an education in La Puente made me feel like "If I can survive this – I can survive anything" Growing up in the Gang Culture of La Puente as a Goth Rocker was definitely different but I stayed true to myself and did what I wanted to do.
By the time I graduated with AP Credits and Class Clown Superlative, I had joined several Rock Bands until I was old enough to leave La Puente and move back to Los Angeles. There I joined the Hollywood Rock Scene as the Guitar Player for the all-female Shock Rock Marilyn Manson Tribute Band "Ophelia Rising" and went to record my first album with Geza X by the time I was 21. I spent many of my nights in the early 2000s running the streets with many celebrities you know of today. I learned a lot and built a lot of long term relationships that I still have. Shortly after, I was married for seven years and moved back to Covina but I wasn't happy there. The sun just didn't shine the same. I left that relationship and came back out to Los Angeles and joined another band – Lose Your Fear. But within that year is what I discovered that I wanted to do most – Be a Stand Up Comedian. And the rest is my current history. Ive been a Stand Up Comic for the last ten years and that propelled me quickly into not only acting but also radio. My first radio gig was on 94.3 FM KDUC with Lou Pizarro of Operation Repo on his morning radio show "Repo Radio' and then when onto KLOS 95.5FM with Frazer Smith. I guest host on Kevin Hart's Sirius XM LOL Network on Quake's House with the legendary comedian Earthquake and have started my own production company called Unicorn Poo Productions to have the liberty to not only film what I want but also help other beginning actors who want to get their vouchers to join SAG/AFTRA, which I got to join in 2016. It's so hard to get your first break in Hollywood and now with the ability to create your own content, everything I learned in school to now gives me the ability to do what I love most – Fuse music and comedy together.
My dream goal is to be the Latina Weird Al Yankovic. My Parody of Los Bukis "Quiereme" to "Sancha Day" was a vision I had one day in January as I drove to the gym and the rest is history. For me – it's about leaving a legacy behind. A legacy of when someone hears Tania Estrada they immediately correlate those two names with "OH YEAH SHE's SOOOO FUNNY" and remember the one thing about me that made you laugh really hard. Life is about moments and the memories those moments make you feel when you think back about that time and reminisce- those moments we can help others when they need it most and sometimes, we just need to laugh. Laughter is always the best medicine for anyone's bad moods…you never know what anyone is going through but if you can make them laugh and change their mood – you've done something really great, just for today. To change one's mood, to make someone happy – there's no better feeling in the world. Except of course an Orgasm – but that's a whole other Oprah.
We're always bombarded by how great it is to pursue your passion, etc – but we've spoken with enough people to know that it's not always easy. Overall, would you say things have been easy for you?
It has not been a smooth road…everything made up as the road map of life is to find love, achieve your goals/dreams while you encounter and work through obstacles as you learn through each decision you make. Learning about life and what makes it tick…it's all energy and the way you learn to flow energy in its purest form, I believe is what helps you achieve your goals. Sometimes you see someone who is struggling and you see the people that are around them… it's not them – it's the bad energy others around you bring with them. And I've learned to be cognizant and aware of why I struggled so much all these years. Looking back – it was definitely the company I kept and what we were all doing as a collective. But we didn't know any better because we were young and we did what felt good and didn't think twice about it. But when you suffer the consequences from your own decisions, it is up to you to have a paradigm shift – thats not on anyone but you.
For instance – I've been to jail. Lots of times. One of the hardest times was when I got sent to prison and had to do time with the Charles Manson ladies in Chino. It gave me a reality check of – what the hell did I do to end up here? Oh yeah….. drugs. And when I came out of there…I never touched Crystal Meth again or ever hung out with anyone that was still using. That was the biggest struggle to overcome in life. That and having your heart broken – those types of moments make or break you if you don't learn from them. The most important struggle is to forgive yourself for shame is a silent killer. My past actions or decisions don't define the person I am today – they made me the person I am today and to know the difference is a Gift of Wisdom at my young age.
So let's switch gears a bit and go into the Unicorn Poo Productions story. Tell us more about the business.
I am always viewed as Mexican but in fact – I am Chinese Colombian and Black Colombian but growing up in Los Angeles, I identify as Mexican. I am the last standing female Latina comedian that didn't get knocked up and quit pursuing my dreams. As a comic and a musician and radio personality, my goal is to be the Latina Weird Al Yankovic in both English and Spanish. I'm so glad that I'm finally getting to do what I love – make funny songs that people can listen to or watch the music videos and laugh and pass them along to their friends. What I'm most proud of is my personality which carries a reputation that when you meet me – you either love me or hate me. And if you hate me – it's because you probably secretly want my boobs or my life. But what really sets me apart from others is my witty fast timing and that I'm a jack of all trades – I have had more careers that a community college course catalog.
I have done everything from being Hello Kitty on the weekends for the Sanrio stores to Forensic Accountant, Royalty Accountant, Non Profit Accountant, FDCPA Trainer, MSDS Coordinator, Justification Coordinator for an Orthopedic Surgeon specializing in Amputees, Computer Software Trainer and Author, Lyft Driver, Bartender at La Cita Bar in Downtown LA…that Bartending was one of my favorite jobs. It allowed me to host a party essentially everytime I worked a shift and not only have my people come in and join me for a drink or an experience – I also met a lot of people there before COVID hit and shut everything down. Maybe that's why I'm so easy to talk to and in my line of work – you definitely have to be approachable. My experience has helped me navigate the waters of entertainment. Everything has an order and if you understand that, Entertainment isn't that scary. Getting up at 5am to be at work at 8am on a Bus, 40 hours a week, is scary. Been there – done that too.
So instead of going back to work for someone, I've taken all the skills I've learned over the years and decided to start my own Production company which translates to where ever I go…whatever I film….whoever needs a commercial and I believe in you or your business …or whatever I want to film for myself, an event or Birthday party I've attended …. I can edit it and tell a story to bring it to life. To leave something others can watch and enjoy when I'm no longer here. When you see my logo…when you see the name …you know the brand. And if you look beyond the brand and the name – you find me. And if you find me – you'll find a smile on your face. At least – that's what I hope for.
I'll never forget when I was working towards making my company an LLC and when I went to register the name Unicorn Poo Productions, I asked the clerk if anyone else had that name as a business. And she read it…and she started laughing and said "No, only you. It's yours."
And yes, I started dancing in the office. It felt so good to go with my LLC paperwork as a real business and get actual production insurance – a 1 million dollar bond that covers my productions in case of an accident on the grounds I film on. It feels good to get your ducks in a row and know 'OH- this is for real'.
What does Unicorn Poo Productions mean? I grew up in the 80s so I LOVE My Little Pony. And I love vivid bright colors. So that's the name. And that's the theme. Unicorn Poo is like something magical that comes out of something magical so I identify with that. As the perfect woman (wink wink) I've been called a Unicorn. So, hence the name. And if you see me In person – I'm usually In bright colors looking like a fancy Tijuana Hooker covered in Diamonds. Or Cubic Zirconias. Or Swarovski.
Has luck played a meaningful role in your life and business?
I believe luck has played a part in my life and business but only to an extent. My mother always said I was her lucky child. Every time they bought a raffle ticket for me at a party, I won. When they went to Vegas and took me on their lap, I won. When they bought me scratchers – I won. I was gambling before I learned how to walk. You can't just always win on Luck though- you have to know that the stars are aligned for you if your Karma is right and if we want to replace the world Luck for Karma – I'll take that over calling it Luck. Oh… that whole when you're at the right place at the right time saying …that's not luck honey – that's destiny. Everything always happens for a reason and in time, I've learned that. I have been lucky to work as a personal assistant to some of the greatest teachers I could have ever hoped for – Sam Emerson, Alexis Vogel, Lou Pizarro and from them, I learned some very important details I would have never learned in school or elsewhere. I took what I learned, said Thank you may I have another at every opportunity where work was challenging, learned from the experience and moved on when it was time to do so. From my work and experience, doors opened up and I walked through them with all the personality, talent and perfume I could muster up. Even if you are lucky – you still have to work towards your purpose – there are no lucky rides but there are definitely Lucky people.
When I won Best Independent Female Comedian at the Hollywood African Prestigious Awards last year, that wasn't luck – that was years of hard work, lots of late nights at the comedy clubs and talent. It's hard to be a comedian PERIOD but to be a female comedian and be able to cross over and be accepted into other genres other than Latino is a huge win for me and I'm very proud of that. Bringing the Latino and African American Cultures together has always been a dream and a goal of mine and the night I won, I felt I did that. But Luck is for great suspenseful movies where the villain escapes right before he is caught. Like that, Foo got Lucky. That's a good use for the word.
Contact Info:

Image Credit:
Randy Martinez, Isaiah Mays, Michael Schwartz, Priscilla Escobar
Suggest a story: VoyageLA is built on recommendations from the community; it's how we uncover hidden gems, so if you or someone you know deserves recognition please let us know here.