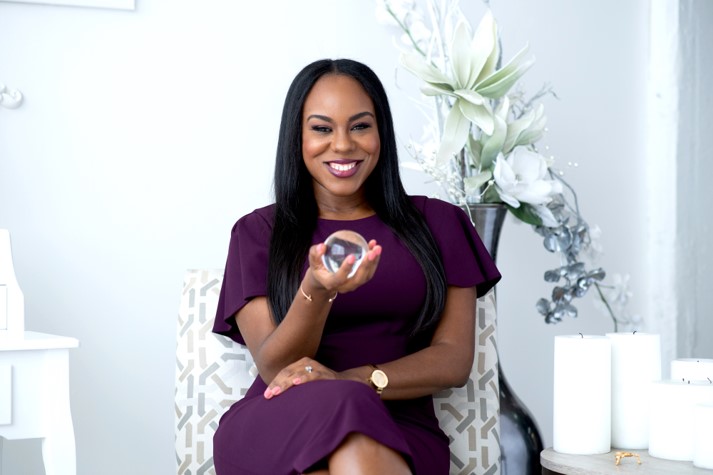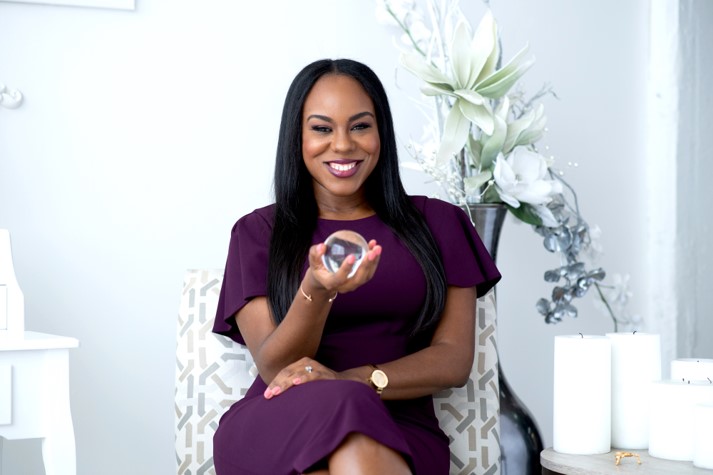 Today we'd like to introduce you to Tamerri Ater.
Tamerri, can you briefly walk us through your story – how you started and how you got to where you are today.
Becoming a professional astrologer was written in the stars for me. I was born on Earth Day and Easter, two days after the sun moved into the first earth sign of the zodiac, Taurus. Easter Sunday is determined by the first full moon after the spring equinox. My dad gave me the Egyptian name TaMerri, "Gift of the Nile" or "Beloved Land," Zamaih, "Born with Leadership," Ater "High in Stature." Egypt was called TaMeri by its natives.
The same people who used astrology in their everyday lives. As an infant, I had a naming ceremony where it was advised that I stay away from wearing the color red because I was born under the sign of the bull. I still abide by this suggestion except for when it comes to shoes, handbags and a classic red lip! I can remember like it was yesterday in 1990 (and I don't have the best memory), the first time a friend of mine asked me my zodiac sign.
I was six years old, in Ms. Greenlee's class at Windsor Hills Elementary here in LA. I had no idea what a zodiac sign was so I came home and asked my dad who showed me a poster with zodiac constellations. Eight years later, January 28, 1998, was the worst day of my life. I was 13 and in my first year of high school, home "sick" during mid-terms. I happened to check the time on our cable box in the afternoon and immediately felt uneasy. But I wasn't sure why.
My parents were separated at the time. My mom got an apartment, and I was back and forth between there and our family home. I tried calling my mom, for what reason, I don't know, and I wasn't able to reach her. Later that evening, same thing. Couldn't reach her. My father tried, we called my grandparents, they tried. No answer. It was late when my dad, younger brother, grandparents and I took a trip to her apartment. We knocked on the door, no answer. We called the police.
An officer walked up to the stairs to her apartment, knocked on the door, no answer. An officer forced open the door, and it was locked from the inside with a door chain lock, so someone was inside. The officer walks down the steps, says something to my grandmother as I watch and my grandmother screams to the top of her lungs. We found out from the police officer that my mother had shot and killed herself and my life changed forever.
My mother's death will probably always be a mystery (well, not so much, I've talked to her through mediums!), but what I do know is that she was searching for something. Like many people on this planet are. They don't know what they are looking for, so they fill their void with drugs, alcohol, material items, etc. But what they really need is inner peace.
After my mom passed, my family had a series of unexpected deaths and hardships. I felt like we were cursed. I went back to school maybe a week after my mom's funeral and put on a smile. I joined the cheerleading squad, dance team and kept good grades. My family never really talked about what happened, and neither did I. In fact, there's probably a handful of people I went to school with who knew my mother died. On the outside, I appeared to have it all together. On the inside, I was a very sad, lonely and depressed teenager.
My dad was absolutely amazing. He raised my brother and me as a single father, working a demanding job and maintaining a busy lecturing schedule. I also had the support of my grandparents, but nothing could fill the void of not having my mother help with my transition to womanhood. It was hard. And even today it's very hard for me to admit that I tried my hand at ending my own life as a teenager. But having been affected by it personally, I know that is one of the most selfish things you can do. If my story can help one person, it's worth my temporary fear of being vulnerable.
Throughout my adolescent/teen years I was fascinated with zodiac signs, "mystical things," and human behavior. In high school, me and one of my BFFs would do harmless love spells (looking back we had no idea what we were doing lol), and I purchased my first set of tarot cards in New Orleans when I was 17. When I graduated from college, I worked for a marketing company and was not thrilled about my boring first full-time job.
I knew I was destined for better. But destiny works in mysterious ways. There was a talent manager who worked out of our office who happened to manage celebrity astrologers, The Astro Twins. When I found this out, of course, I was intrigued. The manager told me the next time they came to our Beverly Hills Office (they lived in NYC), she would ask them to do a short reading for me, and they did. I can't remember if it was Ophi or Tali, but one of them looked at me and said "You're either a Scorpio or a Taurus." and I was like Whaaaat!? "I"m a Taurus."
When they ran my chart, come to find out my rising (ascendant) sign is Scorpio. Your rising sign is the "mask" you wear and the first impression you give when people first meet you. After my mini-reading, I purchased Llewellyn's Complete Book of Astrology and read it cover to cover. My mind was blown. I had no idea there was so much to astrology, so much more than your sun sign. I pulled up my natal chart and started to learn more about myself and FINALLY IT ALL MADE SENSE!
When I discovered all that I could learn about the world through astrology, I felt that god/the universe gave me the key to a door that was waiting to be unlocked but only at the right time. I started to ask my friends and family members for their birth information, and I ran all of their charts. I continued to read astrology books cover to cover, spent hours on forums, took courses, did chart readings for fun. I discovered predictive astrology and how to use the movement of the planets to help with decision-making.
I used astrology to explore my natural gifts and creative talents. I tried to find my life purpose by studying my chart. 14 years after working at my first full-time job, I'm able to clearly see why I was placed there. Because of that job, I found myself. My destiny literally walked through the door when I met Ophi and Tali. But it was a story that was written before I was even born. The dots literally connected in my life, like constellations, to lead me to this point.
My first beauty product marketing job is where I had the revelation that helping others improve their lives with the power of astrology and mysticism was my life purpose. And I could actually get paid for it. It took me a few more years, but in 2015 I officially announced my astrology business and created an LLC. One of my goals is to show people how they can use simple and basic astrology to help better their lives.
We all deserve the chance to live the best life we possibly can. Success is relative, and many people are looking to be successful in their own way. But I truly believe that at the core, we all just want inner peace. It's a journey, not a destination and something that I hope to help all of my clients achieve.
We're always bombarded by how great it is to pursue your passion, etc. – but we've spoken with enough people to know that it's not always easy. Overall, would you say things have been easy for you?
I've had many challenges along the way, my life has been filled with challenges! One of the biggest challenges in starting my business was my own self-doubt. I didn't think people would actually pay me for an astrology reading. It took me years to believe in myself and hundreds of free chart readings before I had the courage to start charging for my services.
I also learned how to ignore naysayers and non-believers. I honestly don't care if certain people are skeptical of my work/business because they don't "believe" in astrology or my spiritual practices. I do, and it has helped my life tremendously. I'm here to serve the people who want to be helped.
So let's switch gears a bit and go into the AstroFashionista story. Tell us more about the business.
My company is AstroFashionista, LLC and I work as a professional astrologer and personal success coach. My mission is to encourage and empower people to create prosperity in every area of their lives by using astrology and my other mystical talents.
I have almost 15 years of experience studying astrology and divination, and I have advised hundreds of clients on how to make their dreams a reality. I use my clients' natal chart – a snapshot of their soul's destiny, to help them "know thyself," find their life purpose/career path, improve their relationships, attract their ideal partner, and more!
Some of the other services I offer are couples/relationship astrology readings, tarot & oracle card readings and reiki healing. It has always been my goal to make astrology relatable and less "woo woo," and I think that's what sets me apart from other astrologers. I'm just a regular gal who loves fashion, beauty, decorating, all things fabulous and I just happen to be an astrologer. Hence the name AstroFashionista.
I also have a unique professional background having worked in global marketing/product development for multi-billion dollar corporations Hearst Magazines (Marie Claire) and Unilever Prestige (Murad & Dermalogica). I also worked as an Adjunct Instructor in the Beauty Industry program at the Fashion Institute of Design and Merchandising, Los Angeles.
I'm really proud of how far I've come from turning a hobby that not many people take seriously into a business. I mean I have an LLC and have to pay that expensive ass California LLC tax every year for astrology! Lol. It's totally worth it, and I'm extremely fulfilled when people end a session with me with clarity and inspired to tackle their obstacles. That's priceless.
Has luck played a meaningful role in your life and business?
Because I'm so personally in tune with the universe and I follow signs and my intuition, it's hard for me to believe in good or bad luck. I mean there are "lucky" placements that people have in their natal/birth charts but if you believe in past lives, which I personally do, the life we are living today is a result of our past karma.
With that being said, I am "lucky" when it comes to career pursuits because I have a grand fire trine (an auspicious aspect in astrology) in my career & money houses. The right people and opportunities show up for me when I'm ready… But when I get the opportunity for a new job/project, it's usually very very difficult, and I have to work my butt off. (This can also be explained astrologically).
Overall I follow signs & personal guidance, other people may call it their gut. But I truly believe that I'm being guided on a path and if I stay on track, everything will work out for me in the end. "Bad" things are just temporary obstacles that happen in order for my soul to grow. So I can't "lose."
Contact Info:
Image Credit:
Zyaire Porter, Porterhouse Los Angeles
Getting in touch: VoyageLA is built on recommendations from the community; it's how we uncover hidden gems, so if you know someone who deserves recognition please let us know here.