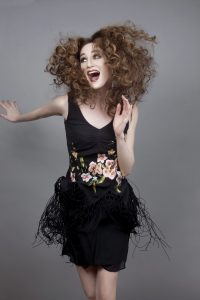 Today we'd like to introduce you to Tamela D'Amico.
Thanks for sharing your story with us Tamela. So, let's start at the beginning and we can move on from there.
They say the first ten years of your life are the basic foundation of your personality. I was born to a very loving and large close-knit Italian family, most of which still reside in New York and parts of the East coast. They don't make them like us anymore. Even my third cousins are known, close family. It's an amazing feeling to grow up knowing you have a little army of people behind you and I couldn't be more grateful. As the youngest of five kids, with a large age gap between my siblings and myself, I was a sponge taking in everything I could learn from those around me.
My siblings were born in Brooklyn but I was born on Long Island, NY and raised there until I was ten. So, I sort of had this Brooklyn/Long Island hybrid of a NY accent growing up which has actually afforded me as a performer. I think I was a relatively quiet child who didn't really speak to most people till I was about nine years old, however. I was a watcher, taking in what worked and didn't. I have fond memories of my childhood in New York with family parties where the entire neighborhood would join in, while I would be playing outside with kids of all ages who lived in the surrounding areas. I'm grateful that I had that as a foundation, as that sort of socializing in the neighborhood doesn't exist as naturally as it once did for children today. It certainly set up my personality, as I am a "people" person.
I adore being around many different types of personalities and people, learning what they're about. In short, I am probably the product of a lot of people's personalities and gifts just by being observant. I mention my large family because it is important to note why I am a very social person who is able to translate to many different age groups and references because of having that large group of people around me at all times. We eventually moved to the Gulf Coast of Florida where I spent most of my days fantasizing about the dreams in my head (mainly how to return to NY). It was difficult to be in "The Sunshine State" with a "New Yawk" accent and fair skin.
But I made friends quickly and traveled back to NY often to be with family. I consider myself a New Yorker first. Even today, after being bi-coastal between New York and Los Angeles for many years, New York is still my essence but Los Angeles is my lifestyle and now my home. You can take the girl out of New York, but you can't take the New York out of the girl. I went on to Florida State University's much-lauded Film School, which accepts only 16 students a year from all over the world and was thrust into a talent pool of people who have gone on to do many things great.
After majoring in Film and with a minor in Theater and Psychology, I continued my schooling in Los Angeles at The Strasberg Institute, (and was the first to build and shoot in their soundstage), while working in Hollywood for many well known producers such as mega-producer Chuck Roven/Atlas Entertainment (City of Angels, Three Kings, Dark Knight, Wonder Woman). I started my own production company La Strega Entertainment in 2006 to house the many facets of my career as a multi-hyphenate talent; singer/actress/filmmaker. My advice for aspiring artists is always the same. Do not become an artist unless you are willing to give all of yourself, come hell or high water. I got my hands on everything that interested me growing up and my parents nourished that. I have a "need to know" attitude and love learning. I've worked in almost every aspect of this business from being out front as a performer to being deep behind the scenes. This is a business, at the end of the day, and if you want longevity, you have to understand how it works and be willing to change with it.
Question everything presented to you. Don't simply accept the answers. Go on your own journeys. Listen to your gut first, then your heart. Step into worlds that you are frightened of and that you know little about, so you can broaden your horizon. I have been fortunate to have many a great mentor and I hold all of them in high regard. I am a genuine networker in a real sense. Everyone I have ever met since I have come to Los Angeles is in my contact book and I keep up with them, even if it is once a year. They mean something to me. They exist fully on my timeline. People are important to me. Every opportunity should be looked into. My wise grandmother Josephine Pravato, who passed away at 92, would say "If you're bashful, you lose. Don't ever be afraid to go and get what you want in this life."
So…Many people think they know me but they may only know me in different ways.
For those who know me as a music recording artist, I came onto the jazz scene after singing around town on both coasts and having recorded my debut album Got A Little Story, executive-produced by actor/producer Peter Krause (Parenthood, Six Feet Under, 911), produced by six time Grammy Award winner Jimmy Hoyson, and arranged by Multi-Grammy nominee Chris Walden at Capitol Records. It's important to name names because, without the team, an artist isn't able to do it alone on that large of a scale. I've gotten to record on Frank Sinatra's mic every time I have recorded at Capitol which is a thrill that never goes away.
The debut album was released by LML Records/The Orchard (SONY) distribution which went into worldwide release and we like to say that it is available wherever fine music is sold, along with other singles and soundtracks I have recorded. After being heard on over 140 national radio and cable outlets in various jazz-based/Adult Standard & Contemporary markets as well as many International radio and Internet streaming markets, I can be found in constant rotation on The Penthouse Radio Network, The Jonathan Station, Martini in the Morning, and MUSIC CHOICE's Singer and Swingers channel via satellite, cable, & Internet. You can also find me on iTunes and Spotify and all those streaming platforms so stream away! Jazz is my heart. They say that you don't choose to sing jazz, rather, it chooses you. I have been hired to sing other styles of music and do. I love it all. Its time to release another full album and I have been starting and stopping with that for the past six years. Finally, it is happening.
For those who know me as an actress, I honed my skills as an actress in television, film and theater, which has afforded my writing and directing skills as a storyteller. After recently recurring on the hit Disney Channel show Best Friends Whenever, as nemesis Janet Smythe, playing the younger counterpart to actress Nora Dunn (SNL) my social media blew up to a new level.
Kids are great fans who added to my already growing music fans. You can try to catch me in many Independent films that may never see the light of day (I kid, but ask any actor in town and you will find that their resume is way longer than what you have seen) or you can catch me in the feature films Walt Before Mickey with Thomas Ian Nicholas (American Pie) and Jon Heder (Napoleon Dynamite) about the life of Walt Disney and I can be heard singing the Bond-esque theme song "Love and the Gun" in both English and Italian in the feature film Rob the Mob (Millennium Films/Lakeshore Records) directed by Raymond De Felitta (City Island, Madoff) or the award-winning series Englishman in L.A. with actors Cameron Moir (Non Stop), Eddie Jemison (HUNG, Oceans 11, 12,13) and Ashley Fink (Glee) for which I was awarded "Outstanding Actress in a Comedy Web Series" by LA WEB FEST. I have three upcoming independent films in post-production that will eventually see the light of day. I can tell you that I demand the highest work from myself.
As a performer, I am a huge fan of The Strasberg method, having been trained there, which is based on the great Stanislavski who first questioned: "What is inspiration and how can we evoke the creative mood or spirit?" The basics of those methods and coming from a place of truth is what I try to bring into the foundation of all of my work as a storyteller, whether it be in singing, acting, writing, directing, etc. I live for stories. What's your story? And, after spending the last two years filming the Indian drama One Little Finger actually in India, a film in which I star as the lead, and promotes the theme "Ability in Disability" for having employed over 80 disabled actors, we have returned from the Cannes Film Festival May 2019, where the film premiered only to be launched into many film festivals. One Little Finger, directed by Rupam Sarmah is spreading its message as it tours the festival circuit and it is keeping me very busy but I am looking forward to my next role.
Others know me as a filmmaker. Press outlets love to say that I gained recognition as one of the top 24 finalists on the FOX reality show On the Lot, produced by Steven Spielberg and Mark Burnett. Having gone to Film School, I had been making films before this but I guess that is what gets people to read about you. I had originally garnered attention with my film entitled Volare, starring Federico Castelluccio (The Sopranos), based on my father's life story about him coming to America from Italy as a child. Prior to this, and after this, I have been making my own films and series and winning many festival awards. When you own a production company, inevitably you are asked to work with others on their "baby" projects. I produced and directed the hit web television series Sex Ed: The Series, created by Ernie Vecchione, starring Joanna Cassidy (Bladerunner, Odd Mom Out), Matt Barr (One Tree Hill, Blood & Treasure) and Angela Sarafyan (West World) for which I received the Panavision New Filmmaker Grant, which gives a promising filmmaker a full Panavision camera package. Sex Ed: The Series garnered much TV press and accolades and boasts over 150 Million views on YouTube and counting.
The show received nominations for both a Streamy Award and a Webby Award and TV Guide listed it in the "top 10 of notable television shows worth watching" although we never made it off the net. Recent producing/directing collaborative projects have gone viral: the music video for "How Does a Moment Last Forever"- from last year's Beauty and the Beast film, "What Might Have Been" (30 years after Blade Runner, actress Joanna Cassidy resurrects her character Zhora to do the reptile dance that Ridley Scott never got to film for the movie.) and The Modern Fundamentalist – Kim Davis Parody starring Broadway chanteuse Rena Strober and finally, TRUMP (Ya Got) Trouble which is a parody of The Music Man starring Stephen Van Dorn as Donald Trump. I've worked with many companies including Atom Films, Funny or Die, and Comedy Central and currently have many feature film and TV projects in development through my La Strega banner.
During my small musical break, I have been solely focused on my acting and filmmaking, which has been a daily endeavor as a brand ambassador and content creator to many International brands through my influence on social media. In order to survive in the current market it is helpful to be a "Preditor" – a writer, director, producer, actor, content creator, etc. I have just recently started my own jewelry line in collaboration with a company called WithJK which you can find at byTamela.com. 
Overall, has it been relatively smooth? If not, what were some of the struggles along the way?
I was taught to focus on WINS. Without positivity you will not get very far at all. Some struggles have been HUGE for me but that will have to be shared when I decide to write a memoir one day. So, just stay tuned. I will tell you that as a female in a male-driven business, you can only imagine that I have encountered all that you can think of. I have worked all sides of this business and yes I have come across a lot of the bullshit that goes along with it. But in this business we call "Show", I still adore every bit of it, even the B.S. You have to be as soft as silk to enter it and as tough as nails to stay in it. The discussion is too large for this questionnaire. It used to be looked down upon if you had many things you were good at doing, especially as a woman. I was told it was threatening to people and that I should pick one thing.
Now, things are changing ever so slowly because we are demanding the change. It is a pre-requisite to be a triple threat now, or so it seems, to be taken seriously. I have often been the only female energy in a room of high powered males in a business meeting. I am genderless when it comes to business discussions. Maybe it is because that is how my father raised me or that I have three brothers and absorbed some male energy. I am the wrong person to wax on about all the wrongs done to me as a woman in this business because I don't stay in that mindset for very long. I would rather focus on moving forward and not let it have any of my energy, time, or space.
If you had to go back in time and start over, would you have done anything differently?
If I had to start over the one thing I would have probably done differently is that I would say NO more to working with people who were only looking out for themselves. Piece of advice, when someone who needs or wants something from you very badly says, "this will be good for you," most often times it with only be good for THEM.
I don't like to focus on woulda, coulda, shoulda. Everything happens in due time and for a reason. Take the lesson and move on. My focus now for my career is to make strides solely in relation to myself first. So I find myself asking myself this question every day, "Is this in my best interest FIRST, before extending myself, my contacts or my talents out to anyone?" When I get the answer, it is amazing how the phone rings less, but how much happier I am. 🙂
Contact Info:

Image Credit:
photo by Barry Druxman, Hair and Makeup by Eugene Conde, Wardrobe by Sue Wong
Suggest a story: VoyageLA is built on recommendations from the community; it's how we uncover hidden gems, so if you or someone you know deserves recognition please let us know here.