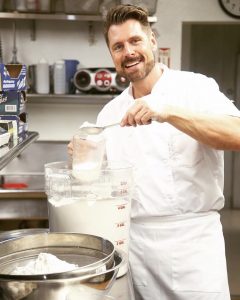 Today we'd like to introduce you to Sven Garrett.
Sven, can you briefly walk us through your story – how you started and how you got to where you are today.
It all started when I was about six years old. I grew up in Germany. My mom was a nurse and worked a lot of night shifts to be there for me during the day time. I spent a lot of time with my grandmother, who cooked and baked everything from scratch. We had a huge garden with everything imaginable growing in it.
We had apple cakes, cherry cakes, rhubarb/strawberry pies every weekend from our own trees 🙂 I always helped her measuring ingredients or mixing stuff and one day, she gave me an egg, flour, sugar, etc. and I made my first "cake". I remember sitting on the floor outside the oven window and watching this stuff rising above the baking tin. I was hooked. The rest is history.
As a teen, I started a 5-year training in Hotel Management & Culinary Arts, combining pastry, cooking and hotel management in Hamelin, the town of the Pied Piper, in Germany.
Once I graduated, I went to the military for a year. After three months of basic training, I was assigned to be a chef at the officer's casino, which was probably the most fun job I've had in my life! 🙂
As a kid, I always wanted to travel or get away. Already in Kindergarten, I had images of palm trees in my head and I told my Kindergarten friends:" When I'm an adult, I will live on an island like Robinson Crusoe". Of course, I had no idea what I would do there. At some point, I saw the TV show Miami Vice and I was hooked on Florida, and Miami. The song "In the Air tonight" still gives me chills today 🙂 I also always liked cocktails. Not to drink them, but I liked the tropical feel and the colors of them. I remember cutting out pictures of cocktails and gluing them onto different pages in different categories. I liked movies, mostly western. Already in Kindergarten, I set things up into "movie scenes" out of western movies. I remember telling the other kids to sit on the floor in the entrance hall of Kindergarten to make it look like you would enter an old western town.
Nobody understood my passion back then. Oh Well 🙂 At school, I was always involved in camera workshops. We worked on small school projects here and there I wrote my first script when I was 11 in middle school. I wanted it to be an action movie. I remember wrapping foam packaging around my body and jumping off the living room table to train for an action scene. I told my teacher about it, but he didn't go for it. He said "change the script" so I used the foam wrapping to create a fat kid who gets bullied at school. See, that was Hollywood already back then! 🙂 I produced and shot it with our teacher and a bunch of kids at school on 8mm. Oh, and I always wanted to drive a classic Mustang 🙂
After that military year, I started working in a 1-Michellin Star Restaurant in Hannover/Germany. I stayed there for 1.5 years. At that time, I had hired a culinary agency to get me connected with international hotels and restaurants, which were looking for culinary professionals.
While working in Hannover, I received a call from "Frenchman's Creek Country Club" in Palm Beach, Florida. Frenchman's Creek had picked me out of thousands of applicants and offered me an 18-months trainee program. It wasn't Miami (yet), but pretty close 🙂 That was in 1996. I quit the job in Hannover and moved to Munich to work at a 5-star hotel, while I was waiting for the Frenchman's Creek paperwork and visa, which took six months. When I finally received it, I left Munich on December 8th in the snow and I arrived in West Palm Beach Dec 12th at 85 degrees, the night of the company's Christmas party. I was introduced to my co-workers, who were completely wasted! (Please edit this part out, haha). That didn't really change for the next 18 months, haha I worked there for about 1.5 years with three other German chef trainees. We worked the grill, the line, Sunday brunches, on the golf course, private parties… where ever they needed us. It was a great time. At some point, I became the assistant pastry chef and I worked under a (crazy) Danish pastry chef for a year. I guess it was supposed to be a punishment because nobody knew how to handle this guy, but he and I got along great. (Maybe that's a sign? 🙂 )
At the end of that program, I (finally) moved to Miami and became the executive pastry chef at the Delano Hotel on South Beach. I stayed there for two years. I was 25 and the youngest pastry chef in town. I managed a team of 11 people, which was challenging, because A, nobody had proper culinary training, and B, the 12 of us (including myself) were not Americans. We had Germany, Honduras, Nicaragua, Cuba, Argentina, Haiti and Jamaica all in one small department with the pressure of a very high-end hotel. Imagine a stubborn, young German trying to manage a department where everyone is twice your age, from a different culture and background and barely speaks English. It wasn't always easy!
In two years, I hadn't had a single day vacation and maybe one day off every other week if I was lucky. I remember many 85-90 hour work weeks and definitely not enough sleep. My executive chef kept saying: "Welcome to the American management!" 🙁 But overall it was a great time and learning experience. The Delano was a highly respected hotel and still is today. I was part of the "chef world" in Miami. I got invited to events, tastings and dinners by other chefs. Together with another German chef we baked German cookies for Christmas, took the bus downtown and gave the homeless guys Christmas cookies while singing "I'm walking through Miami", by Will Smith 🙂 Nobody cared that we accidentally used salted butter and the cookies came out like something that is the hippest thing right now (salted chocolate cookies). We were just way ahead of our time, haha.
After two years, I was burned out and I needed a break from the culinary world. Since I always liked TV and film, I started an internship at a local Miami TV production company "Tropic Survival Productions". I worked there for three years. I learned a lot about production, editing, etc. I met some great people there and to this day they are my second family. Since they didn't pay me, I bartended all through Miami for three years in a bunch of clubs. Fun times! I also went to acting school and started modeling. So here I was… in Miami, bartender and TV. If I had been struck by lightning, I think I would have been ok with it, haha!
I got cast in different Miami movie and TV productions. Some speaking roles, some none. I was an extra in 2 Fast Too Furious and spoke a few words with Paul Walker during takes. (You can see me in the wave runner scene in a bright orange tank-top and sun-glasses, right between Paul, Tyrese, Ludacris and Devon Oaki 🙂 ) I acted in a bunch of student films. One of them won an award and we actually got some money to shoot a feature film, which was a zombie movie. So for probably six months, we shot every Sat/Sun in the Everglades. Since I worked in Clubs every weekend, I never slept and went straight to set at 7am after a 10-hour bar shift to shoot for 12 hours in 95 degrees humidity. Fun times! At the end of the movie, my character turned into a zombie, which at that point wasn't hard to believe! During those six months, I progressed to look like a zombie and I didn't really need make-up, haha That movie was shown at the Miami Film Festival in 2003. I met some people from LA who said I should come to "Hollywood". They gave me their cards to "stay in touch". Of course, I never saw them again.
Within two weeks, I quit everything in Miami – my internship, different bartending jobs, my apartment, model agencies… I traded my '67 Mustang convertible (yes, I had it!!) for a 2002 Chrysler and left on a Monday at noon and drove non-stop to New Orleans, then San Antonio, then LA. I made it in three days (and one speeding ticket), only stopped for gas, slept in the car and brushed my teeth at Denny's. In LA, I only had a place to stay at my Tropic Survival boss's family, in Eagle Rock. I was hoping LA to be like Miami, but it was far from it. I didn't connect to the city at all. It took me years. Within a few weeks, I got me a bunch of catering jobs and also a few agencies. I did the acting life for ten years. I got parts in different movies and TV shows, recorded German voice over commercials, wrote scripts, produced and directed.
I became the banquet manager at a hotel in Brentwood for nine years. Even though I wasn't cooking or baking, I was able to use my culinary experience with catering menus, event planning and executing events. Parallel in the catering world, I ended up doing more and more private house parties. I had teamed up with personal chefs, who needed a right hand managing their parties in Beverly Hills, Bel Air, etc. I would help in the kitchen, but also manage the floor, bartend, etc. Some of the guests asked me to work their events and to cook for them. My culinary career was put on hold for almost ten years, but I started doing private chef gigs and I built a small clientele.
In 2011, I was in Las Vegas with my parents. At the pool, we saw a few "large" kids. My mom and I talked about food in America, overweight people, etc. After that conversation, I decided to create a kids cooking show and teaching children a fun and healthy way of learning how to cook and to also inspire their parents.
Growing up, I always liked animation and I wanted to have an animated character in my new kid's project. I decided on a bumblebee "Willy" and after hiring animators, voice over actors, graphic designers, a small production team and kids who liked to cook I produced a 20-minute cooking pilot called "Willy's Kitchen". It came out ok, good enough to present it to production companies. I was afraid though that somebody would steal my idea and I decided to not shop it around. Instead, I built a full website, started shooting several short cooking episodes and launched the project in 2013 for the web. My focus was YouTube, hoping that the foodnetwork would see it at some point for maybe a special on their network. Instagram had just started and IGTV wasn't around at that time.
My dream was to teach children how to cook (healthy) and to inspire their families to cook together, just like I did with my grandmother. I was hoping to open a cooking school for kids at some point. After a few years of invested time and personal money, I reached a point where I had to stop the project. I didn't get anything but a few likes on my videos and I had no funds left. It definitely was a bummer! I kept the Instagram page and the YouTube channel up and running. Maybe I will pick it up again in the future.
In 2014, I started working at USC, as the executive chef at Kappa Kappa Gamma sorority (stop smiling! 🙂 ). Growing up in Germany, I had no idea what a sorority even was. I chef buddy of mine worked there. He was about to quit and reached out to me one day, saying "this would be a great job for you". Not sure why, haha. But I went, got the job and I'm still there six years later 🙂 I stopped catering, but I kept a few clients I cook for. I also plan events here and there. My girlfriend is a wedding planner. She owns Burlap & Bordeaux and I do all of her wedding cakes, macarons, etc. all over Santa Barbara and Malibu.
I started my own Instagram chef page @chefsvengarrett, which I am trying to promote. I really have fun hosting my own cooking episodes and I am hoping for a spot on the foodnetwork or other food related programs, but I think I need a few more followers for that  – hint, hint, hint 🙂
Due to the current Covid19, I started the "Corona Survival Kitchen" for IGTV out of my home kitchen. After many friends have reached out as to what or how to cook while stuck being at home, I decided to shoot easy episodes from home and to teach people simple recipes. So far, I have 15 episodes and I shoot more on a weekly basis. My home kitchen got converted into a production studio with lights, tripods, gimbals, wireless mics, removable countertops, etc. 🙂
Of course, I hope the virus will be over soon and we will go back to normal. I will definitely keep producing cooking videos. Since I have been working out all of my life, I will probably focus on fitness cooking, with tips and recipes for pre and post workouts meals. I definitely enjoy being able to throw all of my passions together – family, food, cooking, exercising, creating content, producing, directing and being able to "act" (or host) in my show.
Overall, has it been relatively smooth? If not, what were some of the struggles along the way?
My road has had many struggles. Not necessarily in Germany, but definitely in the US. Being a foreigner, you need to make sure to stay good with immigration. You need visas and sponsors. Visas have to get renewed, which can be exhausting and expensive. Working in Palm Beach was fun and relatively easy. The club provided us with a house and took care of transportation and pay of the majority of our bills. After that program it got harder and more challenging.
Moving to Miami became challenging for the first six months. I didn't get the job at the Delano right away and I slept on a buddy's couch for two months while I looked for a job. Being a foreigner, I had no credit to get an apartment. I grew up never having to rely on anyone, but now I needed a co-signer to get a car, which was very uncomfortable. The first four months, I had money issues and it took some time to get back on my feet. Thankfully I worked 90 hours per week so I had no time to do anything other than sleep so I could save my paycheck 🙂 After the Delano break and starting my internship, I again made no money. I worked random side gigs at the Miami Boat Show or promotional stuff. Acting or modeling gigs didn't come in, because I had no experience. My mom said:" I understand you need some time off after the Delano, but the only money I would ever give you is for a flight ticket back to Germany". Til this day, I appreciated that so much. I knew, what every crazy stuff I did, I had 30 days to come up with rent. That got me more street smart, I would say and I developed an entrepreneurial thinking.
A few years later, still in Miami, I finally had a few things going for myself when I decided to give it all up, start from scratch and move to LA to work in entertainment! The probably worst decision, haha. I got stuck in the catering world. Money wasn't always great, but I'm a workaholic and I got by somehow, working these super long shifts, doing doubles every weekend, knowing there wouldn't be catering gigs after New Years and in the summer. I made it my goal to fly to Germany once a year to see my family so that kept me going and staying focused. I got stuck in the catering world with not enough money. I always got by somehow, working these super long shifts, doing doubles every weekend, knowing I would get catering gigs after New Years and in the summer. I got cast in a horror movie as the lead actor. My director lost financing at the very end and he asked me if I would help him raise money. In return, I would own a certain percentage of the film. I helped raise $30 000 from a friend and of course, the movie lost money. Because of that, the director decided not to pay back the investor, but it was a friend of mine and I felt obligated to pay at least my share. I paid her back $15000 in 2.5 years (while doing catering). The director and I broke contact 12 years ago because of that.
I spent a about $100 000 of my own money on Willy's Kitchen to see children cook healthy meals. During that time, I got burned by different animators and web designers, losing thousands of $. I also lended money to a few "friends", who still owe me and who think it is normal to ask for money so they can advance in their career. I guess I was too stupid or light-hearted dealing with or trusting people in this town. I definitely learned my lessons many times. I got burned and got back up for a got cause. Every time I came back stronger… I hope, and I was able to apply my experience to a new project and to stay focused. Oh, and did I mention traffic in LA? 🙂
Please tell us about your experience working at USC and working in a sorority.
I work as an executive chef at USC – Kappa Kappa Gamma sorority. I prep/cook for about 125 (girl) students per day, Monday to Friday. Some people think it is "just" student food, but being at USC we have a lot of students living in the house, who come from affluent families. Some are the daughters of TV & movie celebrities, rock bands or politicians. Many girls come from houses with maids and private chefs so they are used to good service. The food at Kappa is the biggest part of living in the house. Many girls are vegan, lactose intolerant, have gluten sensitivity, keto, etc. Everyone sticks to the newest "eating trend" so it is not easy to keep up.
I put together a food committee and an Instagram page to share food ideas and to create the weekly menu. We have Monday Night Dinners, Tuesday Juice Day, Friday brunch, omelet station, organic snacks. We bake cakes/cookies/certain bread from scratch, make ramen and pho from scratch, eggs beñedict for breakfast and salmon/sea bass/flank steak for dinner. We have poke night every other week. Our salad bar is better than Souplantation, with roasted veggies, home-made hummus and dressings. Our ice-cream nights and aćai bowls with fresh brownie toppings are better than most ice-cream shops 🙂
Our taco night includes fresh fish, home-made guac and pico. Orange chicken nights and kung-pao are one of our favorites. We want to offer our students a versatile menu, ranging from Asian and Italian food to bbq night, burger days, Greek night and Middle Eastern Falafel. It is important to me to make the best Kung-Pao as well as the best paella.
Besides the daily production, we have special alumni events, parents picnics and other USC related catering events. I am happy that with only myself and my assistant in the kitchen, we are able to produce the amount of food that we do by making about 90% from scratch. Many fraternity boys on "the row" befriend our girls to get invited for dinners and it is said we have the best food on the row 🙂
A great part about working at Kappa Kappa Gamma is that I work Mo-Fr, so I am off almost every weekend. A dream schedule for a chef, which gives me time to shoot my cooking episodes on the weekends.
Besides working at USC, I have private clients I cook for. Their menu requests varies from event to event. I tend to shop organic and I get my meats and fish from reputable sources, such as Santa Monica Seafood, Gelsons, etc. My clients want the best quality possible. Being a chef, pastry chef and baker helps me planning a menu. I think that sets me apart from others.
Right now, I produce cooking episodes in my "Corona Survival Kitchen". I want to inspire people who are stuck at home, to come up with something fun. Friends of mine had reached out to give them some advice. That's how this whole project started. We cook daily for five people in the house I am staying at. I realize that we speak more with each other, spend time cooking together and then eat together. Unfortunately, this doesn't always happen.
If you had to go back in time and start over, would you have done anything differently?
Well, if I knew then what I know now I would do many things differently.
I would have stayed in Miami for a few more years. I had a lot going for myself, not in the culinary field, but everything else. I would have purchased real estate, which I didn't. Instead, I rushed to LA for no reason, giving up everything I worked for in Miami in two weeks! I would not have worked in catering for so many years but started my private chef career a lot sooner. Many people asked me why I rather bartend than being a chef. I responded that the job in Miami and the many hours left a bad taste in my mouth. I hung on to that memory for way too long. I should have not been so trustworthy with people. I lost thousands of $ because of that. But I think that makes me a nice guy in the end who likes to help others. Instead of wasting eight years in catering, I could have used that energy to work on my culinary career. Should I have invested that much time, energy and money on Willy's Kitchen? Well, it was my dream project at the time and you should always follow your dream and your gut feeling. People say things happen for a reason. I would have not met the people I met and I would have not learned my lesson and made the experiences I did. But a time machine wouldn't be a bad thing 🙂
Contact Info:
Suggest a story: VoyageLA is built on recommendations from the community; it's how we uncover hidden gems, so if you or someone you know deserves recognition please let us know here.