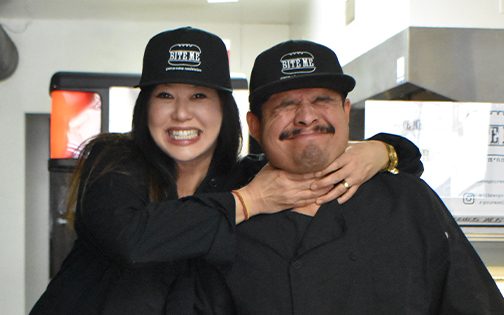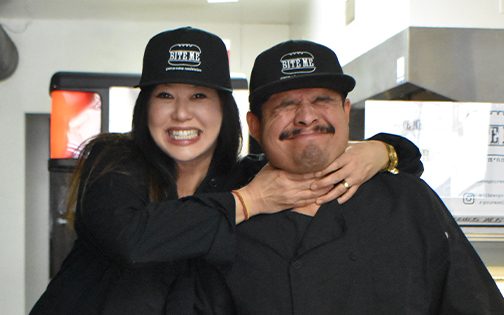 Today we'd like to introduce you to Sue Keh Bennett and Isaias Del Angel.
Thanks for sharing your story with us Sue and Isaias. So, let's start at the beginning and we can move on from there.
Backstory: I was an unconventional baby, born a month late and I developed extremely early. By the time I was eight months old, I was fully walking and talking and when I was two my parents immigrated from Korea to the United States. They left everything and everyone they knew to start a new life. My dad worked all day and my mom stayed home with me. It was a really tough adjustment for mom. She was in a foreign country, didn't know anyone, had nowhere to go, and did not speak the language. She was depressed and prone to sleep, leaving me, her freakish child, to her own devices. Like all babies, I would wake early but would let my mom sleep in. I would wake hungry, not wanting to disturb my mom, and go into the kitchen to make myself something to eat; again, I was two. The only thing I could reach was sliced Wonder Bread, American cheese, and my mom's kimchi. So my breakfast of no-choice soon became kimchi cheese sandwiches.
I worked in the entertainment business for over 20 years but was burning out and felt the desire to start my own business and the passion to do what I have been doing since I was a baby, make sandwiches. With a full-time job in entertainment, I began catering as a side hustle. However, I knew I could not pursue my dream doing it halfheartedly, so I took the plunge and left my steady paycheck, health insurance, benefits and other perks and decided to follow my passion. For eight years I tried and tried and tried… I came close several times, but it all would fall apart before I could even get in the door. I was just about to give up, when an old friend and fabulous, now former-business partner came across a little Italian spot in Burbank and encouraged me to go for it. It wasn't sandwiches, but he knew I could cook Italian, so he encouraged me to learn the business, establish my business credit, and then move on to the sandwich shop as 2.0.
It is also where I met my current partner and human kitchen machine, Isaias. He was the previous kitchen manager who stayed on with us when we took over, and thank goodness he did. No one knows how to work a kitchen and hotline better than him. No one. And since I could not let the sandwich dream go, I knew I needed his Jedi kitchen skills in order to make it work, so it was only natural to ask him to be my new partner. It would be a huge sacrifice for him, leaving a steady gig, but he believed in my vision and was willing to take that risk together.
From signing the lease to getting the keys, we had six days and limited finances to do the bare minimum that needed to be done to open the doors for business (I mentioned that Isaias is a human-machine, right?).
Great, so let's dig a little deeper into the story – has it been an easy path overall and if not, what were the challenges you've had to overcome?
There is nothing smooth about starting your own business or opening a restaurant. There are so many incredible eateries in Los Angeles, so trying to stand out as a small business in the vast landscape of restaurant group giants, keep up with food trends and control costs, all the while remaining true to our vision, is an extraordinary and humbling challenge.
As critical as concept and experience are, timing and luck are big (uncontrollable) factors that come into play. We have to always be ready to hustle and find new ways to work smarter, not harder. But like any business, we face big and small challenges, some quite unique and unexpected. We are fortunate to have a combination of honest communication, a good sense of humor and supportive friends & family to help us through the rocky patches.
We'd love to hear more about your business.
We are a small sandwich shop that just wants to feed people good food with good service. We like to tell folks, that our sandwiches are big and messy, so if you're looking for pressed paninis or finger sandwiches, we are definitely not your go-to. We take the familiar and add a Korean/Asian spin on it. Alongside my mom's incredible cooking, it's also how our family incorporated American food and culture into our home. At Bite Me Gourm-Asian, we want to introduce people to flavor combinations that are worthy of return visits and recommendations.
We are well aware there are others who do similar things, but no one else has my mom's recipes, especially her kimchi recipe, and that is something truly special. Even the die-hard who say they don't like kimchi, we get them to try ours and they become hooked. Her kimchi is not aggressive or spicy and is something I have eaten my whole life with everything from pizza, burgers and of course, sandwiches. Mom still comes by to do quality control on her recipes. We are so proud to be able to share this tradition with our customers and anyone up for a unique taste adventure!
Where do you see your industry going over the next 5-10 years?  Any big shifts, changes, trends, etc?
I have now worked in two industries where people think it is glamorous. Let me fill you in on a little secret… neither of them are. There are countless hours and a lot of blood, sweat and many tears that go into making a finished product. No one should get into the restaurant business because they think they are going to make it rich or become the next celebrity chef. Do it because it is an uncontrollable passion. Do it knowing you must sacrifice more than you can imagine. Do it knowing you have a high probability of failing. Do it because you know if you don't try, you won't be able to live without regret. Do it because you love it. Do it because it is part of your soul. Do it because you HAVE to.
Our industry faces a particular set of challenges unlike others. With increasing rents, fierce competition, delivery app percentage fees, paying employees a more livable wage, social media, review sites, plus the added pressure of preconceived perceptions of what a customer thinks an item should cost, restaurants are already finding it hard to stay afloat. All we can do is constantly find innovative ways to move forward with the demands and not lose sight of why we are here in the first place.
I have no idea what will happen in the next 5-10 years, but I do know that Isaias and I will continue to stay focused and fresh because we genuinely love what we do. We will just continue serving our "Seoul-filling" sandwiches and wait to see what the future brings. Until then, we hope we can inspire anyone still holding on to their two-year-old self's dream.
Contact Info:
Address: 2108 Colorado Boulevard, Eagle Rock, CA 90041
Website: www.bitemegourmasian.com
Phone: 3232744434
Email: contact@bitemegourmasian.com
Instagram: @bitemegourmasian
Suggest a story: VoyageLA is built on recommendations from the community; it's how we uncover hidden gems, so if you or someone you know deserves recognition please let us know here.