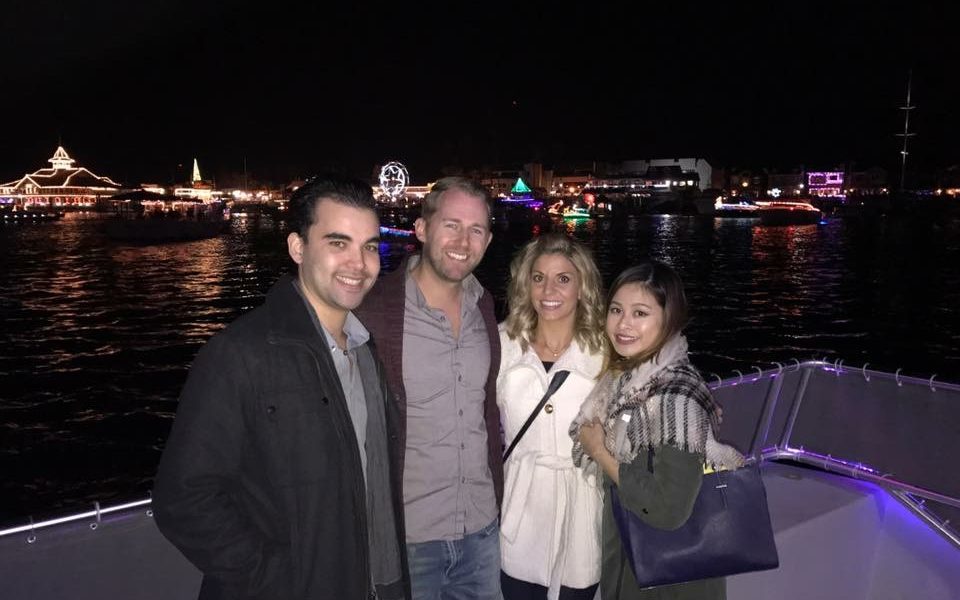 Today we'd like to introduce you to Craig Macomber.
Craig Macomber, please share your story with us. How did you get to where you are today?
Coming from a small town in Northern CA called Lodi, I never thought I would be able to change people's lives all over the country. With that said, I wouldn't be anywhere if it weren't for my family and friendships cultivated along the journey. I recently got back from a Forbes Top Advisor conference after being select to their "Forbes Best-in-State Wealth Advisors" list and it really was humbling to be a part of such a world respected group and made me appreciate all the hills and valleys along the way. After deciding to attend UCI and move down to Southern CA, away from all of my family, I knew that it would be a life changing decision but not nearly as much as it has been. After graduating UCI, with a degree in economics, I decided to stay in Irvine in search for the perfect job, while waiting tables at The Macaroni Grille, to pay bills to get by, as I was in search of my career. I always wanted to go into Investment Banking, however, I was able to land an internship with an advisor at the local Merrill Lynch office in Newport Beach.
Day in and day out, I grinded away, making thousands of cold calls in a fifteen-month period, to the point, I cringed when the phone rang, but it finally paid off when the hiring manager gave me the opportunity to become an advisor on my own, which I worked so hard to get too. I was extremely fortunate because the advisor that I mentored under, taught me how to grind, work hard, and develop a business model to grow and develop clientele. What he didn't teach me, was that everyone loves investing in bull markets and not so much in bear markets. The day I became a Merrill Lynch Financial Advisor, was January 1, 2008 and within months I was able to accumulate close to $20 mm of client assets as "their advisor". However, very soon, reality hit, and now my dream job of being an advisor, was shaken by one of the most turbulent financial times in history, since the Great Depression. Client accounts dropped by millions of dollars, by which seemed overnight.
Looking back after 80-90-hour work weeks that seemly went nowhere because every investor seemed to be fear frozen with all the volatility, I will always thank my grandmother for giving me a tremendous work ethic. That combined with the ethical standards en-grained in me by my parents, gave me the courage to push through, the tough times and countless "No's".  Very soon, I realized that all those cold call dials, all those hours, struggles, and meetings, are what now built, today, a $190+ million and growing, asset management company. I will always be extremely grateful to Merrill Lynch for giving me my initial opportunity and to that advisor who took the time to mentor, train, and en-grain a business model in me, which I have transitioned to my current Independent practice now.
On November 4, 2011 I decided to move to LPL Financial and then just 2 years later joined a registered investment advisory firm called Stratos Wealth Partners a $14 billion firm partnered with LPL Financial. This move has created an enormous amount of open architecture to do the business the right way. It has allowed us the ability to work on multi custodian platforms (LPL Financial, Schwab, Fidelity and TD Ameritrade) to find the perfect fit for each client, but most importantly act in the client's best interest as a Fiduciary, but also as my own personal moral integrity.
Has it been a smooth road?
Nothing in life is smooth. Especially, in the financial advisory business. Merrill Lynch required a new advisor at the time of 2008 to hit many, near impossible, hurdles.  At the month 12 marker I was put on probation – which meant I wasn't meeting firm standards to potentially keep my job. It was a character test for me because at the time an advisor could "sell" a product and get paid enough to keep me above the quarterly goal, but I decided and have always been true to my beliefs and to myself. I remember, at some of our corporate meetings, leaders would tell me what I was doing would never work and that I would be broke and poor forever and I should just think of what was paying the highest commission to me verses what my clients needed. I was helping individuals plan for retirement as well as set up certain business owners with exit strategies. Being a fiduciary was important the most important to me so I would help these individuals for free in hopes to earn their trust and business in the future. That has paid great dividends in my business today. Merrill to LPL to Stratos has been definitely many hurdles, not to mention re-papering client accounts, but I have to say, every bump along the road, has en-grained a more meaningful value into my character and for that I am ever grateful.
We'd love to hear more about your business.
Stratos Wealth Partners is a hybrid RIA that is spread through the US totally $14 billion in asset management. We have the ability to work on multi custodian platforms including Schwab, Fidelity and TD Ameritrade. We specialize in financial planning for families spanning from charitable gifting strategies, to in house investment management to even multiple retirement planning techniques. We are known for working with executives at various fortune 500 companies in multiple states mainly Southern California. Really what sets us apart is our culture in our Irvine office and across Stratos nationwide as an RIA firm. Our office as well as our clients are family. We truly care about their overall wellbeing in addition to their finances and helping them live their best life they can.
Furthermore, the team that I have built around me is one of the greatest business assets. We all have similar strong core values, obedient work ethics, and we all feed off of one another's energy and drive to succeed.  We have complimentary skill sets which provides a unique value in our client meetings but more so, the team members, are like family to me and regardless of the money, etc. we always look out for each other and want us to grow both personally and professionally.
I specialize in the portfolio management and analytics of the planning and I spend many hours building investment portfolios and leveraging our resources such as Blackrock, PIMCO, Fidelity, Natixis and Goldman Sachs, which provide CFA analytics, as part of our portfolio due diligence.  We provide every client with a financial plan and investment analysis at every meeting, so we take pride in ensuring that our data and information is as accurate as possible.  We build our brand upon being ethical and always delivering top notch service so in managing client assets, we look more at-risk mitigation alongside performance to fit within the behavioral finance realm of client psyche as well delivering outstanding performance returns.
Is our city a good place to do what you do?
One of the best in the world in my opinion. There are thousands and thousands of individuals and/or businesses that need help with their financial future here ranging from Santa Monica to San Clemente. Managing finances is one of the most critical aspects everyone's life. If your passion is helping people with their finances then I would argue that there is no better place than our city because there is absolutely no shortage of people here. I also feel there are a plethora of fantastic advisors/mentors in this area which are great people to learn from and build out your network. If there was someone thinking about entering the industry, this is a tremendous area to start but that still doesn't make it easy. Everything comes down to a strong ethical standard and a great work ethic. Anyone trying to enter I earnestly wish them the best of luck and would love to help answer any questions someone may have.
Contact Info:
Address: 2 Park Plaza, Suite 350
Irvine, CA 92614
Website: www.stratosca.com
Phone: 9492167827
Email: craig.macomber@lpl.com
Getting in touch: VoyageLA is built on recommendations from the community; it's how we uncover hidden gems, so if you know someone who deserves recognition please let us know here.