Today we'd like to introduce you to Steve Martinez.
Thanks for sharing your story with us Steve. So, let's start at the beginning and we can move on from there.
I've been drawing pretty much my entire life. At a very young age of seven, my older brother introduced me to Hip Hop culture. My brother nine years older was a B-Boy back when we lived in South Gate in the early 80's. One of his close friends was a graff artist and this kid taught me how to do bubble letters. So in elementary not only was I drawing Transformers and Gumby but also doing kids names not really grasping the idea of what graffiti really was, yet able do anyone's name in that style no problem. It wasn't until middle school in the San Fernando Valley where I really got introduced to graff, now a teenager and really taking hold of me.
After that, all I wanted to do was write my name on everything and get up. Meanwhile I never stopped drawing. Graffiti and drawing went hand in hand. The better my drawing skills got, the better my graff got and vice versa. Fast forward to 1995 out of school and no real direction to what I was going to do with my life. I never really thought about studying the arts until my brother asked me what my plans were for my future. I figured I would just join the working class and that would be it.
He told me, "you draw all the time, so go study that and do something with it". So I did, in 1998 I enrolled into school and became an art major studying drawing and graphic design at Valley College. I was the first member of my family to attend college. Even though it was just a junior college, it was a big deal for my family.
Unfortunately, due to certain circumstance and just life happening around me, I wasn't able to finish school. Being a son to immigrant parents, underprivileged, and no resources available to me, I never really had any good opportunities present themselves, I had to make them happen. At the moment I had to deal with poverty and needed to work in order to help my parents and my family get by. I tried working full time while I went to school full time and just couldn't do both. Eating and paying rent was my priority, so had to let school go even though I was doing really well and learned so much in the four semesters I attended. I told myself I would go back and finish as soon as I had a chance to do so but that day never came. What I did do though was take all those lessons and applied it to everything and anything that had to do with art. A good thing that came out of going to school is the friends I made along the way.
I found kids just like me, graff heads that were also trying to make it. Through these friendships I found fine art and graphic design. Not only did my graff game level up tremendously but they pushed me and inspired me to start painting, something that I never really thought of doing before. I gave painting a shot and immediately fell in love with it, just like graffiti. And the same way with my relationship with drawing and graffiti, the better I got at painting, the more my graff skills improved and vice versa. It was like it went hand in hand and has always been that way, even to this day. At the same time, I was introduced to Photoshop by another close friend at LAVC and I just naturally gravitated towards that as well. I instantly fell in love with graphic design which plays a major role in my artwork. I grew a strong bond with these guys and we just kept pushing each other to get better and sharper with our skills. Although it felt like their skill level was light years ahead of mine, my drive didn't let me get discouraged. I knew that one day I can at least get close to how good they were if I just kept pushing myself.
In 2003, a couple of these college friends and I decided to do a book together about the LA River. We would spend so much time down there painting we figured we should share it with everyone else and show them a glimpse of our world that existed right in their backyards. Not only that but we would use this book as a vessel to open up some doors to the art-world and hopefully be taken more seriously as artist. At the moment nobody was really giving us the opportunity to work with them, so we said fuck it, let's do it on our own and go all in. In 2008 we released The Ulysses Guide to the Los Angeles River or better known as UGLAR Book and published through a private publisher. It was a labor of love and in the end the gamble we took on ourselves paid off. After the release of the book came a book tour that took us to San Francisco, NY, Japan, and all over Los Angeles.
In 2010, PMCA (Pasadena Museum of California Art) gave us our first museum exhibit for our book. We gave PMCA a full LA River installation/experience that included graff, sculptures, fine art, and sounds completely immersing our audience to this world only known to very few Angelinos. We had skipped the gallery scene and went straight to a museum show. On our opening PMCA had its 2nd biggest opening since their doors first opened back in 2002. After this show is when you can say my friends and I started to be taken more serious in the art community and more opportunities started to present themselves. Everyone started to know us as the UGLAR guys and the name just kind of stuck from there. So we ran with it and created UGLARworks, a collective of five artists (myself included) of different skills sets, mediums and backgrounds.
Once UGLAR happened, then came gallery shows and mural work all over Los Angeles as a collective and as an individual artist. It allowed me to focus more on my craft and ditch my nine to five and become a full-time artist here in Los Angeles. It also led me into traveling and doing some artwork abroad. Recently after working over 10 years together with my friends from UGLAR, I respectfully decided it was time for me to leave the collective and venture out into the art-world on my own focusing my talents on canvas and mural work. Doing so has led me to some great projects including my most recent and biggest art project to date. I am currently art directing a new pop up museum that will be opening in Los Angeles the summer of 2018 called MOCAT (Museum of Coffee and Tea).
Has it been a smooth road?
It most definitely has not been a smooth road and the struggle continues. Being any type of artist is a very difficult to choose as a profession, especially if you like to eat and like to have nice things. I read an interview with artist and Juxtapoz co-founders Robert Williams say "he never encourages people to become artists", It's so difficult being an artist and I would imagine it has always been this way. For me the biggest struggle is not creating the work, that comes easy. It's everything else that's a part of it. Networking with gallery owners, collectors, and just staying on people's radars and making these types of connections. I think that's the biggest struggle in this art game.
So, as you know, we're impressed with Steve Martinez – tell our readers more, for example what you're most proud of as a company and what sets you apart from others.
Well, I am a photographer, graphic designer, contemporary artist and muralist. I specialize in making unique pieces of artwork whether it's for a cover for a magazine, LP, creating large scale hand painted works of art on the side of businesses and or creating a piece of contemporary artwork you can hang in your leaving room or office.
What makes me most proud is being able to connect with people on a very personal level doing what I love.
What sets me apart from other artists is that I really push myself to be unique in what I do and push this new contemporary art movement forward by being original and not copying what's out there. I feel creating your own lane is very important, difficult but big pay off at the end.
Let's touch on your thoughts about our city – what do you like the most and least?
Best thing I like about LA is a tossup between the weather, herb, and food. The least thing I like about LA is TRAFFIC!
Contact Info: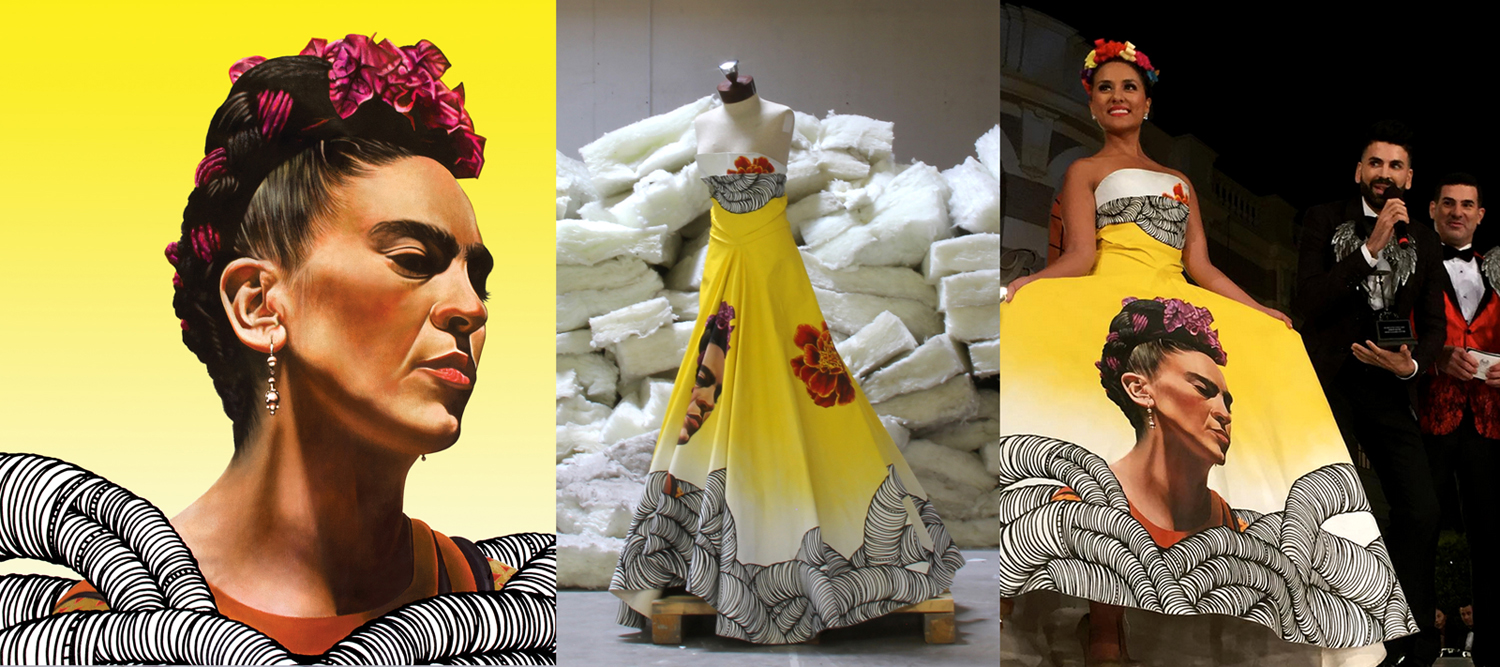 Image Credit:
Erin Stone
Getting in touch: VoyageLA is built on recommendations from the community; it's how we uncover hidden gems, so if you know someone who deserves recognition please let us know here.