Today we'd like to introduce you to Amir Zendehnam.
So, before we jump into specific questions about the business, why don't you give us some details about you and your story.
When I was first born, I peed on the doctor's face. From the second I came into this world, I was ready to disrupt the status quo.
I was born in Northern California to loving Iranian-American immigrant parents and raised in a Bay Area city called Walnut Creek. My earliest childhood memories consist of entrepreneurial ventures. In elementary school, I was trading and selling Pokemon cards, Yo-Yo's, and Pogs. When the school banned the use of these items one by one, I didn't listen and started my own black market with my friends at school to continue my businesses. At this time, using a boombox cassette player with a recording option, my sister and I were doing our own radio shows for fun. Today I have a podcast called In the Clear with Amir I've been doing for four years. My sister Sara is now a successful news reporter in the Bay Area.
Throughout my teenage years, I went from one venture to another. I hated being at school because it was too authoritarian, restrictive, and controlling. I'm still trying to figure out where my drive for wanting to accomplish everything came from. But like today, I was always driven to do everything at once. I clearly did not listen to the older people in my life who told me I needed to focus on one thing and can't do it all. I disagreed with that loser mindset back then, and I still disagree with it today. You can do everything you want, and then some. You just need to figure out how to do it.
By 12 years old, I started my first website, a BMX company, which I created and designed myself.
I continued doing everything I could possibly do into my adult years. Whether it was martial arts, fitness, violin, politics, programming, photography, or business, I was driven to be the best in everything I enjoyed.
I'm 31 years old today, and I haven't slowed down on this mindset I acquired as early as my infancy.
I moved to Los Angeles when I was 20 to attend UCLA and graduated with a degree in history in 2010. After graduation, I had to make the decision of whether to stay in LA or move back home. I realized after a few years in Los Angeles that I love LA so much and this city is the trendsetting hub of the world. If you can make it popular in LA, you can make it popular everywhere.
And my ideas since childhood have been anything but popular to the status quo and mainstream. So instead of complaining about it, I set out on a journey I'm still on today to popularize optimal health, happiness, and freedom.
After I graduated from UCLA, I went into politics with the "change it from the inside" mindset. This mindset proved to be anything but realistic after spending almost my entire 20s in politics. I had the realization that long-term revolutionary change does not come through government.
After being one of the head organizers in California for the Ron Paul 2012 presidential campaign, I decided to take my activism into local politics. I was then elected to the Los Angeles County Republican Central Committee. Against all odds of being a loud principled libertarian with Muslim-Iranian immigrant family, I quickly rose in the ranks of the Republican Party. By 26, I was elected as the youngest Republican Chairman in California, representing the 54th Assembly District Republican Central Committee. In this time, I was also a delegate to the Republican Party, on the executive board of multiple political organizations, and working on various local, state, and federal campaigns. I was very controversial because of my extremely principled ideas that were not very friendly to the political status quo. Mainly "peace, love, and freedom." You should have seen their faces when I would say these are my beliefs.
Continuing the theme of my life, I was doing more than just politics.
This was also around when I started getting deeper in cannabis, health, scientific research, ingredients formulations, and fitness. And because I was that "weed guy" I got to see first hand the double standards of politicians who would smoke weed behind closed doors but then pretended like they were super against it publicly. I found that most people driven to politics were either unethical, fake, or both. And after my term was finished as Chairman, I did not run for re-election.
I knew this before, but after spending years in politics I was now confident in the fact that government is not the place to achieve happiness, optimal health, or freedom. If anything, my experience and human history in general showed me government systems are the antithesis of these ideas.
After I left politics, I was in a state of limbo. One failed venture after another trying to successfully implement my wild ideas into government models and business models, and it just wasn't working out. But I knew exactly what I loved the most: cannabis.
And this is when everything changed. I decided to take a yoga and meditation class to bring in the new year four years ago. And in the meditation, my mind just said "do weed bro." That's when I first started listening to my intuition.
So I had to ask myself "ok why am I not doing this full time yet?" The answer? "What will my parents think?"
So I called my parents and told them about my past and current cannabis ventures that they knew nothing about. Turns out when you actually decide to live life for yourself and only yourself, beautiful outcomes occur. My parents supported my decision and just wanted me to be safe.
I then quickly started applying to every Craigslist ad I could find to work legally in the cannabis industry. I was okay taking entry-level jobs, because finding legal jobs in the cannabis industry was nearly impossible a few years ago. And most of the job openings would say "FEMALES ONLY." I would apply anyway. Eventually, I got hired at a popular West Hollywood dispensary to be a budtender. While working there, I got to learn the behind the scenes of how the legal industry worked, which helped me start my own cannabis ventures. These ventures eventually transitioned into my company I have today, Spekr.
Overall, has it been relatively smooth? If not, what were some of the struggles along the way?
This journey has been anything but smooth. But the road to the top is always bumpy. Having patience for the process and recognizing that the journey is the destination is a daily struggle I aim to conquer.
My biggest struggle I faced getting to this point was my imbalance of yin and yang. Finding peace, happiness, and balance within what I call this "toxic world" seems to be a collective human struggle. And as a man growing up in a militaristic post 9/11 America, we were not equipped with the knowledge and communication skills to be able to properly express our deepest emotions. It was more radical to non-violently communicate and hug it out than it was to hit each other growing up. It makes me so happy seeing men become more balanced in their emotions more recently.
I realized while in politics that the systems that rule over us were designed this way. Because if men could truly express their emotions internally and externally, then it's going to be really hard for random politicians to put men across battlefields to kill each other. In short, ending the divide and conquer mindset within myself and this world that still keeps humans divided.
I think I've done a fairly good job of balancing out my internal struggle of truly being able to express myself without shame. It's my goal through my struggles to help others achieve the same balance I found after many years of searching. The struggle really is real.
Spekr – what should we know? What do you do best? What sets you apart from the competition?
I am the founder, CEO, and product formulator of a CBD and biohacking company called Spekr. For my entire life, I was trying to put together all the pieces of the world into one. I knew where I needed to be, but I didn't know the path to getting there.
Spekr is the company that finally proved to me all my wild ideas can flourish under one brand. The universe comes down to oneness, and my life goal is to figure out how to connect that oneness in everything from our humanity and across galaxies and dimensions.
I started Spekr with a small team, no investors, and barely any startup capital. I came up with the name because I started with the question "what do I do?" And my answer was "I do everything." And the full spectrum is everything. Spekr is short for the full spectrum. And the brand is centered around what I call "the full spectrum lifestyle."
When I launched Spekr, I was in the worst financial and mental space I had ever been in. And that's why I went all-in with this venture. It was a do or die mindset. After years of experimenting with different ingredients formulations, I had finalized the formulas for the products I wanted to take to the market. All I needed now was to think of a name and create the brand. Easier said than done, but within a few months of hard work, Spekr was ready to launch.
I am very proud of the fact that I have been able to grow Spekr to this point. Only 1.5 years in, and I have continued on my goal of creating a globally recognized brand known for the best products. I knew from my days in politics that if I wasn't going to change it from the inside, I needed to do it through the market. And the ingredients lists I have formulated have proven to help so many people across the world it blows my mind daily. Products I originally created because of my own chronic pains are now helping so many other people. I always wanted to help people on a global scale, and I finally found my path to accomplishing that through these products.
What sets Spekr apart is that we are just real. Our ingredients formulations actually work, transparency is of absolute importance to us, we provide ethical solutions, educate our customers so they can make intelligent choices, we grew from grassroots community-building styles, our team is insanely unique, freedom-oriented, and talented, and we convey a fearless and rebellious business style in an attempt to shift the global status quo into something better. Our actions really speak for themselves. Everything about the Spekr business model is about using the highest quality standards ever.
What is "success" or "successful" for you?
Success in our world is usually looked at from the macro, but I prefer looking at the world from the micro first. If you can wake up every single day, smile, and move even the tiniest step forward to making your dreams a reality, you're successful. Because when you add up all those tiny steps, what might not seem like success at first will snowball into success that can't be denied. Keep pushing forward in life and smile while you do it.
Pricing:
Spekr CBD Pain Relief Lotion – $40
Spekr CBD Drops – 500mg – $60
Spekr CBD Lip Balm – $8
Contact Info: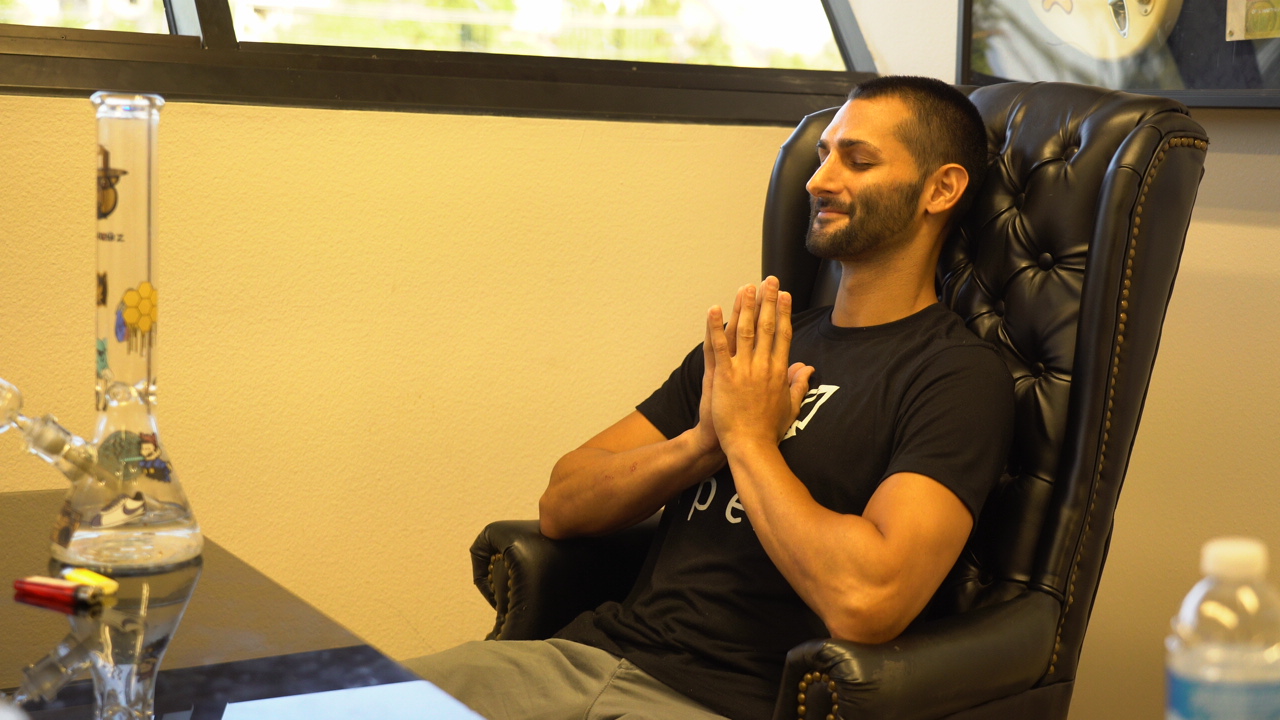 Image Credit:
Photos by: Ben Keane
Suggest a story: VoyageLA is built on recommendations from the community; it's how we uncover hidden gems, so if you or someone you know deserves recognition please let us know here.