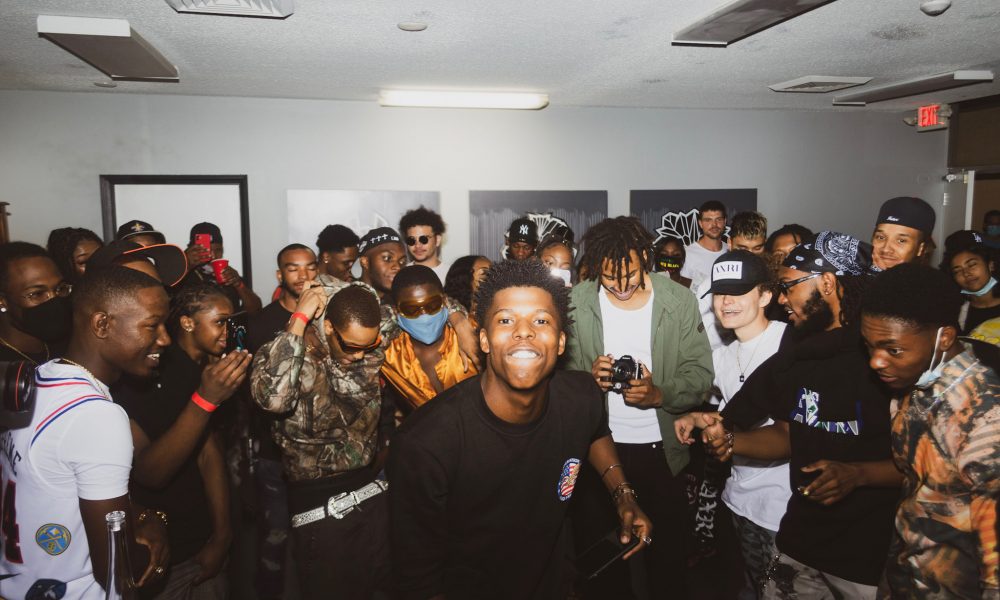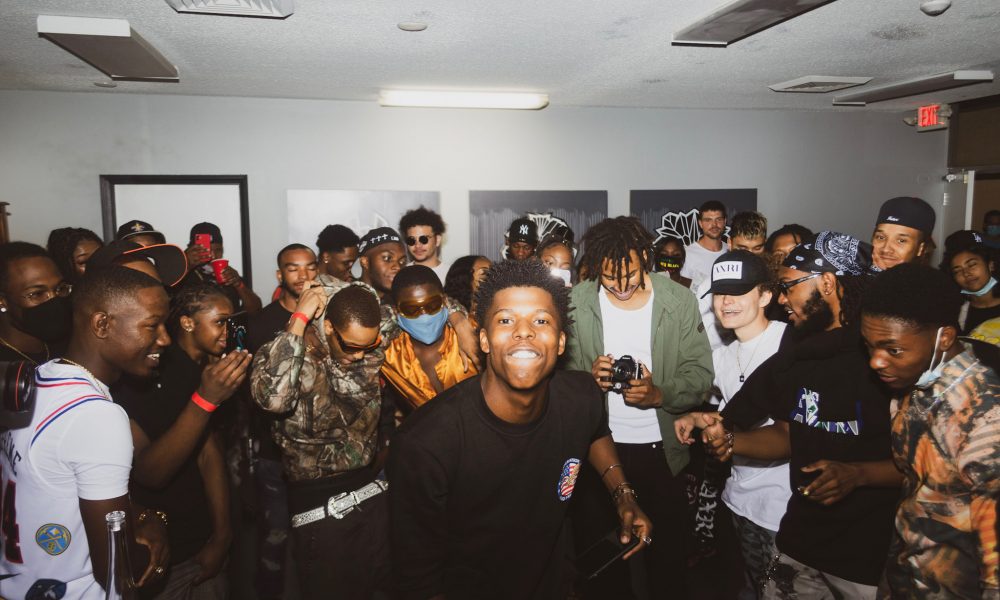 Today we'd like to introduce you to Skooder.
Skooder, can you briefly walk us through your story – how you started and how you got to where you are today.
I started out as an athlete: just growing up playing sports; pretty much that's all I knew. My whole family was involved in me playing sports. I didn't know much outside of that. Where I come from, it was either sports or gang banging. I watched my oldest brother spend his entire childhood in and out of jail. I watched my cousins my mom took in get killed or end up in jail, doing life. I saw my brother Junior go from being involved in sports then lose it at the end. I just knew I couldn't be that; I have to be anything but that. I took sports as my only option. It helped me stay out the streets. I spent so much time wanting to be an athlete that I didn't see anything else; I didn't see what my future could be. It became what I had to do if I wanted to pay bills and get my degree, so I was willing to do it.
The whole time I knew I was different, even in the way I dressed alone. I feel like being an athlete it's so common to be labeled different, but like for me it was always more . . . (how can I explain it) like I don't know: I didn't fit it, but I was embraced: my style was embraced by everybody: other athletes, gang members, etc., I was embraced. I feel like when you grow up in a tough environment being different can get you bullied or clowned, but I was embraced. I grew more and more confident being me. So many people are afraid to express their difference to the world, but at that point, I feet like I have to use my voice.
I would describe my style as "unorthodox." There's no real way to define it; it's all over the place.
I graduated from Centennial High School in Compton, then went to college to play baseball, but something wasn't clicking. I was always injured, and looking back, I feel like there were always signs that I should do something else, that this wasn't my destiny. I ignored it until now. I dealt with challenges in the education system as a whole: realizing how flawed the system can be: really your word against theirs no matter how right or wrong you feel. The system may seem like it's there for you, but in real life, they don't give a fuck; they just want your money, and I was told that to my face. That was my breaking point. I realized we are all human. Felt like this wasn't it. We can expect so much like me with school and being and athlete, but we are who we are, and I wanted more.
I had gone through so much in my life, and I wanted to get my story out. In school, I felt like I could put it all in a book, then I thought would people like me want to read this book: HELL NAW, so I realized I had to find another way. I found music. I eventually found my voice, put it behind an instrumental, and that was that!
Great, so let's dig a little deeper into the story – has it been an easy path overall and if not, what were the challenges you've had to overcome?
It was not a smooth road. It was a bridge (or journey) between figuring shit out. My biggest struggle along the way was growing up being an athlete, then leaving college (looking like a dropout), telling people I wanted to do music and people not taking me serious out of the gate. People felt like I was about to be just like my brothers. That plus the amount of deaths I experienced over the last few years alone . . . it's like when I'm doing music, I'm fine, but the moment I step away it's chaotic. I felt like I was suffocating so I left. Having to relocate to another city as a stranger was different. I had to build a new community and I did and grew and came back rebranded as a person. I've been just trying to find a medium between wanting to be at the forefront as that person showing I'm outside overcoming, I'm doing it, but at the same time dealing with so much adversity even on days when my mind/ body just don't want to be there; just trying to find balance. All this plus struggling and grinding as an independent artist with no money behind you, no label is another obstacle in itself.
"People not taking you serious/ being perceived like older brothers". 
Criticism was just something I was able to deal with. I was able to hear it and it go through one ear and out the other; listening to someone else wasn't going to get me nowhere. I was going to sink or swim with or without opinions. I got to Las Vegas not knowing a single soul, just out there, but they embraced me. I believed in myself and nobody can derail that.
"Dealing with life's adversities and not folding."
I learned that tomorrow is not promised: any age, anyone, at any time can go. That's what I take from what I've seen, especially recently seeing the ages—kids dying. I can sit and mourn if I want to, but my next 24 hours is not promised neither. My last 24 is my choice: I have to still live out my goals and all the tasks I want to get done. I look at deaths as blessings: I've learned to value life more.
"Being an independent artist."
That's a crazy one because lowkey I do what I can with what I got, and the rest we just make it work.
I have the utmost faith in God honestly: I fear Him, so I know when I'm doing right and when the energy and everything is there, and I believe it and I'm trying to reach the goal. It has been proven. There's really nothing else, no other answer; I walk in faith and good energy and give that off to the world, and get back Blessings. (laugh) That's all I really have to rely on, but it's really the best feeling; it hasn't let me down.
Shout out my boy Brandon and Pieceful Hueman in Las Vegas; we make it work. It's tough not being able to advertise as much as you want; you want to advertise and promote, we do what we can with what we got; if we only got $250 to pay the cameraman, we pay the cameraman and pop outside; no money for the budget we still going to shake with the vision. Nothing derails me; it's all just another challenge; I feel like it's going to come somehow someway. If you're putting the work in, it just has to work. Pastor Rafer Owens in Compton talked about people wanting to lose weight in a few days after taking years to gain the weight. Things don't happen overnight but keep working.
I used to be so sprung on wanting to make a buck and wanting money, but with me not having it, the thought of that object doesn't live with me anymore. My pockets be zero, but I'm outside and I'm still so happy, and that's BIG.
Pretty much like, it's no excuse: no matter what we got: iPhone, $20 film, we outside and something is going to shake; I hear artists say they can't record, and I used to be that artist. Then I got my setup right before COVID. Pretty much there's no excuse. If we want to do it, we can get it done. Any obstacle I face at this point, I can overcome. There's nothing too hard. I've been through the fire, and I'm still here; I been through worse, so everything else seems so tangible.
We'd love to hear more about your work and what you are currently focused on. What else should we know?
I'm an artist. I'm known for my fashion (for sure) and my unique set of words. I put a lot of pain into peaceful melodies; I call it pain and promise. I make music for the 1%–that group of kids that feel like that just don't belong. They're lit though for sure, but what they do is not traditional. For example: take Compton as a whole and just pull out the percentage influenced by gangs, the percentage wanting to go to college, and the leftovers after all of the stereotypes are the 1%. They ran away from it all, feeling like their interests weren't common and just weird. I bring them together: the crazy and weird (names given to us); those are the most influential people and they're stuck in their shell because they feel like they're alone. If more of them embraced their weirdness/ uniqueness/ difference then more of the world would come to terms with it.
Being an athlete is easy, it's everywhere. You see it on TV and right in your backyard. You don't see the 1%. They didn't have nobody to look up to: they are powerful, but they're muted. I embrace it and laugh at the pain and trials and be so happy with it. I let my guard down, letting others know they can do the same. We can turn up too. There's no choice but to embrace it and come outside.
My biggest challenge when I started to make music was me questioning would my story be heard? Would the youth that I'm trying to reach understand it and embrace it? Seeing them know my music word for word, embrace it, scream, "WE OUTSIDE" at the top of their lungs was a proud parent moment. You have to want to know the lyrics to songs; we hear music all the time that we don't like. Whether it resonates and gets you through life or it's catchy; seeing it so early in my career made me so proud and it keeps me motivated for sure.
What sets me apart . . . for one, I'm outside when no one wants to be outside. I take pain and laugh at it, rather than get discouraged and ball up. I'm open with my flaws: I don't care about making mistakes. I feel like it's the small things in the world that we take for granted, but it shapes my character. I'm able to bring multiple people from distant worlds together, so many different ethnicities, cultures, backgrounds, genders; I am able to bring gang bangers into one room and everyone catch vibes. Even now, I'm only hanging out in certain spaces and everyone is invited. I am trying to lead the whole village. Everyone's welcome.
What moment in your career do you look back most fondly on?
Releasing my first EP for sure. Putting together a catalog of songs was a big challenge, but people listen and accept it. I was wondering how to capture the attention so early on. I dropped it, and the feedback/ support I received so early on was unbelievable in this day for sure. I want to win a Grammy, be named two-time Grammy-nominated . . . my résumé is skimpy right now.
Contact Info:

Image Credit:
@jmarscam
Suggest a story: VoyageLA is built on recommendations from the community; it's how we uncover hidden gems, so if you or someone you know deserves recognition please let us know here.