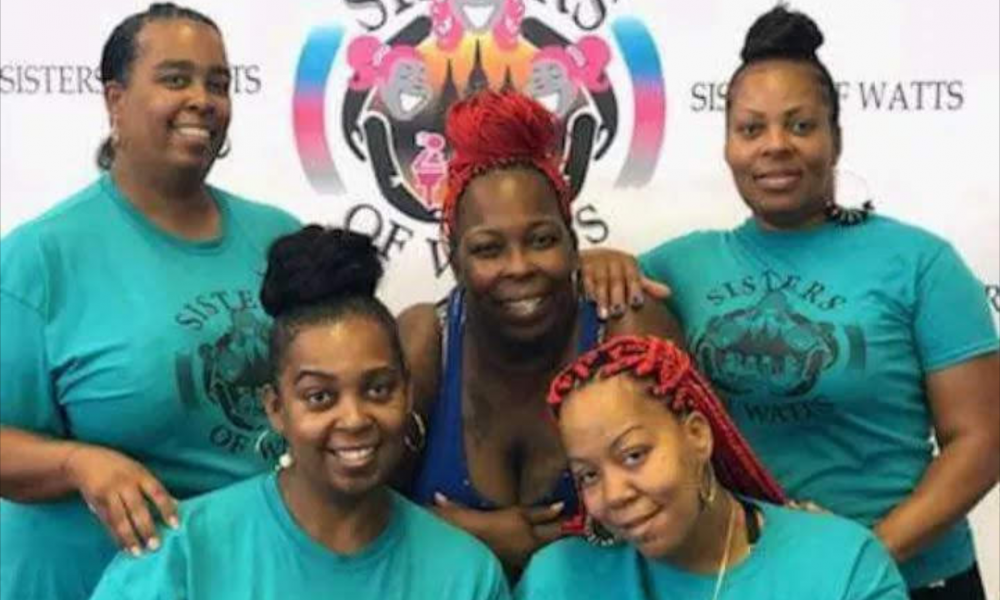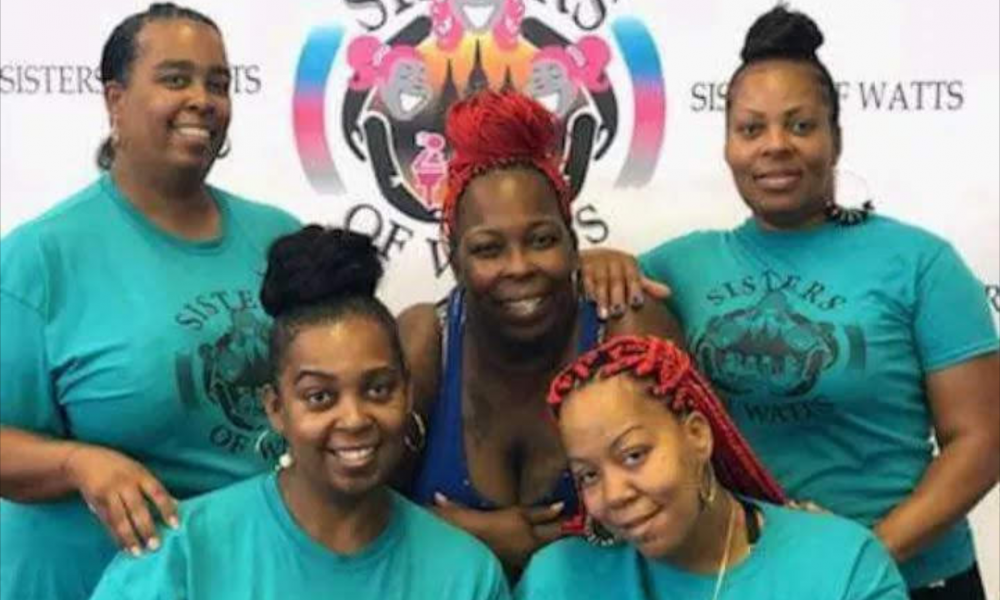 Today we would like to introduce you to The Sisters of Watts, (Robin Daniels, Keisha Daniels, Penny Daniels, Jessica Crummie, and Joann Smith.)
Robin, please share your story with us. How did you get to where you are today?
Sisters of Watts was founded by my sisters, cousin and I (Robin Daniels, Keisha Daniel, Penny Daniels, Jessica Crummie, and my cousin Joann Smith.) We were all sitting around talking about our childhood days and we all were saying we wanted to do something to give back to our community. Looking at how much has changed and how the kids in our community were limited on the things do, we decided that we would start our own non-profit to contribute to the change and be a solution to the problem.
We came up with the name Sisters of Watts because as a community we are sisters and brothers. We work closely with each other and we love our community and we love that we are products of Watts. We are a team of people who care. There is no "I" in team with the Sisters of Watts, I want make sure people know that the sisters of watts is more than one person, this is a family thing, we all started this together and because our bond is so tight we will always be together. There is a lot of work that goes into running a non-profit and we don't take each other for granted for the hard work we all put into making who we are as Sisters of Watts. We all play a vital role in what makes our non-profit function and successful.
We discussed all the things we wanted to see happen in our community and the first thing we came up with was to have our First Annual Backpack Giveaway as our Kick-off event. We asked one of our friends that lived on 102nd in Watts if we could use his yard and he said yes. With the help of family, friends and our committee we sold candy, had a cloths drive, sold popcorn, asked for donations and donated our own money. We worked hard to make it happen and because of our dedication, we were able to give out 200 backpacks with supplies and uniforms to the community.
After this event, we became even more motivated. The feeling that we felt to see the smile on the kids and the parent's faces, were so rewarding. We started volunteering for other non-profits in the community, helping any way we could. We became more active with the Watts Neighbor Council and Best Start 5 LA Watts/Willobrook. We adopted 96th Street Elementary School and worked closely with the principle Ms. Smith by giving incentives to the kids for their hard work in school.
We also implemented Manhood Mondays at 96th Street School, where we would ask the young boys to wear a tie on Mondays because if you start your week off feeling and looking your best, you will end the same way. We had some young men to visit and talked with the boys about being a boy growing up in Watts and how to deal with the many challenges and peer pressure. We gave them a tie and taught them how to tie it, being that most of these young boys did not have a father figure in the house to show them.
We also work closely with the staff at Ted Watkins Park by volunteering our time with the events that they had for the community and we also sponsored events to help support their vision to offer more services to the community.
We started working with the 64the District Assemblyman Mike A. Gibson and his team when we first started in 2016. After our second year of being of service to our community we were honored by Mike A. Gibson in Sacramento at the 2018 California Non-Profit Organization Annual Awards as Non-profit of the year for the 64th District. This was a honor and highlight of one of our greatest accomplishments. Every chance that we get we are trying to do something for our community.
Because of our hard work, dedication and the love we have helping our community, we have been featured in the Watts newspaper. And also, we have been recognized for our work by the Ellen Show on their DoGoodDaniels show on Ellentube. They surprised The Sisters of Watts with a handicap assessable van so we can have transportation to take the youth on trip and elderly people to their appointments.
Sisters of Watt's goals for the past three years has been primarily focused on serving the youth and the residence of Watts with resources that are needed to help families with their immediate needs. In the past three years, the Sisters of Watts has expanded its programs and offering to the community by hosting, Free backpack giveaways, youth clean up day in the community, Turkey Giveaway, Toy Giveaway, Peace March for the Youth, Free CPR Class, Free Family Fun Night, Special Needs Shoe Giveaway, Free Bike safety Classes, Free Haircuts for the youth and the homeless, and our Homeless Shower of Love event where we stationed our mobile home in Watts and allowed the homeless to take a shower, fed them, gave them personal hygiene products and clean clothes.
As we continue to grow and provide services to our community we are committed to providing quality service more than quantity. As we grow we will add more services that are need to help our community. We will continue to aim to collaborate with other organizations to make what we do more effective. Our Motto is and will always be, it's not about us it's about the youth and servicing our community. We don't ever want to be labeled as an organization who tries to do it all by themselves, because everybody needs support. "Together we stand and divided we fall."
Overall, has it been relatively smooth? If not, what were some of the struggles along the way?
It has not been a smooth ride but we knew that when we said yes to the cause we would have to work hard. Getting people to volunteer and getting funding was our biggest struggle. We had to put in a lot of our own time and money. Being a small and new non-profit organization we had to get our feet, ankles, and legs wet along the way. At the beginning, we applied for grants and were denied. We had people who said they were going to help, but did not. This was disappointing but it made us stronger. We made things happen with whatever we had to help make each event successful. Because our goal was bigger than our struggle and we prayed over everything that we wanted to do, it kept our heads above water and we made it.
We'd love to hear more about your organization.
What sets us apart from other non-profits is that we really care. We live and breathe helping people. We want to make a change in our community. It's not a day that we are not thinking about what we can do next to help. We love the kids and because the kids are our future we put a lot into putting on events for them.
The services that we have been able to provide to our community are; food, Cloths, school supplies, shelter and free events for the community.
We want to make sure that we are a part of the change in our community. We reach out other non-profits and ask, " do you need us to help volunteer?". No organization can do it all by themselves, we all are more effective together than apart.
As stated previously, what we are most proud of would be us being honored as Non-Profit of the Year by The 64th District Assemblyman Mike A. Gibson in 2018. We were so excited and grateful. We were happy with tears of joy that people saw we were working hard helping others.
Any shoutouts? Who else deserves credit in this story – who has played a meaningful role?
There are a lot of people who have helped us and we cannot make one seem more important than the other because, rather big or small it all counts towards our success.
We give thanks to our Family and friends who had our back from the beginning with volunteering their time, donating money and prayers.
We give thanks to our newly formed relationship with local businesses, community leaders, local social services, police department, other non-profits, neighborhood parks, and schools, who has allowed us to fellowship and partner up with them to serve our community, with their physical support, monetary donation and donated Items.
The list was mighty long but all people who have helped us along the way we thank them so much.
Contact Info:
Address: Mailing Address
36635 Little Sycamore st.
Palmdale, California 93552
323-833-6919
Website: www.sistersofwatts.org
Phone: 3238336919
Email: sistersofwatts@gmail.com
Suggest a story: VoyageLA is built on recommendations from the community; it's how we uncover hidden gems, so if you or someone you know deserves recognition please let us know here.