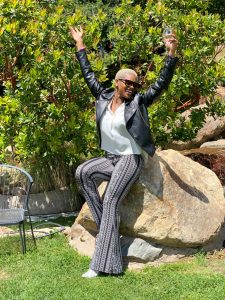 Today we'd like to introduce you to ShirJuanda "Bounce" Woodson.
ShirJuanda, let's start with your story. We'd love to hear how you got started and how the journey has been so far.
Wow! Just thinking back on it makes me smile. I am originally from Dallas, Texas where this journey really began by my aunt putting me into dance to give my little toddler self something to do while my older brother played sports.
From there it grew into a love for competition dancing and finding a dance fam that I got to slay on stage with for a season. While being a competitor my parents wanted to make sure that I was a versatile dancer, so on off-season time I would train under Debbie Allen in the summers from the age of six until I was eighteen. I also took a few summers to train with Alvin Ailey Dance and The Joffrey Ballet School in New York. In 2011 I fell in love with the idea of bringing the professional training I had received for years to my home city Dallas and schools by creating my company I Am Bounce Productions, bringing Workshop series to those unable to pay for the extensive training I've received my entire career. I care about the future.
In 2013, I attended Joffrey as a full-time student in their Jazz & Contemporary Trainee Program where I feel started my TRUE journey with my professional career as a dancer. A lot changed for me in 2015 I moved to Los Angeles for the first time as a signed and represented Dancer and began the journey of professionalism, but I also birthed the beginning of my I Am Bounce Mentorship Program where I took six young women ages fifteen to twenty-one under my wing focusing on not just the career in dance but the business side of the arts as well. Teaching them to brand themselves as an artist and a business. In 2016 my shyness for showing my love for creating and doing what I love was exposed to the world when my "Bounce House Party, Motown Philly" video went viral. It was something I had never experienced, but such a great feeling, but none that had to do with it being viral, but simply how many people received my message, from there I Am Bounce was a full time running business.
Just eight months after living in Los Angeles and touring with the LaLa's Burlesque company and starting my company I was contacted by my agent that another show was scouting me out and that's when it all became so real, I really was living my professional dance career dream. I moved to Las Vegas in 2016 where I joined the Cherry Boom Boom LIVE! Show, Directed by Original Member of the well known Pussycat Cat Dolls, at the Tropicana Hotel, that soon closed. I finally learned what it felt like to be laid off from something you love with no control over the issue, but I became stronger because of it. I took that time to truly invest in my company and expand. I created a program in schools with my company to expand on giving back to the arts community by creating a Master Class Tour & Workshop for schools and studios in Dallas, Texas. I auditioned for Royal Caribbean in 2017 where I later accepted a contract to join their Quantum of The Seas ship in Asia from August 2017- July 2018.
It was such a dope experience being able to fulfill yet another goal in my career by going on tour with a well-known cruise company, and my first time stepping off American Soil that wasn't Canada. We were going World Wide now! I returned back to Los Angeles on September 1, 2018 where I have now rejoined the newest version of my Las Vegas show Cherry Boom Boom LIVE! that has now relocated back to Los Angeles its original home in the newest show Cherry Boom Boom The Show where I am accompanied by six other stunning women that I get to call my sisters and role models, and one hot and feisty host. I Am Bounce gained the name I Am Bounce, LLC in August 2018 upon my return to America post contract. With so much growth, I have expanded to two Master Class Tours a year in the Fall and Spring seasons of the school year and hope to soon bring the programs to Los Angeles and other cities.
Great, so let's dig a little deeper into the story – has it been an easy path overall and if not, what were the challenges you've had to overcome?
As much as I want to say yes….no. It hasn't been a smooth road, but it definitely hasn't been the roughest either. I can say I am truly grateful that I've never had to do it by myself. My parents are very involved with my company on the operational side. There's been many times that I have run into financial problems because let's admit it being an artist a lot your time and success of your events is based off of others. So there have been moments where events weren't as successful as I needed them to be and my parents had to come in. Overall though it has been a pretty steady ride, hick-ups let me know that I have more I can do. As my grandfather says, "If you can't learn from your successes and failures, then you aren't learning at all". There's always more to be done, but I love the journey taking it a step at a time, the moment I get uncomfortable it means there's something more I can do. I love the hard times, they make me stronger for my company and for myself.
I Am Bounce, LLC – what should we know? What do you do best? What sets you apart from the competition?
I Am Bounce, LLC is a creative company that focuses on creating a well-educated artist in communities and with people who may not be able to get extensive training outside of their home state. With a focus on those who love the artist and want to go the professional route as an artist whether thats in front or behind the camera. With a focus on all ages,
I Am Bounce, LLC is a company that specializing in Dance and Business. Educating dancers on professionalism on and off stage and how to become the best them on stage and in business. If it's one thing my company is known for is bringing successful results to all those that I come in contact with, whether that be a parent, student, client, school or studio. I am known for my bubbly and loving personality being reflected in my work in the studio and in business.
I am truly proud of my company for being a reflection of who I am. I never want something to have my name on it that does reflect who I am as a person. As I teach my students, "you are a walking business, the way you express yourself is the way you express your company…what do you want people to see?".
I think one thing that sets me apart from others is my focus on my roots. Really bringing back the things that really made me the dancer I am today. I know that social media is a really big thing in the world now, and what is seen as a successful dancer to the naked eye, sometimes people forget the training that goes behind that successful dancer. I like to focus on the basics, the technical training, making a performer and not just a dancer. Creating a well-rounded artist. I like to see my students do better than me, that's so much more rewarding than anything in this world. My students COME FIRST!
What moment in your career do you look back most fondly on?
I would have to say the proudest moment of my career so far has been being able to create my own company and it being successful because of those that have come in contact with it. It has always been a dream of mine to be able to bring the joy and passion of the arts to the hearts of others, just as my mentors did for me and many of my fellow dance friends. To be able to go back to my hometown Dallas and spend a week straight training students of all ages the joys of dance and preparing them for the next step in their journey to a successful career is everything. My mission in life is to leave a footprint on those I come in contact with just as much as they leave a footprint on my heart.
I can truly thank Debbie Allen for my journey and my go-getter attitude. The way she showed love for her students, wanted to see them go above and beyond and to never settle for less than what they deserve. She always taught us to become a master of everything we touched, never settle for just a triple threat…go further.
When I work with students, when they step into the studio with me, it's just me and them, the world around doesn't exist. I make sure my students know they can trust me, they can confide in me, but most of all I let them know they are loved.
Contact Info:
Image Credit:
Instagram: @omgsogood & @gildina23 & @claudio.a.robles
Getting in touch: VoyageLA is built on recommendations from the community; it's how we uncover hidden gems, so if you know someone who deserves recognition please let us know here.