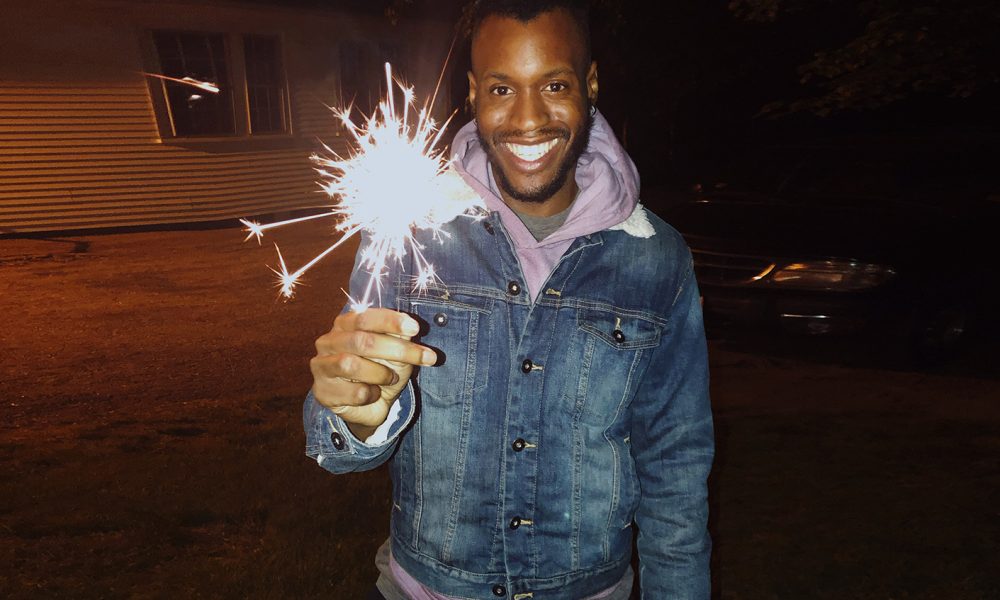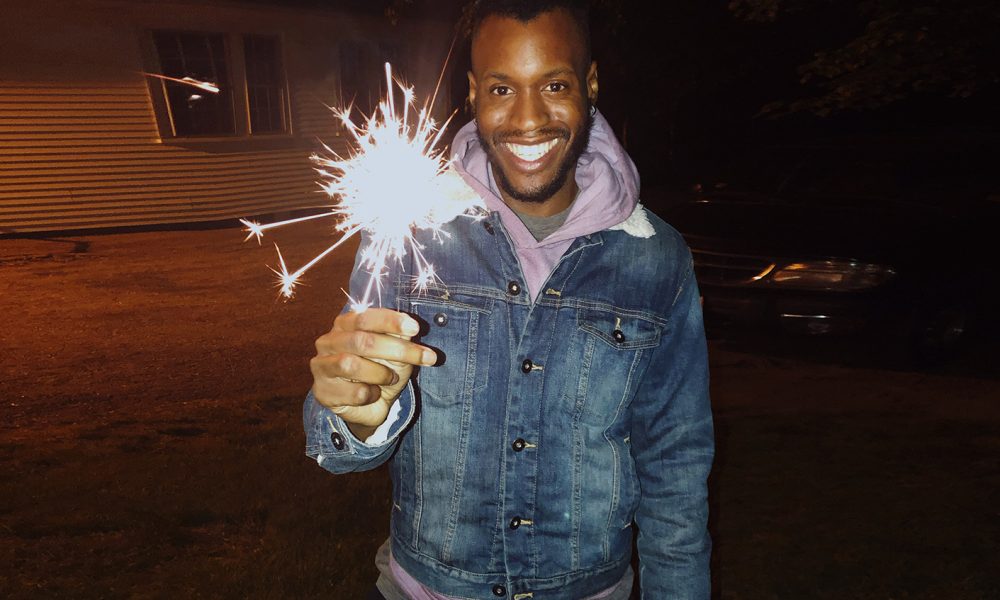 Today we'd like to introduce you to Shir-Ami Thompson.
Shir-Ami, let's start with your story. We'd love to hear how you got started and how the journey has been so far.
My youngest cousin, Marc, just turned 16.
I remember being 16 vividly; surfing 'MySpace' for hours, dancing to 'My Humps' like a lunatic, and being completely obsessed with 'The O.C.'! Besides my early 2000's tastes, I remember how anything felt possible…the future was up to me! *MY* life was finally starting to begin and DUDE was I excited to get the **** out of Midwest Suburbia!
Do you believe in fate?
When I was 16 I started taking sewing classes at my high school. For years I dreamed of taking sewing lessons, but couldn't find any class I could travel to. So the fact that my high school randomly had a sewing program still blows me.
I'll be honest with you; high school was not a safe place for me. I was 'different' and I didn't try to hide it. One winter I wore rain boots every day as a fashion alternative to snow boots, and it really trigged the demons living in my small-minded classmates. Despite all of the unwelcome attention, high school was still a magical time for me and I found my safe place in creating! That Christmas I brought myself my first sewing machine ( A simple Brothers machine from Walmart) with the money I received. The rest is now history!
Learning how to sew was one of the most exciting times in my life. I was 100% that little boy who grew up trying on his mother's and father's clothing while they were out of the house. I had an army of Barbies whose sole purpose was to serve me fierce looks, and I would fill composition book, after composition book, with fashion sketches. Finally being able to make clothes, with my own two hands, felt like alchemy.
After learning how to sew (and even selling made-to-order pieces to kids at my high school), I embraced that designing was something I wanted to continue learning more about. It was a career path that I was eager to follow. After high school graduation, I moved to beautiful, sunny Los Angeles, California and attend Otis College of Art and Design. I attended Otis for four years, majored in fashion design, and after many tears, late nights and listening to "The Climb" on repeat, I received my BFA (Bachelors of Fine Art) degree! Woohoo! While at Otis, I was even able to work with brands like O'Neil, BCBG, Max Studio and Anthropologie as mentors.
Luckily, right out of college, I was able to land my dream job ( assistant designer at Forever 21) …… which I swiftly got fired from a few months later.
Do you still believe in fate?
After getting the knock-off boot from my first fashion job, I felt ashamed, discouraged and honestly, lost in the world. Wasn't I fashion?
After some months of eating, praying and loving (aka unemployment), I got connected to a new job that made so much sense for ME; [FASHION] DOLL DESIGNER! For the past eight years, I've been able to work on many DARING fashion dolls including "Bratz" and "L.O.L Surprise"! I've met Kardashian-Wests and got to show my acting chops to 7.2 million viewers on YouTube. I even had a BOARD GAME I created called "#SocialStar" sold at Target, Walmart and Amazon while working in toy design!
Call it fate, or call it whatever, I do believe there is a greater picture behind everything that happens.
Taking time to focus on different projects and explore my range of talents was a blessing. Ultimately, It helped me understand that I am fashion and will always BE fashion! I love designing, and especially, love connecting with people through clothing. It has and will always be something that I do. I re-realized all the possibilities around me and that my future was still up to me. I wanted to dress people, and if there is a will, for sure there is away.
In 2016 I launched my own fashion line called S By S Valley Made, with my two hands. If you don't know S By S, don't stress. I'll fill you in, in a bit! Give me a sec and I'll wrap this up quick ;).
As we all transition into a new decade, I too have recently entered a NEW, exciting chapter in my life & career. This new chapter is a place where I devote my time and energy on growing my brand and bettering myself. Today, At 30, I still feel the vibrations of great things to come and that every moment [here on earth] is an opportunity in some shape, way or form. I am so grateful for family, friends and strangers who support me and my vision. The most powerful thing you can do as a human is lift someone up. Thank you for lifting me up.
That's quite the testament to fate. Your story is really exciting and one that I think a lot of people will be inspired by – from the dolls, to the board games to your own fashion line – you've really made magic happen. Has it been an easy path overall and if not, what were the challenges you've had to overcome?
Last summer I was contacted by the casting associate producer of Project Runway. She asked me to come audition in person at one of their LA casting dates. I was given a date and time with the instructions of bringing a few of my favorite pieces and making sure I completed the casting application by the due date. It was surreal.
I didn't make the final cut, but I made it through two rounds of the casting process. Which I think is pretty cool. I'm thankful for the entire experience AND whoever recommended me!
The Project Runway casting application itself stirred up a lot of feelings inside myself that I really never felt before. Something about this was…different. I'm not necessarily a conventionally 'shy' person, but I felt beyond exposed. I was letting casting into my personal life, my reality, my hopes and my dreams. I was showing them my truth. It made me feel so vulnerable. I was preparing to present myself to the *world*. The whole experience really allowed me to get in touch with my feelings.
Putting myself out there (in a *big* way) to be recognized, judged, or admired was scary! But fears like not being well received are limiting beliefs and limiting beliefs serve you in no way. It takes courage to share your work with the world. It takes courage to be your authentic self. It takes courage to embrace YOUR path and the timeline of YOUR personal journey. Everyone has their own path to follow and story to share.
Creating is an obstacle/challenge, too. I'll be a broken record; I love sewing— BUT, there is a difference between leisure sewing and trying to be your own factory of one. Every project takes TIME, and then there is always some level of problem-solving required with every project. I have to be alert because a project can get ****** up real quick.
Sometimes I cut fabric and find out there is a big, gaping hole in the middle of the very expensive yardage I brought. Some times pattern pieces magically don't walk (match up). Sometimes it's 2 am, I'm tired, and just want to go to bed, BUT I can't bear the thought of continuing to work on that same project *again* the next day. Honestly, some days I'd rather do anything other than starting a new project. It takes a lot of patience and self-encouragement. I try to work on this every day. Being a one-man show is hard. I have to remind myself that I am only one human person, and I should celebrate all the crazy things that I do. I'm crazy.
Seriously, I hate time. There is never enough it. I neglect things in my personal life that I should be doing, and relationships I should be nurturing. Devoting time to your craft and business involves sacrifice and can leave you feeling lonely and isolated. When I'm working, and get in the zone, I like to disconnect and hide my phone. So I tend to lag on the communication front, too.
A journey wouldn't be a journey without obstacles, challenges and the full range of emotions. I'm grateful for every triumph, experience, obstacle, and struggle I've faced because it adds to my story. I look back and I certainly see the ways I have grown in the past years… as a designer, entrepreneur and person. I see it in my face. I see it in my body. I have been so blessed with the continuing evolution of S By S. All of the support I've received, opportunities that have found me and people I've gotten to meet have touched and humbled me. Thank you so much. Thank you for the motivation.
Alright – so let's talk business. Tell us about S By S Valley Made – what should we know?
I LOVE hoodies. I've always had and always will. There is something so comforting about being wrapped up in a hoodie. You know, chilling with the hood up. I decided I was going to make hoods. Everyone has space for a good hood, right?
S By S Valley Made is my clothing line/ fashion brand/ love letter to The Valley, Los Angeles and the *magic* that is California culture.
Since my launch in 2016, I've been selling ready-to-wear pieces, and many made-to-order, bespoke designs ( designs based on a clients unique measurements) all across LA.
Just like The Killer's song, I'm the Man! I am the financial benefactor, owner, designer, sample maker and well… everything else.
I work by myself, and let me tell you; it's a very entertaining/melodramatic one-man show. ALL of my designs are created by my own two hands. I'm crazy.
I source all my fabrics, I make all my patterns, I cut all my fabric and I sew each design completely from start to finish. It's a complete 360 Shir-Ami situation. Each design I make is a part of me, made for you to make your own!
S By S specializes in high-end streetwear. I'm talking about everyday, wearable, fashion gems! Like hoodies (my specialty!) sweats, tees, dresses, shorts, skirts, etc. all made in comfortable, soft, supple fabrics. I design fashions for Babes and Dudes that are perfect for hitting the streets, crunching at the gym, or lounging on the couch. My fashions can transport you through the different phases of your day.
S By S designs are about the harmony of comfort and style. One time my friend's husband told me "comfy life, happy life". She picked a good one. I personally can't stand wearing rigid, constricting fabrics. Honestly, I've haven't worn jeans regularly for years. If I'm not comfy, I'm not going out. That's my truth.
The fabrics are pretty much my most favorite thing about S By S fashions. I'm obsessed with fabric selection. I spend A LOT of time just touching fabric hahaha. I ask my friends if I can touch the clothes they're wearing. I'm always looking for fabric with a soft hand, firm construction and a nice give. I primary work with fabulous knits (french terry is my favorite fabric) for fabrication, but I do love to incorporate woven fabrics like flannels, too. Flannels are classic, man. And every flannel tells a story. I hope all my pieces tell a story to the consumer.
My goal is to make clothing that doesn't need much fuss, or styling in order to make it "work" when wearing. I live for pieces that you can throw on in the morning, run out the door ( because you're running late, like me) and do whatever you need to do without wondering if you look fresh to death. I'm inspired by fashion elements from past decades, as well as what's happening today. My vibe is always fresh, playful and chillax.
So if you're looking for something cool and comfy to wear, S By S has something unique and special waiting for you.
'S By S Valley Made' —- let's break the name down. 'S' stands for my first name; Shir-Ami ( for pronunciation: think of "Jeremy" but with a "Cher" instead of "Jer". It's a Hebrew name meaning 'song of my people'.) The other 'S' stands for my middle name. Which is kinda like a mystery ;). Last, but not least; I live and make my clothes in the San Fernando Valley. AKA 'The Valley'.
Ok, so I LOVE The Valley. And not just because I'm fluent in 'Valspeak'…. Like totally, whatever, you know?
The past six years of working and living in The Valley has been transformative for me. I remember a time when I had zero clues on how to even pronounce "Van Nuys".
I see The Valley as a state of mind. The Valley is any place where you dare to live your dream, and every moment doing so feels like the realest of magic. Some people might not associate The Valley with magic, but I do. S By S is totally inspired by the mood, vibe and history of The Valley past, present and future. The Valley speaks to my heart and I'm so happy to honor the pop-cultural legacy of the Valley through my clothing.
I pray everything I make will find it's way to that person who will love it. I call this person a "soul wearer". One of the coolest things about S By S are all the cool new people I get to meet and connect with. If I wasn't designing, creating and selling clothing, I wouldn't have the opportunity to meet a lot of people I know. I've had the opportunity of meeting and working with many fabulous models and shooting at iconic LA landmarks!
I love people. Everyone has a unique story and I love having the chance to become a part of their everyday story through my clothing. At the end of the day, I want to be part of people memories. I want to be that top someone wears on their last first date.
What sets me apart? Well when you buy from me, you're getting D-E-S-I-G-N-E-R! Yasssssssss! My designs are done in small batches So only a handful of people may share a specific fabricated style. I think it's really cool knowing what you buy is limited in that way. There are some designs I've sold where I'm like, Damn! I will never see that style, in that fabric ever again! And I get bummed—- like that one time I sold out of my men's "Monk" hoodie in this gorgeous, camel-colored french terry. It was really lux and sooo nice to the touch. I feel the vibe of my pieces set me apart, too. Nick Verreos of Project Runway fame told me he hasn't seen anything like S By S on the market. That it has it's own vibe and stands out. It was the best compliment.
Honestly, some times it feels like I'm selling my children. I've always felt a kinship with Kris Jenner.
I sell my clothing online, at local markets ( Melrose Trading Post and Reseda BLVD Summer Series are two of my fav markets I've vended at) and various popup shop events! I always post updates on Instagram of new sell listings, markets / pop up shops, and fashion shows ( I am SO grateful to have the opportunity to work with the amazing Preview Models; an International Modeling Production Company that puts a lot of fresh talent in front of the right eyes). So please follow me on Instagram (@sbysvalleymade) and let's be friends!!!
Is there a characteristic or quality that you feel is essential to success?
I feel that there are three qualities that have significantly impacted my success.
First; My eye.
I feel like I have SUCH an 'eye' for fabrics. I love the thrill of fabric shopping. I *think* I know how pirates feel because to me fabric shopping is exactly like treasure hunting. I spend hours shifting through [very heavy fabric rolls] and touching fabrics. It's really exciting to me because I never know what kind of textiles I'll come home with. I get so many compliments on how soft and comfortable my clothing are. To me, this is the best compliment. As you know; comfy life, happy life.
Second; My work ethic.
Even though I love and value sleep, when I'm inspired I can work all night. I suffer from a one-track mind. I mean as soon as I start a project, all I can think about is finishing it and executing it well. Ugh, you know us millennials— we want everything NOW. I don't mind putting in the extra hours that are needed to create something awesome and special. A piece that will bring someone joy.
Third; ME!
I'm just out here trying to have some fun, make memories and spread some love 🙂 With age, I am embracing the magic that is Shir-Ami. I dance, I talk loud, I laugh loud and I smile ALOT. I'm happy, so get into it ;).
Ultimately, I believe that real and lasting success comes from never giving up on your self. At the end of the day, I see success as a marathon, not a sprint. It's about conditioning yourself through the ups and downs of your journey. Invest in yourself and take the time to acknowledge the GREAT things you have done and currently are doing. Surround yourself with encouragement and live your best life!
Contact Info:
Suggest a story: VoyageLA is built on recommendations from the community; it's how we uncover hidden gems, so if you or someone you know deserves recognition please let us know here.