Today we'd like to introduce you to Shilpa Rajpara.
Shilpa, please share your story with us. How did you get to where you are today?
I am premium activewear designer who has been in the industry since 2002 and working exclusively in activewear since 2006. I graduated from UCLA, and then went to law school. After a year of drawing my case law into comic books to try to memorize it, I realized that I am probably going down the wrong path. I dropped out, worked at the Budweiser Brewery in the San Fernando Valley for a year, and then moved to NYC to hone my design skills at Parsons School of Design. I started in luxury goods but quickly gravitated toward premium activewear & athleisure — not only because I sensed a shift in the market, but also because it resonated with my California upbringing and active lifestyle.
After nearly 10+ years of working with brands that include Manduka, Splits59, Athleta and 2XU, I identified a significant gap in the market. No brands were serving the 50 million+ market of women who are D cup & Up. As a designer and consumer in this segment, I felt underserved from non-supportive and ill-fitting design. Not to mention excluded from trends and products I was excited to put on. IF I ever did find something that just fit, I would buy it. Not because I loved it, but more because I could wear it. I realized that I wanted to give women a collection where everything fit and everything actually supports them. A collection where they shop for what they love and for things that work for their active lifestyle.
A number of brands have launched active capsules, but no brands have specifically targeted this niche consumer of D-Cup & Up. I am really passionate about great design, and have a lot of experience specifically in the active and athleisure markets. I feel compelled to use my background in design and my experience as a busty woman address the issue, with the launch of NAYALI.
Overall, has it been relatively smooth? If not, what were some of the struggles along the way?
I don't want to scare anyone from the challenge, but NOTHING about entrepreneurship is smooth. It's all challenging, ALL the time. But, I must say that even when I have no idea how to get to the next step, I have enjoyed (for the most part) trying to figure it out. For years now, I have been a designer, and have faced the challenges that come with that job. But now in addition to that, I have to figure out all these other sides of the business that I didn't know existed!
I would say these have been the biggest challenges so far:
1) Getting started & focused.
I knew what my concept was, but didn't know how to tell the story of creating a brand for women who fit into "mainstream body sizing" & "D-Cup & Up." Besides in lingerie, there is no category for that. Unfortunately, traditional retail is classified as ether "mainstream" sizing, which generally refers to a US 0-12. Or "Plus" sizing which refers to US 12 & up. The challenge was the messaging. Though I believe in including everyone, my brand is small, and you just can't carry inventory for every size in the beginning. It's financially impossible. So, I wanted to focus on what I knew to start. Women who fell into the 0-12 category, but had a cup size of D-G. This is where the biggest gap in market was. The struggle was, and still is, how do you message that to your intended audience without making others feel excluded? That customer exists, but how do you find her? How does she find you? Where do you sell? How do you not get lost in a sea of other brands that are not your niche?
2) Production:
Even though design and production are the area where I excel, there were a lot of early production problems. Finding the right factory that could do the quality & technical work I needed, for a price I need, and in small quantities. It is almost impossible to find this. I went through about 1 year of trial and error (which comes with costs) to get it right.
3) Sales, PR & Digital Marketing:
Though the Facebooks and Instagram of the world make it possible to connect with your audience for "free" vs. traditional marketing; I have found that it is definitely not "free." The amount of time/money that is actually spent on creating content, connecting with influencers, trying to get press & PR is actually staggering. It's also not my world. I have found a lot of people that are consultants in this realm with high price tags, but actually getting people to do the work and implement the strategy at a reasonable cost has been really challenging.
4) Time
Honestly my day usually starts around 7am and finishes about 1 am. Everyday. Of course, I take breaks, work out, etc. but it seems like there is never enough hours in the day to get through the to do list. I have a "To-Don't" list now. Things I don't waste time on for the week because it's not as important as the others. It's kind of working.
5) Money:
Let's be real. This is the straw that often breaks the camel's back. When you are a small business you need money for everything and you are making none. There are constant expenses but no income. I saved for 12 years of my professional life by doing things like renting my apartment out when I traveled, selling things online, cutting costs whenever possible, putting away those bday checks etc. I have been living and using my professional life's savings to get through these last two years. It's so hard to know how hard it was to make that money, and see how quickly it is spent…especially when you are not profitable as a business. I am scrappy, try to be as scrappy as I can to get through because I love what I do. But honestly, it would be great sometimes to not have to do my own nails or wax. There has been a lot of YouTubing on how to do things myself to save money. My search history is pretty hilarious.
Alright – so let's talk business. Tell us about Nayali – what should we know?
NAYALI (meaning "feminine courage") is a premium women's athleisure label based out of Los Angeles, California creating contemporary fitness essentials for the D-Cup & Up woman.
Created for women who value luxury, independence, and an active lifestyle; NAYALI offers coverage, support, & comfort through innovative design & performance technology.
NAYALI celebrates feminine power with collections sized extra-small & up, featuring a bust fit that works for the D to G cup women & dress size of 0-12.
Our team ensures that each piece supports and compliments curves. Innovative design & thoughtful details flatter the larger chested women, providing both adjustability & coverage in the finest fitness fabrics.
Collections are given the benefit of time and thoughtful development, allowing form to marry with function.
Each NAYALI piece is wear-tested for support, adjustability and coverage — providing ease to move seamlessly throughout the day. Wherever you go, we've got you covered™.
Any shoutouts? Who else deserves credit in this story – who has played a meaningful role?
I have had so many people help out in the business the last two years, it impossible to name them all. It's hard as a startup, because you don't have any money to pay for experienced help, but it's the time in the business you need the most expertise and skill you can get. So, I relied on sharing my passion for what I was doing and the future potential of where we are going to find people that were just as excited to execute this vision. I have worked with all kinds of great people that have helped along the way, but in the end, I found that women who have either struggled themselves being large busted or have known people that have, seem to get the point of what I am doing right away.
They understand not only why the product makes sense but how it is filling BOTH a physical need and an emotional need for our customer. When they can see and share that passion, they get behind what NAYALI is all about.
Family:
My family has been unbelievable. I know everyone says that about their families, but honestly, I can't thank them enough. Both my parents are retired now, so they help me so much. From simple things like my mom making food for the week and dropping off groceries so I don't have to spend time doing that, or my dad calling every bank in town to get the best merchant CC rates. They also pack and ship all my orders, do research, do comp shopping, find random people I can talk to for questions I need answer. My brother helped with finding and shaping market research and my deck. And the support is just constant. There have been a lot of teary days, when you just want to give up. They keep me going.
Friends:
I won't even try to mention everyone, but my friends have been insanely supportive. From showing up to assist on photoshoots, to hosting photoshoots at their house, to being models in photoshoots. I have had friends who have taken pictures for social, make rice balloon boobs for pop-ups, have written articles, sold products, bought products, spread the word, made connections, just listened when I am down, connected me with people that I need to talk to, given me PR advice, given me sales advice. I have old friends and previous co-workers that have done patterns, technical design, and really been mentors in the areas I have been lacking. The support and love from my community has been overwhelming, and actually it makes me feel so so blessed.
Teammates: Currently I am working with a wonderful COO, Catie Saralegui. She is a seasoned marketing and sales pro with more than 15 years in media, marketing, communications, advertising, and branding. She is also super connected, and finds us great resources for the things we need.
Gyms/Studios:
Gotta thank the local gyms and studios that have helped get our pop up shops started. I love the team at Box 'N Burn in Santa Monica & Brentwood. We did our first NAYALI pop up shop called BoxNBoobs there. It was so much fun. The studio and trainers all donated their time, we had the guys all wear sports bras with balloon boobs for their workout to know what it feels like. Had an amazing Oncologist from UCLA, Dr. Aashini Master come give a talk on breast health, and breast cancer prevention. Proceeds were donated to Cancer Support Community Los Angeles. Was really an awesome day and event.
Contact Info: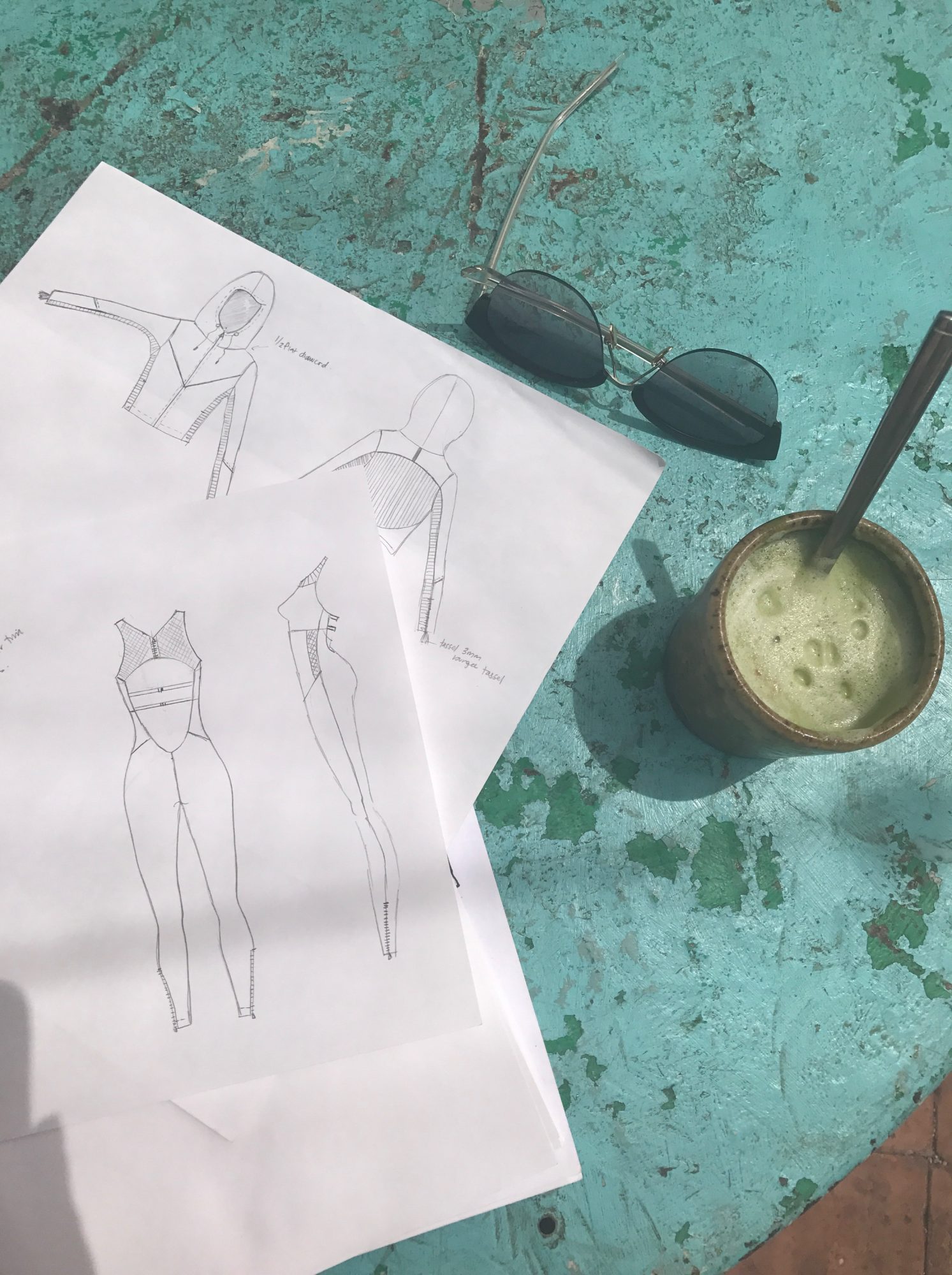 Image Credit:
Angela Marklew
Leon Ofsky
Getting in touch: VoyageLA is built on recommendations from the community; it's how we uncover hidden gems, so if you know someone who deserves recognition please let us know here.