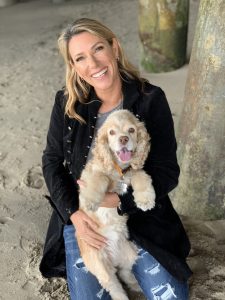 Today we'd like to introduce you to Shelly Fitzpatrick.
Shelly, please share your story with us. How did you get to where you are today?
I grew up in the country part of S.Calif. We had a ranch style home with chickens, dogs, cats, and horses. I was brought up to respect animals, and they were a huge part of my life. I learned the hard way about the lack of animal protection at a young age. Early one morning, our neighbor's wife came running up to our home crying. She told us her husband just shot our dog. Our dog was apparently bothering his birds, but instead of calmly trying to rectify the situation, he decided shooting it was the easiest remedy.
Today, he would have been sued, and that punishment still wouldn't be much- due to the lack of strong animal protection laws. Later in life, I started volunteering at an animal shelter, as I wanted to learn about protecting animals and saving them. Next, I volunteered for ASPCA and PETA, helping with animal abuse investigations and animal sheltering.
I still wanted to help more, so I started taking all of the animal rescue courses, online and at training locations, for animal search and rescue; and animal flood rescue. Then I took my FEMA and CERT courses to continue with my knowledge for animal rescue.
I founded Fitzpatrick Emergency Animal Search and Rescue and began rescuing animals at the Los Angeles and Malibu Fires. I helped rescue alpaca's, chickens, goat, pigs, and sheep. Then I started a rescue site for dogs and cats, called Lost and Found Pets in Palm Springs, and Laguna and Newport Beach. These sites are great, as they help save and reunite lost pets- and entire communities get involved.
About two years ago, I became aware of the most awful and brutal form of abuse and torture to dogs and cats. It is called the Dog Meat Trade. It is predominately in Asia, but it was legal here in the U.S. in 44 states. Can you believe that? A bill just got passed in 2018 making it illegal in all of our U.S. states. However, the dogs and cats in Asia are not as lucky.
So I started a site on called, "They Need Our Voice Save Dogs" and began sharing information about the Dog Meat Trade to help raise awareness. I traveled to South Korea in 2017 and 2018, to help support the local Animal Rights Activists in their fight to end the dog meat trade. Here locally, I have hosted two awareness events. The first one was on the dog meat trade in 2017, and the second one was on Aug 4th, 2019 to raise awareness on DMT and the need to save animals right here in our own backyard.
I used to eat meat until I started fighting against the dog meat trade. I had a "lightbulb moment" and realized an animal is an animal and it shouldn't matter if it is a dog, cow or chicken. No animal should be killed and consumed when we don't need them to survive. With plant-based meats and dairy-free milk and cheese, I am living a healthier and happier life.
I wrote a book called "50 Reasons For a Vegan and Plant Based Diet" which can be found on Amazon, Barnes and Noble, I-books and E-Books. It is a guide to help people see why they should help save animals, how they can improve their health, and protect the environment.
I'm currently in the process of completing my second book, which is a children's book for animal awareness and plant-based options, with lots of comedy and lessons. Lastly, I have been filming for over three years now, documenting animal protests, awareness events, and conducting interviews for my short film called, "The Animal Activist Film."
Has it been a smooth road?
No, it has not been a smooth road. When I went to my first emergency animal rescue during the LA fires, a ranch owner refused to release 30 of his dogs to us, to help ensure their safety. He did allow us to take the sheep and lambs, and we brought them to Cesar Milan's facility for temporary sheltering. Myself and other volunteers stayed to keep an eye on the dogs, and luckily the firefighters were able to stop the fire from reaching his ranch.
Emergency animal rescue is challenging, due to the fact that it is usually night time when people decide to evacuate. So, it is dark, smokey, and scary. Many people wait too late to leave, then ask for help for their animals. This puts them and the rescuers in jeopardy.
Some owners make decisions based on their profits on the animals, and not their safety. Some owners will let them run loose if the fire is too close, and rescue is not possible. Other owners are so grateful you are there to save their animals.
Then I have found myself at other ranches saving chickens and cows, and all the while, I'm thinking, "Sure, we save them now, but later they will be killed and eaten." That is hard to deal with, but my goal in that moment is emergency animal rescue and saving the animals now.
The worst is being in South Korea, where it is legal to torture and consume dogs. The pro-dog killers openly bring dogs to the anti dog meat protests, to harass them and shove it in their faces. The animal activists desperately need the world's help to end this barbaric practice. The challenge there is enormous!
We'd love to hear more about your work and what you are currently focused on. What else should we know?
My main business is Fitzpatrick Emergency Animal Search and Rescue. As the owner, I specialize in rescuing all types of animals. From saving a dog running loose in the middle of a busy road, to bringing animals like alpaca's goats, chickens and pigs to safety in the midst of a fire.
I would say that makes me the most proud, as I am doing what I believe I was called to do. To help save and rescue animals.
What sets me apart from others is that I am able to parlay my passion into other areas that are important to me, and help animals. The emergency animal rescue efforts help my lost and found efforts. The lost and found efforts help me to raise awareness for the dog meat trade. DMT efforts help to show people how to make the connection that all animals deserve to live. That in turn helps my book's reach more people to save animals, when they are interested in going plant-based, vegan, or vegetarian.
It's one big enso circle in my world. One effort helps the other. I always wondered why I couldn't just focus in one area, and now I know why. I'm meant to help in all areas of animal protection.
I also believe in supporting other activists, organizations, and volunteers. We are all in it for the animals.
How do you think the industry will change over the next decade?
I see the industry going plant-based over the next 5-10 years. With so many companies inventing and adopting plant-based and dairy-free alternatives, a big shift is coming. This will save animals, improve our health, and help protect the environment. There will be fights and lawsuits that come with it, regarding labeling and identifying of products such as "milk" and "meat." However, in the end, I believe that dairy-free and plant-based alternatives will win.
My hope is that China, Korea, Vietnam and other countries will also adopt these plant-based meat alternatives and end the torture and consumption of dogs and cats.
Pricing:
50 Reasons For a Vegan and Plant-Based Diet Book – $15.99
Contact Info:
Suggest a story: VoyageLA is built on recommendations from the community; it's how we uncover hidden gems, so if you or someone you know deserves recognition please let us know here.