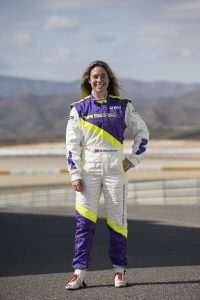 Today we'd like to introduce you to Shea Holbrook.
Fast Facts: 29-year-old self-made, professional racecar driver + business women & owner of Shea Racing, LLC. & Team SR Promotions, LLC. + Competing in the W Series & Lamborghini Super Trofeo Series + 7x PWC Winner + spokeswoman & entrepreneur + advocate for the Women's Sports Foundation & Duchenne muscular dystrophy.
Business and Sports: Shea Holbrook's strengths are not limited to her on-track abilities. In fact, her high-energy, keen eye for value, calculated risks and business expertise has created even greater value in her professional racing career. Shea Holbrook has developed an aptitude for business and entrepreneurship which demands the same level of risk and ferocity as racing. Recognized by motorsports industry veterans and respected business leaders around the nation, she knows what it takes to build successful partnerships and businesses. She is a persistent, driven woman with a knack for creative marketing and social skills. Shea's work-ethic which was born from humble beginnings have boosted her ability to continue pursuing her passion. Especially in a sport that takes cents to make sense.
About Shea: A sport that takes strength, adrenaline, speed, and risk-taking also demands respect, knowledge, and understanding. After ten years of impressive on track racing accomplishments, Shea Holbrook has become a nationally recognized racecar driver. Her diverse racing experience ranges from Sports Car Club of America, NASCAR Late Models, INDYCAR's Developmental Ladder Series, IHRA Nitro Jam Drag Racing Series, Bonneville Land Speed Records, and the Pirelli World Challenge and the W Series and Lamborghini Super Trofeo Series where she currently races. But her story is an unconventional when it comes to motorsports. Shea grew up a daughter to a US Navy rescue swimmer in Jacksonville, FL. An only child she was very close to her parents as their love for the water grew outside the Navy into competitive water skiing where Shea became a national ranked three-event water skier.
With humble beginnings, a transition into motorsports wasn't easy. But the drive and passion stemmed from one NASCAR experience in 2007 as a passenger turned Shea onto the sport which she decided to pursue. Initially, Shea started in high performance driving events and progressed into amateur racing. She continued her education where she graduated from the University of Central Florida with an Interpersonal and Organizational Communications degree and Minor in Marketing. With financial and opportunity limitations Shea had to become resourceful to grow her dream of becoming a professional racing driver. And that she did. Putting her degree to use Shea earned sponsorships becoming a spokeswoman for companies such as Lucas Oil, BUBBA burger, TrueCar, and COOLSHIRT Systems but she didn't stop there.
After running her own racing program, she turned Shea Racing into a multi-car professional effort in the Pirelli World Challenge. Her first mark in history was when she won the Long Beach Grand Prix in 2011 becoming the first female to win a major Touring Car race at the prestigious venue. Since then, Shea has gone on to become a 7-Time Pirelli World Challenge Winner and continues ownership of Shea Racing. Shea diversified her career when she broke into drag racing in 2014 when she piloted a 285MPH jet dragster in the IHRA. She returned to sportscar road racing moving up the ranks into GT racing running a full season in the Lamborghini Super Trofeo Series. One of Shea's most favorite career successes was becoming a Guinness Book World Record holder with Denise Mueller for the Paced Bicycle Land Speed Record at 183MPH at the Bonneville Salt Flats in 2018. A very unconventional, highly risky record they shattered the previous record of 167MPH set in 1995 and became the first women to own the record.
The paced bicycle land speed record is where a bicyclist drafts behind a vehicle up to 5 miles to achieve unbelieve human power strength and an enormous amount of trust and faith driver to cyclist. A massive accomplishment, one of which the world followed and was covered by 300+ media outlets including a short documentary by The Wall Street Journal. Currently, Shea has had a huge career change and one that she hopes will pay dividends. A ground-breaking all-female open-wheel series called the W Series launch late 2018. Shea was listed as one of the 60 drivers invited to the first phase in Melk, Austria. The W Series opportunity provides a fully-funded ride in a Formula 3 car for a six-race series in Europe with a mission of supporting female talent in racing. Shea went through vigorous physical, mental and driving evaluations observed and judged by some of the best in motorsports.
After a 3-day Formula 3 test in Almeria, Spain, Shea was selected as 1 of 28 to earn her spot on the grid. Which she did. Shea is now competing in an elite highly competitive group of 18 female drivers in the W Series with a global imprint in racing and quite literally changing the face of motorsports. Motor racing is an ever-changing sport and industry that forces you at the edge of your seat whether you're a fan, driver, sponsor or team owner. The hardships Shea's experience she doesn't talk much about because she chooses to focus on the positive and the future.
Racing at times has taken a physical, personal and business strain on Shea. Shea brings a maverick mentality approach to everything she does. She believes in giving and performing at her 100%. Some days we fall short and others we win, as long as we're giving our 100% we can persevere through anything. She also believes in taking action, doing what you say you're going to do. Many times, we don't follow through because of fear. She's motto is, "Fear is a state of mind, Will is an action taken." Shea has been recognized by the Women's Sports Foundation as a leading Women in Motorsport and earned the Lyn St. James 'Women in the Winners Circle' Project Podium Grant. With media attention from outlets such as espnW, Yahoo, Teen Vogue, The Wall Street Journal, The Player's Tribune & Autoweek.
So let's switch gears a bit and go into the Team SR Promotions, LLC story. Tell us more about the business.
First and foremost, Shea is a racing driver, it is her passion. And her career allows her the fortune of great opportunity, travel, networking and being on a global stage. Shea's success stems from her work-ethic and enjoyment of the business of racing. Earning a living racing has its highs and lows. Much sacrifice goes into living and earning the dream. The physical strength it takes to wheel a car at 170MPH withstanding up to 3 g-forces does actually correlate to the blood, sweat, and tears one must put into the business of racing. Shea has become widely successful in obtaining long-lasting partnerships and sponsorships working as her own publicist and agent. She truly is a one-woman show.
Through her own experience, Shea is now consulting with other drivers and teams on marketing and sponsorships with her company, Team SR Promotions, LLC. Shea also has taking on public speaking where she's been a keynote speaker and a panelist at many motorsport and non-motorsport events and conferences on various topics including, motivational and maverick driving business tactics for any industry. Performance and professional coaching is at the top of Shea's list, sharing her passion and knowledge of motorsports with others during private events and manufacturer programs.
Contact Info:
Getting in touch: VoyageLA is built on recommendations from the community; it's how we uncover hidden gems, so if you know someone who deserves recognition please let us know here.