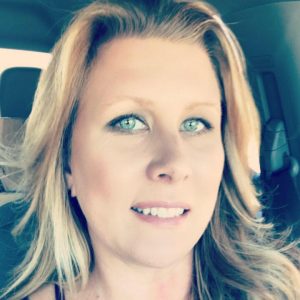 Today we'd like to introduce you to Shauna Grammatico.
Shauna, can you briefly walk us through your story – how you started and how you got to where you are today.
As a child I grew up roller skating at Skateland in Omaha, Nebraska with my friends and family. I had almost all of my birthday parties there until I was about 11 years old that is when we moved to Phoenix, Arizona. I was in a new place and a new school. Shortly after we arrived in Arizona I became friends with some of the kids in our neighborhood and they invited me to their local roller rink Great Skate in Peoria, Arizona. I skated there for the next few years (as often as my parents would let me) and on my 16th birthday I started my first day as an employee of this amazing facility. I worked there for about two years and loved every minute of it, but eventually I needed a job that paid a bit more money. Years went by, I moved to California with my boyfriend, we married and began a family of our own. During this time I put my passion for roller skating aside. I was becoming an adult with a career in finance and I just did not have time for what I would come to realize was my purpose in life. I worked in the "real estate industry" for the next 11 years until my husband and I decided to open a business of our own (my husband's dream). We ran this business together for the next 4 years and for all intense purposes I was basically a stay at home mom who ran payroll once a week and handled the bills, etc. I loved being a stay at home mom, but something was missing. Fast forward to 2010, I am happily married, my husband and I own G-Shock Electrical & Controls (a very successful commercial electrical & controls company) and we have two beautiful sons (Giovanni 7 and Giuseppe 5). In our smallish town of Murrieta, CA there was not much to do as far as "fun activities" for families. My kids and I spent many afternoons at the movies. I did not realize just how much "times had changed" from when I was a kid to this point. I spent my entire childhood outside until the street lights came on! When my kids began growing up I was too scared to allow them out of my site! It was a different time and no matter how safe you thought your home was……it wasn't! That was when I brought the idea to my husband for real…….we NEEDED a roller rink in our community! I had talked about the idea for years, I just never thought I would be the one to actually open one. Once my husband gave me the green light I moved forward, full steam ahead. For the next three years I met with over 30 banks, 15 random investors from all over the world and countless others to help me make my dream a reality. Everyone loved the idea but no-one would take the next step until we had proven ourselves successful. That never made sense to me since I needed someone to invest before I "proved" myself. I can honestly say that starting a small business was the hardest thing I have ever done (and we had already done it before, just not on this level). I shortly realized that I was in over my head and decided to seek out some help. Through various channels I met a man named Bill Carlson. He owned a company called WRC & Associates and ran a group called U-Profit. He turned out to be my saving grace! He worked with FECs (family entertainment centers) to make them more profitable and sustainable and prior to that he owned and operated four of the most successful rinks in California. We clicked immediately! He LOVED my ideas of bringing roller skating into the 21st century and from our first phone call he decided that he wanted to help me any way he could. Over the next three years I worked with Bill day and night to see my seemingly impossible dream through. He helped me write the most amazing business plan I could have ever imagined. We spoke 4-5 times a day about everything and changed said business plan about 100 times. Even when all seemed hopeless, Bill was there to boost my spirits and give me the push I needed to persist. He used to tell me "Don't ever settle for less; your potential is unlimited." I was more committed to this than I had ever been to anything. I am not a very visual person that is something my husband is extremely talented at, however I could not understand how something I was so certain of was so difficult. I knew this was going to be an amazing place for our entire community. I was trying to bring a bit of nostalgia from my childhood to all of our children. I kept saying "once it's open, everyone will see how amazing it is and all the struggle and fighting will have been all worth it". Then, it happened, we found a building that worked for our plan with the help of our amazing city and began negotiating a lease. I was over the moon. I still cold not figure out where the money was going to come from, I just believed with all of my heart that we would get it from somewhere. During the negotiations, Bill invited me to one of his U-Profit conventions in Las Vegas, NV to meet with other industry professionals and meet a few top roller skating vendors. On the first day of the convention Bill was giving a seminar about "how to give your customers and employees such an experience that they want to comeback over and over again". There were about 150 people in attendance and he made all of us stand up and introduce ourselves one at a time. He asked us to state our name, our rink name and our location. Since I was sitting closest to Bill, he had me start. Once I introduced myself, I kind of zoned out since I didn't know anyone else besides Bill there anyway. As we got closer to the end a man stood up, he said "my name is Bob Sietsema, my rink is Great Skate in Peoria, Arizona"……..I almost had a heart attack! Once the last person introduced themselves, I ran up to Bill to tell him the most bizarre news………I asked him if he knew Bob and told him that Bob was my FIRST BOSS!! I couldn't believe it. What were the odds that Bob still worked for Great Skate and that we were both at the same convention 18 years later????!!!! Once we got back from break, Bill decided to use this story in his presentation. What a better way to show how much your experience matters than to have one of your old employees open a rink of their very own……crazy right!? Well, Bill asked both Bob and myself to stand. Bob was super confused to say the least. Bill asked Bob if he knew who I was, Bob of course said no. Then Bill asked me how I knew Bob……I explained to everyone that when I was 16 years old I worked for Bob at Great Skate. Bob looked at me from across the room and said "Shauna Knowles, I can't believe it's you" (Knowles was my maiden name). I was dumbfounded! How on earth did he remember me after all this time?? How many employees had he had since then? After the convention we kept in contact and Bob is still today an amazing mentor of mine. What an awesome example of why you should never burn a bridge am I right? Anyway, back to reality, now after negotiating the lease for this building with my attorney and the landlords for a few months another business came in and tried to take my building out from under me. Since they had a proven business plan and of course, the money to back it up, I got pushed to the side. I was devastated!! It felt so close and now so far at the same time. I decided, no matter what, I was not going to give up until this other business was open and my chances were gone for sure. Until that point, I was going to put up the fight of my life. I emailed the landlord daily just to keep my hat in the ring. In the mean time I continued to search for financing. To my amazement, one of my attempts paid off and I got an approval letter from a bank in Florida. I forwarded this to the landlord along with one of my daily emails and to my disbelief they were experiencing issues with negotiations with this other business and they decided to put me back in first position…….OMG!!! I was ecstatic!! The next day we resumed negotiations and everything was going great. After a few weeks of negotiations, my attorney uncovered the worst blow of all time……my lender was a fraud! It took everything I had to call the landlords and let them know that I had to back out of negotiations after all. I was crushed! Then the MOST AMAZING thing happened, since the landlords I was negotiating with were owned a bank, they called me back and told me that they were so impressed with how persistent I was and even though I had no proven business plan or even a history of owning this type of business they believed in me!! They told me that they had never done anything like this before but they had decided to take a chance on me and give me some of the money I needed to open my business. They said that no matter what they threw at me I stayed strong and didn't waiver in my belief. I would be lying if I told you I didn't cry my eyes out!! This was such a blessing I didn't even know what to say. I like to tell people that it was all of my good karma paid forward all at once. We eventually came to an agreement on the lease (it took a total of 6 months to come to an agreement) and began construction. My husband and I sold everything we could and pulled together ALL of our money to make up the difference we needed to get our business open. Bill was there every step of the way to help us with vendors, hiring, operational plans, etc. My husband worked with our GC Pat Coloratuolo 24 hours a day for 6 months to get the rink opened in time for Winter break. I was at the city almost daily to get the necessary permits, etc. that we needed. I cannot take all the credit by any means for this amazing facility, it truly took an army to get it up and running. We opened our doors on December 21, 2013 for the first time. I cannot describe the feeling I had to look around at all the family, friends and supporters there at the opening. It was a bit like child birth……it hurt like hell to get there but in the end it was all worth it. Now, I had never owned or ran a roller rink before in my life……that was where Bill came in. He had made it his job to teach my husband and I how to be the best FEC operators in the world. Well, about six months after we had opened I got a call from Bill telling me that they had been diagnosed with cancer. He told me not to worry, he was a fighter and I believed him. Unfortunately, his cancer was aggressive and we lost him a few months later. I felt lost! Bill was not only my mentor, he was as close to me as a friend could be. I held his memorial service at my roller rink. He told me once that he did not have to worry about opening his dream rink because I had already done it for him. There is not a day that goes by that I do not walk into my facility and think of Bill. He is all around me everyday and that brings me peace. We are now five years into our adventure, we have 34 employees that work with us (including my two boys now 12 and 15) and we just purchased the building we have been leasing all this time. We have made so many new relationships with the business that we never would have if we would have just given up when it got hard. Our team is a family and that is what our customers see.
We're always bombarded by how great it is to pursue your passion, etc – but we've spoken with enough people to know that it's not always easy. Overall, would you say things have been easy for you?
Has it been a smooth road?? ABSOLUTELY NOT!!! We were literally turned down for financing everywhere we turned. My husband and I have amazing credit, we own our home, two rental properties as well as another business that has been successful since its inception and still NO ONE would give us the time of day including the SBA…….I was SO confused! I had been in the "real estate/loan industry" for long enough to know what a good credit scenario was, however I was told that the "entertainment industry" was tricky. I thought the SBA was around to help small businesses get their start……I was wrong!
Another struggle came during the design part of the facility. I was told when we leased the building that we could knock down two of the existing walls that we NEEDED to knock down in order to build the rink. It turned out that they were "sheer walls" that prevented the building from toppling over in the event of an earthquake. Wwhhhaaaattt???!!! This meant we needed to hire an engineer (that wasn't in our budget) to redistribute the weight so we could cut back the wall…….that only cost us an additional $250K we were not expecting! Ouch!
The hiring process was CRAZY!! Once we posted the ad that we were now accepting applications we received over 900 applications in 6 days!! It felt like everyone in the entire city wanted a job. We decided to do group interviews with 50-100 people at a time. We held the interviews at a local comedy club in our shopping center, ACEs Comedy Club, thanks to our good friend Rocky Osborn. They were the most fun I had ever had at an interview. We wanted our employees to be fun & outgoing so we had things like group dances (chicken dance, hokey pokey, etc.), a talent portion where candidates sang, cheered, told jokes, etc. It was SO much fun! We narrowed it down to 72 employees to start……it was excessive but we had a limited amount of time to train so we started high and thinned out the herd over the next several months. We did not know exactly what number we needed to keep the facility running but we figured it out and decided on 32-34 people was what worked for us.
So, as you know, we're impressed with EPIC Rollertainment – tell our readers more, for example what you're most proud of as a company and what sets you apart from others.
EPIC Rollertainment is a state of the art family entertainment facility located in Murrieta, California and our main attractions is roller skating. Our facility fits the Murrieta area entertainment culture and is synonymous with an active, lively, energetic, quick, sharp, keen, invigorating, traditional, contemporary and stimulating, family environment, it's what roller skating is all about. Our business brings together several synergistic industry concepts under one roof. Our facility is anchored by our 12,000 square foot solid maple roller skating arena that we also use for large private functions, concerts as well as serve as a meeting place for community events and causes. We have a café/restaurant called "Joe Seppe's Beached Bistro" with a facade of a food truck (we are actually the only roller rink that features a full kitchen instead of just a snack bar. All of our food is "made to order" and the only think you will ever find in a warmer is our pizza slices. We also offer local beer and wine as well as wine based cocktails), a kid-centric indoor playground and an arcade experience that includes the largest scrabble board ever where everyone feels the fun. We also offer three private party rooms; Harpoon Lagoon, Hurricane Hideout & Mr. Bills VIP Lounge (the exterior of our VIP room is a replica of a bar my father owned in Omaha, Nebraska when I was growing up). We also feature a great novelty store and pro shop that includes local merchants as well as all the best of the best in roller skating merchandise. Our VIP room also acts as a corporate meeting room equipped with audio, video and computer interface for business and educational meetings and seminars. The theme of our center reflects Southern California beach cities culture and lifestyle well known throughout the world.
We offer a program for youth ages 11 and under called Kids Skate Free where they get two free admission passes every week to skate at our facility. We keep the program year round and have over 20,000 kids signed up! We also offer roller skating lessons on Saturday mornings that are taught by a world champion skater Vicki Handyside. We offer three different levels; beginners, intermediate & advanced. For adults that already know how to skate and are interested in learning how to perfect their roller skating or learn a new trick they can come on Wednesday nights for adult only lessons that are taught by our very own George & Diane Osorio.
So, what's next? Any big plans?
My goal is to perfect our business model in order to franchise this business and have an EPIC Rollertainment in every city in America. My initial goal when we opened was 5 centers in 7 years, however we have spent the last 5 years, I soon learned how unrealistic that was.
We are in the process of adding an educational STEM program to our business that will be education and fun, all rolled into one! STEM is a unique educational experience that gets students EXCITED about learning! Students will learn how the concepts of SCIENCE, TECHNOLOGY, ENGINEERING and MATH can be found in everyday experiences, even FUN experiences like ROLLER SKATING! Our professional STEM Educators will teach visiting students about how STEM principles exist in just about every part of life. The lessons focus on hands on activities that are both educational and fun! Lessons are customized based on teachers needs to DIRECTLY RELATE back to classroom learning making this program completely unique! Following the completion of the 1hour STEM Lesson, the students will eat lunch and then roller skate for physical fitness. While Roller Skating the concepts students learned are continually reinforced. Our lessons will be designed not only to help students overcome their fear of learning STEM concepts but to show how STEM is both FUN & EXCITING! By adding this STEM program to our business we will increase our presence and our value in our community. Unfortunately, the school districts today don't have the funding for field trips any more unless there is an educational element present. This program will check all the boxes necessary to give the kids a field trip they want.
Contact Info:
Getting in touch: VoyageLA is built on recommendations from the community; it's how we uncover hidden gems, so if you know someone who deserves recognition please let us know here.