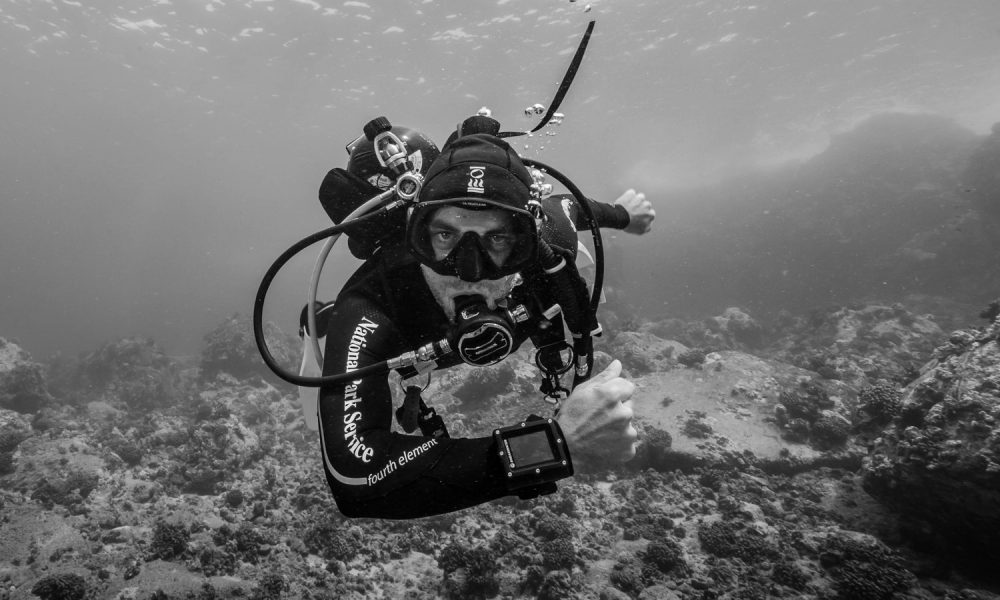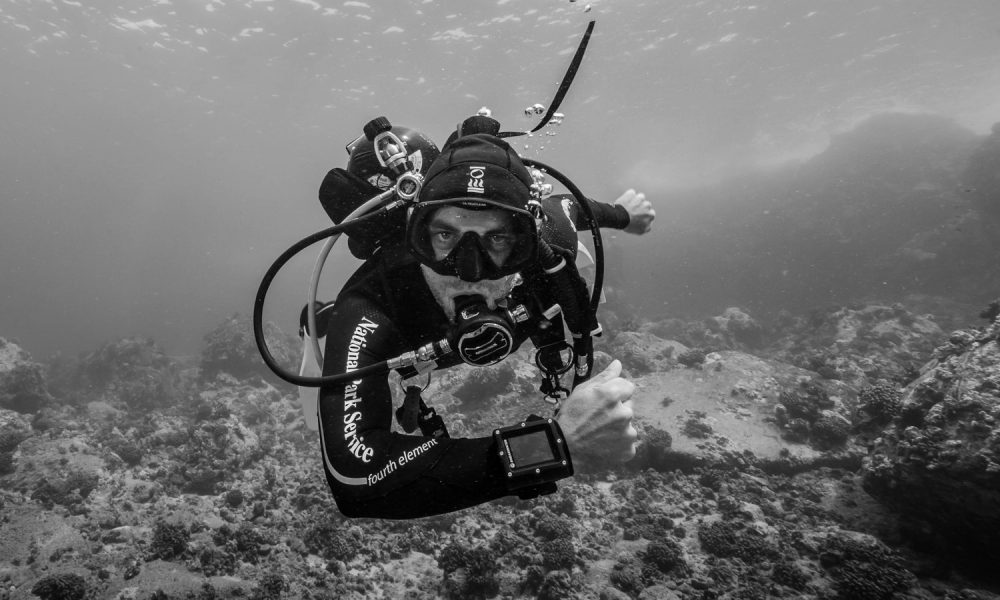 Today we'd like to introduce you to Shaun Wolfe.
Shaun, can you briefly walk us through your story – how you started and how you got to where you are today.
I was a sophomore at Santa Monica College majoring in Music Performance. Between the long practice hours behind a drum kit and the commute everyday over the 405 from the Valley, I was getting burned out and wasn't feeling fulfilled by academic music.
I had always had an interest in marine science since I began working and living on Catalina from the age of 16. I enrolled in a marine science class on a whim and was incredibly lucky to have the most engaging and inspiring professor I've had to this day. I was simultaneously taking a photography class and had been interested in photography since spending time backpacking Europe two years prior.
Ultimately, I wanted to combine my love for outdoor recreation and my visually creative inclinations while having an impact on the marine environments I cared most about. I thought I'd be able to do that when I transferred schools, but that didn't end up working out for me. Some of the people around me discouraged me from exploring a career behind the camera and I began to think that it wasn't really an option. I thought the idea of conservation photography was a pipe dream and instead began my career as a marine scientist.
I worked contract jobs at different aquariums, volunteered with conservation organizations and other aquariums, worked part-time as an adventure guide, and continued to work on and off on Catalina Island. More often than not though, I was working at restaurants. I found it incredibly hard to get hired anywhere full time. I traveled a lot during those years, which looking back, probably helped drag me back to photography. I get really inspired by new places, cultures, and landscapes. I also spent a ton of time and money beefing up my scuba resume. I worked through the ranks to become a scuba instructor and got my scientific diving certification.
Eventually, I got sick of not getting hired and felt like grad school was the only option. I went to the Bren School of Environmental Science and Management at UC Santa Barbara. The Bren School was a great experience for me in many ways, but really impacted my career trajectory in a way I didn't expect. I thought I was going to The Bren School to begin a life of diving for science. Instead, I was surrounded by people who encouraged me to pick up a camera.
That paid off quickly. I received the prestigious National Park Service Internship through Our World-Underwater Scholarship Society® in 2017. The internship allowed me to travel to remote corners of our oceans to capture images of both pristine and damaged environments and the science that was being done in both. It was an incredible life experience, but also really launched my career. I could have never afforded the equipment I was using and I would have never had access to the places I went. That experience single-handedly formed my portfolio in the beginning.
After graduating with a Master's Degree in Environmental Science and Management from The Bren School, I began freelancing full time as a photojournalist and cinematographer. I think many of my friends in 9-5 jobs really romanticize freelancing, but it can be downright brutal if you're not working enough. That being said, it can also be glorious. It's taken me to some amazing places and I've been able to film really wonderful things that have impacted people.
I'm really lucky to say that I've worked with and for some really talented people. Some of the recent companies I've worked with are Plimsoll Productions, Nomadica Films, Sound Off Films, Even/Odd Films, National Geographic, Netflix, The New Yorker Magazine, and Bloomberg Green.
Great, so let's dig a little deeper into the story – has it been an easy path overall and if not, what were the challenges you've had to overcome?
It has definitely not been a smooth road — and still isn't! From the discouragement I got trying to get into the field (ultimately delaying me 4-5 years), to not knowing if I could pay rent many times during slow periods of work, to not being able to break into the more "blue chip" higher-end work. It has been a constant struggle, and COVID has challenged the production world as much as it has many others. All the projects I was supposed to shoot this year are canceled or on hold.
To point to one specific rough patch: I was fairly fresh out of grad school and had just finished up a fellowship creating a pilot documentary series for Southern California Edison on a clean energy program. I had no work on the calendar but was got a cool travel opportunity where I would put in some camera work along the way (I don't recommend this for young camera people! Exposure is not money!). That job didn't get me any exposure really and when I came back, I couldn't find any work for almost three months, which meant I didn't have a paycheck for almost four months. No matter how many emails I sent, pitches I put out, etc., there was just nothing. As a poor recent grad student, that pushed me to the brink financially. I ended up picking up some restaurant work to survive until the next job came, which was a pretty great gig for me as someone relatively new to the field with the New Yorker Magazine that came as a result of me networking during the slow period.
That being said, freelancing as a cinematographer and photojournalist does get easier as time goes on. You meet and work with more people. You start to build a client list of people that could hire you again, you get recommended for jobs, etc.
I was also really blessed to grow up in a middle-class home where I wasn't expected to help provide for the family as soon as I graduated undergrad. I lived at home until I moved for grad school and I couldn't be what I'm doing now without the support I had then.
We'd love to hear more about your work and what you are currently focused on. What else should we know?
I'm an underwater camera specialist, but I also shoot a lot of topside (land-based) images, aerial images, and I end up using gimbal systems (camera stabilizers) a lot in my work (especially on boats!).
My overarching goal is to have an impact; an impact on public perception, government policy, or individual action. I saw early on in my career as a marine scientist that we face many environmental and social challenges as a global society. I think media is one of the best ways to impact these challenges— highlighting both the issues and the solutions.
I am really proud of what I've been able to do in my early career with limited equipment and budget. As I continue to grow in this field and work on higher and higher budget projects, it's pretty awesome to look back on what I was able to create in my earliest days with very very little. What I'm doing now is definitely higher quality, but I'm proud of my younger self for being able to create decent films and photos with just a little bit of knowledge and gear but a whole lot of passion.
Aside from my hard skills like scuba diving, expedition experience, and camera experience, I think my willingness to go anywhere, do anything, and push the limits of equipment is a big part of my value. I also think my *charming personality* is half of why I get hired. I like to have fun as much as professionally possible on location. Shooting on location is often super stressful. Production companies have usually invested tens if not hundreds of thousands of dollars into shooting at your location, in you, gear rentals, and the location itself sometimes. They expect you to get the shots! After 15 hour days, when the whole crew is exhausted, stressed, and beat up, it really helps to keep things light and fun.
This usually works out pretty well for me, but there was that one time I encouraged the crew to blast "Old Town Road" while I was driving through a pretty massive pool of mud in east Texas in our 2-wheel drive rental car. We got stuck, spent the next hour or two digging on our hands and knees, got the car washed, and made our flight by the skin of our teeth– all good in the end!
What moment in your career do you look back most fondly on?
It's hard to point to one, but my proudest moments come when mentors and people I really respect in the field compliment my work. I also feel a great sense of pride when the subjects of my films and photos feel well represented and are happy with the finished product.
I will say that the last project I worked on for Plimsoll Productions is the biggest project I've worked on in my career. Though I played a small part in the final piece, I am super proud to have worked on it in any capacity and can't wait to share it when it's published.
Contact Info:
Image Credit:
Shaun Wolfe
Suggest a story: VoyageLA is built on recommendations from the community; it's how we uncover hidden gems, so if you or someone you know deserves recognition please let us know here.