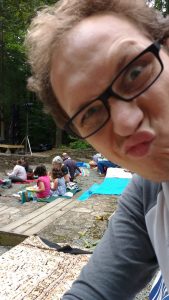 Today we'd like to introduce you to Seth Lawrence.
Seth, can you briefly walk us through your story – how you started and how you got to where you are today.
I am from Utah. I used to be a lawyer in North Carolina. I used to think I had everything figured out. I also used to poop in a diaper.things change.
Currently, I am a stay-at-home dad by day and a stand-up comedian by night, which are two things I never thought I would be doing. Growing up, I viewed stay-at-home dads as losers. I even thought that women staying home were a bit icky, but it's more culturally acceptable. My mom worked throughout my childhood (and still does) so I used to think that anyone who stayed home was kinda lazy. I didn't want to be a loser. I have come to realize that being a stay-at-home parent is hard work that presents its own unique challenges. Shame on me for ever thinking otherwise.
My parents are very practically minded people. They taught me that I would need to be prepared to support a family. So, I studied hard in grade school, did fairly well, went to Brigham Young University, met a fantastic woman, got married, graduated from BYU, applied and was accepted at the University of North Carolina in Chapel Hill School of Law — mostly because my wife had been accepted into their accounting Ph.D. program. And eventually got a job as a lawyer with a small firm in Raleigh. Oh, and we had two kids somewhere in there. Everything had gone according to plan, for the most part. Then my wife graduated from her doctorate program.
My wife got an offer at USC, which came with a cascade of consequences. We would need to move. I would have to sit for the bar again if I wanted to continue working as a lawyer. I hated the bar exam in North Carolina. I had to take it three times before I finally passed it. California's bar is notoriously difficult. I was working about 50 hours a week with the firm in North Carolina, which was a great fit, but unusually family-friendly. I would need to plan on working upwards of 6o to 70 hours a week at whatever new job I would find out here. We would need to find childcare for our kids here in LA. We had two with one on the way. Full-time child care for three kids is pricey. I would not see my kids or my wife. Did I want that? Especially if I no longer needed to work? Was I happy working as a lawyer? Did I want to be a stay-at-home dad? Did I want to be a loser?
My wife and I discussed what I would do in LA. A large part of the reason we wanted to come to LA is so that I could pursue a career change. I have always loved standup, improv, and sketch comedy. I was a performer with Comedy Sportz in Provo, Utah for about a year before entering law school in North Carolina. I loved performing with that troop. While I was in law school, I did standup one time at a yearly variety show put on by one of the clubs in the school. That was still one of my most enjoyable performances. I would even occasionally go to Goodnights in Raleigh to do standup at their open mic. I loved having comedy as a hobby, but moving to LA meant that I might be able to take comedy seriously.
The stereotypical comedian comes from a broken home or experienced temporary or chronic trauma or suffers from some form of mental illness. I didn't fit any of those stereotypes. My parents loved me as a kid, and I knew it. I don't remember any particular trauma, no serious illness, no death or loss that deeply affected me. I had a normal, boring childhood, as far as I knew.
The only aspect of my upbringing that has set me apart from a majority of people I know now is my religion. I was raised as a member of the Church of Jesus Christ of Latter-day Saints. Being a member of the Church wasn't anything special in Utah. All of my friends were members of the Church. Most of my friends and I were good members of the Church. We all were baptized at 8. We went to church every Sunday. We all served missions at around age 19, all in different parts of the world. I went to Quebec, Canada. I am very thankful for my religious upbringing and for the experiences I had serving in Quebec, Canada. I still go to church every Sunday, now with my wife and three kids.
The point is that as I have been starting standup, I have been trying to find my comedic voice. At first, I was ignoring my religious part of myself and was getting very little attention. Once I decided to be more open on stage about believing in God and about my particular brand of Christianity, my comedy was more genuine and unique. Since making that move, I have performed at The Comedy Store in Hollywood and the Hollywood Improv.
I now have started to produce and host my standup showcase show called Clean Up Comedy. It's a monthly show designed to give standup comedians a space to perform late-night TV material in front of an audience that wants material a bit cleaner than what they would typically see in a comedy club. My vision for the show is to make it the top audition space for the late-night TV circuit in LA. It's a very fun show that has started to get a small but devoted following. We are currently doing the show at The Bunker in Burbank, located at 3220 W Burbank Blvd, Suite B. Follow me at @onlysethlawrence on Instagram for all my upcoming shows, including Clean Up Comedy.
Great, so let's dig a little deeper into the story – has it been an easy path overall and if not, what were the challenges you've had to overcome?
Becoming a lawyer was difficult. I had to take the bar exam three times before finally passing it. I most definitely faced self-worth issues and undiagnosed, untreated depression.
When first deciding to be a stay-at-home dad and standup comedian, I again faced questions of self-worth. Being a standup comedian is an emotional and mental health roller-coaster. Each performance is a unique tidal wave of feedback. The temptation is to attach self-worth to each performance. I find that having a wife and kids has helped me to disassociate my self-worth from each of my performances. Whenever I have a bad set, I can go home to people who I know love and support me. That really helps.
Please tell us about your work.
I think I am known by other comedians, as a nice guy. I also think I am known for being a married guy with three kids and for being a pro-religion comedian. I have a podcast called Disorganized Religion. I talk to comedians about their thoughts on comedy, their history in standup, and their thoughts on religion and spirituality. So, I think I have been creating my image as a religious comedian. My comedy focuses on my life, which inevitably discusses my religion, but I also have a rather dark sense of humor. I want to do comedy to bring religious and anti-religious people together.
Do you look back particularly fondly on any memories from childhood?
Occasionally, my parents would take me and my siblings to the BYU Creamery. I would get a root beer shake. Root beer shakes were not on the menu, but some nice guy working the counter at the Creamery saw fit to do me a solid when we showed up. Those shakes were the best shakes I have ever had.
Contact Info:
Suggest a story:VoyageLA is built on recommendations from the community; it's how we uncover hidden gems, so if you or someone you know deserves recognition please let us know here.