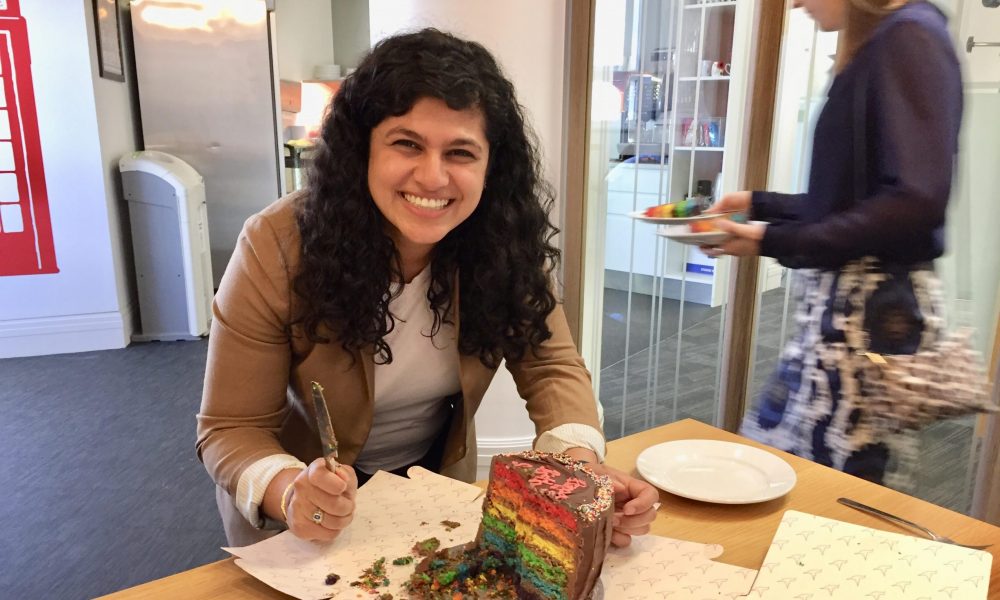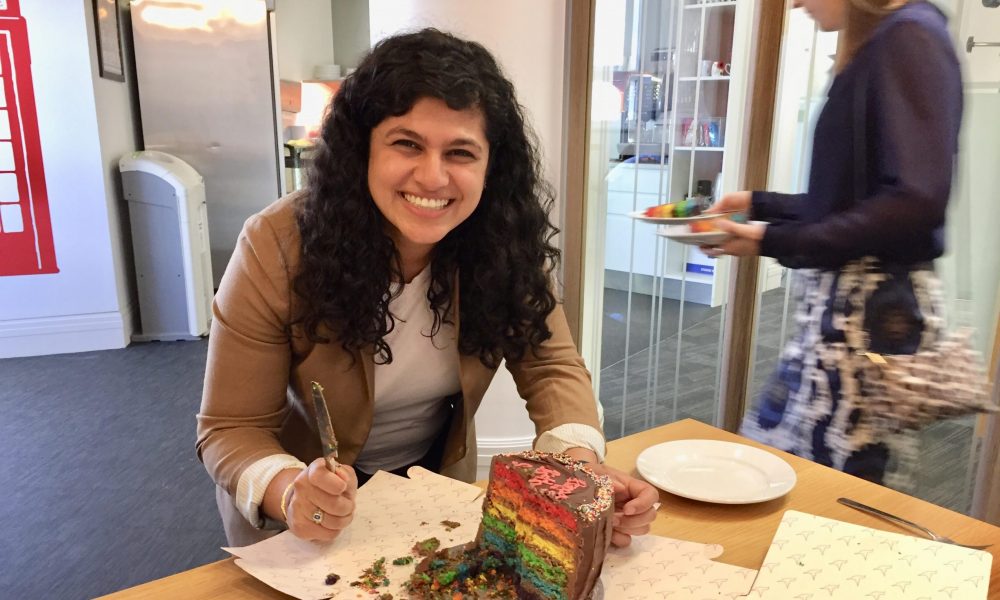 Today we'd like to introduce you to Serrena Iyer.
So, before we jump into specific questions, why don't you give us some details about you and your story.
Before moving to LA, I had only lived in New York City and Connecticut. I went to college at Yale, and was a trader at Goldman Sachs in New York City. After a number of years in finance, I went to Harvard Business School, planning on returning to Wall Street afterwards.  But I've always loved film and TV- especially kids' entertainment, with its artistry and power to connect families and shape how we see the world for the better. I eventually realized it was a passion worth pursuing, and instead of going back to finance, I ended up moving here to work at DreamWorks Animation.
I had only been in Los Angeles for a year and a half when the COVID-19 crisis hit. In the first couple weeks, I noticed classmates posting about Off Their Plate in other cities. Founded in Boston by my incredible HBS Classmate, Natalie Guo, Off Their Plate has a simple formula to spread a lot of good. We 1) collect donations, 2) spend them on meals from local restaurants so they can keep their staff employed, and 3) donate these meals to those on the frontlines of COVID-19.
When I read about OTP, I thought it was an incredibly elegant way to help a lot of people and messaged Natalie to suggest an LA restaurant. It turned out OTP had just launched in LA and they were looking for someone to take over running and growing the operation here.  Given I still have a day job that I love, I was a bit daunted by the task, but realized this was one of the most impactful ways I could personally help fight this crisis that's affecting so many people.  So I felt compelled to jump in and do my best!
It has turned out to be one of the most rewarding experiences I've ever had. In only a few short weeks, our LA team has grown to be 25-strong, made up of folks ranging from management consultants and lawyers, to culinary students and college freshmen– every single one of them, an unpaid volunteer balancing OTP with work or school.  Because of this team and the broader OTP movement, we've grown rapidly.  We are working with 25 hospitals/health clinics and 19 restaurants across the county.  Our operational team has worked closely with our partners to make sure we're meeting their needs and helping them succeed.  And we've used the analytical brains on our team to dive into research and ensure that every donated dollar goes to places where it can have the most impact.
Los Angeles Mayor Eric Garcetti talked about us in one of his daily briefings, saying we embodied "the Angeleno spirit at work."  We've been further supported by folks like Nick Kroll & John Mulaney on their Oh Hello podcast, as well as a number of corporations like Farmers Insurance, Amazon Studios, Estrella Jalisco, and Bumble.  Even former President Barack Obama posted about the national Off Their Plate movement on his Instagram.
Finally, and most importantly, we've had the real pleasure of hearing from restaurants and hospitals that our work is making a difference– both economically and emotionally, as our partners and their employees see that folks are thinking of them and donating their money and time to help.
As Helene Henderson, the founder of Malibu Farms, said, "When we joined Off Their Plate, we joined a journey of hope, a reason to get up in the morning and to keep moving, a belief in the future and in all things good. Chefs, cooks, restaurant employees have always been makers. Every person wanted to be part of the solution and help where we could. We are incredibly grateful that we can continue to make and to give, during this crisis."
As a relatively recent transplant, I have found that getting to know LA through my OTP experience has brought me to love this city exponentially more– certainly not what I expected from self-isolating in my apartment! But I've had the great luck to work with some of the most extraordinary Angelenos, from my OTP team to our resilient restaurant and hospital partners.
And if those people don't make this place home, I don't know what else could.
Has it been a smooth road?
A first awkward challenge we faced was that stay-at-home had already started when we all started working together! Of the 25 people on my team, I've only ever met two face-to-face! Instead, we've had to virtually develop trusting relationships as we collaborated to grow Off Their Plate's impact in LA.
As expected, this has meant many video chats, as well as remembering to give everyone the support, attention and motivation they need, but may not as easily get in a fully Slack-based "office space."
I've personally tried to find fun, albeit very cheesy, ways to mitigate this odd circumstance: like changing my Zoom background throughout our team calls to match whatever we're excited about at the moment (e.g., when we were on a fundraising push- Jerry Maguire's "Show me the money" moment; when Estrella Jalisco donated- waterfalls of beer; or when our Harvard Law volunteer finished her last exam between fundraising calls- Elle Woods, of course.). We even took a "team picture" together on Zoom one day (read: a slightly blurry screenshot). Luckily however, everyone in OTP is already so intrinsically motivated and they get so excited for each other's successes, that the group's spirit is organic and infectious all on its own, and that makes working hard in "off-work" hours so rewarding.
Another challenge we faced was that LA was constrained by fundraising when we first launched. That meant having to tell numerous restaurants and hospitals that we couldn't help them— yet. However, as described above, my team was determined. We got a new fundraising lead, Meghan Murphy, and put together a strategy for how we were going to canvas the city for help. Meghan and her team of volunteers sent out over 200 cold emails in their first ten days, and we had myriad Zoom chats pitching OTP LA and how we wanted to help the community. Generous partners started to turn up and at last, we were at last able to go back to those restaurants and hospitals and finally say, "Welcome to the Off Their Plate family."
OTP LA is on track to serve over 50,000 meals by the end of June.
Please tell us about Off Their Plate.
Off Their Plate is a grassroots movement that is entirely volunteer-run. Our work provides a conduit for the community to provide during a moment of crisis: provide nutritious meals to the hospital teams we depend on, and revive restaurant jobs in our communities.
Off Their Plate was started in Boston and since launching on March 15, OTP has raised almost $4M in donations and expanded to New York, San Francisco, Pittsburgh, LA, Chicago, Washington DC, Philadelphia and Seattle. We've partnered with Jose Andres and World Central Kitchen as our fiscal sponsor and donations engine.
100% of donated funds go to our restaurant partners to prepare meals and provide economic relief to their workers. The rest of OTP is run fully by volunteers. For every $100 donated, you send 10 meals to our COVID frontline and restore ~3 shift hours to the community.
What sets us apart is the same thing I'm most proud of — OTP is a team of unpaid volunteers who are juggling day jobs and classes. That means we have minimal overhead and every dollar donated can have maximum outsized impact.  Personally, what that also means, is that I get to work with folks who are passionate, inspiring, and unequivocally dedicated to helping as much and as soon as possible. It's hard to find the "perfect" time to take on what's effectively been a second job, but everyone knew they couldn't afford to wait for the right moment during this crisis.  It was now or never, and I'm lucky so many people chose now.
Is our city a good place to do what you do?
When I first moved here, I thought Los Angeles was a sprawling city. What I've found through working with Off Their Plate, is that Los Angeles is made up of tight networks of individuals in local communities who all support one another, especially in times of crisis. For example, Helene Henderson of Malibu Farms sent some of her staff to pitch in at her supplier's local farm when she saw he was having trouble meeting the community demand. Another example is the team at Jon & Vinny's — they are connecting us with other restaurant partners whom they are helping us to support. This community spirit has been fundamental to helping Off Their Plate gain so much momentum in such a short amount of time, and I like to think I've only seen the tip of the iceberg.
Pricing:
For every $100 donated, you send 10 meals to our COVID frontline and restore ~3 shift hours to the community. For every $5k we raise, we serve 500 meals and support 150 job hours back online.
Contact Info:
Website: www.offtheirplate.org
Email: serrena@offtheirplate.org
Instagram: @offtheirplate
Facebook: @offtheirplate
Suggest a story: VoyageLA is built on recommendations from the community; it's how we uncover hidden gems, so if you or someone you know deserves recognition please let us know here.