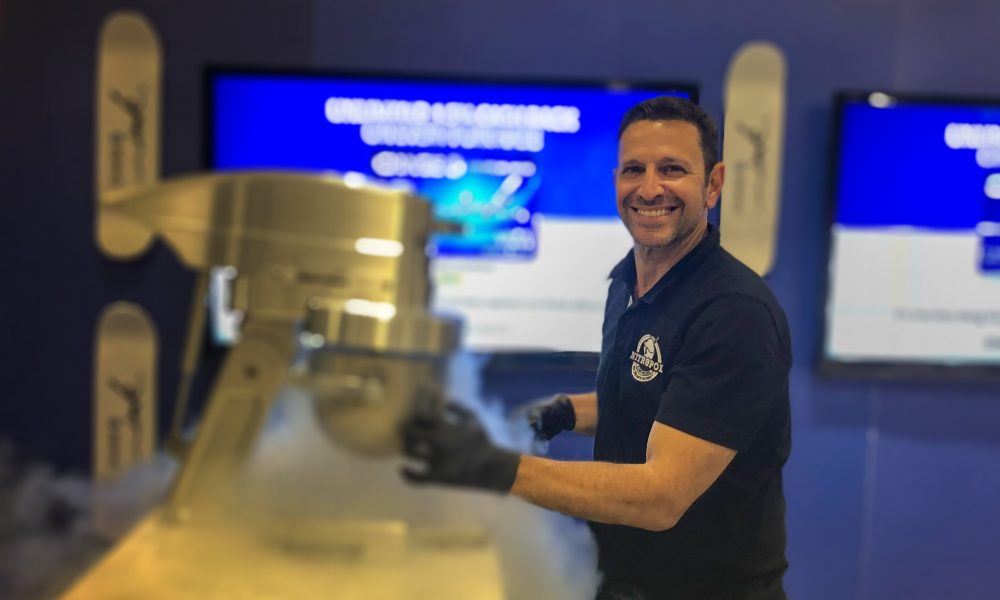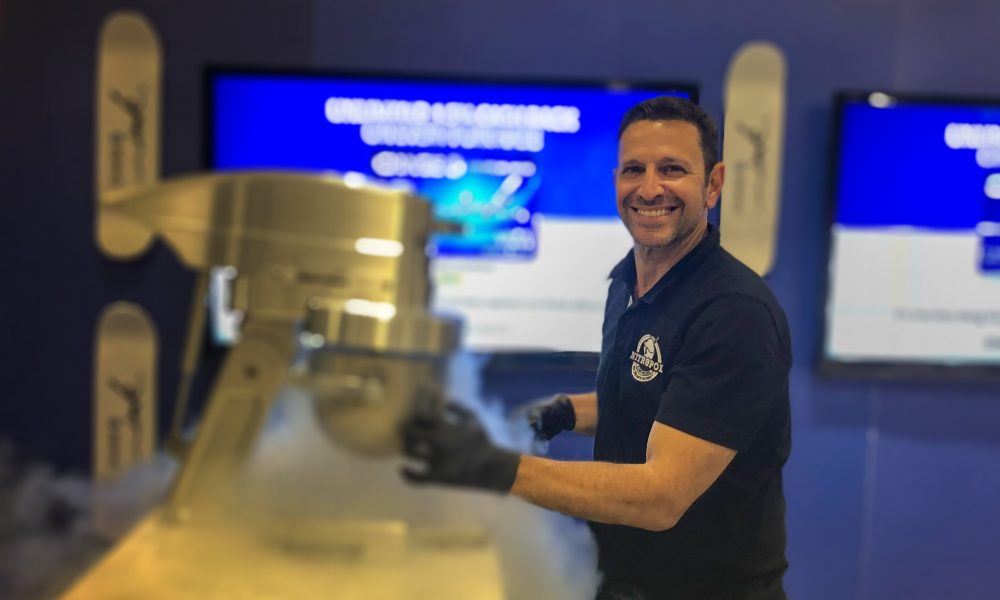 Today we'd like to introduce you to Scot Rubin.
Scot, let's start with your story. We'd love to hear how you got started and how the journey has been so far.
It all makes perfect sense. After 20 years as a talk show host and co-founder of the world's first video game TV Network, I built California's first liquid nitrogen dairy plant, ice cream truck and catering business. The idea came during my annual trip to Burning Man in the sweltering Black Rock Desert. What if I could make ice cream for thousands of people out in the desert using liquid nitrogen. I read about it on the internet, it had to be true! I did some research and decided to find out. It's true because science! Liquid nitrogen is added to the ingredients and they flash freeze instantly. No ice crystals. We spin it a few times to create a silky smooth texture without any preservatives, stabilizers, or gums. Ice crystals form when things freeze slowly. It's truly like magic and creates the freshest, cleanest, creamiest ice cream and sorbet in the world.
My friends and I drove 60 gallons of coconut milk and 400 liters of liquid nitrogen 23 hours from LA to Burning Man. We set up a table and started freezing the coconut milk and adding things like fresh fruit in one batch, chocolate and chia seeds in the next. Soon the word spread and people were coming from all over the festival with ingredients in hand. We crafted hundreds of batches and gave thousands of scoops away for free. Everyone said the same thing. This is the best thing I have ever tasted. Nitropod was born six months later when I stripped the RV bare and turned it into the first liquid nitrogen kitchen on wheels.
Six years later, we have served hundreds of thousands of scoops all over California, Nevada and New York. We made ice cream at movie premieres, weddings, product launches and hundreds of bar-mitzvahs and birthday parties. People kept asking us at events, where can I buy this! So we are also available to pick up at AusSam Candy and in the Sierra Canyon school store to start. We have been focusing on adding additional wholesale clients and expanding our mail order business.
Great, so let's dig a little deeper into the story – has it been an easy path overall and if not, what were the challenges you've had to overcome?
I wish the road was as smooth as our ice cream, but it's been anything but smooth. The health dept. flat out refused to let me build a liquid nitrogen ice cream truck. They didn't understand it, they didn't want to be responsible if something happened to customers or employees. It took me over a year to get the Department of Transportation Hazmat Division, The FDA, California Dept. Food and Milk to agree it was actually legal for me to make ice cream with cryogenic liquid. Then LA County refused to let me build a food truck with a liquid nitrogen tank on board. They didn't want to be the person people looked at if something went wrong and they got sued. In the end, the delay was a good thing because it forced us to focus on our catering business.
When we went to pick up the truck for its debut at our first big festival, we found the builders had lied and hadn't done 40% of the work. The electrical wiring was bad, the water pump was in the wrong location and on and on. The truck looked pathetic as it couldn't be wrapped. We thought we were doomed. Then Mad Mike from Pimp My Ride and his team at Galpin Auto Sports came to the rescue and got the truck ready for its debut. A few hours later, the power died on the truck and I was ready to cry. Mad Mike drove 3 hours to the festival and crawled under the truck to fix the power and plumbing before heading home with a few slices of pizza. Doom followed by sunshine.
The food truck hours are long and hard, the festival circuit is brutal, the permits, insurance, event fees, commissary space, payroll and marketing all add up and take a big chunk of your revenue. Nothing compares to the impact of coronavirus and the death of large events. If your readers are looking for advice or have questions, they can reach out. It's a lot to figure out and the health department and location bookers don't make it easy.
Nitropod – what should we know? What do you do best? What sets you apart from the competition?
Nitropod is unique because we use food grade liquid nitrogen to create organic ice cream and vegan ice cream to freeze, instead of a traditional batch freezer. Traditional machines churn the ingredients at use a coolant to get the product to a soft-serve consistency. Then it is taken out and placed in a hardening cabinet at -40 degrees. That's where crystallization occurs. The longer it takes to freeze, the bigger and coarser the ice crystals will be. Liquid nitrogen freezes everything instantly so the ice crystals are microscopic and the mouth feel is smooth and creamy.
We also don't need to churn the product as much so there is little to no air in our desserts. Every major supermarket brand fills their containers with as much as 33% air. Frozen desserts are sold by volume not weight. We also make our desserts with organic dairy, no preservatives, no stabilizers, no guar gum or carrageenan. Look at the labels in the supermarket, you'll be surprised what is in there. We make the cleanest ice cream and sorbet on the market.
We also serve Dragon's Breath! These sweet crunchy puffs are frozen with liquid nitrogen. When you bite into them, the cold vapor comes out of your nose and mouth like a dragon. Very safe, very unique!
What moment in your career do you look back most fondly on?
There have been so many amazing moments over the years. We did a total ice cream truck takeover for a CBS TV show launch and some big movie premieres. We also provided 5000 servings for a big office building. However, it is probably being chosen for the Chase Ink ad campaign. After learning about my business, I was invited to audition for a national campaign featuring unique small businesses. Nitropod was selected and it's still running three years later. They filmed a variety of scenes and voice-over in LA. About four months later, I found myself on the internet, Entrepreneur Magazine and in the first ad block of CNBC's The Profit. The show provided countless moments of inspiration and information as I was growing the business. I was also invited to provide dessert at his private party the night before his wedding.
Pricing:
Contact Info:
Image Credit:
Scot Rubin
Suggest a story: VoyageLA is built on recommendations from the community; it's how we uncover hidden gems, so if you or someone you know deserves recognition please let us know here.