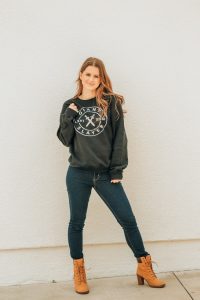 Today we'd like to introduce you to Sarah Elson.
So, before we jump into specific questions about the business, why don't you give us some details about you and your story.
Wired for Freedom goes beyond just the jewelry and products I create, there's also a spiritual side to it. It begins with my personal story of freedom. For 13 years, I battled self-harm. I grew up in a strict Christian home but never really understood the love of God. I'll be the first to tell you, you can grow up in church your whole life but not really know and understand who God is and your value.
While everyone saw me as "the good Christian girl," I secretly felt worthless, ugly, and alone. Anxiety, depression, fear, insecurity, that was my hidden life. As I got older, I grew out of the self-harm but the darkness was still there. So while I stopped hurting myself, I still hated myself. I learned that the behavior wasn't the problem, the root was in what I believed. I believe how we see God and ourselves affects every area of our lives.
Self-harm wasn't really talked about when I was growing up, in fact I actually thought I was the only one who did it. These days, it's widely talked about. It wasn't till I was 21 and became a youth leader when I met someone else who struggled with it and I realized I wasn't alone. Then more young girls came into my life who battled it. During this time of trying to help them, one girl who I had been very close to, slashed up her arms so bad. For two days I didn't speak to anyone, I just cried. I yelled out to God asking, "WHY DON'T THEY SEE THEIR VALUE? WHY DON'T THEY KNOW THEY ARE LOVED AND BEAUTIFUL AND WORTHY?!" I was so angry and broken. That's when I heard a whisper, "look in the mirror Sarah, why don't you?" I was speechless. This is when my life began to change.
I had to stop looking inward and look upward. I started to really pursue the truth of who God, my creator is. I had to know who He is, what He did for me, and what does He say about me? So I picked up the Bible and as I read it, I would write out verses and speak them over myself. Since my own truth never worked, I needed a greater truth to stand on. The more I did this, the more the darkness and torment diminished. The self-hatred, fear, anxiety, depression, loneliness, and insecurities left as I filled my heart and mind with the truth I read in the Bible. I was no longer trapped. I finally found the freedom I was wired for.
In 2010, during my journey of finding freedom, I was invited to be a counselor at a camp for abused and neglected foster kids. It was at this camp where I first discovered wire. The art teacher showed the kids how to bend it and form flowers. Something was ignited in me and I started bending it into other shapes. Later that night, I had a dream of forming a ring with the word "loved" in wire. The next morning I repeated what I saw in my dream and it worked! The rest of the week, I was creating rings with different words for the kids and even the counselors! When I got back home, I researched jewelry made from wire and found out not only did it exist but was actually an ancient art! Up until that point, I had never seen it. So I kept creating pieces for people but still was trapped in those lies of not being good enough and this would never go anywhere.
Then one day, I had a flashback. At high school church camp, a pastor called me out of the back row and said, "one day you are going to have your own business and be an entrepreneur." I thought to myself, "yeah right that will never happen. I suck at math." Fast forward seven years later from that message, I was making jewelry and people were buying it from me. I realized he wasn't wrong, I was wrong about myself. It blows my mind when I think about how that message was spoken over me at a camp and years later, the business he saw came to me at a different camp. Like a full circle, I could have never orchestrated on my own. I think it's interesting how the art form was birthed at a place where abused and neglected kids would learn about their value in God. At the same time, I was learning mine. That was the place where God put in my hands the instrument He would use in my life to spread this message of hope.
Great, so let's dig a little deeper into the story – has it been an easy path overall and if not, what were the challenges you've had to overcome?
The road hasn't always been smooth and there are still rough spots even now at times. But everyday is an adventure and opportunity to grow. In the beginning, I think pricing was the hardest. I think what you price your art at reflects how much you value yourself. I meet so many artists who undervalue their work. Just because it's easy for you doesn't mean it's easy for everyone else. Yes, I am an artist but I can't draw better than stick figures! So I would pay more for hand drawn art. I see the value in that artist's skill.
The more reoccurring struggle would be learning the practical side of business. I know sometimes as a creative, the business side of what we do can be a challenge and even overwhelming. I'd rather just make the jewelry all day than sit and come up with a marketing strategy and business plan. I am currently taking some courses to grow in this area!
I think the other area is just the physical side of crafting with your hands and the toll it can sometimes take on your body. So I've learned to stretch, take breaks, and pace myself.
Wired for Freedom – what should we know? What do you do best? What sets you apart from the competition?
Since my business is deeply rooted in my story, I can't separate the two. I once used my hands to destroy myself but now I use them to create beauty. I create simple but powerful pieces that speak to the truth of who God is and who He says we are. I specialize in wire writing jewelry. I take wire and form the words/shapes with my fingers and a few tools. Words like "worthy," "enough," "hope," "faith," "peace," "love," etc. I also choose a scripture to go with each word. Then I turn the wire words into rings, bracelets, necklaces, and earrings. Wire writing isn't very common and often times people tell me they have never seen anything like it!
But I have to say, the thing I'm known for is really the story behind the pieces. The jewelry captures the eyes, but the message captures the hearts. Especially these days where mental health is so prevalent. I never want my jewelry to be seen as just jewelry because it's so much deeper than that. There really is a spiritual aspect to it. I have people who buy my jewelry who don't believe the same way I do, but they tell me they feel an energy in it! That's powerful. So my business is called Wired for Freedom, but my tag line is "wear your weapon." That sure sparks curiosity and people can't help but ask me what it means. I explain how God's word is known as a weapon of truth and when you wear this, it's meant to be a reminder of those words. Living by those words of truth remove the lies.
Along with selling jewelry, I also travel and share my story and speak at various conferences in the country. Everywhere I go and sell, I always make it a point to pray with people and encourage them. A lot of times God will highlight to me the word they need and when I hand it to them, the tears come. I've received countless stories from people who wear my creations and tell me the pieces really have a power in them. I have seen so many people come out of similar torment and darkness that I was in and find freedom the same way I have.
Aside from the wire jewelry, there is one more piece that I am known for. It came to me in a dream and I actually have a patent on it! It's definitely one I am proud of! It's called the "Warrior." It's a bullet necklace with a wire cross on the front but inside is a metal bar that slides out and I customize it. Even though it looks completely different from the wire words, it represents the same concept. The word of God is a weapon of truth that combats those negative mindsets we have about ourselves.
The last aspect of Wired for Freedom I want to mention is through it, I support a safe home for survivors of sex trafficking. I am passionate about freedom not just the freedom in your heart but actual freedom from slavery! It's truly an honor to play some kind of role in their freedom.
What moment in your career do you look back most fondly on?
I already mentioned being proud of obtaining a patent! It's very difficult to get one with jewelry and even my lawyer was shocked that it didn't get one rejection. Which apparently, it's very rare that a jewelry patent will pass through the approval with no rejections. So it was kind of a miracle!
But there's one more moment I have to share, it always makes me emotional. Two years ago, I was at an event in New Mexico. This girl came to my table and out of the corner of my eye, I saw her white semi-colon tattoo. This usually is a symbol that someone struggled with suicide. So I asked her if she still struggled with self-harm and suicidal thoughts and she said yes. Immediately I prayed over her and she felt the darkness go. I put one of my bracelets on her that said "free" and told her to let this always be a reminder of what happened. A little bit after that she ended up taking the bracelet to a tattoo artist and requested the word "free" on her wrist and made it look like my wire writing. I recently saw her again last month and heard the back story from that day we met. Her life was never the same after it. Stories like this are why I do what I do! I am passionate about people knowing there's a way out of the torment in the mind!
Pricing:
Chain bracelet $35
Sterling word necklace $45
14k Gold filled/Rose gold filled $55
Bullet necklace $50
Contact Info:
Suggest a story: VoyageLA is built on recommendations from the community; it's how we uncover hidden gems, so if you or someone you know deserves recognition please let us know here.