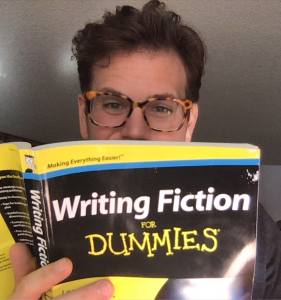 Today we'd like to introduce you to Samuel Haine.
So, before we jump into specific questions, why don't you give us some details about you and your story.
Now that is a winding road! I grew up in Alaska. It was cold, it was dark, and sometimes you had to charge at a charging moose to make it across the bridge before it could trample you. But growing up in all that cold and dark, you tend to spend a lot of time indoors; that's where my passion for writing first took root.
My dad would read to me every night for HOURS. — And not just kids books, anything and everything: Shakespeare, Hemingway, Tolkien, Dante, even Hunter S. Thompson. I wasn't the most voracious reader but I was an avid listener. And I'm talking WELL past the point having him read to me being in good taste, like 12 or 13 years old, with him doing the voices of all the different characters, and me begging for just one more chapter. In retrospect, that's the kind of behavior that breeds serial killers!…or writers. But I think the first time I really understood how gratifying a story could be was when I was 15 and my English class was given a writing assignment over the weekend. We had to write a three- to five-page short story, the subject didn't matter, it just had to be at least three pages. That night, I  fired up the ol' Microsoft 2000 desktop and got lost for the whole weekend. Monday arrived and while everyone handed in their three pages of double- spaced, 12-point prose, I dropped a 10-point, single-spaced, 45-page behemoth down on the teacher's desk with a beefy 'THUNK'. I remember being so proud of all the hard work I had poured into that story. I'm sure I had the same shit-eating grin on my face as Ralphie from "A Christmas Story" when he turns in his prompt about what he wants for Christmas. But unlike Ralphie, I didn't get a "C-", I got an "F". When I asked the teacher why I failed, she looked up at me with these cold, dead, shark-like eyes and in a monotone grunt, snorts "too long". That day I learned two things: that  I wanted to tell stories, and that school wasn't going to give me what I wanted.
Fast forward a couple of years and I find myself a community college drop- out living in Hawaii. Back then, I wanted to be an actor, and there were good opportunities for white guys out in Hawaii…Kinda like everywhere else, I guess, but this was more of a "be the white local hire so they didn't have to fly out and put up an actor from LA" kind of deal. So, I ran the gambit of shows and movies out there, but the roles were not meaty and were very few and far between. It was then that I really started to write.
Outside, it was paradise, but inside is where you would find me. For weeks at a time, I'd pull 16-hour days hunched over my laptop. Before I left Hawaii to move to "Hollywood!", my acting coach out there told me, "I think you really have something with your writing, stick with it".
Fast forward a few more years, the bright, big city excitement of "Hollywood!" dimmed down to "Los Angeles" and eventually faded into "… L.A." — Not to say I don't love living here! I absolutely do! Where else could you pursue dreams as wild as the ones some of us are fortunate enough to call our lives? But, for me, back then, I was working at a Mexican food restaurant in the Valley and buying my tacos with food stamps. I was living hand-to-mouth to make as much time for my writing as possible.
Thankfully, a disaster never happened, since there was no disaster fund squirreled away. But hey! Who needs a rainy day fund when you live in Southern California, right?! It never rains! But I digress. I saved up $1300 to pay an artist to draw up the first pages of the first comic book I came up with, while still on food stamps after I was "ghosted" for a great job as a writer for a now-defunct video game company, which turned out to be fate since that comic I saved up to get made is now being published through Image Comics!
Now, we've caught up to the present. I have a handful of projects in the works, despite the current pandemic, but I think the thing I am most excited about is something I recently started with an artist friend of mine, a comic called CURE QUEST. It's an ongoing comic strip that we decided to put out for free over Instagram. We wanted to give people a reason to smile and be entertained and forget about all the crap happening around them if only for the five seconds it takes to read that day's panel.
We're always bombarded by how great it is to pursue your passion, etc – but we've spoken with enough people to know that it's not always easy. Overall, would you say things have been easy for you?
Short answer: NO WAY! For this one I'll rattle off a list of roadblocks: a bad public school system, dropping out of college, being very very very broke,   the arrogance of not wanting to lose  my "artistic  edge" by  studying  my craft, imposter syndrome, and a fear  of  failure,  coupled  with  the prerequisite years of being a total abject failure. — Now looking back at it, most were self-imposed struggles. But, hey, hindsight is 20/20, right?
We'd love to hear more about your work and what you are currently focused on. What else should we know?
We make comics! Create them. Coordinate them. Midwife them. We are lucky enough to work with some of the greatest artists of all time, and I've been blessed to have been mentored by some of the greatest storytellers to have put pen to paper. We're relatively new, but then what I am most proud of is our day-in day-out artists. They are some of the hardest working, most talented people I have ever had the pleasure of working with. I can be an unrelenting perfectionist (pronounced: asshole), so to be constantly  amazed by how truly spectacular their work is – I couldn't be more excited or more proud. They deserve all credit. The success we have and will find is because of their talent and passion. And that is EXACTLY what sets us apart: passion. Even on the administrative side, my business partners believe in my vision so fully that they will call in every favor they have to help achieve the dream of bringing great stories to the public.
What were you like growing up?
Growing up, I was, for lack of a more P.C. term, a fat nerd. It wasn't until I lived in Hawaii, in my early 20s, that I really got healthy, both physically and mentally. But, for those previous two decades, my over-active imagination helped get me through being an overweight, only child of a middle-class couple who had gone through a very ugly divorce, who had very few friends and was bullied quite prodigiously. I found fun in collectible card games, comic books, and Japanese cartoons (anime), and found solace in elaborate recreations of that day's ridiculing, where, instead, I was the one who came out on top over my band of pubescent aggressors. But, I know, it was that extreme level of isolation that really hardened that lump of coal in my soul into a creative diamond, because the only pleasurable place to be was the alternate realities I created for myself…again, the ingredients of "spree killer" and "scribe" are indistinguishable from one another — save for the dead pets. However, please don't let the downer answer fool you though. I wouldn't have changed a thing! While it did get much worse, it was FAR from all bad. And personally, I believe that hardship builds character. I wouldn't be who I am without first being who I was.
Contact Info:
Image Credit:
Black Lamb cover – Jason Crager, Cure Quest panoramic – John Schrad, Slow City Blues "bar scene" – Shawn Moll/John Livesay/JD Smith
Suggest a story: VoyageLA is built on recommendations from the community; it's how we uncover hidden gems, so if you or someone you know deserves recognition please let us know here.