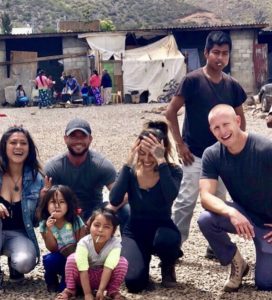 Today we'd like to introduce you to Ryan Davis.
Ryan, please share your story with us. How did you get to where you are today?
I kind of fell into training, charities, and wanting to help animals. I grew up in a family that always liked to help others (and are obsessed with animals), and into fitness. My mom was a "ring girl" (the kind you see in UFC) for basketball games in Las Vegas, and my dad was bench press champion out of all the high schools in Pheonix, AZ. So both are fit. Both sides of my family are obsessed with dogs, too. I always remember my mom taking my sister and I to buy food for the homeless whenever it was cold in Dallas, TX. My parents built a mini gym in the garage, too.
Growing up, and I hate to repeat myself from our last interview, I rather wanted to be a hockey player or a touring guitarist in a punk/alt-rock band… but there was always this feeling from when I was eight years old telling me I should be doing something to help others and animals.
In school, that's a whole different story, but you would usually catch me jamming in my band or skateboarding. I was involved in PALS (Peer Assistance And Leadership) which was our version of Big Brothers Big Sisters. The special needs kids would get teased and I was always there to be their friend as I never understood making fun of people. Fast forward, I really didn't know what to do with my life thinking I was going to be the next Kurt Cobain or Brandon Boyd. When the Iraq war started, I saw Marines on TV playing soccer with the kids, taking sick dogs back to base to get checked, and helping others. That's when I decided to join the Marines for humanitarian reasons. To me, they are the real rock stars and heroes. After being a Soldier in the Army National Guard then becoming a Marine, I turned my life around and combined both philanthropy and fitness. I have been to galas and private events in Beverly Hills where people socialize and drink, I figured why not host charities and dog adoptions through health and fitness.
Has it been a smooth road?
100% no! First of all, I was in the Army and later the Marine Corps for five years of my life. The struggle is that I wish I could do more. I wish we could wake up to nobody being homeless and no more homeless animals. There are so many people who could use help and I am hoping this reaches the right people.
Many times I feel certain things are a "struggle.' Someone who inspires me already has their masters, survived stage 4 cancer, traveled across the globe to help children in hospitals, and is currently attending two different community colleges to get into the best Veterinarian school in the world. Whoever thinks they have it rough, remember that. They opened my eyes to be a better person.
We'd love to hear more about your work and what you are currently focused on. What else should we know?
Fit.With.Ryan is just my handle until I get a few ideas copywritten. I specialize in confidence, philanthropy, collaborations, and boxing. I guess I am known more for philanthropy work and working with celebrity trainers in Las Vegas. It was a normal, everyday thing. I was a bit nervous at first when I embarked on City Athletic Club, but trainers who train clients from reality tv shows, celebrity bodybuilders, etc. took me under their wing. It was crazy but gave me the confidence to approach celebrity trainers.
I see posts with "no excuses", and all "look at me"… no. People have lives and sleep is important for health. A good trainer can make a customized plan for people who even travel. I will always let my clients know whenever I learn something new in fitness and that WE are learning together. My friend Brian Nguyen who is a great person runs group fitness classes for donations and trains Mark Wahlberg and Mila Kunis said it best: "I am not an influencer, I am a trainer." Make sure that the trainer has some sort of certification.
What sets me apart is, first of all, I actually care. Second, I expand fitness beyond the gym to outside raising awareness and donations for those who are underprivileged. I also am all about collaborating (for the 100th time). I can not do this alone. Helping others is a team effort. I never got trainers hating on one another. To me, if we have the same interests, then we are friends. I am excited when I meet someone else who is a trainer and wants to offer their time to raise donations as well as someone who wants to save animals.
Let's touch on your thoughts about our city – what do you like the most and least?
I love LA! I love that there are so many organizations that help the community. That's a huge reason I moved here. My friends are here, I am making amazing connections to help the community, and I like the weather. The Los Angeles Zoo and the Observatory are amazing, too.
Least, I just found out that there are more vacant bedrooms than there are homeless people… that are one-bedrooms for $3000. San Diego wanting to turn the old Chargers stadium into a soccer field instead of having it as a homeless center is one thing, but this is embarrassing. There are many people who dedicate time and money that they barely have to help the homeless and then this study comes out. One day though, it will not be that way. Again, hoping to connect with the right people who feel the same.
As Gandi said, "the greatness of a nation can be judged by the way its animals are treated."
Contact Info:
Email: RDFitness33@gmail.com
Instagram: @Fit.With.Ryan
Image Credit:
Good Morning La La Land courtesy of: Jezlan Moyet, Robery Mack, Dr. Erin Haskel, and Natalie Sady. Group photo: Gaby Truitt of The Divine Love Movement
Suggest a story: VoyageLA is built on recommendations from the community; it's how we uncover hidden gems, so if you or someone you know deserves recognition please let us know here.