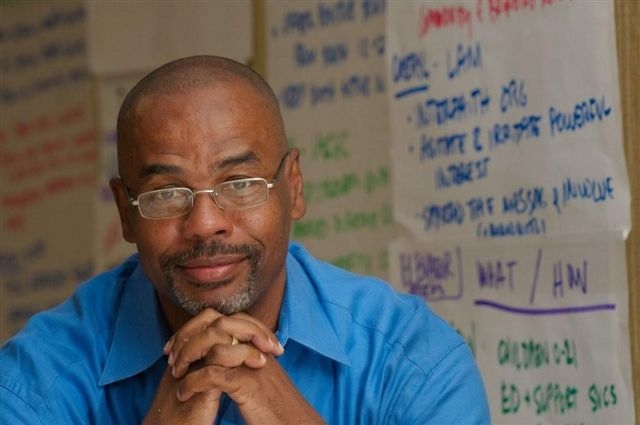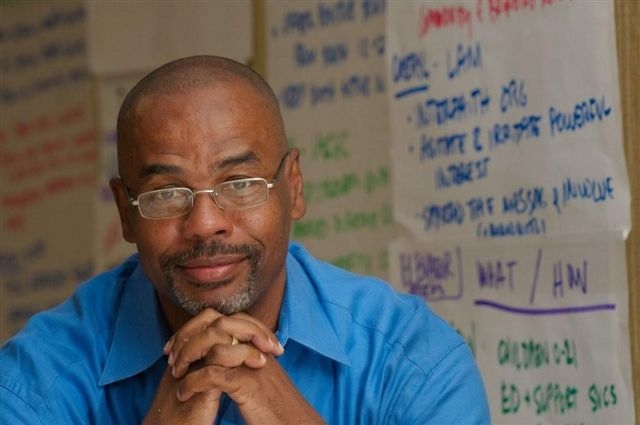 Today we'd like to introduce you to Robert Rubin.
Robert is a Graduate of Cal State University Dominguez Hills, with a B. A. in Communications, and holds an AA from Los Angeles Southwest College. He is a family man of 30 years, with a loving wife and four daughters and two grandchildren. He lived in South Los Angeles, attended Manchester Elementary, Harte Middle School, and Washington High & Fremont High School. Robert did a tour of duty with the Marines from 1973 to 1975 and still worked the last 23 years in the Vermont/ Manchester community. He now resides in the City of Carson.
Robert worked for 10 years under the leadership of the late Bishop Robert W. McMurray and 12 years, with Bishop Noel Jones of The City of refuge and Greater Bethany Economic Development Corporation. He manages several General Partnerships of affordable housing for families and seniors, totaling over 400 units. He also managed new construction, rehab and has sold over 40 single-family homes to first time homebuyers with budgets of over $60,000,000 over his career.
His leadership effort for the Vermont/Manchester Coalition of Neighborhood Developers in the early nineties that completed a community plan that was used by City Planners of Los Angeles to submit for the Empowerment Zone designation! He also led the charge in organizing the Alameda Corridor Jobs Coalition and was the former Treasurer and founding member of the Coalition, during the underground rail from Long Beach to downtown Los Angeles.
During its formative years of organizing, Robert worked closely with CUED (Churches United for Economic Development) at U S C, while at Greater Bethany EDC. He helped to acquire land and plan the future development of Bethany Square and the proposed development on Hoover Street from 83rd to Manchester. He final development chapter was the City of Refuge church construction oversight of the 45,000 square feet warehouse conversion into a church facility in Gardena; known as the City of Refuge.
Robert has worked with local residents, non-profits and government agencies over the last 23 years in the same community that nurtured him. Programs that still operated from his leadership are the boys and girls mentoring programs, former transitional living, and food pantry. Robert held the Treasurer position and founding board member of the Youth Opportunity Unlimited (YOU), which is now an Alternative High School on Vermont & Manchester, and another charter school in south Los Angeles.
Also, this catalyst organization helped launch the building of the Rita Walters Recreation Center at Manchester & Vermont. He is a seasoned professional that thrives on making things happen by doing the work. He currently works for Vermont Village Community Development Corporation producing results, along the Vermont Corridor. His goal is to help revive, restore and rebuild the Vermont/Manchester corridor while simultaneously working on community outreach and development of resident engagement, more affordable housing, commercial developments and violence reduction in t h area.
Working for Vermont Village CDC at Crenshaw Christian Center, since February 2006, he manages its first development of a $44 million commercial building that houses the Department of Public Social Services building leased by the County of Los Angeles on 120th and Western Ave, towering off the 105 freeway.
This project and others like it, VVCDC has generated employment opportunities and much needed social services for the community. Through a single purpose, non-profit (Vermont Village Human Services Corporation) Vermont Village CDC was responsible for construction, ownership, and oversight of the 90,000 square feet office facility, with a parking structure for the County Department of Public Social Services building.
He Chaired Community Advisory Committee for the area and advocates for more retail commercial development in the corridor from 84th street and Vermont to Manchester Avenue. Founding member of the Vermont/Manchester Community Advisory Committee, and Chaired the SPA 6 Advisory/Advocate Committee for the Department of Children and Family services and Chairs the South Los Angeles Community Plan Advisory Committee since 2007.
His company has managed two awards totaling $1.4 million dollars of Federal grants, from the department of Health & Human Services for substance abuse recovery for youth between the ages of 12 through 17.
He also incorporated Advocates for Peace & Urban Unity, (APUU) the Community Intervention group that receives grants form A Better LA, the Community Coalition and City of Los Angeles Summer Nights Lights to carry out Safe Passages and Safe school routes and created safe School Zones in the Hoover Corridor through its funding. Support by the VV CDC, the California Endowment as a part of Building Healthy Communities; Community Foundation. VVCDC was a partner agency with Los Angeles Neighborhood Housing award of 60 million dollars grant through HUD Neighborhood Stabilization Program II to provide single and multi-family housing production services.
We're always bombarded by how great it is to pursue your passion, etc – but we've spoken with enough people to know that it's not always easy. Overall, would you say things have been easy for you?
I consider myself as Mr. Fix it, when things are broken, it comes easy for me to fix. I look for the pain, stress and waste area. I can identify the cause and help find the cure to help the team. By doing makes the team more efficient. That's the type of guy I am, with the philosophy to look at what is wrong and not necessarily who is wrong. Try to be blameless, whenever possible.
Keeping in context both good and bad experience to help me make better decisions. Out of adversity comes knowledge as while learned behavior. What you know can help you take the team to places they have never been before. My perspective is to use what you learn to help produce better outcomes is a rule to live by. Ask questions: stick around a while and learn to be more effective by keeping things in the proper perspective without being overly judgmental.
With a strong conviction and firm belief that everything that happens is for a reason and not merely coincidental. We are all connected through faith in God and by adaptation as believers and predestined. The larger plan is through conviction to serve God and others involves us all somehow.
With Individualization and the unique ability to focus on one person at a time and find special character traits which helps to nurture people. Being able to notice, appreciate and applaud others for their uniqueness is my strong trait. Not hating, but yet celebrating and complimenting others. Respecting individual style, motivation, and ideas of others; acknowledgement and use intelligence, when placing and selecting others for the best suitable role or position.
Developing and realizing that people are filled with potential to grow in the right environment and set of conditions that set people up to succeed and not fail. Weighting experiences and exposure to the work by support them to win and finish, even if its second place. If we could all finish first, it would be no need for ranking system. Adapt to teach, offer advice and creating the space to see people thrive beyond limits placed by the individual. It's the art of encouraging others, helping those that lack in certain area of their life to reach their full potential and find purpose for existing.
I have experienced naming and claiming it, intentionally. These have been some principles incorporated into my daily life over the years that are practiced. I have lived by the thought that "information is free; it is what you do with it that makes it valuable." Robert Rubin.
We'd love to hear more about your business.
We bring about business activities that cause economic development, socially, financially, physically, and mentally to carry out the mission of corporation and implement the vision of founder, Dr. Betty Price, in order to have a positive impact on the quality of life and revitalize the Vermont Manchester community. Help to preserve and develop activities and/or processes to provide decent businesses & affordable housing in the community, resource development and property management activities for VVCDC. Works as assigned on Special Projects for VVCDC to create a viable presence for VVCDC is the community.
Purpose of VV-CDC, as economic development arm of CCC, a social economic development, public-benefit corporation bridges the gap between community development/civic engagement/ socioeconomic activities & ministry.
Corporate Strategic Plan
Assists ED with implementation of corporate strategic Plan based on the mission statement of the organization.
Interacts with ED, civic and government officials, industry professionals on matters that pertain to community development, VV CDC & VV HSC compliance.
Helps maintain and develop relationships with appropriate partners and staff people of co-laboring groups, for service to the communities vital to VVCDC.
Coordinates with corporate America, Council District #8, CRA, City, State, Congressional members and community stakeholders, to achieve VVCDC's goals.
Builds the infrastructure, provides a road map to monitor course, and gives a gauge of desired outcomes to ensure that activities and projects are in line with the mission and vision. Vehicle for VVCDC's presence in community and industry.
Liaison
Sits on Committees for SPA6-CAAC, LA HOPT, NSP2 Consortium.
Attends CRA, DMH, CAAC Advisory meetings throughout the community.
Attends ribbon cutting ceremonies, ground breaking ceremonies, media events, breakfasts, luncheons or events hosted throughout the City in conjunction with CRA, City of LA, Dept of Treasury, CDD, private corporations, foundations, and other non-profit entities.
Develops strategies that create a viable presence for VVCDC within the community and society. Leads to collaboration that affects changes in the economy, social, education, housing, and public safety.

Project Development

Engages in or researching of activities essential to understanding how government and community development works in order to carry out the mission.
Co-developed with ED a 3yr housing development plan worth $4.7MIL to acquire/rehab/resell REO residential properties and participate/collaborate with other non-profit entities, government, city, and professionals to restore neighborhood stabilization.
Attends training, which provides opportunities to network and meet along with introduce VVCDC, receives certification in order for VVCDC to be up-to-date with information and education to teach, reach, educate or facilitate with financial literacy, credit counseling, mortgage workout sessions, first time homebuyers, community intervention and prevention services for the community.
Working with the ED on development, oversight, and implementation of the "Village Property Management" division for managing, operating and owning commercial, single, and multi-family housing short & long term.
VV CDC as the "voice" of the community must:

Stay abreast of the facts to empower and educate the community.
Collaborate with government, corporate, and civic community to provide access to resources for the disenfranchised community surrounding the church.
Always looking, researching, keeping ears open to hear of and learn of upcoming trends, events, opportunities in the industry in order to carry out the mission.
Weekly explore Dept of Treasury, DMH, HUD, City, State, Trade Organizations and Foundations Websites to be aware of, stay on top of trends, best practices and "who's who", what others are doing in community and economic development and funding opportunities to carry out such activities.
Exploring how VV CDC can apply other strategies, leverage or acquire sources of funding that help with long-term organizational sustainability that amount to increased programming, projects and administrative capacity for the organization.
Works with ED to advance VVCDC's fundraising efforts in order to secure funds through grant seeking/proposal writing appeals to individual, corporate, foundations, city, state and federal.
Performs duties in good faith, in a manner of excellence and that is in the best interests of the corporation.
Submits all proposals to ED for approval on behalf of the corporation.
Provides sustainability for the corporation.
This corporation is a nonprofit public benefit corporation organized to enhance the quality of life for communities by sponsoring a variety of charitable projects in education, youth& family services, employment, economic development, affordable housing, and community development to persons of low and/or moderate incomes.
Administration and Accountability.
Reports directly to ED on all related projects, activities, facilitation, planning and monitoring of internal and external services involving VVCDC to maintain company and customer satisfaction and ED reports to the Board of Trustees.
Prepares all requests for Master calendaring, use of facilities, media, and dining per protocol and procedures.
Coordinates and collaborates with all departments of the Ministry.
Prepare weekly, monthly or quarterly reports and maintain files for VV CDC communications, corporate data, and other pertinent records.
Follows all policies and procedures outlined by the corporation and participates with leadership and management.
Ensure the day to day operational activity remains viable and in line with rules and regulations set for the nonprofit public benefit organization.
Skill Level

Over 20+ years of affordable & commercial real estate experience, demonstrated knowledge in the field of real estate financing, investment and development, asset and property management, commercial brokerage and leasing.
NeighborWorks Training Institute Certification: "How to Become a HUD-Approved Counseling Agency;" "Credit Counseling for Maximum Results"; "Developing and Implementing Effective Foreclosure Program"; "FHA-Insured Loans An Affordable Mortgage Option"
Certified Property Manager (CPM®) – Institute of Real Estate Management (IREM).
USC Certification: Minority Program in Real Estate Finance & Development (MPIRE).
California Licensed Real Estate Broker since 1987; B.S.-St. Louis University, St. Louis, MO.
Former Faculty Instructor/Adjunct Professor of Mortgage Finance & Technology courses at Los Angeles Trade Tech College (LATCC). Taught courses required for students to obtain certificate and/or Associate Degree in Mortgage Finance.
As former originator over $20 MIL personal pipeline of investment quality loans, i.e., Fannie Mae, FHA, Jumbo, & Multi-Family.
Specialized in management of a real estate portfolio of distressed assets with an aggregate market value of approx. $50MIL, consisted of approx. 25 office, retail, and medical buildings, for combined total of 500K± sq. ft. and approx. 100 multi-family units, including a 93K± sq. ft. Neighborhood retail center in Compton, CA, for Wells Fargo Bank-California Private-Trust department. Researched and prepared an extensive Property Management Plan with recommendations to do $500K rehabilitation to re-position the Center in the market.
Ability to interface and work with all levels of government, management, professionals, attorneys, financial advisors, developers, City Officials, brokers, contractors, vendors, and the community.
Provided diplomatic and logistic services to the South African Institute of Black Property Practitioners (SAIBPP) to negotiate and obtain a Protocol Agreement with IREM to provide educational and training programs to commercial asset and property practitioners in South Africa. Catalysts for helping the 1st South African receive CPM designation from IREM.
Highly motivated, ambitious, passionate and loyal professional.
Multi-tasking with attention to detail and ability to handle high volume, deadlines and articulate on many products/programs, proficient writing and communication skills.
Technical competencies and experienced user of software including Microsoft Office, YARDI Property Management, CALYX Loan Origination, Fannie Mae Desktop Underwriter, Fannie Mae Home Counseling Online Counselor.
Have served as Board Member or Officer on several local, national and international trade associations or community groups.
As I reflect on how my position as Executive Director is critical to the operation of CCC, I'm reminded of something you said to me directly on one occasion in passing about "not hearing anything on, about or from my office." That resonated with me and I was moved to keep working without rumors or speculation. As an association of CCC, community economic development is dealing directly with our most precious assets, which are people. Indirectly, benefits have been efforts to bring about change in the way South Los Angeles is viewed by most that travel our way. Most recently, the area of Vermont Knolls has not had a homicide in the area in over three years.
This positive press can attest to how the spiritual works of the church has held at bay, all manor of ill intent in this one mile area is caused by CCC. VV-CDC has help to broker community intervention, and a social network with the Department of Children and Family Services, working directly with law enforcement around the issue of public safety (gangs and mentoring) and the annual Summer Festival that attracts over 2,500 participants at Align Sutton Park on 88th and Hoover Street.
Our mortgage melt-down workshop was the largest of its kind in the area, boasting over 1,600 participants, and leading to our partnership, among agencies that landed a $60 million-dollar award from HUD this year. VV CDC's contribution is $4.7 for a production contract that would net us close to $900,000 over the next three years for multi-family housing development fees.
Some less known work is not tangible, like the mentoring and community intervention work at the local elementary schools and charters that help guide young men and women through adolescent and out of gangs. Or the help with managing to guide, and or provide information that has helped individuals save their homes from foreclosure or out of major default. Our political involvement is helping to change the face of the community through direct influence on the next twenty-year community plan for our district, as the position of Chairman of the South Los Angeles Community Planning Committee process.
The Co-Chair of the Service Area 6 (Spa 6) Community Advisory Council, member of the Vermont/Manchester Public Safety Committee, the California Endowment Healthy Community project, incorporators of Project Accountability, Advocates for Peace and Urban Unity, and other groups that affect change.
We have helped the Waffle Factory get established, but has since closed for lack of business management skills, supported the Wing stop, and carefully followed the eliminate domain proceeding of the Vermont/Manchester project. Eli Sasson has since, drawn down his first $8 million dollars on the land and there is no turning back from this point. VV-CDC, along with staff manages our $44 million-dollar building project at 120th & Vermont, oversees a financial portfolio of $2.7 million dollars operating guarantee, and directs, guides, and potentially will self-manage the location in the near future. We have worked in concert with the church to help with building the spirit, mind, and body of a people that are directly and indirectly associated with our companies.
More recently lead the mission to incorporate social counseling into the ministry to help more serve cases of socially coping skills of members that could not grasp how "Faith Works," in a setting, outside being clinically stigmatized by society. We have guided or lead individuals and or families towards owning their first home. Provide financial literacy education, employment information, and served as a resource guide for members and community.
We plan to be able to relief the church of having to pay VV CDC $100,000.00 this year by preparing to gear up for more, direct property development and management. This move is to provide a savings to help offset the operating budget deficit, you so described at our last management meeting, which has prompted this action. In the year of this being our 15 years in business, we have ordered an audit of our financial position for 2009, which should be completed by the next full board meeting in June.
It is with great confidence and enthusiasm of your support, the church and the Board of Trustees, and as your Executive Director for VV CDC, in continued service to these and greater things are forthcoming as the work of community enhancement comes to fruition. It's my life's work, and I'm committed to the new work and excited about our future!
Strategic Plan: Develop and implement Strategic Plans based on the mission statement of the organization.
Maintain Sphere of Influence: Continue to develop relationships with government entities that serve the constituents of our community. Build on current and cultivate new relationships with business owners, community stakeholders and foundation contacts.
Planning and Development: Continue property management oversight, consummate agreements for funding to generate new revenue streams for operations and program. Monitors the 120th and Western DPSS facility to ensure profitability and compliance with all private and government regulations. Position VV CDC for joint venture and design possibilities of the Vermont Manchester Commercial development with current owner.
Identify Grant Funding: Maintain current and develop new grant funding strategies and plans with timelines and target amounts for sustainability of organization over the next 3 years.
Management of Resources: Prepare/Administer/Control Budgets based on short term goals and long-term sustainability by having oversight with safeguard procedures in order to manage funds produced for overhead and operations of programs.
Monitor Progress: Facilitates planning and monitors progress of internal and external services for employees and clients to maintain customer satisfaction by evaluating processes and programs to maximize efficiency and dollars to sustain organization.
What were you like growing up?
It was exciting and fun. Learn to skate, swim and work on cars. Love the outdoors and always ended up leading the pack. I ran with old men and learn behaviors that help shape my being. Dropper out of high school and went to 5 year later to and earn an associate arts degree and BA from a four-year university. I like reading, dancing and sport, football, and basketball. Ran track in the junior college and became a Christian in 1979. Now, 61 years of age and working smart and not hard to achieve satisfaction from working. Love traveling with my wife and movies each weekend, after dinner. It all good with me and my four daughters and three grand kids. God is good to me and my family.
Contact Info:
Address: 7901 South Vermont Ave Los Angeles, California 90044
Website: www.vvcdcorp.org
Phone: 323 789-3806
Email: rerubin@faithdome.org

Image Credit:
Vermont Village Community Development Corporation
Getting in touch: VoyageLA is built on recommendations from the community; it's how we uncover hidden gems, so if you know someone who deserves recognition please let us know here.