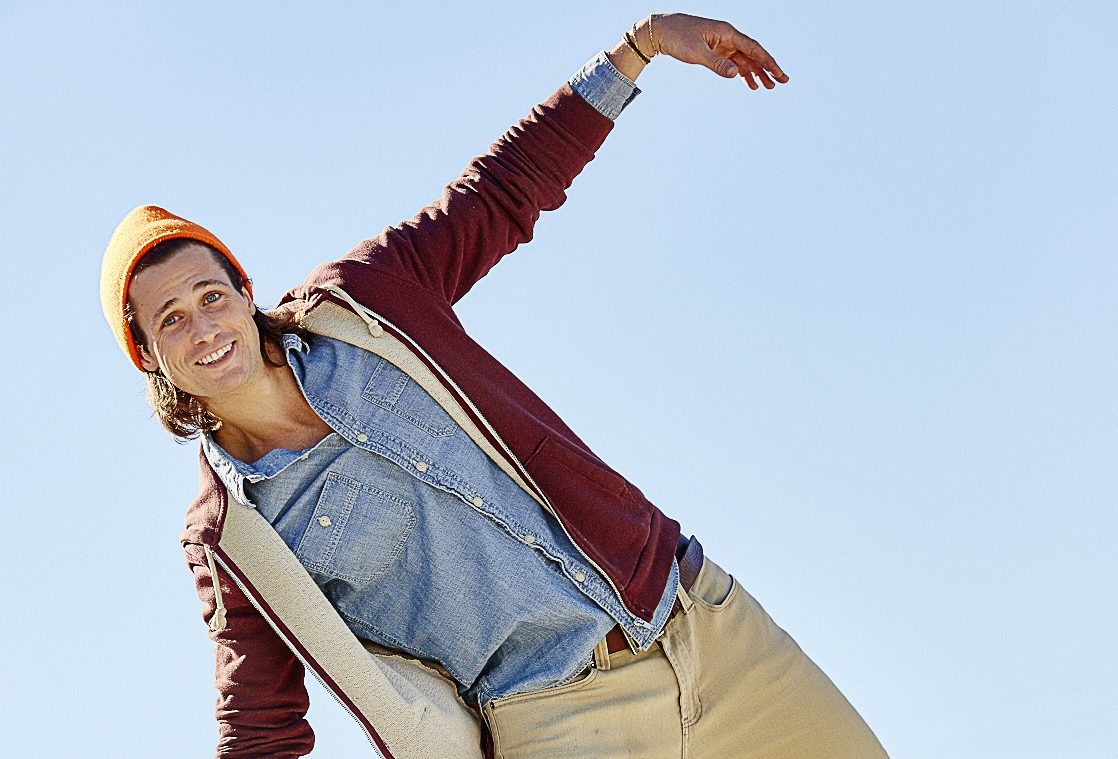 Today we'd like to introduce you to Robert DeSanti.
So, before we jump into specific questions, why don't you give us some details about you and your story.
My parents had my older brother and myself at a very young age. This caused my Father to have to take jobs wherever they were at. So we moved all around the east coast (From the southern part of Florida up to Pennsylvania) before settling outside a little surf town called Cocoa Beach in Florida. Arts weren't a thing where I grew up. It was beyond a foreign concept to me or anyone I knew. (*Quick story: I had a buddy visit New York when I was in high school and when he got back he told us he saw Chicago. Not wanting to embarrass 'HIM' I didn't mention that Chicago wasn't in New York and continued to eat. Only later to find out Chicago was a play…) So, I ended up surfing, skateboarding and playing soccer my entire childhood. I was a bit of a latchkey kid growing up often climbing in the woods behind my house which is where I think my imagination really blossomed. I went as a pirate almost EVERY year for Halloween which later played into my journey heavily when the movie Pirates of the Caribbean came out (I was 16). I ended up going to college at FSU and graduated with two bachelor degrees. I was absolutely miserable and after a very weird set of circumstances ended up signing up for a Meisner based acting class in Orlando, Florida. I took classes for about four months.
As I've gotten older, I really understand the importance of good and passionate teachers and really how much of a responsibility teachers have. I never had 'that teacher' that believed in me or said that great thing that defined my path up until Robb Maus at Truthful Acting Studios in Orlando. I did well in school. It came relatively easy to me but where my mind wandered was more than often outside what the curriculum called for. I didn't wanna read about Buzz Aldrin, fabricated American history or a family of raccoons… I wanted to use my experiences and imagination to tell stories. Needless to say, this didn't bode well with the public school system and I was rewarded with D's and F's and the occasional C for my writing assignments. Back to Truthful Acting! Robb Maus pulled me aside after our first big scene and said those coveted words we all hope to hear at some point in our life—I think you have what it takes to move to New York and make it as an actor. With nothing going on in Florida, I bought a one-way ticket and had arranged for a place to stay from a fellow classmate who told me she was dating Michael Esper (son of William "Bill" Esper), the founder of the renowned William Esper Studio. I will never forget flying into New York, at night, for the first time in my life. It was the most beautiful thing I had ever seen. I landed to only find out that the young lady who had said she was dating Michael Esper had a tragedy and couldn't house me that night. Nor the next. Nor the…she stopped answering her phone. I still to this day don't know if she was lying or if something horrible actually happened…or maybe a combination of both. Stubborn and determined to make it on my own I refused help in what was the scariest city I had ever been in. I slept in Bryant Park for a few days until finally a very nice lady at The William Esper Studio (Angela) helped me find some roommates. Short story Long I spent a little over two years studying under Barbara Marchant and with a group of actors that changed my life forever.
Growing up a dude is sometimes tough. Tough in that we aren't taught to feel, to cry, to…have 'emotions'. This is detrimental to many young men and it was considerably so for me. Barbara and this amazing group of young women, for no reason other than being their beautiful selves, opened me up and how I see it, saved my life. They came into class and performed with open hearts, vulnerability, and a level of empathy I had never seen before or even knew existed. Anyone who has done Meisner work knows the duality of the craft and the therapeutic element that go hand in hand. I was broken and needed to be fixed. They didn't judge me. They allowed me to go on my journey and go through what I needed not only as a growing artist but as a human being. As an artist, I find that you have to be a fully open, empathetic person before you can bring any of that to your work. You can't fake it. Barbara, to whom I still speak with today, pushed me as an artist and really gave me the toolkit I needed to go out into the world. Upon graduation, I did not get work! LOL. Go figure! After countless attempts to get an agent and audition I wrote a little web-series (before they were a thing really) with a fellow friend and classmate (Jules Forsberg-Lary) called Tiny for Two. It came out great and really allowed us to vocalize what we wanted and write ourselves parts that fit 'who we were'.
Right at the cusp of becoming a bitter New Yorker, I decided to make a move to LA. Toni Benson from ThirdHill Entertainment signed me and I packed up, picked my car up in Florida, and was in LA in ten days! That first year I auditioned probably 50 times for movies, pilots, TV shows. You name it. But no luck… I was also miserable grinding every day, having no life, having to memorize ten pages of dialogue on a days notice. It felt like a hellish Groundhogs Day without the cute groundhog and no Bill Murray. It didn't feel like a way to live. It didn't feel sustainable. An insanely talented writer friend I met while working at Ruby Tuesdays in Time Square had this great movie idea and so we decided to work on it. I got to see the most talented writer (still in my mind to this day) work on this film day and night, seeing his process. It was like a master class in writing and it's still the principals I use to write five years later. We got the script into the top ten literary management firms, taken to producers twice, ultimately to get it passed on. With zero contacts, we shelved the script (one I think Netflix should buy!). After that frustrating year-long process I decided to write a short film called The Epilogue of Gregory Archambault. It's a dark comedy about a suicidal writer who can't commit suicide because he's not satisfied with his suicide letter. I mustered up the courage to ask a few friends (Geoff Ryan, Adeshola Adigun, MaryLynn Suchan, Jules Forsberg-Lary, and Matthew Van Vorst) to help out and together we made this film. We are putting the final touches on it now and I don't say this lightly—it's fantastic. It's everything I thought it could have been and more. It really is a beautiful character-driven piece of film that explores the depths of our self-destructive nature stemming from the need of acceptance and the constant battle with our inner voice—which to me becomes our life's work to rid ourselves of, and at the very least do our best to silence.
After that, I shot my first feature (Blood From Stone) with someone who has become a great friend of mine, Geoff Ryan. That is having it's premier off Sunset Blvd. October 30th and running till November 5th at Arena Cinelounge. I've since jumped on to become a producer with the company Geoff Ryan founded—Spork Productions. I'm in pre-production for my next short film called 'JOB'. It's an exploration of the gatekeeper system in Hollywood through the relationship of a Producer and Actress. It's done through the zombie genre and I really think I found a refreshing and very specific take on the zombie genre while also tackling a real and pressing issue in Hollywood! I'm a big fan of short stories. Ray Bradbury's short stories sit beside my bed every night. So I have this goal I'm working toward of doing a visual book of short stories through 8 short films that all explore the common theme of how I view art during each period of my life (up to date). I've written three more and have another eight ideas I'm flushing out and plan on filming them over the next 6 or 7 years to mold it into a feature.
I love a quote from Philip Seymour Hoffman which was, 'Acting is playing, seriously'. I always loved him, his work, and the way he approached it with such passion. Art saved my life, it pulled me out of a dark hole when I thought all was lost. I owe it and the people it has introduced me to so much. It's not about gaining fame and attention. I really wanna say something with my work.
Overall, has it been relatively smooth? If not, what were some of the struggles along the way?
It has not been a smooth road! LOL I don't think it is for anyone. I love getting to know people—really getting to know them—and the one thing I've learned is everyone has it tough. Their own personal 'tough'. So, to me, my journey has been tough. A lot of the toughness has come through having to learn and unlearn so much that stems from childhood and adolescents. That's the work of a lifetime. All of that is the work that gets in the way of just doing the 'work' that is acting, writing, directing, having the confidence to take control of your career. Ridding yourself of insecurities and feeling like a disposable object in this industry. Most of my work, my obstacles, has been that. And I've found that the more I've worked on that the more my creative happiness and 'success' has been on a fast-moving upward trend.
I missed out on a TV show for a DMV error once! I had to drive in the scene and I had my license but the DMV had not processed a payment I had made for a ticket and unknown to me my license got suspended for that and the show dropped me because I couldn't legally drive. That sucked! I have worked with a few assholes that have made me want to quit. I've been on hundreds and hundreds of auditions to book nothing! And like anyone, I've had personal life get in the way or set me back from being able to pursue at the level I need. But I just keep on trudging forward.
We'd love to hear more about your work and what you are currently focused on. What else should we know?
Well, I'm an actor, writer, producer, director—yeah…one of those people! I love to tell stories. But I'm a producer with Spork Productions, founded by Geoff Ryan, and we produce independent movies, commercials, music videos, branded content, you name it. We are known as 'Sporks' because we are a small team of highly efficient people who can all wear multiple hats. Because of this, we are able to give top-notch quality at a lower cost than other production companies. What we are able to do based on our expertise I truly believe is unmatched. We pretty baller! Check us out!
I personally excel at acting and writing (those are my two main creative passions) and I'm a good producer because I 1) spent four years at business school 2) spent a few years running catering events and that skill interestingly has many similarities to producing 3) have great communication skills which come in handy when you are dealing with and working beside a lot of people and emotions are high (as they often are in the creative field) and 4) I have been a writer, actor, producer, director, PA, I work in wardrobe, casting, you name it. So I come with a special understanding of EACH person involved on a production and the specific struggles and job pressures they are under and use that knowledge to make sure they don't run into those issues and if they do (which is often inevitable) I come from a place of understanding and not blaming. I've also worked each one of these jobs and not been appreciated at times and we all know how that feels! So I go out of my way to make sure everyone knows that I genuinely appreciate their contribution. I was initially surprised at how far that goes with people—but a simple thank you for what you do goes A LONG WAY!
As an actor, I'd say I'm known for my ability to dig deep into a character's psyche and bring out authentic and interesting choices, coming up with a fully developed character grounded in the truth no matter the genre.
As a writer, I have a wild imagination and do a great job of using that and abstracting deep fundamental truths in a way that is very unique and fresh. I think I've been molded by the writers I admire—Paul Thomas Anderson, Charlie Kaufman, Dave Chapelle and a less known creative whose work and unique voice I love—Janicza Bravo.
Any shoutouts? Who else deserves credit in this story – who has played a meaningful role?
Where to start! My parents are a huge driving force. We didn't grow up with money at all. My parents sacrificed so much to allow me and my brother to have an opportunity to do what we wanted. After graduating college I chose the creative field and my Brother just graduated with his PhD. So they are the base of EVERYTHING and always will be.
My Brother is a huge supporter, mentor, cheerleader, everything. It was interesting that as I went to New York after college to pursue acting my Brother was doing his Masters. He had wild up and down ride trying to finish school with tons of setbacks (not his fault, often the school's neglect, sadly). But what I learned from that and what WE took from that was unconditional support for each other. Although we were doing wildly different things, we were both struggling, but it never felt lonely cause we had each other. He's not a big movie guy but he gives me more than enough support. I'm even his second favorite actor behind Nic Cage!
My fellow friends who are also actors and artists. Sean Gallagher, Rezeta Veliu, Geoff Ryan, Adeshola Adigun, Piaget Ventus, Jules Forsberg-Lary These people are often collaborators of mine (I love to work with friends and it's such a bonus that they are all super talented). Not coming from a town that has a lot of art or artists, coming from a family that is so far removed from understanding this whacky ass industry, it is absolutely necessary to have like-minded artist that get you, support you, understand the struggles (that to others might sound trivial or like non-issues) and then help you get through them. Being an artist is a special kind of journey and it takes other artists often to help you get through the onslaught of rejection, self-doubt, abuse, and w/e else comes with the territory. I love each one of them as friends and artists and they will all always be dear to my heart in one way or another.
Barbara Marchant was my acting teacher at The William Esper Studio. She was responsible for making sure I was ready to go out into the world as an artist and she rocked it out. You are always recalibrating, learning, acting as a sponge, but she gave me the best toolkit I could ask for the enter the workforce. She has been a constant beacon of light, great mentor (as an artist and a person), and person to bounce my ideas off of at times. She watches and reads my work and supports me along the way. She is very much responsible for the path my life has taken and I will forever be grateful.
My manager Toni Benson and Laura Bartholomew at ThirdHill Entertainment. They have been so supportive of me and my choices and are always open for any questions I have and work their asses off to get me work despite me not having really made them money yet. They represent some really solid clients that work on big TV shows but they treat me so well and I don't feel they neglect me in any way. That not only helps out with the way I feel as a person continuing in this industry but it has also made me realize how many good people there are in this industry despite the stories we hear all the time. Bad news sells more I suppose.
JR Fuller has been a big part of my artistic journey and life. I met him in my first acting class in Orlando over 9 years ago and we became great friends. He used to fly to New York and we'd see plays like A Raisin in the Sun, Of Mice and Men, Glengarry Glen Ross on Broadway. He has helped me out spiritually and even financially in some of the tough times that artists often go through in the early stages of their pursuit. He's become one of my best friends and I know I wouldn't be where I'm at in life without him.
Contact Info:
Email: Robert.SporkProductions@gmail.com

Image Credit:
Wes Klein, Lexi Johnson
Suggest a story: VoyageLA is built on recommendations from the community; it's how we uncover hidden gems, so if you or someone you know deserves recognition please let us know here.